This article first appeared in Wealth, The Edge Malaysia Weekly, on January 30, 2023 - February 05, 2023.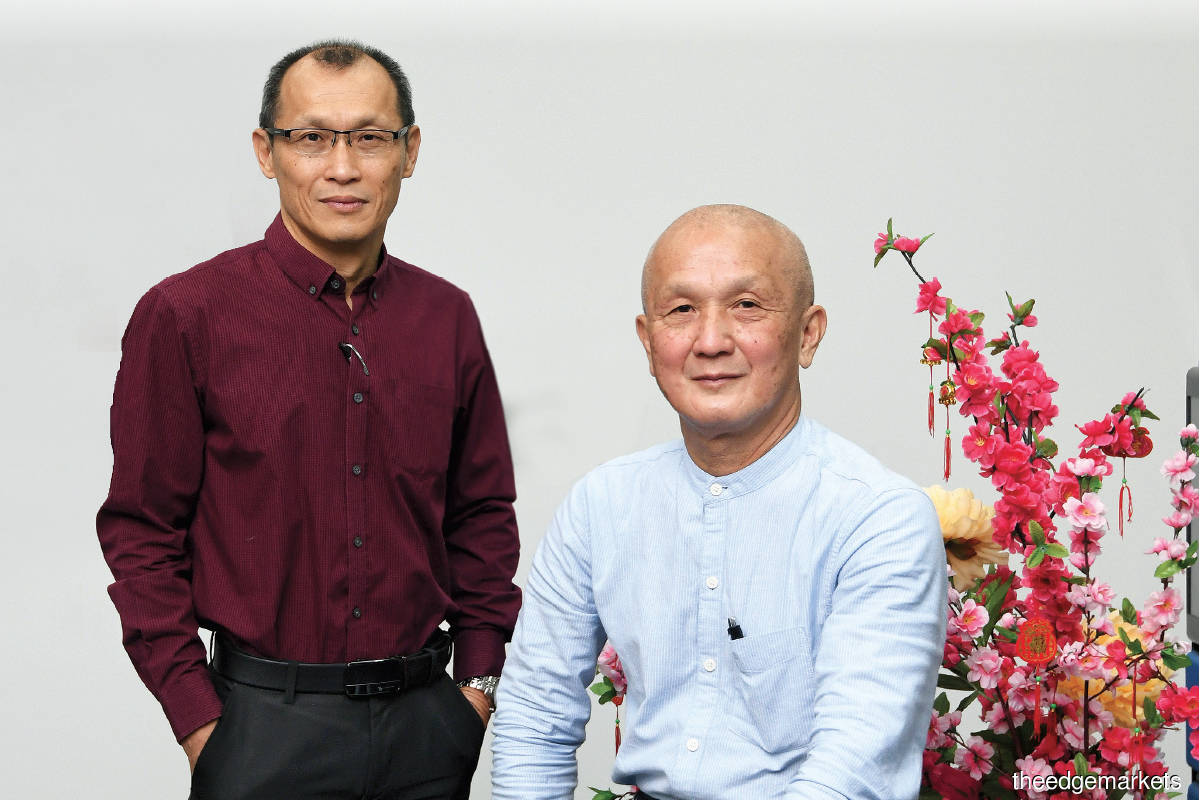 A tale that young Chinese children would be familiar with is that of a father at the dinner table asking his kids to bend a pair of chopsticks with force. The moral? Two chopsticks break easily, but do not when combined with many other pairs.
Aik Cheng Tor, the late patriarch of the Aik family, would convey a similar message to his nine children — six sons and three daughters — at the family reunion dinner during Chinese New Year. He would tell them to always stick together and support each other. Nobody is a saint. Everyone makes mistakes. It is important to learn one's lessons, to forgive and move on together.
"He always started his speech with this during the reunion dinner. Every year. He said, 'Regardless of what happens, you siblings have to stick together'," recalls Johnson Aik, executive director of Dancomech Holdings Bhd.
Bound by this pearl of wisdom, the Aik family grew the company — which mainly trades in process control equipment such as valves, gauges and pumps — in the past three decades.
As at Jan 16, the company was trading at 42 sen per share with a market capitalisation of RM188 million and price-earnings ratio of 10 times. It has offered a dividend yield of 4.71%.
Co-founder Daniel Aik, 63, is the managing director and his younger brother Johnson, who joined the company straight out of college in 1991, is second in command. Elder sister Hui Luan is group chief operating officer and younger brother Kwo Liang is a director and senior sales manager.
The traditional values of living in harmony with your siblings and supporting each other have been observed through the past decades in the family, which has come a long way from its humble roots in Kluang, Johor.
For instance, Daniel once held over 30% of the company's shares. He pared it down to 20% over the years and distributed the rest to his siblings, who were helping the company grow.
"We work closely together to grow this company. We don't fight over our portion of shares — how much I own, how many per cent you have. I reduced my shares over time to about 20%. And they received those shares FOC (free of charge). I'm OK with that," says Daniel.
Johnson has much respect for his older siblings, especially the eldest brother, who became a logger in Terengganu to fund Johnson's computer science course in Informatics College during the 1980s. Johnson is the only one who earned a diploma. The other siblings started working after Form Three or Form Five.
"My eldest brother, who was still single then, was the one who supported me a lot throughout college. He married quite late, when he was in his forties," Johnson relates.
"Daniel had just started a company back then and needed money. My father was also supporting me a bit, but not much, as he had the other children to take care of."
Dancomech might not have seen the light of day without the combined strengths of the Aik siblings and their in-laws, says Daniel. The company was launched in 1990 after he sold his 5% stake in a company he had formed with ex-colleagues.
Daniel sold his shares for RM30,000 — not much for a person who had contributed so much to the firm for nearly a decade. It was insufficient for him to kick-start his new venture. So, he reached out to his siblings and in-laws for an additional RM70,000.
Operating from his sister's house in Cheras, Taman Connaught, Daniel sourced various types of valves from local suppliers and sold them to local factories in the oil and gas, and palm oil industries. As business grew, he imported those products, from Europe, Japan and Taiwan.
The family enjoyed profit margins of as high as 100% to 200% in the 1990s,  when the internet was not yet in existence and market information was not well disseminated. While those halcyon days are now over, the Aik family has built a solid foundation for the company.
"We grew bigger and bigger and, of course, it was with the help of my siblings," says Daniel.
The Aik siblings have never forgotten the words of their late father, who passed away last year in Kluang.
Of education, poverty and the value of hard work
Dancomech's is a story about education, hard work and the will to rise out of poverty.
With nine children to support, the late Cheng Tor, who had to work very long hours in the rubber estates of Gan Teng Siew Realty Sdn Bhd, was left with very little time to spend with them.
Daniel and some of his siblings were raised by their late grandparents. Most of them dropped out of secondary school to work as there was no money to further their studies. However, it did not mean that Cheng Tor did not care about education. It was quite the opposite as he believed education could lift the family from poverty.
While the colour of red represents luck and prosperity for the Chinese, little Daniel and his siblings dreaded seeing red ink on their exam papers, for their father would be waiting at home to give them a good caning.
"One red colour (on your exam paper), and you'd get a whipping. You couldn't run away when he wanted to cane you. We had to stand there. We were not allowed to run. He was very strict about that," Daniel recalls with a laugh. At the age of 63, those dreadful times are now fond childhood memories.
Unlike other parents, Cheng Tor never once punished his children outside the house or in public to humiliate them. "He was good. He didn't cane us elsewhere. Never. He only caned us at home."
However, Daniel did not further his studies after finishing secondary school as he was eager to earn money for himself and the family.
Apart from the importance of education, Cheng Tor taught his children to work hard. Johnson remembers vividly those days when he would accompany his father on a motorbike to the rubber estates on weekends.
It was an arduous journey — 1½ hours of traversing narrow and muddy roads. The situation was worse during the rainy season when dry mud would turn into sludge, sticking to the wheels of the motorcycle.
Regardless, the late patriarch would start working as usual when they arrived, just like during the weekdays.
"My father worked very hard. Otherwise, how could he have supported nine children? It was very difficult for someone from the low-income group," says Daniel.
Johnson emulates his father. "He works long hours even today, when our lives have improved so much from before," Daniel says.
Like many other entrepreneurs from the older generation, working hard was not a choice but a means of survival. Poverty motivated the Aik siblings to work harder.
Honest conversations with mutual understanding
However, maintaining a harmonious relationship was not easy among the siblings. At times, a frank conversation was called for, which required mutual understanding and tolerance.
Given that Dancomech is increasingly seeking outside talent to fill key management positions, a member of the Aik family who can no longer add value to the company could be asked to step down while still being a shareholder.
It is no easy task asking an elder brother who had contributed to the company and family for decades to resign from his position, even if it is for good reason, says Johnson. Recently, he had to have a frank talk with his second brother, who is in poor health. A new talent would replace him in managing the company's warehouse.
"It was a very harsh request. But I told him that one day, I would be like him too. I would have no choice but to step down and pass the baton to someone if my health no longer allowed me to work. Correct or not? We think we can stay at the company forever? It's not possible.
"We have to attract new blood in our company, those younger people who can work better and faster, and with new skills," says Johnson.
It boils down to future growth and profitability, reasoned Johnson to his brother. "It is whether you want the company to grow or not. You're still a shareholder. If the company continues to grow, you will be rewarded with dividends."
As per the firm's corporate governance policy, anyone who reaches the age of 60 will be put on a one-year contract. And if an employee can no longer contribute meaningfully to the company, his or her services would be terminated, says Daniel. "We want to ensure the company is run more professionally."
After three decades of working hand in hand, Daniel is confident that the siblings will continue to stick together and make the best decisions for both the firm and the family. After all, they have gone through a lot together. Those past experiences would be valuable in guiding them to overcome future challenges.
Perhaps, it is just what the calligraphy hung in Daniel's office says. The first sentence reads, "For a traveller who walked through the many paths of the world, hiking up a rugged mountain feels flat and at ease."
Seeking new growth drivers
Dancomech Holdings Bhd managing director Daniel Aik and executive director Johnson Aik are on the lookout for opportunities to drive sustainable growth. The company thrived during the 1990s and 2000s mainly through the trading of process control equipment including valves, gauges and pumps. But the market has matured over the years and is getting increasingly competitive. While there continues to be steady demand, the sector is getting less attractive.
So, Daniel and Johnson are looking at how best they can deploy the cash and cash equivalents of RM89.53 million sitting on its balance sheet as at 3Q2022 ended Sept 30, 2022.
"We are looking for M&A (merger and acquisition) opportunities at the moment, at medium-size companies that can enhance our growth. We are quite actively looking and are in negotiations with two or three companies," says Daniel.
What kind of company is Dancomech looking to buy?
Chief financial officer Tang Yuen Kin says its valuation must not be too high and its products and business model not complicated. It must have tangible assets, instead of intangible ones that are hard to value. The management of the target company would also need to be comfortable working with Dancomech.
"This is because we normally don't acquire the entire stake. We prefer a partnership by buying a stake of 60% to 70%, with the owners continuing to run the business," Tang adds.
"We need to make sure we have a good deal, [so as] to answer to our shareholders," Johnson chimes in.
The company is eyeing companies in the electrical and electronics industry, among others.
According to its 3Q2022 quarterly report, the firm's cumulative nine-month revenue increased about 7% to RM150.98 million. Net profit fell slightly by 1.9%. However, Daniel expects 2022's financial results to be better than the previous year's.
Profit after tax in the last three financial years was RM20.12 million in FY2021, RM15.96 million in FY2020 and RM15.01 million in FY2019.
Its 3Q2022 quarterly report also shows that the company had current liabilities of RM44.78 million against current assets of RM190.36 million. Its non-current liabilities were RM11.72 million while non-current assets were RM78.96 million.
For now, Dancomech's fastest-growing business is its metal stamping division, which manufactures air-conditioners for renowned players such Daikin and Panasonic. The company recently bought a piece of land on which it will build a new factory for the division, says Daniel.
The division also manufactures metal furniture under the company's own brand to improve its profit margin.
"We are trying to increase the profit margin to double digits. Now, it is at about 5% to 6%, which is quite low. It is more of a volume game. We hope the furniture unit can bring it up," says Daniel.