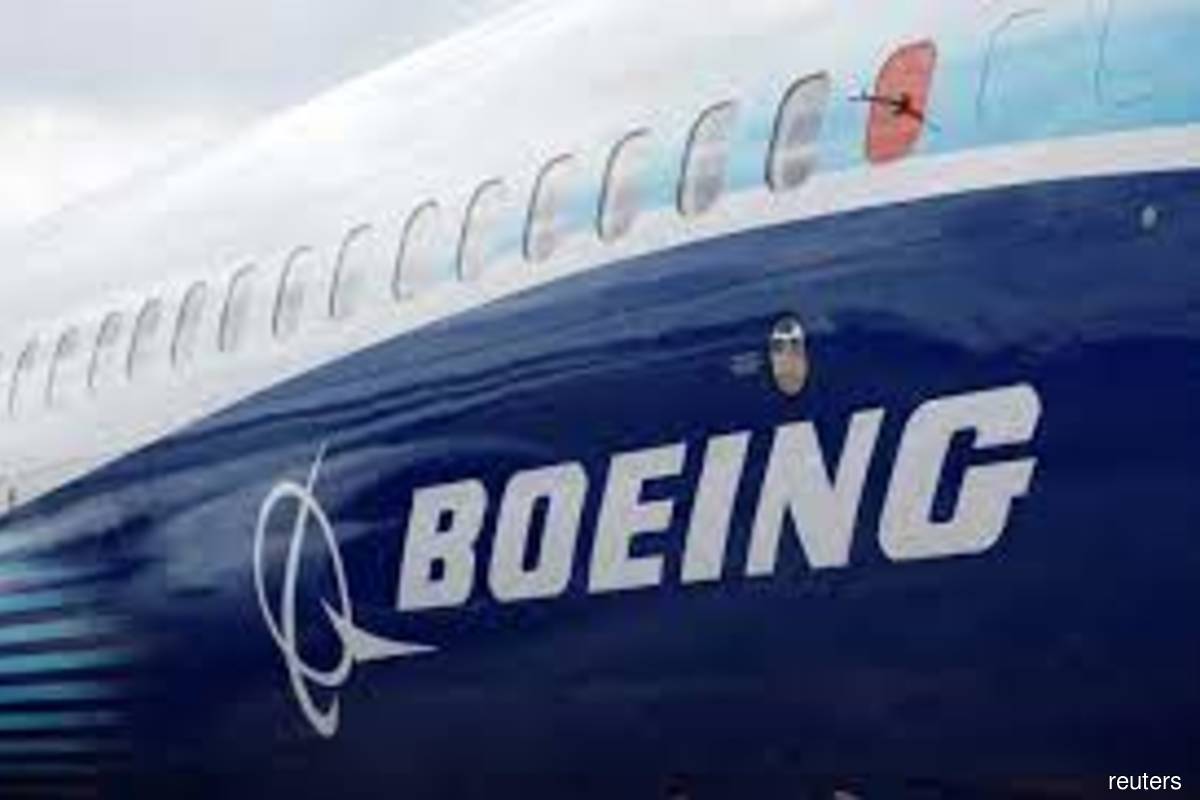 WASHINGTON (Jan 25): Boeing Co losses widened for 2022 on weakness in its defence unit, as it warned of further supply chain issues, but the US planemaker reported its first yearly positive cashflow since 2018.
The US planemaker missed Wall Street expectations on revenue and earnings per share in the final quarter of the year. Boeing shares, which have risen by more than 70% since September, fell 3% Wednesday.
Boeing chief executive Dave Calhoun told analysts the planemaker still faces "a difficult, difficult supply chain and while average deliveries met our objectives, we continue to face a few too many stoppages in our lines ... So those stoppages, while they are coming down, are not where they need to be".
Chief financial officer Brian West said the company was increasing its abnormal accounting estimate by about US$600 million, as it expects 787 production to remain lower for "a bit longer than expected due to a supplier constraint", but still expects to raise its production rate to five per month later this year.
Boeing affirmed plans to deliver up to 450 units of 737 MAX narrowbody aircraft and 70- to 80 widebody 787 Dreamliners in 2023. The company reiterated that it expects to generate US$3 billion to US$5 billion in free cash flow in 2023.
The supply chain issues come as Boeing is working to stabilise and ramp production rates.
Third Bridge analyst Peter McNally said Boeing in 2022 is "showing some significant progress in key areas, although the reported financial results were mixed".
He added "execution has been mixed and the aerospace supply chain's ability to deliver remains uncertain".
Boeing said net losses rose to US$5 billion for all of 2022, from US$4.3 billion in 2021, while losses from operations rose to US$3.5 billion in 2022, from US$2.9 billion.
Boeing generated US$3.1 billion in free cashflow in the final quarter of 2022. It had forecast about US$2.5 billion in free cashflow for the fourth quarter. Boeing reported US$2.3 billion for all of 2022.
Boeing reported fourth-quarter revenue of US$20 billion, up from US$14.79 billion in the same quarter in 2022, and a loss per share of US$1.75. Boeing had been expected to report US$20.38 billion in revenue in the quarter and a gain of US$0.26 a share, according to Refinitiv data.
Earlier this month, Boeing reported a sharp jump in airplane orders and deliveries in 2022. Boeing delivered 480 airplanes and won 774 net new orders, after allowing for cancellations in 2022. Boeing had delivered 340 planes in 2021 and reported 479 net new orders.
The company still faces supply-chain issues as it works to ramp up 737 MAX and 787 production and is working to improve results at its Boeing Defense unit, which posted a US$3.5 billion loss in 2022.
Boeing recorded US$4.4 billion in charges on loss-making defence programmes over the first three quarters of the year, announcing US$2.8 billion in overruns for the third quarter alone.
The company attributed the losses primarily to labour and supply issues that disproportionately impacted the KC-46 tanker and Air Force One replacement programme.
Last month, Boeing won approval from Congress to lift a deadline imposing a new safety standard for modern cockpit alerts for two new versions of the 737 MAX aircraft. Without a waiver, the planemaker had said that the MAX 7 and MAX 10 airplanes were at risk.