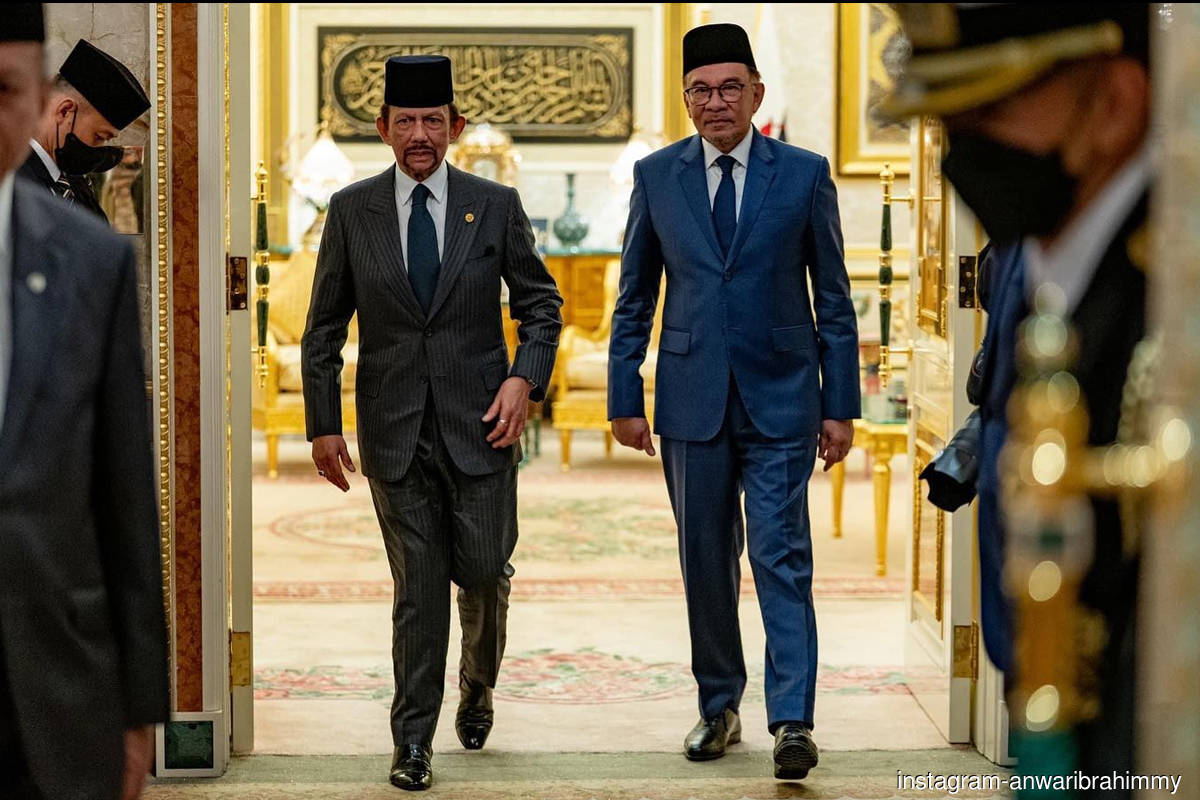 BANDAR SERI BEGAWAN (Jan 25): Prime Minister Datuk Seri Anwar Ibrahim believes that his personal ties with Sultan Hassanal Bolkiah will help expedite the implementation of the various plans and programmes involving Malaysia and Brunei.
"When two country leaders have a very strong friendship, and have plans for both countries, they can always check the progress, and the implementation will be expedited.
"His Majesty has been watching and following our development [in Malaysia]. Friendship is important, and ours has been good and kind of personal. Whenever I'm in distress, His Majesty always shows concern," Anwar told the Malaysian media at the end of his two-day official visit to Brunei on Wednesday (Jan 25).
He said their strong bond was prominently visible during the visit. 
"I can feel something special there. His Majesty also knows that our strong personal and family ties will help strengthen the bilateral ties between our two countries," Anwar added.
Earlier on Wednesday, Sultan Hassanal Bolkiah granted an audience to Anwar at Istana Nurul Iman here, where they also had a four-eye meeting.
The PM and the ruler of Brunei also witnessed the signing of a memorandum of understanding between the Malaysian Investment Development Authority (MIDA) and the Brunei Investment Agency (BIA).
Anwar said success stories created and made possible by the existing relationship between the two countries prove that the strength of the bilateral ties is at the top level.
He said during the four-eye meeting, various matters were discussed, such as efforts to intensify border development and increase investments between the two countries.
"These are for the people. The businesses, the investments are important. His Majesty wants the cooperation with BIA to be expedited, so that we can explore more opportunities for investments.
"His Majesty also emphasised the possibility of expediting issues related to oil exploration, involving Petronas if necessary, for the areas to be made by joint development authority," he said.
The PM said apart from that, on the matter of Indonesia's new capital, Nusantara, it is hoped that there will be a synergy with Malaysia's interests, especially on the borders of Sabah and Sarawak.
"This involves additional allocations, tourism traffic, the movement of three countries (Malaysia, Indonesia and Brunei), and the Sarawak government's incentive to continue the land route. His Majesty is excited and confident that we can enhance the ties," he said.
Meanwhile, Anwar said the Sabah and Sarawak governments had raised the role of Bandar Seri Begawan as an international aviation centre, and hope to increase flights to Bandar Seri Begawan as a hub for the sub-region.
Read also:
Anwar granted an audience with Sultan Hassanal Bolkiah of Brunei