This article first appeared in The Edge Malaysia Weekly, on January 23, 2023 - January 29, 2023.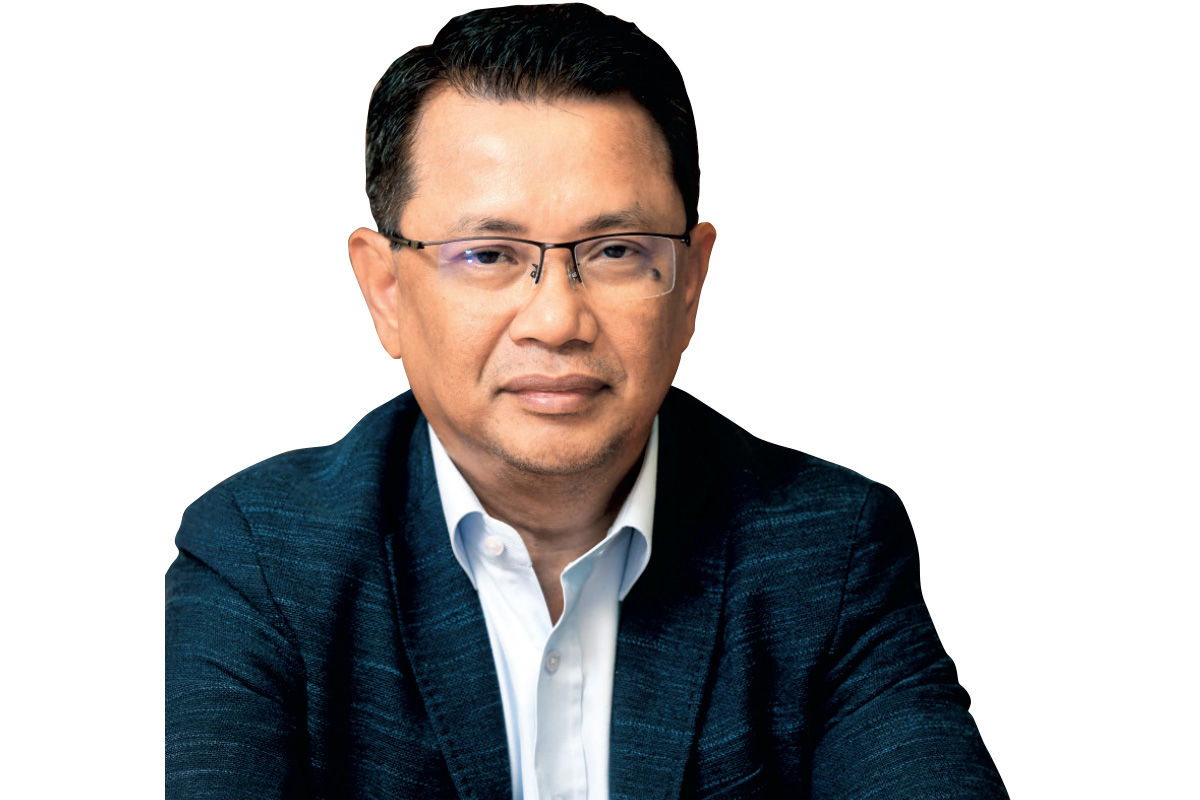 CITAGLOBAL Bhd (formerly known as WZ Satu Bhd) is pitching for the East Coast Rail Line's (ECRL) power supply to be awarded exclusively to the consortium comprising itself and Reneuco Bhd (formerly known as KPower Bhd). This is to ensure the security of supply of power to the entire infrastructure, including for the accelerated demand that may arise from the development of industrial facilities along the line, Citaglobal executive chairman and president Tan Sri Mohamad Norza Zakaria says.
"Most important is the security of supply. You need to have a dedicated security of supply," Norza tells The Edge at his office in Menara BRDB in Bangsar.
Nevertheless, the decision to award the Citaglobal-Reneuco joint venture (JV) the exclusivity still lies with ECRL's project owner, Malaysia Rail Link Sdn Bhd (MRL), as well as the relevant authorities, such as the Energy Commission.
According to Norza, the JV is still negotiating and firming up all the terms and workings of the contract together with MRL, and that a decision could be reached within the next six to eight weeks.
To recap, on Dec 21, 2022, the 50:50 JV between Citaglobal and Reneuco accepted a letter of intent from MRL to become the independent power producer (IPP) for the development of an independent and renewable power producer project for the ECRL.
In accordance with the letter, MRL intends to engage the consortium for the planning, design, financing, development, construction, installation, completion, commissioning and operation of the ECRL IPP project.
While the consortium is still negotiating with MRL on the scope and details of the IPP project, Norza says the cost is not expected to be more than RM1 billion. The concession period that the consortium is looking at should be about the same as other IPP projects, around 21 years.
When asked whether discussions with MRL included a take-or-pay clause for the power generated by the IPP, Norza did not confirm or deny this. The consortium is looking at an internal rate of return in the mid-teens for the project to be bankable, he says.
"We are in the midst of discussion [with MRL]. Nothing is cast in stone yet. In six to eight weeks, we should have a clearer picture.
"We are pitching a win-win situation for both parties because we are basically going to have to undertake financial commitments. We will have to invest — by 2026; we have to do a lot of investments from the day that we get this contract," says Norza, who is better known in the sports community.
He is the president of the Olympic Council of Malaysia and the Badminton Association of Malaysia, as well as a board member of the National Sports Council. A chartered public accountant by training, he was the political secretary to the minister of finance II between April 2004 and March 2008. He founded Citaglobal Sdn Bhd in April 2008 and has been its president and group CEO since.
The ECRL IPP project is one of the many initiatives that Norza is undertaking to transform Citaglobal since he emerged as a substantial shareholder in early 2020.
He first emerged as a substantial shareholder in the construction and oil and gas player WZ Satu after acquiring 41.19 million shares or 10.95% from Tengku Datuk Seri Uzir Tengku Datuk Ubaidillah for a total of RM9.06 million.
Since then, he has been growing his stake in Citaglobal through his private investment entity TIZA Global Sdn Bhd, which also undertook a mandatory takeover offer of all the Citaglobal shares it did not own for 19 sen apiece on Nov 22, 2022.
The offer fell through as the offer price was deemed not fair and not reasonable by the independent adviser. As at Dec 23, 2022, Norza owned 45.04% of Citaglobal.
Citaglobal turned profitable with a net profit of RM127,000 in the quarter ended Sept 30, 2021, and has been profitable ever since. In the nine-month period ended Sept 30, 2022, Citaglobal recorded a net profit of RM6.43 million.
The improving fortunes of Citaglobal are down to Norza cleaning house, from reducing the losses from its construction arm as well as the oil and gas outfit to disposing of some of its businesses.
"To cut a long story short, most of the legacy issues have been dealt with and we are on a so-called clean slate to build the second part of the journey — that is to strengthen the new businesses that have been created so we will be able to increase the value of the company further," he says.
Citaglobal is venturing into renewable energy (RE) as well as the telecommunications business. The ECRL IPP will be its first RE project, as it will be a combination of natural gas and solar power plant.
To beef up the group's capability in RE, Citaglobal has also partnered with Genetec Technology Bhd to leverage the latter's battery energy storage system (BESS) that will be offered in its RE solutions. The ECRL IPP project would also include a BESS to store the power generated from the solar system.
The partnership between Citaglobal and Genetec has also opened doors for the company to PT Industri Baterai Indonesia's (Indonesian Battery Corp or IBC) ecosystem. During Prime Minister Datuk Seri Anwar Ibrahim's official visit to Indonesia, Citaglobal signed a memorandum of understanding (MoU) with IBC to explore opportunities for the two groups to work together.
In any case, Citaglobal will be leveraging Genetec's technological capabilities in BESS as well as in manufacturing line automation, and offer solutions to IBC to be implemented in Indonesia. One of the opportunities is the electrification of Indonesia's 6,000 inhabited islands with RE. IBC will be one of the government-linked corporations implementing the project.
The MoU provides an opportunity for Citaglobal to participate in this effort by the Indonesian government, says Norza.
Apart from the RE business, Citaglobal is also venturing into the telecommunications tower business, focusing on the deployment of 5G. According to Norza, the group will offer a tower-sharing model to telcos, building towers only when there is a secured contract.
"We are just starting out; prior to this, we were in the fiberisation business. For a start, we are going to roll out 50 to 100 towers in 2023 and 2024," says Norza.
All these plans require a lot of capital, and Norza says the group is looking to raise another RM60 million to RM70 million through private placements and issuing debt paper.
Citaglobal's share price has rallied by more than 82% since Aug 22, 2022, closing last Thursday at 32 sen per share, giving the company a market capitalisation of RM606.35 million. From its five-year low of 4.1 sen on March 19, 2020, to last Thursday's closing price, the counter has appreciated by more than 680%.
Despite the counter already rallying, the journey towards becoming a regional conglomerate is just starting for Norza and Citaglobal.
Some say that Norza is committed to Citaglobal's shareholders through the RM60 million net profit guaranteed for the acquisition of Citaglobal Engineering Services Sdn Bhd (CESSB). Citaglobal acquired CESSB for RM140 million from Norza and others.
Since the acquisition was just completed in November 2022, the profit guarantee will be spread over 2023 and 2024. Assuming the profits are recognised evenly at RM30 million each year, this translates into an earnings per share (EPS) of 1.6 sen.
At the 32 sen per share closing price last Thursday, Citaglobal was trading at a forward price-earnings ratio (PER) of 20 times. Based on an annualised 9MFY2022 EPS of 0.81 sen and the 1.6 sen from the profit guarantee, total EPS amounts to 2.41 sen, giving the company a forward PER of 13.3 times.
These are lower than Citaglobal's historical PER of 30.77 times, based on the current share price and trailing 12-month (TTM) EPS.
There is no locally listed company that is comparable to Citaglobal, given the different businesses it is in.
Binasat Communications Bhd, which is involved in the telecommunications industry, is trading at a TTM PER of 19.4 times while Solarvest Holdings Bhd and Samaiden Group Bhd, which are involved in the solar power industry, have a TTM PER of 47.4 and 23.3 times respectively.
It is worth noting that the Yang di-Pertuan Agong Al-Sultan Abdullah Ri'ayatuddin Al-Mustafa Billah Shah owns a substantial 12.44% stake in Citaglobal. His Majesty's involvement in Citaglobal dates back to before Norza's emergence as the largest shareholder of the group.