This article first appeared in The Edge Malaysia Weekly, on January 23, 2023 - January 29, 2023.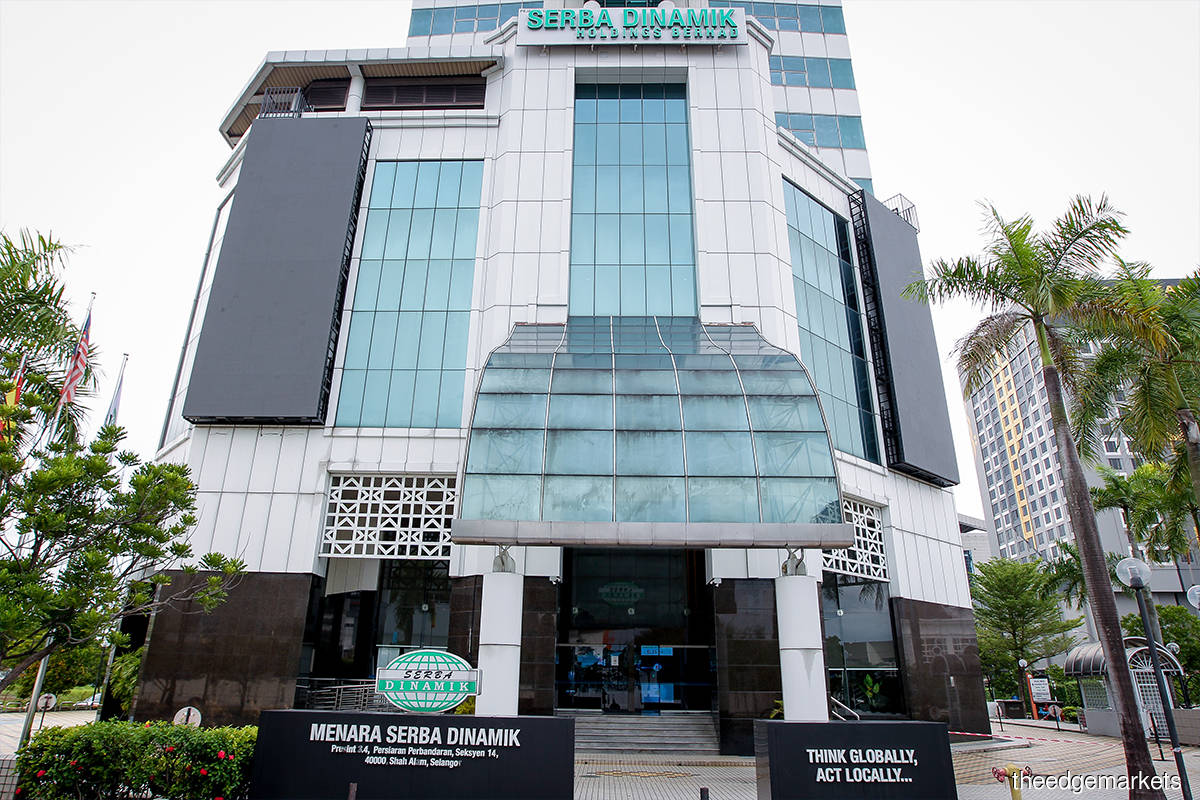 THE cover of Serba Dinamik Holdings Bhd's integrated report for 2021/22 has the heading "Awakening to the next chapter" and a visual of a phoenix taking flight.
Inside, in non-independent non-executive chairman Datuk Abdul Kadier Sahib's statement, he explains that the phoenix describes the company's current state of affairs, as the bird, according to Greek mythology, is said to be immortal and cyclically regenerates itself, being reborn by rising from the ashes of its predecessor.
"In simpler terms, it is a bird that never dies. We at Serba Dinamik believe that we, too, will rise from any setbacks and come back stronger in the face of challenges, just like the phoenix," says Abdul Kadier. "In its moments of adversity, Serba Dinamik fell back on the company's corporate governance, strong values and purpose to continue moving forward."
Many would disagree with him.
Meanwhile, Datuk Mohd Abdul Karim Abdullah — Serba Dinamik's controlling shareholder, managing director and CEO — in his statement in the document, says, "I am certain that when we have restructured and transformed our company, it will be met with positive feedback from our shareholders, customers, suppliers and, last but not least, our employees."
Mohd Abdul Karim's sentiments are viewed as optimistic by others in the oil and gas industry.
On Jan 10, the High Court allowed a petition by six financial institutions to wind up Serba Dinamik and three of its subsidiaries, which have mounting debts of about RM5 billion, including US$500 million in sukuk. Serba Dinamik filed for an adjournment of the winding up proceedings but was rejected. While the company is appealing the decision, whether or not it will be successful remains to be seen.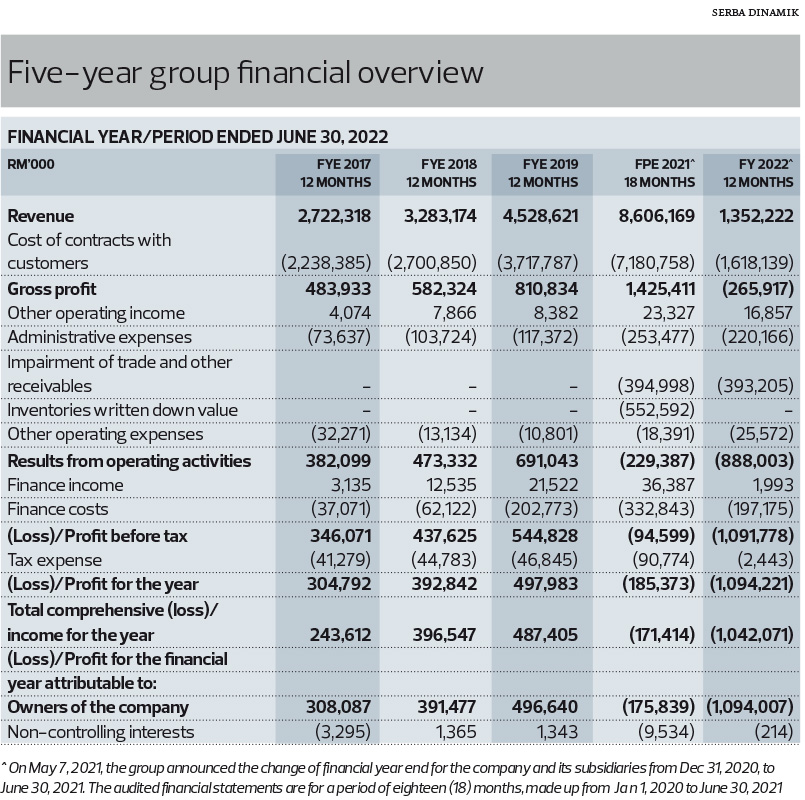 The court had appointed Victor Saw Seng Kee of PricewaterhouseCoopers Advisory Services Sdn Bhd as the liquidator.
At the hearing in court, it emerged that Serba Dinamik and the three subsidiaries had failed to make obligatory statutory payments, including those that relate to the Employees Provident Fund and Social Security Organisation, for their staff.
A lawyer for one of lenders had said: "The interim liquidator's report on Aug 23 conclusively showed the companies are commercially insolvent," when arguing against Serba Dinamik's application to adjourn the winding up proceedings.
Back to the integrated annual report, which covers the 18 months ended June 30, 2021 (FPE2021) and financial year ended June 30, 2022 (FY2022). In the report, Serba Dinamik says that cash flow constrains brought about by Covid-19 had hampered its debt paper obligations.
One of Serba Dinamik's issues stems from debt paper it issued for working capital and the refinancing of existing debt, among others. In FY2019, the company issued and raised US$300 million in debt paper with tenures of three years — maturing in 2022 — with a coupon of 6.3% payable semi-annually. Also in FY2019, it issued US$200 million in sukuk with a tenure of five years and three months — maturing in 2025 — with a coupon of 6.99% payable semi-annually. In FY2020, Serba Dinamik issued RM100 million in sukuk with a tenure of one year and a coupon of 4.35%, maturing in 2022.
Its inability to service the debt gave rise to the petition by the financial institutions.
Looking at the Practice Note 17 company's numbers, and what has transpired thus far, Serba Dinamik seems unlikely to make good anytime soon.
To put things in perspective, for FY2022, the company suffered a net loss of RM1.09 billion from revenue of RM1.35 billion. For FPE2021, it had a net loss of RM185.37 million on the back of RM8.61 billion in revenue.
Serba Dinamik's cash and cash equivalents have tumbled about 88% from RM497.41 million as at end-FPE2021, to RM57.49 million as at end-June 2022. Short-term debt commitments, due within 12 months, stand at RM1.51 billion, while long-term borrowings are pegged at RM2.14 billion.
Serba Dinamik's net finance cost for FY2022 was RM195.18 million, while it had negative cash flow of RM273 million generated from operating activities.
While its chairman and managing director have painted a picture that things may pick up at the company, its auditors Nexia SSY PLT, or Jason Sia Sze Wan to be exact, indicate that at the group level, there were unverified property, plant and equipment of RM1.99 billion, unverified inventory of RM1.59 billion, unverified trade and other receivables of RM1.59 billion, unverified trade and other payables of RM639.56 million, unverified loans and borrowings of RM3.65 billion, unverified revenue of RM1.35 billion and unverified cost of contract with customers of RM1.61 billion. These work out to some RM11.08 billion in total of unverified items for which Nexia SSY PLT was unable to conclude the carrying amounts.
Abdul Karim says of the losses in FY2022, "This is mainly due to the outcome from the debt settlement scheme ... (and the initiatives of the interim liquidator) to manage the operations, restructure the operational efficiency, continuous cost optimisation, minimising the value of existing contracts and strengthening legal and contractual position with clients and sub-contractors."
He adds, "The margins decreased due to impairment of trade and other receivables and inventories written down value."
How deep this issue goes is not clear, but Serba Dinamik's net assets for FY2022 were RM1.91 billion, down RM1.06 billion from RM2.97 billion as at end-FPE2021. What is clear is that from a company with a market capitalisation of RM6 billion at its peak, it is now valued at RM74 million and its shares are suspended at two sen apiece.
The issues not mentioned in the annual report
In Serba Dinamik's integrated annual report, it is stated that there were compounds of RM3 million each for one key management figure and two directors, but no were details given and the culprits were not named.
The four officials compounded, as widely reported, are Mohd Abdul Karim; executive director Datuk Syed Nazim Syed Faisal who was chief financial officer from June 2016 until mid-2020; the group chief financial officer at the time of the compounding Azhan Azmi, and vice-president of accounts and finance Muhammad Hafiz Othman. All of the four are still at Serba Dinamik.
When accounting issues cropped up at the company in May 2021, many were shocked, and some were sceptical of the claims of the auditors, KPMG. KPMG had highlighted discrepancies involving transactions worth some RM4.54 billion in the FY2020 accounts to independent directors in May 2021.
On the insistence of frontline regulator Bursa Malaysia, Serba Dinamik appointed Ernst & Young Consulting Sdn Bhd (EY Consulting) to undertake a review of KPMG's work and findings.
In the meantime, Serba Dinamik sued KPMG, suggesting that the auditors had blown things out of proportion. When EY Consulting maintained KPMG's findings and flagged revenue of RM6.01 billion for FY2020, Serba Dinamik sought legal redress against them as well.
However, when court documents leaked, it was revealed that the Securities Commission Malaysia (SC) had found 59 company and personal stamps of external parties — such as Malaysia LNG Sdn Bhd, Petronas Gas Bhd, Petronas Carigali Sdn Bhd, Petronas Methanol (Labuan) Sdn Bhd, Petronas Chemicals Methanol Sdn Bhd, Petronas Refinery and Petrochemical Corp Sdn Bhd, Petronas Chemicals Ammonia Sdn Bhd, Sarawak Shell Bhd, Petronas Chemicals LDPE Sdn Bhd, Exxonmobil Exploration and Production Malaysia Inc, Petronas Carigali (Turkmenistan) Sdn Bhd, Petronas Chemicals Derivatives Sdn Bhd, Sabah Shell Petroleum Co Ltd, Shell MDS (Malaysia) Sdn Bhd, PRPC Utilities and Facilities Sdn Bhd and Shell Cyberjaya.
There were questions about a customer and supplier in Bahrain whose office address could not be located, and transactions with this outfit totalled US$101 million (RM417.48 million then) and the trade receivables balance was US$24 million (RM99.2 million then).
If the objective of an annual report is to present to shareholders a true picture of the financial position of the company for the period that has just passed, it is not clear if Serba Dinamik's integrated report achieved this.