This article first appeared in City & Country, The Edge Malaysia Weekly, on January 23, 2023 - January 29, 2023.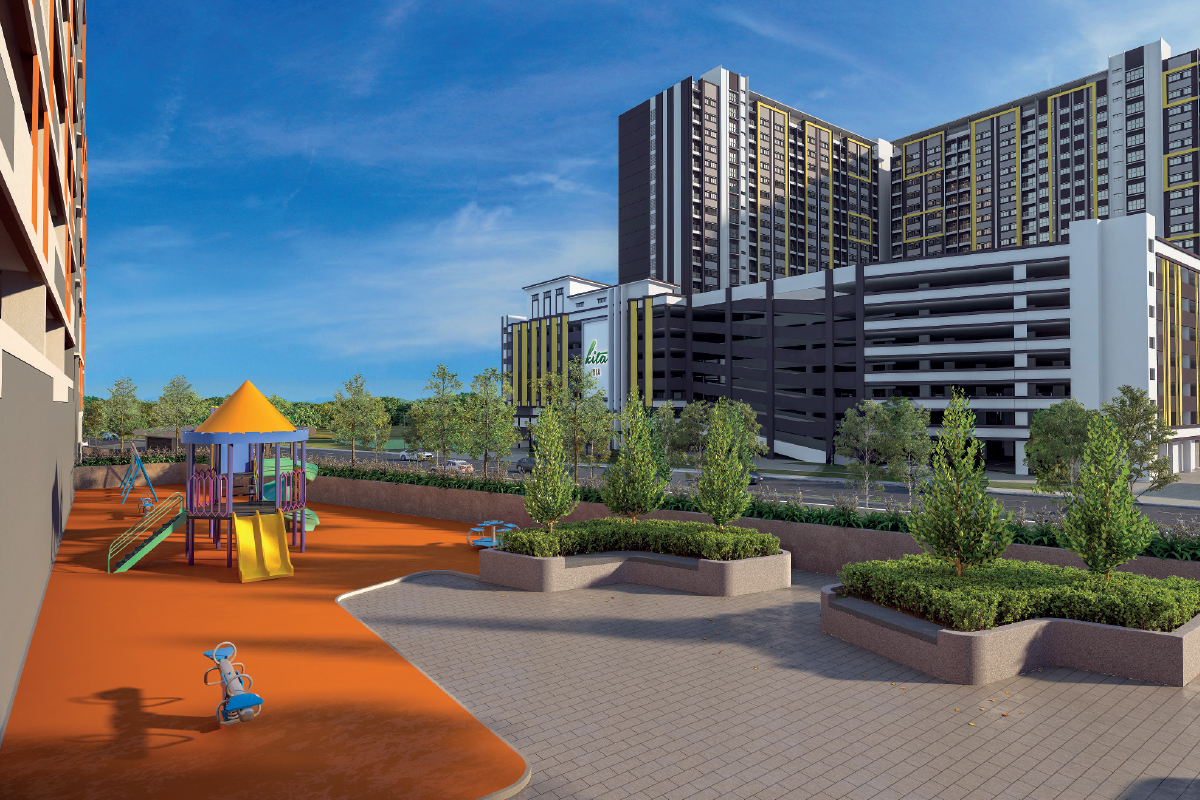 LBS Bina Group Bhd has raised its sales target to RM2 billion for the year, during which it plans to launch 12 projects with a total gross development value (GDV) of RM2.09 billion. The developer performed strongly in 2022 with sales of RM2.003 billion, which exceeded its target of RM1.6 billion by 25%.
At a media briefing on Jan 10 at KITA @ Cybersouth Sales Gallery, executive chairman Tan Sri Lim Hock San unveiled LBS Bina's 2023 project plans, which cover the Klang Valley, Johor, Pahang and Perak. The projects will encompass 4,021 units across all property types. The developer's forecast vacant possession for the year is 7,209 units.
LBS Bina plans to launch 2,118 units with a total GDV of RM1.1 billion in the Klang Valley, which has consistently provided the developer with the highest sales contribution over the years, says Hock San. At KITA @ Cybersouth — one of the company's gated-and-guarded township developments — it will launch 1-storey and 2-storey link houses as well as townhouses in the KITA Bestari residential enclave, amounting to 817 units with a total GDV of RM418 million.
In Puchong, the group plans to launch 155 units of Astella 2-storey terraced houses with a GDV of RM139 million at D'Island Residence. Meanwhile, in Seri Kembangan, it will launch Block B of Prestige Residence, comprising 725 units with a GDV of RM313 million.
New projects in Pahang will include the Bayu Hills serviced apartments in Genting Highlands, with 642 units and a GDV of RM482 million. In Perak, LBS Bina intends to launch more phases at Taman Kinding Flora, Chemor, comprising 94 units of 1-storey terraced houses with a GDV of RM27 million and 90 units of 1-storey cluster link houses with a GDV of RM22 million.
In Johor, the group plans to launch the Zenit Molek serviced apartments, comprising 988 units with a GDV of RM436 million, at Taman Molek. At Bandar Putera Indah in Batu Pahat, it aims to launch the Imperial Garden 2-storey semi-detached houses with 63 units and a GDV of RM40 million, and the Emerald Garden 1-storey link houses with 26 units and a GDV of RM11 million.
Resilient despite challenges
Breaking down LBS Bina's sales by region, Hock San says the Klang Valley contributed to 90% of the developer's property sales last year, followed by Pahang (5%), Johor (3%) and Perak (2%). The group had successfully handed over 2,957 units worth RM1.27 billion across all property types.
As at Dec 31, 2022, the developer had 18 ongoing projects worth RM5.7 billion. It also had unbilled sales of RM2.46 billion while some RM1.3 billion worth of properties from 18 ongoing projects were still available for sale.
Hock San reveals that last year, the group launched 10 projects with a total of 4,910 units and GDV of RM1.63 billion. In the Klang Valley, developments were launched at KITA @ Cybersouth (1,311 units), Idaman Melur @ Cybersouth (1,448 units), LBS Alam Perdana (642 units) and Idaman Bandar Saujana Putra (1,312 units), among others. Outside of the Klang Valley, the group launched a few projects in Bandar Putera Indah in Johor (109 units), Cameron Centrum in Pahang (24 units) and Taman Kinding Flora in Perak (64 units).
Speaking on the challenges the group faced last year, Hock San says the Russia-Ukraine war had caused the price of crude oil and gas to increase, which led to supply chain disruptions. Meanwhile, a spike in China's Covid-19 cases resulted in the country being in total lockdown. "Goods could not be exported and ships carrying imported goods could not enter China. As a result, prices of raw materials went up, causing looming global inflation.
"Looking at the challenges we have faced as a developer, there were labour shortage issues, hikes in interest rates and the increase in raw material costs. This is not only a problem for the real estate industry but also for many other sectors like food and beverage and agriculture. The construction worker shortage affects both developers and buyers because launches get delayed by many months. Without foreign workers, we would have no production," Hock San stresses.
Despite the challenges and difficulties the group faced in 2022, LBS Bina has managed to remain resilient, he says. "Last year, we announced a sales target of RM1.6 billion …  we kept our sales target similar to that in 2021. Like everyone else, we were worried that Covid-19 cases would increase again but we pushed through."
Hock San attributes the group's 2022 success to careful planning, effective campaigns and government incentives. "We were able to surpass our sales target because we chose the right locations for our projects. The team spends months researching before setting foot anywhere. The group's smart marketing campaigns as well as subsidies and incentives from the government to help first-time homebuyers purchasing homes under RM500,000 also helped boost our sales." 
Exciting year ahead
LBS Bina executive director and sustainability committee chairperson Datuk Lim Mooi Pang says the group's sustainability goals and initiatives also reflect its success.
This year, LBS Bina will focus on educating the company's employees on environmental, social and governance (ESG) issues. It also plans to launch an initiative called Green Mission to strengthen the group's corporate responsibility to reduce its carbon footprint.
"LBS Bina aims to ensure support towards local industries by engaging with local suppliers and contractors to reduce environmental impact. The group will look into minimising the waste in our development by maximising the use of  industrialised building system (IBS) precast concrete, which reduces on-site construction waste significantly. Moreover, the adoption of IBS precast concrete will reduce the construction duration and labour cost, as well as lead to fewer defects.
"[As part of our initiative], LBS Bina is committed to moving towards enabling low carbon cities with the adoption of renewable energy and installation of rainwater harvesting systems at all offices and sales galleries. In addition, we plan to launch a tree-planting campaign to educate our staff, business partners and community to preserve Mother Earth and align ourselves with the national standards of planting 100 million trees by 2025," Mooi Pang adds.
Hock San expects economic and market volatility to remain this year. Despite this, the group is ready to embrace any challenge that comes its way.
"We have carried out strategic planning and discussions to ensure we navigate 2023 cautiously and on a steady footing as we look to maintain our performance. There is much to look forward to as we aim to launch properties worth RM2.09 billion in GDV across various states. We are committed to ensuring our properties continue to remain attainable to prospective homebuyers," says Hock San.
"Amid these trying times, we appreciate and realise the importance of human capital in order to bring the group forward. Hence, we will invest further in our talent and digitalisation initiatives as we look to elevate LBS Bina to greater heights. We also aim to continuously reward our shareholders in accordance with our dividend policy, which is to pay out 30% of the profit after tax and non-controlling interest."