This article first appeared in City & Country, The Edge Malaysia Weekly, on December 26, 2022 - January 08, 2023.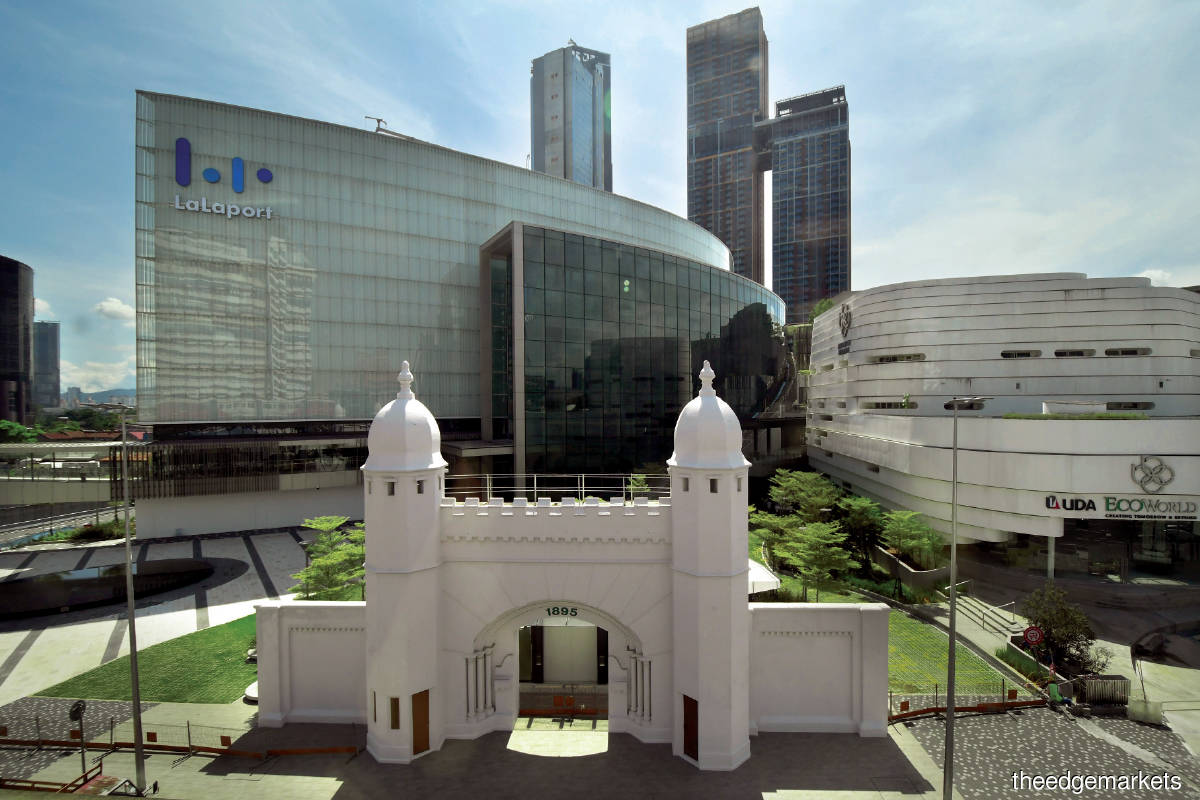 In 2022, we saw many countries recovering from the Covid-19 pandemic, as well as some powerful ones falling into chaos. For Malaysia, it was no doubt a year of recovery, despite the economy having gone through a tough time and resulting in us taking a while to get back on our feet. However, there is light at the end of the tunnel and glimpses of hope, especially in the real estate industry.
The industry has seen a lot of changes in the past year. Among them are the increases in the overnight policy rate (OPR) and building material prices; the launch of multi-billion ringgit projects and the biggest land purchase in the past five years; the proposed enactment of the Residential Tenancy Act; and the official opening of the Battersea Power Station in London, a proud moment for Malaysians.
As we bid farewell to 2022, let's take a moment to look back on some of the country's major real estate events in the last 12 months.
January
The first LaLaport mall in SEA opens its doors 
On Jan 21, Japan's Mitsui Fudosan Co Ltd opened its first LaLaport mall in Southeast Asia. Dubbed LaLaport Bukit Bintang City Centre, the mall has about 400 stores that feature Japanese brands that are making their first appearance in Malaysia.
February
Genting SkyWorlds Theme Park finally opens for business 
The RM3.3 billion outdoor theme park opened on Feb 8. Originally intended to be a 20th Century Fox World-branded park, it changed to Genting SkyWorlds after The Walt Disney Co acquired the Twenty-First Century Fox group of companies in 2018.
Residential Tenancy Act on the way
The Ministry of Local Government Development planned to enact the Residential Tenancy Act, and it sought feedback through a one-month public consultation from Jan 28 to Feb 28.
March
Multibillion-ringgit Langkawi project kick-started
The first phase of the 2,000-acre Langkasuka project was announced in 2Q2022. It will consist of a golf course by the sea, lush villas and resort homes, a designer-brand mall, shopping bazaar, five-star hotel and condominium. The estimated gross development value of the first phase is RM4.5 billion.
Construction of MRT3 to cost RM31 bil 
MRT Corp announced that the MRT3 Circle Line project will cost about RM31 billion and will be completed by 2030. At about 51km in length, the line will have a circular alignment, running along the perimeter of Kuala Lumpur city.
April
Building material costs skyrocket
As at March 2022, prices of steel, glass and metal had increased by at least 20% from January 2020. The Master Builders Association Malaysia (MBAM) on April 15 issued a statement to express its concern about high building material prices and called on the government to alleviate the price pressures faced by contractors.
May
Penang plans to regulate short-term rentals
Despite the announcement of a ban on short-term rental homes or homestays, the Penang Tourism and Creative Economy Committee said on May 5 that it was in talks with relevant ministries and agencies to set up new rules and regulations to regulate short-term rental homes or homestays in Penang.
OPR rate rises for first time in almost two years
On May 11, Bank Negara Malaysia increased the overnight policy rate (OPR) by 25 basis points to 2% from 1.75%. The rate of 1.75% was the lowest on record from 2004 to 2020, and had been maintained since July 7, 2020.
June
MRT2 starts operations 
The MRT Putrajaya Line (MRT2) Phase 1 was finally opened on June 16 after being delayed since 2021, owing to the pandemic. The entire Putrajaya Line covers a length of 57.7km, with a total of 36 stations from Kwasa Damansara to Putrajaya.
Genting Highlands sees massive development launch 
Tropicana WindCity was launched on June 16 by Tropicana Corp Bhd. The 596-acre development will be anchored by Tropicana Paradise, which covers 308 acres and will have commercial and residential components as well as a 38-acre integrated entertainment hub with serviced residences, five-star hotels, a theme park and a shopping mall.
July
Sabah explores relocation of Kota Kinabalu International Airport
As the Kota Kinabalu International Airport (KKIA) is unlikely to expand further due to land constraints, the Sabah government signed a memorandum of understanding with Berjaya Land Bhd on July 1 to explore the possible relocation of KKIA to Kimanis.
One of KL's oldest mall torn down 
The demolition of the decades-old Plaza OUG started on July 31 to make way for a new development. According to Kuala Lumpur City Hall (DBKL), there are plans to redevelop Plaza OUG into a mixed-use development.
August
Single-largest land purchase in five years concludes
Matrix Concepts Holdings Bhd paid RM460 million for 1,382.2 acres of land in Malaysia's Vision Valley 2.0 (MVV 2.0) in Negeri Sembilan. The developer said the land purchase represented the biggest land deal in Malaysia in terms of size in the past five years.
September
New highway to ease KL traffic completed 
Phase 1 of the Sungai Besi-Ulu Kelang Elevated Expressway (SUKE) was opened on Sept 16. The highway is poised to be a major alternative route in several strategic locations such as MRR2, Jalan Ampang and Jalan Loke Yew, reducing traffic congestion by up to 36% during peak hours and cutting travel time from 75 minutes to 25 minutes.
Milestone for green mortgage market 
National mortgage corporation Cagamas Bhd entered into an agreement with the Asian Development Bank with a view to expand the green mortgage market to include B40, M40 and female-headed households.
Scandinavian IBS expands its venture in Malaysia 
Sweden-based industrialised building system (IBS) firm Scandinavian IBS Sdn Bhd undertook an additional expansion of 6.07ha at its new plant in Penang Science Park in Simpang Ampat with investments worth RM500 million over the next five years.
October
EcoWorld's Tan Sri Liew Kee Sin named honorary Commander of the British Empire 
Eco World Development Group Bhd executive chairman Tan Sri Liew Kee Sin was named honorary Commander of the Most Excellent Order of the British Empire. The British High Commission in Kuala Lumpur said on Oct 4 that Liew was honoured for his services to successful regeneration and development projects in the UK, and for his contributions to UK-Malaysia trade and investment ties.
Stamp duty remission increased
The government raised the stamp duty remission to 75%, from 50% previously, for transfers of residential properties priced between RM500,000 and RM1 million. The increase in remission will be effective until Dec 31, 2023, said former finance minister Tengku Datuk Seri Zafrul Abdul Aziz when he tabled Budget 2023 in parliament on Oct 7.
Agong officially opens Battersea Power Station 
The Yang di-Pertuan Agong Al-Sultan Abdullah Ri'ayatuddin Al-Mustafa Billah Shah performed the opening ceremony of the Malaysian-owned Battersea Power Station in Central London. Almost four decades after its closure, the restored Grade II listed landmark opened to the public on Oct 14.
November
S P Setia named top developer at TPDA  
S P Setia Bhd took the No 1 spot at this year's The Edge Malaysia Top Property Developers Awards (TPDA). The developer won the accolade for the 14th time since the awards were established in 2003. The TPDA anchors The Edge Malaysia Property Excellence Awards (TEPEA).
December
New local government development minister appointed 
Nga Kor Ming, member of parliament for Teluk Intan, Perak, and state assemblyman for Kepayang, Perak, was named minister of local government development in the cabinet of Datuk Seri Anwar Ibrahim, the country's 10th prime minister. Nga is the DAP's national vice-chairman and Perak chairman.
ECRL to proceed without amendments 
The government is not looking to amend the East Coast Rail Link (ECRL) project, and will allow the ongoing construction to continue as planned by the previous administration, according to Transport Minister Anthony Loke Siew Fook.