This article first appeared in Capital, The Edge Malaysia Weekly, on December 26, 2022 - January 08, 2023.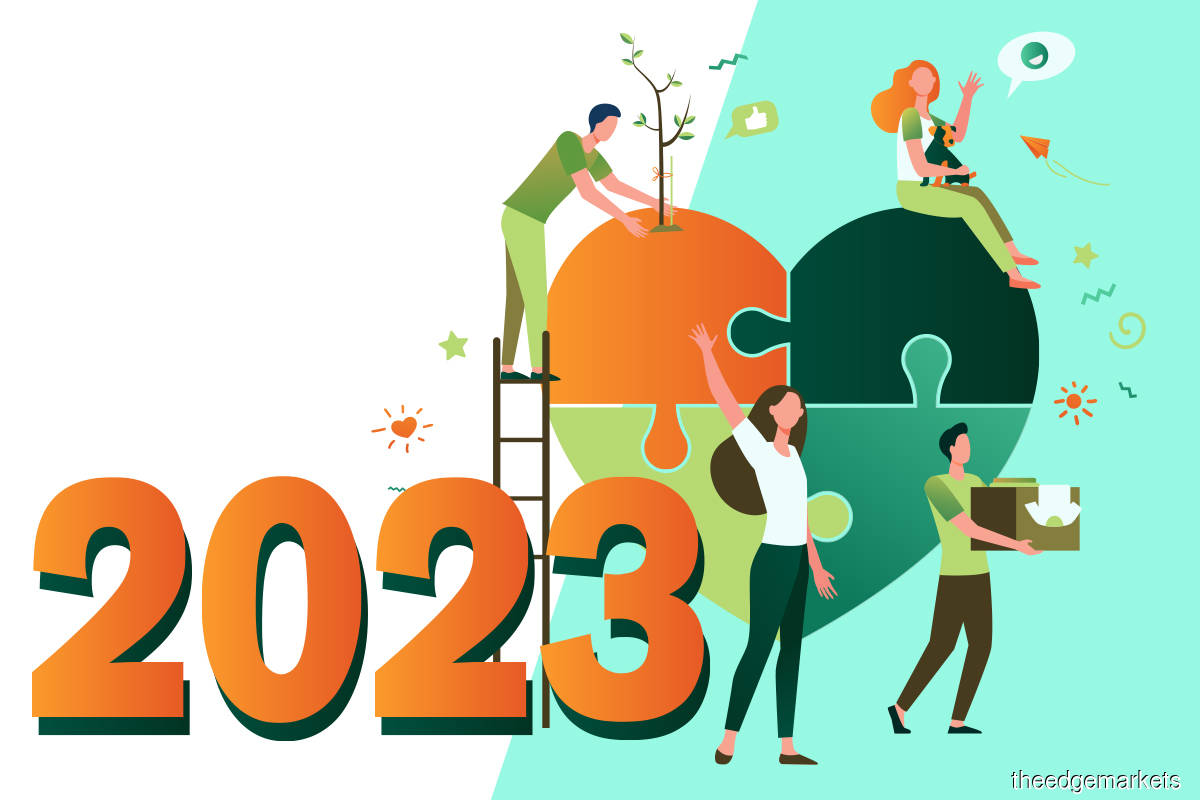 Hope for better days ahead after a year of unexpected challenges
Datuk Fad'l Mohamed
CEO
Maybank Investment Bank Bhd
If you were among those (myself included) who approached the start of 2022 with hope bolstered by reopening and recovery, you might have spent most the year wondering how low it could go. Or in the case of interest rates, how high. Russia's invasion of Ukraine in early February came as a jolt that seems to have set the tone for most of the year, with the bears out in full force.
The stockbroking industry had expected weak trading volumes this year, given the macro headwinds and pressure on interest rates and inflation. Average daily trading volume (ADTV) on Bursa Malaysia dipped to RM1.3 billion in July, the weakest month in 2022. There was some cheer after the 15th general election as overall ADTV improved, with volume now at more than RM2.5 billion. The FBM KLCI is on track to close the year circa 6% lower year on year at around the 1,500-point level, with headline earnings contracting by about 5%.
The year 2022 also saw the return of institutional volume, accounting for nearly 50% of the market, while direct retail trading normalised to around 25%, which is close to the pre-Covid-19 pandemic level. Retail investors are looking for safer ground to protect and grow their wealth. After the recent cryptocurrency fallout, investors might have a newfound appreciation for better regulated asset classes.
Buy-the-dip works sometimes, but it is also stressful. Even in a generally bearish year, a sudden change in confidence can still turn markets. November 2022 will go down in history as the time when the Hong Kong stock indices rebounded 20% to 30% in just one month. The question is no longer "will it be up or down", but "where are the opportunities" when it moves.
A tale of two economies
While I don't profess to have a crystal ball, my colleagues on the research desk are forecasting a mild global recession with a 40% probability of a US recession over the next 12 months. Global gross domestic product (GDP) is expected to slow to 1.7% in 2023, compared with 2.9% in 2022.
Amid the global gloom, Asean remains a bright spark. While developed markets contended with macro challenges such as surging inflation, sharply rising interest rates and growing recession risks, the impact to Asean economies was more manageable. Expectation is that for the second consecutive year, GDP growth for Asean-5 (excluding Singapore) could be faster at a forecast 4.7% than China's estimated 4% in 2023.
Economic reopening since 1Q2022 has powered GDP recovery for Malaysia and the broader Asean, with additional impetus coming from sustained and strong growth in trade, still supportive monetary policy and, for Malaysia and Indonesia in particular, high commodity prices. Intra-Asean trade is growing at more than 30%, with the region also benefiting from the supply chain shift owing to China's strict zero-Covid policy, development of the electric vehicle (EV) industry and the US CHIPS Act. Malaysia along with Indonesia, Vietnam and Singapore are big beneficiaries of the supply chain shifts.
The biggest wildcard is China's reopening, which could partially offset the US and Europe slowdown. Accelerated reopening will boost the region's trade, tourism and foreign direct investment, while also pushing up demand for commodities, to the benefit of an energy and commodities exporter like Malaysia.
A new hope
Despite some macro headwinds, we anticipate that equity market earnings ex-gloves will grow at an estimated 17.3% in 2023 on the expiry of Cukai Makmur, improved performance by the banking sector and pick-up in laggard sectors such as transport and aviation.
Other key themes for the year include further government-linked company (GLC) reforms and environmental, social and governance (ESG) developments. The former represents the most tangible and internally driven opportunity to reinvigorate Malaysia's broad economic dynamism, given GLCs' outsized weightage in the economy and equity market. As for ESG, significant capital expenditure is needed to meet the public and private sectors' increasingly ambitious targets in areas such as emissions reduction, EVs and renewable energy.
There is still an abundance of market liquidity as seen from Bursa Malaysia's 35 public listings this year — the highest since 2018 — which raised a total of RM3.5 billion. Companies with distinct and resilient business models will not be short of investors. Case in point: ITMAX System Bhd, which was listed on the Main Market on Dec 13. The public space networked systems and facilities provider that supports the development of smart cities raised RM342 million, giving it a market capitalisation of RM1.1 billion. Demand from institutional investors was in excess of its market capitalisation and attracted some foreign names among its 13 cornerstone investors, notwithstanding that it was a domestic offering.
For Maybank Investment Bank, 2023 is a special year as we will be celebrating our golden jubilee. Although we have had our fair share of challenges over the past five decades, including economic downturns, financial crises, market meltdowns and the pandemic, we have grown from strength to strength through the continued support of our clients and commitment of our people. Our priority remains supporting our clients through good and bad times.
I may well be proven wrong this time next year (I hope not!), but I am ending 2022 cautiously optimistic that we will see better days ahead.
2022: The recovery year that wasn't
Mohd Redza Abdul Rahman
CEO
PNB Research Institute
Hopes for a full economic recovery in 2022 and a return to pre-pandemic levels of economic activity quickly decimated as the year progressed. Reeling from underinvestment in upstream activities during the pandemic, made worse by pressure from environmental activists, has put strain on oil price movements with expectations of economic reopening. Oil prices shot up to multi-year highs.
And when the strained Russia and Ukraine relationship went beyond boiling point, erupting into a war in February, the latter not only disrupted the supply-and-demand dynamics of the black gold, but also inadvertently raised inflationary pressure globally. This was exacerbated by China's zero-Covid policy, which severely disrupted the global supply chain, resulting in a shortage of goods produced there.
With the central banks of most developed economies focusing on inflationary targeting monetary policy, the high inflation numbers have led to the US Federal Reserve raising interest rates aggressively — from a low of 0.25% in January 2022 to 4% in November 2022, with a further 50-basis-point increase expected in December. This has put a dampener on global economic recovery with the appreciation of the US dollar, as the dollar index rose from the 95.7 level to as high as 114.2.
On the domestic front, political risks as well as concerns over environmental, social and governance (ESG) standards of practice have had a negative impact on investor sentiment, while local listed companies have been beset by the higher costs of imported raw materials. The dilemma of wanting to quickly raise prices to maintain profitability, versus fear of declining demand, has drastically affected company financials.
Furthermore, with most central banks also raising interest rates, highly geared companies saw dwindling profit margins just as fears of economic recession surfaced. The impact on company valuations amid higher required rate of returns has also dampened stock market returns globally, including our very own bourse.
The world is no longer the same post-pandemic. Beset by the higher cost of living, expectation of higher wages has added pressure to companies' operating costs, as if the higher financing cost arising from the higher interest rate wasn't enough to negatively impact profitability. And with remote working flexibility becoming a norm, the post-pandemic recovery also calls for a new way of operating a business.
Is there hope for the year 2023?
With China expected to slowly relax its zero-Covid policy restrictions, the strain on supply chain disruptions is expected to ease, although its impact on global economic growth will be stymied by the economic recessionary pressure arising from rising interest rates. Furthermore, with the protectionist stance taken by developed countries, especially the US and Russia-Ukraine war seeing no end, the risk of geopolitical tensions may not change much in the near term. Hence, while trade flows are expected to improve, they will take time to reach pre-pandemic levels.
"Social" and "governance" are two key components of ESG that have been in focus the past few years. Companies should also put effort into the environmental side of the equation, despite the fact that net-zero emission commitments are still far out on the horizon. The threat of rising global temperatures shouldn't be taken lightly and we have seen first-hand the adverse effects of climate change on weather patterns in the country. Hence, efforts should be made to actively reduce carbon emissions and to transition into green and sustainable business practices.
We need a new paradigm shift in everything that we do. The recipe that made us successful in the past no longer works as we move towards a new operating environment. On the operating front, companies must focus on productivity improvement initiatives, to mitigate the higher cost of operations, and possibly flattish revenue growth. While slashing jobs is a quick way to cut costs, this will only result in short-term gain, and will adversely affect a company's ability to react when demand picks up. Investment in automation, for example, could mitigate cost pressures and, at the same time, allow redeployment of staff for future business expansion. Don't expect corporate earnings to return to pre-pandemic levels just yet, as adjustments are being made, and investments take time to have an impact on earnings growth.
Changes are hard but with them, we can build a more resilient Malaysia for all Malaysians.
Besides, efforts being formulated by the new unity government to address concerns over the high cost of living could see changes in current policies, especially in the implementation of targeted subsidies. This is greatly needed for the government to balance its fiscal commitments between the heavy burden of subsidy expenses and other expenditures that would yield greater impact towards sustainable future economic growth. Furthermore, with many economists seeing Bank Negara Malaysia continuing to raise its overnight policy rate, the cost of borrowing will also rise in tandem. Bold steps are often necessary to help those in need and the rakyat need to be aware that there is no one-size-fits-all solution. Not all actions will benefit everyone, yet these actions are necessary for the greater good of the country and its people.
Respecting economic cycles and market forces
Ng Zhu Hann
CEO
Tradeview Capital
There are good years and there are bad years. When it comes to 2022, it was a very challenging year for investors, both professionals and retail investors alike. What was especially difficult was the impact from the sharp pullback and continuous downward trend through the year. As the saying goes, "Give a monkey enough darts and they'll beat the market during a bull run." It is indeed rather easy to outperform when the conditions are favourable, but less so during a bear market. Few can navigate it well and come out unscathed.
Globally, we have witnessed an endless stream of headwinds, including the ongoing Ukraine-Russia war, high inflationary pressures from the surging price of commodities, China's prolonged "zero-Covid" policy, along with the US Federal Reserve's hawkish rate hike trajectory and contractionary monetary policies. There were very few bright spots to begin with. While some of these issues were unexpected — but following a strong rally in global markets in the past two years (owing to aggressive expansionary monetary policies to shore up pandemic-hit economies) — was it truly unexpected that 2022 would be a year of correction?
Prudence is an underrated virtue
A broken clock is right twice a day. So perpetual bears are often brushed aside by the investment fraternity. That is, until they end up being right. In this case, very few fall in the category of those who foresaw 2022 to be a year of "deep negative returns". This ends up happening because, for the capital markets, it is all about chasing returns. Logic and reason have little standing in the pursuit of profits, owing to unfettered risk. The one that delivers the best returns has the loudest voice in the room. This sort of cutthroat environment, coupled with the insatiable greed of men, exacerbates the volatility of the market. It cuts both ways. Thus, if I have chosen one key takeaway for 2022, it reinforces my belief that prudence is the most underrated virtue.
Prudence does not mean sacrificing returns. Prudence does not mean being timid. Prudence means respecting economic cycles and the forces of the markets, which at times move beyond the comprehension of academic theories. Prudence essentially is about risk management and reining in the innate nature of men — greed.
This virtue is severely lacking not only within the circle of investment professionals but also the larger retail investment community as a whole. Case in point: the record-high opening of new Central Depository System (CDS) accounts with Bursa Malaysia in 2021 versus the record-low average daily trading value in 2022. Most investors, specifically new and inexperienced ones, appear mostly when the market is rallying but disappear during a bear market.
Fundamentals are all that matter
After years of cheap credit and easy access to capital, the swift pullback and tightening created a vacuum, which sucked out the oxygen fuelling inflated asset prices across the board. This led to implosions of epic proportion spanning various sectors and asset classes. We have witnessed the meltdown in growth-centric funds and notable exchange-traded funds, tech unicorns, cryptocurrency exchanges and listed companies with no meaningful earnings.
In the private equity and venture capital space, we see funding drying up and companies that have long relied on the fresh capital injection facing going-concern risk, owing to negative cash flow and a lack of options to raise funds or exit altogether. This brings us back to Investment 101, where investing is based on an analysis of the fundamentals of a company. Future prospects will end up being unfulfilled promises without the support of basic healthy fundamentals such as positive cash flow, revenue growth and, most importantly, profitability. These are not complicated metrics to understand and if any investors were to strictly abide by such a thought process, they would have saved themselves a lot of pain. After all, fundamentals are all that matter.
A new chapter for Malaysia
Unlike most who are warning that 2023 will be a year of more pain and potentially of a deep recession, I look towards 2023 with much enthusiasm — in particular for our country. After years of lagging behind regional peers, there is a great opportunity to play catch-up. With the right policies in place under the stewardship of an internationally recognised leader and a likely stable government that may last a full term, next year may be the start of a multiyear recovery for Malaysia. With this fresh start, our country has the potential to drop legacy baggage and walk out of the shadow of the past. Our country badly needs to make up for lost time.
For my 2023 outlook to materialise, the government of the day will need to focus on broadening the tax base, reforming the economic structure to move our economy up the value chain and help develop the backbone of our economy — small and medium enterprises. I understand that all this is easier said than done, as the details lie in the execution and it is a gradual process. If the government has the political will to get started and put the right talents in the right positions while crafting business-friendly policies, we can attract foreign investors to return.
In addition, the new government must not neglect domestic direct investments and re-investments to stem the outflow of funds from the country. Naturally, this will shore up our currency strength and increase our economic pie as a whole. If these concerns can be addressed, investors can rest assured that the stock market at the very least will revert to historical mean.
Optimism defines the future
Although 2022 was a very challenging year for many, including for us at Tradeview Capital, it was also a year of milestones. This year, we obtained our fund management licence from the Securities Commission Malaysia and started operations. It was a long journey to get here and the struggles of building a company from scratch without much resources were very real — especially starting a fund management company during a time when the capital markets were in the doldrums.
As the stock market retraced towards bear market territory, the discipline to be prudent and conviction towards fundamentals were crucial to endure adverse conditions. Above all, our team had to maintain optimism to look beyond the dark clouds. We are glad we managed to navigate all this and deliver positive returns to our clients.
It is with this similar sense of optimism, coupled with the love for this country, that I believe Malaysia and its capital markets still have great potential. The year 2023 is likely to be the start of a new chapter. Let us all look forward to a chapter that is filled with hope, unity and progress for all.
Everything and anything all at once
Pankaj C Kumar
Managing Director
Datametrics Research and Information Sdn Bhd
What a year it has been. What started out as a promising 2022 turned out to be, for many, a year to forget as investors lost money in almost anything they had invested since the beginning of the year. From equities and fixed income to commodities and cryptocurrency, the year was certainly brutal — it had everything in it, as anything unthinkable manifested over the past 12 months.
From the Russian invasion of Ukraine to supply disruption, the rosy global economic growth momentum gave way to a dampened outlook as central bankers around the world got busy fire-fighting the runaway inflation prints that had hit multi-decade highs.
Although Japan stood pat while China — reeling from continuous pandemic lockdowns — cut interest rates, major central banks have not been as busy as they have been for a long time. Since their tool in fighting inflation has been the age-old mantra of raising policy rates, 2022 is certainly not unprecedented when viewed through the lens of interest rate hikes. Since the start of the quantitative tightening cycle, the Bank of Thailand has been the least aggressive among selected central bankers, raising interest rates by just 75 basis points (bps), while the most aggressive has been the US Federal Open Market Committee (FOMC), which has hiked a total of 425bps to bring its key policy rate to between 4.25% and 4.5% as we close the year.
The US Federal Reserve is not done yet, however, and we are likely to see a 50bps hike in February 2023 and a 25bps increase in May, bringing the Fed funds rate to between 5% and 5.25%. With the hike in interest rates, we have observed an unprecedented inversion of the US Treasury yield curve, with inversion seen across the board.
The higher interest rates propelled the US dollar into an unprecedented rally, which saw huge gains of almost 19% at the peak, but it has since eased to a year-to-date gain of 9.3%. The euro, pound sterling and yen were among the biggest casualties. On the home front, the ringgit hit an all-time low of almost 4.75 to the US dollar before the greenback's weakness and some stability after the 15th general election (GE15) took the ringgit to the 4.40 mark at the time of writing.
Malaysia's second reset button
The highlight of the year as far as Malaysia is concerned was certainly GE15. Called the mother of all elections, it left Malaysians facing an unprecedented outcome, as none of the coalitions was able to garner a simple majority in parliament. Thankfully, with the wisdom of the Yang di-Pertuan Agong, Datuk Seri Anwar Ibrahim finally emerged victorious, taking the coveted 10th Prime Minister trophy. As far as financial markets and the business community were concerned, this was the best and most democratic outcome because Pakatan Harapan (PH), as a coalition of four parties, was the biggest winner with 82 seats. For most, a Perikatan Nasional government, led by the dominant Parti Islam Se-Malaysia (PAS), would have been a disastrous outcome for Malaysia, as the coalition is neither representative of all races nor reflective of a multireligious nation. The right-wing party with an Islamic agenda, too, might have brought Malaysia to a point of no return had PAS come to power with a dominant position. With the formation of the cabinet, Anwar has given Malaysia hope that the next five years will be a chance for the country to reclaim the political stability that she once enjoyed. The efforts put in by both PH and Barisan Nasional (BN) to form an alliance to face the coming six state elections in 2023 will be the real test of whether the mega-merger of the two political alliances can go the distance after failing the first time when PH won in GE14. Indeed, the opportunity given to PH to lead this alliance of parties is a second reset button for Malaysia to chart its course over the next five years.
A slower 2023 but…
Given the pace of increase in global interest rates in 2022 and expected further tightening next year, the global economy is expected to record a slower economic growth of just 2.2%, according to recent Organisation for Economic Co-operation and Development (OECD) estimates. Malaysia, too, will not be spared as the economy, which is expected to grow by more than 7% this year, is expected to see slower growth in 2023, owing mainly to the higher base effect as well as slowing external trade demand. Next year could quickly turn into a year of opportunity, however, once core inflation prints are under control and central banks globally not only halt further rate hikes but turn dovish with rate cuts to stimulate growth. Another key driver of growth will be China and, with the relaxation of Covid-19 measures, it is hoped that the world's second-largest economy will be ready to open up fully next year.
A stronger ringgit, no OPR hike
As it is the government's objective to tackle cost of living issues and with inflation expected to be milder in 2023 than this year, Bank Negara Malaysia is likely to hold rates steady in the coming year, more so to ensure that the prevailing interest rates are accommodative for growth. With the US dollar seen peaking, the ringgit is likely to recoup what it has lost in value in 2022, potentially hitting 4.20 against the greenback in 2023.
An economy for all
With the reform agenda in mind, investors will be looking forward to the key economic plan that the PH-led government intends to roll out, which will help create not only jobs but better living wages. The recent move to "take away" extraordinary profits earned by monopolistic rice operations by Padiberas Nasional Bhd (Bernas) is a clear example of how this government will look at other issues that have been affecting ordinary Malaysians. With more than 600,000 Malaysians unemployed and another 1.2 million Malaysians outside the labour force by choice, the country has a ready workforce to lift the economy higher if the right incentives are given.
Two positives for markets
One positive for the markets is the fact that the FBM KLCI, which is effectively the benchmark for the market, is already trading at a price-earnings ratio of just 13 times based on 12-month forward earnings, a near multi-year low.
With foreign ownership in the market just above 20%, downside risk from further selling is seen as not only limited but also less impactful should another wave of selling hit the market in 2023. With a cheap valuation perspective and low foreign ownership, the market can also be rerated if the political stability that has been restored is sustained. That will allow the market to regain its mojo, more so with Anwar as prime minister.
You don't make an omelette without breaking a few eggs
Datuk Seri Cheah Cheng Hye
Co-Founder
Value Partners Group Ltd
The Chinese government has been successful in transforming China from a poverty-stricken country into a middle-income nation. In fact, by the year 2020, China had caught up with Malaysia in terms of GDP per capita, based on the World Bank's statistics. Bear in mind that Malaysia has a population of 32 million, whereas China has 1.4 billion people. This was an incredible feat.
Over the last 40 years, over 800 million people in China were lifted out of poverty. This is something that has never been achieved by any country in human history. By the time Xi Jinping took over as president in 2012, China was in a very difficult situation. People like me could see that China was falling into corruption. Since then, Xi has decisively cleaned up the country and made it better governed. He launched a massive anti-corruption campaign, which led to the arrest of hundreds of thousands of people, including many "big fishes".
From 2015 onwards, Xi also cracked down hard on shadow banking, where people tried to arbitrage between gaps in regulations, which was very dangerous for consumers. In more recent years, he launched the Common Prosperity programme to balance the mix of Chinese policies, which had been excessively pro-business, to become more pro-people.
This process has not been very smooth. It has been quite a rough ride for investors. But you don't make an omelette without breaking a few eggs. In this particular case, the Chinese government also made its own tactical errors. It was very poor at communicating.
If you look at it carefully, the crackdown on monopolistic businesses such as internet platforms was quite justified. Similar crackdowns had been done in the US, if you look at what happened to Google and Facebook. Then, there was also a crackdown on after-school tutoring, which also made sense. Other countries have been looking at it positively because the effect of the after-school tutoring system is that only the kids of rich people can afford it. Unfortunately, the way China did it was too fast, too clumsy and very poorly communicated to the market. But in the long term, it will all come out okay. In the end, fundamentals do prevail.
Personally, I support Xi's vision for Common Prosperity. We need to find a more sustainable system that can last much longer for China and the world. China is positioning itself as the key sustainable society going forward. Now, having said that, the US has proceeded to launch increasingly hostile economic sanctions against China. The US became very alarmed by the rise of China, which made China's position even more difficult. So, China had to respond by putting more emphasis on self-reliance while keeping its doors open to the world.
Then came the Covid-19 pandemic, which was a huge blow to the global economy and China. China responded with its zero-Covid policy. People can look at it both ways. But the point is, the US suffered one million deaths due to Covid-19. So far, China's casualties are fewer than 8,000 people. Xi has always said he emphasises human lives. Having said that, I think it is time for China to gradually phase out the Covid-19 policy, and I think that's what it is beginning to do. But the process will take a couple of months before we can see the full opening, possibly in the second quarter of next year.
Definitely, we are seeing light at the end of the tunnel.
China has far too many resource misallocations in the property sector. All the figures suggest that too much housing has been built in China. Xi saw that and he wanted to change it. He wanted to encourage SMEs to use free markets, so he personally launched the third stock exchange in mainland China, the Beijing Stock Exchange. Today, China is by far the busiest stock market in the world in terms of trading volume as well as the number of initial public offerings. The latest figures show that Chinese household wealth has reduced its allocation to property to below 40%, compared with more than 50% in the past. That's a dramatic reduction.
The Chinese people are redirecting their money from real estate to the capital market. I am excited about it. I believe the Chinese property sector is heading towards a slow-motion crash, which has not created any systematic crisis. But it is still a crash, so a lot of investors lost money. Nevertheless, the system as a whole remains robust and solid. I believe Chinese banks' exposure to the property market is still manageable because Chinese households are sitting on a lot of savings. Under the Chinese system, mortgages are provided at a very low loan-to-value ratio.
Under Xi, we have seen that his policies have not been very kind to the stock markets. Government officials and businessmen were getting too close, so he tried to reform that. But by doing so, it sometimes creates messages that investors don't like to hear. Then, geopolitical tensions frightened investors, resulting in hostility toward China in the Western media. China has been consistently put in a negative light. Some of the lockdowns were poorly executed, and they made many people upset.
All these events contributed to the severe underperformance of Chinese stocks. But I would like to think that the worst is over. The most painful reforms have been done. Now, we are looking forward to China's economic growth in a post-Covid era. Economic growth is now China's top priority. Right now, Chinese stocks are trading at a price-earnings ratio (PER) of 11 times. I think a more normalised PER would be 14 to 15 times. So, under my scenario, there is room for a rebound. And even if I'm wrong, I think there is only very limited room for further disappointment. Well, that's unless you think Chinese stocks are totally uninvestable.
Obviously, the last few years have been very rough for China. The rise of China has triggered a negative response from the Western world and Western media. But like it or not, for a country to reform, everyone has to make a little bit of sacrifice. Anyway, I look forward to the future. I remain very hopeful and committed. I think the China story can only get better. Under Xi, China is seeking long-term solutions.
In comparison, the Western countries are looking for a quick fix because their politicians need to get votes. It's like the "Panadol system": you take it to cure your headache, but you don't work too hard to fix the problem. Western systems can create instant gratification, but they are not too interested in creating a better world for 20, 30 years later. They are more interested in knowing, "What can you do for me, right here, right now, today ...?" Just look at how the US prints money to solve its problems instantly. But the Chinese system requires patience and sacrifice for long-term gain. This is a journey that will involve a lot of tears and heartbreaks." — as told to Liew Jia Teng
Prospects for bonds and emerging markets to improve in 2023
Ray Choy
Head of Economics & Research
Opus Asset Management
The market backdrop in 2023 will be substantially different from the last two years, progressing out of an unusual economic environment brought about by the pandemic. Higher inflation and interest rates are expected to reverse, or at least stabilise, in 2023. In particular, emerging markets including Malaysia, which underperformed in 2022, are likely to gain a firmer footing.
Dynamic markets in 2023 will require nimble investing and a flexible tactical strategy. This is particularly critical since next year will be a turning point for several macrotrends, namely, inflation, interest rates and government policies. For bond markets and risky asset classes, an extension of ongoing credit risks and cash flow strains will remain themes to monitor.
Credit quality will come into focus
As such, while 2023 will be better for bonds, it is important that investors pay sharp attention to credit quality since the year could see an extension of the default risk cycle given the ongoing weaknesses in gross domestic product growth and earnings, leading to stress on corporate cash flow. Furthermore, compressing profit margins owing to tight labour markets, higher wages and inventory restocking may constrain cash flow liquidity. This could also result in a shakeout in industries, leading to mergers and acquisitions and an opportunistic use of capital reserves.
Overall, this could cause a mild deterioration of credit quality as cash levels drop, leading to capital restructuring in companies. Consequently, lower-rated credits will remain at risk of debt extensions and various corporate exercises to avoid rating downgrades due to higher debt servicing costs from higher interest rates.
Conversely, investment-grade bonds in defensive sectors are likely to outperform riskier sectors. In particular, banks will benefit as earnings grow as a result of widening interest margins. Other defensive sectors that will benefit from higher income spreads are consumer staples, healthcare and utilities. These sectors will remain strong despite the macrocredit environment's stresses because they are necessities.
Emerging-market prospects appear brighter
Emerging markets are likely to recover faster than developed markets after the underperformance over the last two years. This will be driven by an expected stabilisation of US interest rates and possibly easier US monetary policy owing to the effects of a recession caused by a cyclical slowdown, the reduction of fiscal stimulus, monetary policy tightening and credit risks on tightening liquidity conditions. Taken together, these factors will lead to a weaker US dollar and, conversely, stronger emerging-market currencies.
Emerging-market fundamentals are also expected to strengthen in 2023, supporting their currencies and financial markets. While growth is expected to be broadly slower across the developed world with a forecast of 0.5%, emerging-market growth is projected to be much higher at 4.1%.
Of note, among the emerging markets, China and Hong Kong are expected to recover more strongly in 2023 than in 2022 as the economies open after a prolonged pandemic lockdown, contributing to higher emerging-market growth in 2023, which is a countertrend to most economies globally, where growth will be higher in 2022 than in 2023. Meanwhile, inflation in both emerging and developed markets is expected to be similar at around 5% to 6%.
This higher growth will provide emerging markets with greater capacity to sustain the costs associated with higher interest rates. Additionally, growth will be a focal point and differentiating factor in 2023, since inflation has been systemic and common to most economies over the last two years. In the meantime, the average emerging-market deficit is expected to be at 3.7%, compared with 4.2% in developed economies, with both expected to narrow by 0.3% from 2022 to 2023.
Pivot in global and local markets
Variability in macro trends will require a keen sense of change in the market environment in 2023, with a need for planning and swift execution of investment strategy ahead of time. In Malaysia's case, the effect of soon-to-peak US interest rates and a more dovish tone in monetary policy in 2023 could result in the return of foreign funds, owing to a shift in the investment paradigm. There will also be other points of tension in the financial markets and economy, particularly with the expectation of a gradual removal of fuel subsidies in Malaysia, which will have to be balanced against causing a sharp spike in inflation.
The markets will also be monitoring the policies of Malaysia's new prime minister, who heads a multi-party coalition. If managed properly, this could lead to progress in policies conceived through broad consensus, although there could be longer timeframes for policy execution and possible policy inertia due to the expected challenges of implementing change.
A bright spot is that the newly elected government will implement change at a time when voter and consumer sentiment has improved following the pandemic, and the 12th Malaysia Plan will remain in place as a strategic blueprint for the economy from 2021 to 2025.
To conclude, interest rates are expected to stabilise at around 4.75% to 5% in the US in 2023 and around 3.25% in Malaysia. However, due to the outlook for transient inflation, financial markets are likely to look forward to lower, rather than elevated, inflation, spurring a more constructive outlook for investments. Higher real yields after deducting for the cost of inflation will enhance investment confidence. Market optimism will also be supported by a weaker US dollar, already-attractive yields in the bond markets, and sustained cash deployment in a post-pandemic economy.
Dr Ray Choy is head of economics & research at Opus Asset Management. The views in this article are his own and may not represent the house view of the company. He welcomes article feedback and networking via his LinkedIn account.