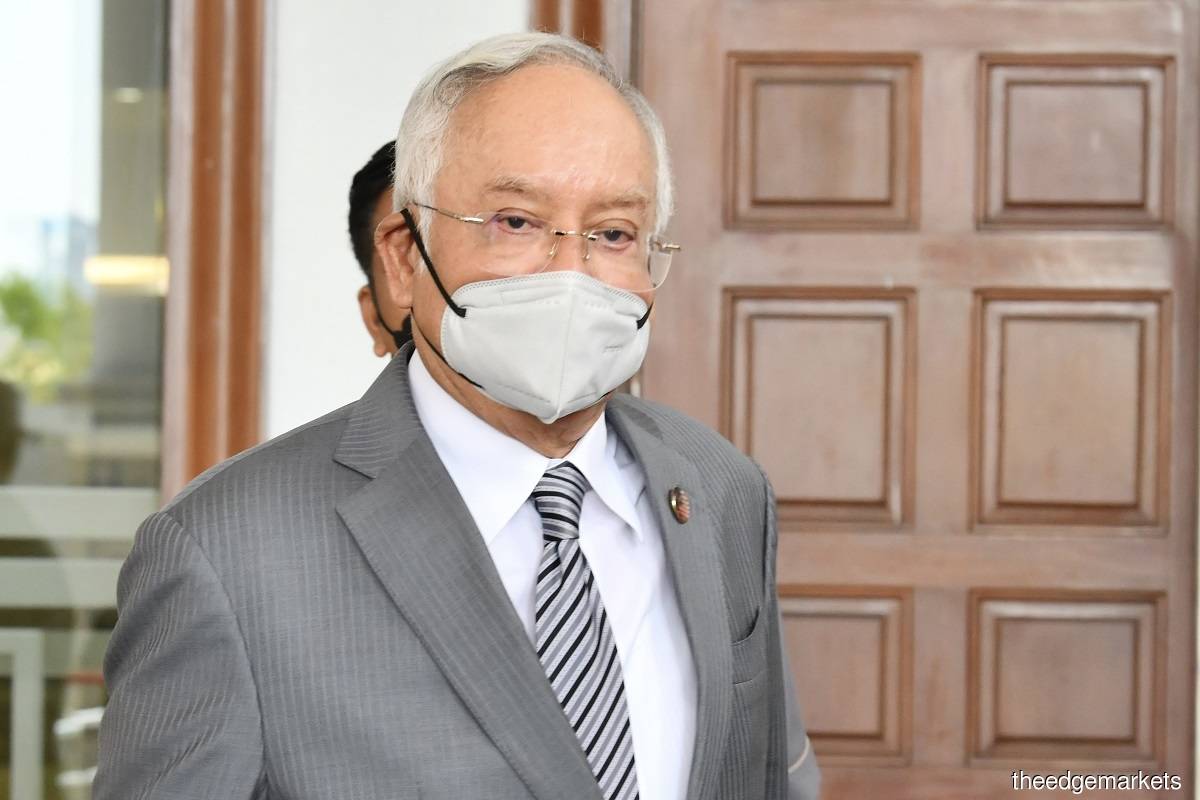 KUALA LUMPUR (Sept 9): Former prime minister Datuk Seri Najib Razak has dropped his legal action against the government over criminal charges brought against him linked to 1Malaysia Development Bhd (1MDB).
Former attorney general Tan Sri Tommy Thomas now remains the sole defendant in the RM1.9 million suit in the High Court.
In the notice of discontinuance filed on Thursday (Sept 8) by Najib's lawyers from Messrs Raj, Ong & Yudistra, no reasons were given for the action.
Najib's other counsel in the matter, Datuk Firoz Hussein Ahmad Jamaluddin, also informed the court of the development on Friday morning (Sept 9) as judge Datuk Ahmad Bache was hearing Thomas' application to strike out the suit.
Najib's suit filed in October last year revolves around the charges brought against him in criminal cases linked to 1MDB. He claims that the charges are part of a "long-planned, premeditated exercise" by the then Pakatan Harapan government.
He is suing Thomas for misfeasance in public office, malicious process, and negligence.
Najib is currently facing several criminal trials linked to 1MDB. The 1MDB-Tanore and 1MDB audit report tampering trials are ongoing.
In the 1MDB-Tanore trial, Najib is charged with four counts of abuse of power in enriching himself with RM2.3 billion of 1MDB funds, and 21 counts of money laundering of the same amount.
In the 1MDB audit report tampering trial, the former premier is charged with abuse of power as a public officer in his capacity as the then prime minister and finance minister in altering the 1MDB audit report, which was to be tabled to the Public Accounts Committee in 2016, so that no action could be taken against him by Parliament. Former 1MDB president and chief executive officer Arul Kanda Kandasamy is charged with abetting Najib.
Najib is also jointly charged with former Treasury secretary general Tan Sri Mohd Irwan Serigar Abdullah with criminal breach of trust involving RM6.6 billion of funds linked to International Petroleum Investment Co (IPIC). He is also facing money-laundering charges involving funds from former 1MDB unit SRC International Sdn Bhd.
The last two trials have yet to begin.
Najib appears in court dressed in grey suit
Dressed in a grey suit, the imprisoned former premier was present in court on Friday surrounded by a few prison guards. Also present was his wife Datin Seri Rosmah Mansor, who was seated behind him.
This was after the High Court on Monday (Sept 5) allowed Najib's application for him to physically attend the civil proceedings.
His presence in this civil matter is optional, unlike criminal proceedings where it is mandatory for the accused to attend proceedings.
Najib is currently serving a 12-year jail sentence after the Federal Court on Aug 23 dismissed the former premier's final appeal against his conviction and sentence in the SRC suit.
Read also:
Najib's civil suit a collateral attack on his 1MDB-linked charges, says Thomas' lawyer
Najib fails to disqualify appointment of Tommy Thomas' lawyers in RM1.9 mil suit
Najib allowed to be out from prison to hear bid to strike out his RM1.9 mil suit
Najib: Bid by Tommy, govt to strike out suit aimed at stopping me from airing their wrongdoings
Najib's suit for 'wrongful prosecution' to gain political mileage, says Tommy Thomas
Surin Murugiah & S Kanagaraju