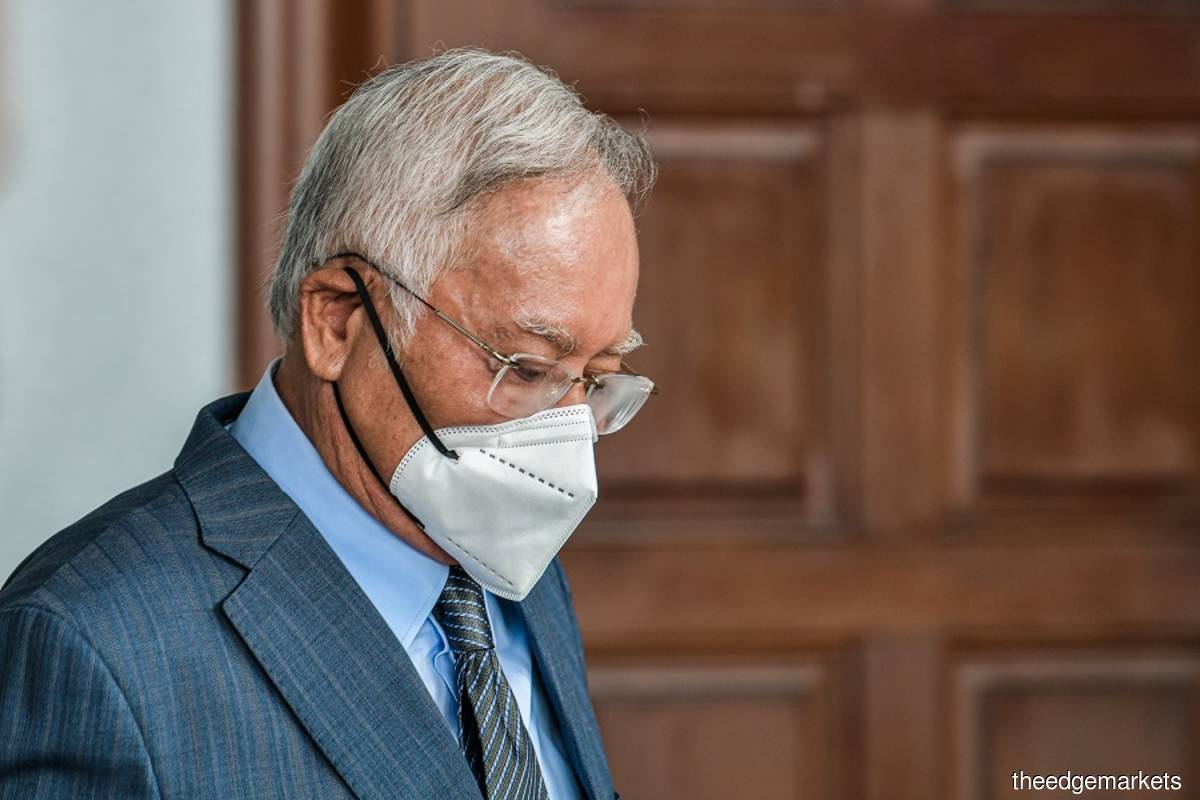 PUTRAJAYA (Aug 16): Datuk Seri Najib Razak's defence team in his SRC International Sdn Bhd graft case has sought a three to four months' adjournment of the former premier's appeal hearing, following the Federal Court's dismissal of his second bid to adduce further evidence.
Earlier, Chief Justice Tun Tengku Maimun Tuan Mat, who led a five-member panel, had directed the hearing of the appeal to proceed, after dismissing the motion to adduce further evidence.
But Najib's new lead counsel Hisyam Teh Poh Teik told the bench that they were not prepared to go ahead with the main appeal, saying the team had voluminous bundles of documents to go through, which were only obtained last month after Najib sacked his previous lawyers.
Hisyam said the new defence team was well aware of the rules, but wanted the court to consider an adjournment, as the defence needed sufficient time to deal with the appeal.
"There are 179 bundles of documents running thousands of pages. This is no ordinary case, I say in my practice for four and a half decades, and there are strong points of law to be argued. Serious arguments will be made by the defence," he said, almost tearing up.
Hisyam, a senior criminal lawyer, denied that he was purposely delaying the appeal, and said while determining the finality of the case, the court must consider justice and tread with the appeal carefully.
"We apply that the case be deferred for three to four months," he said, adding that the Court of Appeal was allowed almost a year before the hearing of the appeal, and a similar circumstance should be made by the Federal Court.
Najib was found guilty by the High Court on July 28, 2020, and his appeal was heard in the Court of Appeal in May 2021, before a decision was handed down on Dec 8.
Thus far, The Edge is given to understand that the defence had yet to file its submissions in the main appeal, although the prosecution filed theirs last month.
Hisyam said that the time deferred would be used to remodel the defence's grounds of appeal.
When senior lawyer Tan Sri Muhammad Shafee Abdullah led the defence, his firm submitted 94 grounds of appeal.
Ad hoc prosecutor Datuk V Sithambaram in reply said the court had twice during case management opposed the postponement of the appeal.
He said the new lawyers were aware of this as they also attended the case management.
"The prosecution leaves it to the court," Sithambaram added.
Tengku Maimun stood down the matter until 3.30pm to decide on the adjournment application.
Click/tap here to follow our live report.
Read also:
Federal Court says Najib still changed lawyers despite being 'well aware' of final SRC appeal dates
Najib fails in bid to delay affidavit submission in SRC's US$1.18 bil civil suit
Federal Court dismisses Najib's second bid to adduce new SRC evidence
Najib's lawyers wrap up submissions in fresh evidence application in SRC case, await judges' decision
Najib files petition of appeal to Federal Court against SRC jail sentence, citing 94 grounds of appeal