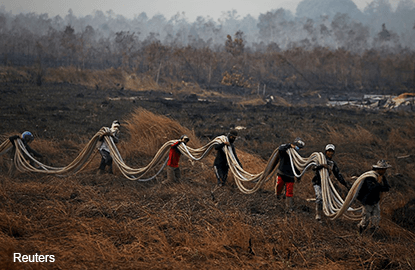 (Sept 15): An Indonesian forestry expert has urged Malaysia and Singapore to do more to fight the smog problem in the region, even as Jakarta declined Singapore's offer to help put out forest fires in Kalimantan and Sumatra.
Speaking to The Jakarta Post, Herry Purnomo argued that both countries should be more responsible as the forest fires were caused by companies owned by their citizens.
"About 50% of palm oil companies operating in Indonesia are owned by Malaysians and Singaporeans," said Herry of Bogor Agricultural University, who is a scientist at the Center for International Forestry Research (Cifor).
He said Malaysia and Singapore should issue regulations and law enforcement for the companies, adding that all three countries should allocate up to US$10 billion (RM43 billion) to cope with the forest fires.
"The cost is equal to the estimated total economic losses resulting from the recent smog," he told JP, adding that losses by Indonesia alone is estimated at US$4 billion this year.
Herry said the swidden method, or clearing lands by burning them, would reduce production costs of Indonesia's oil palm plantations which are spread over some 11 million hectares across the archipelago.
As such, burning land is now adopted by the industry as the best method for cost cutting.
Workers bring water pipes to extinguish fire as they walk through a burnt palm oil plantation at the Pulo Geronggang village in Ogan Komering Ilir district in Indonesia's South Sumatra province at the weekend.
"So, the swidden method has become a policy and common practice for many plantation companies," he told JP.
Indonesia's Riau province declared a state of emergency due to worsening air quality, while tens of thousands of children stayed away from schools in Malaysia after authorities ordered schools to close in three states and the Federal Territories of Kuala Lumpur and Putrajaya.
Joint attempts to stop the smog, which results in the annual "haze" problem enveloping cities in the region, have not yielded any solutions.
An offer by Singapore this week to help put out forest fires was politely turned down by Jakarta, who said it had adequate resources.
Indonesian Minister of Environment and Forestry Siti Nurbaya Bakar said Jakarta has already deployed a host of resources to tackle the fires.
"We have deployed soldiers. We have conducted water bombing in Riau with 18 million litres of water, in South Sumatra and Jambi with 12 million liters of water. Cloud-seeding in Riau with 120 tonnes of salt and 56 tonnes of salt in South Sumatra," she was quoted by Channel News Asia as saying.
"We have done everything. We are serious in putting out the fire."
Reuters reports that the minister has also agreed to give the Singapore government the names of companies that are owned by the island republic's citizens. – The Malaysian Insider