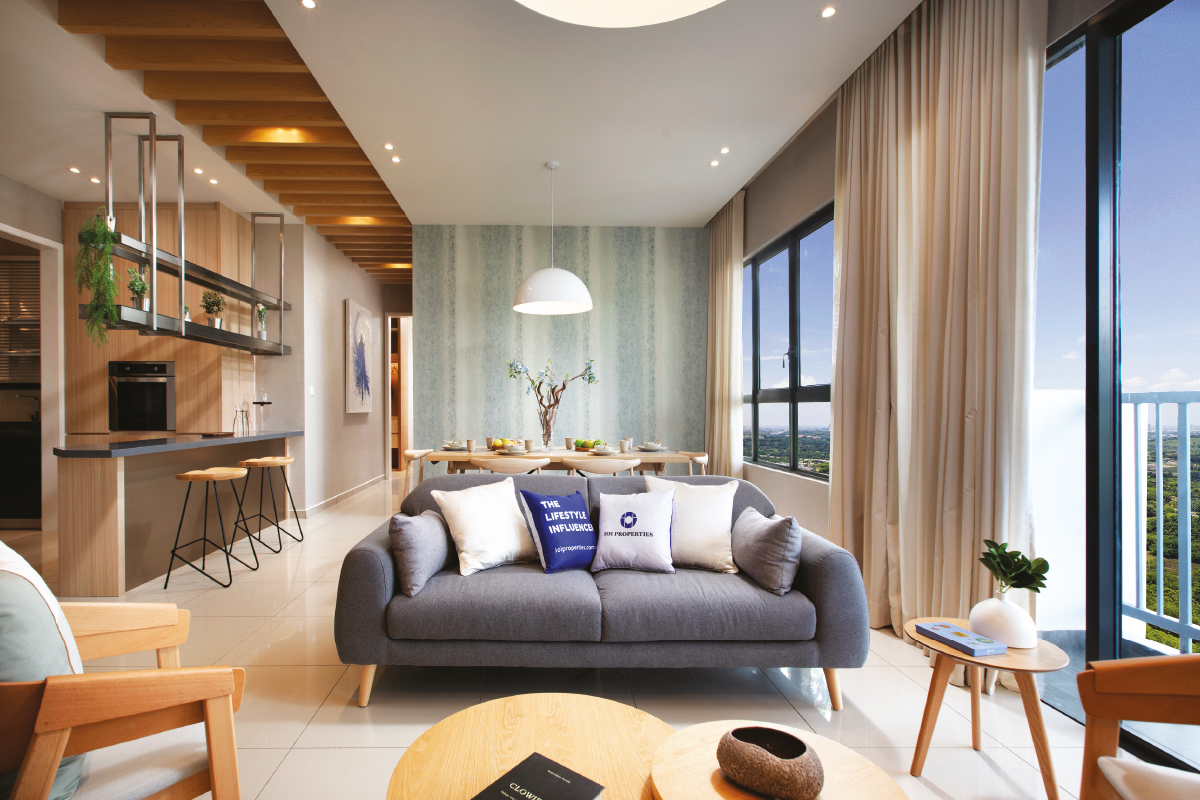 Our physical and social environments have a great impact on our health, given that we spend more than 90% of our time indoors.
This is why it is increasingly important  to look at our built environment with a human-focused lens: The place we choose to put down roots has a profound effect on our health and well-being.
It is with an underlying principle of wellness that Pine MJR Development Sdn Bhd — a joint venture between IOI Properties Group Bhd and Mitsubishi Estate Residence — has envisioned its latest development,  Gems Residences.
"Gems Residences is a luxury wellness sanctuary with homes that make you feel good," says Jason Tie, chief sales and marketing officer of IOI Properties Group.
Each unit in Gems Residences, located within the IOI Resort City enclave in Putrajaya, is proactively designed and purposefully built to support the holistic health of residents.
"We put people's wellness at the centre of the project's conception, design and construction. Our mission is to support behavioural changes and healthier lifestyles — to encourage movement, an active lifestyle, mind-body health and healthy eating as well to use nature to improve mental/psychological well-being," Tie asserts.
According to the Global Wellness Institute (GWI), the existing built environment has an increasingly negative impact on our wellness.
In its "Build Well to Live Well: Wellness Lifestyle Real Estate and Communities" report, GWI points out that trillions of dollars are spent on sick care, pharmaceuticals, medical technologies and biomedical research to address the health and wellness problems that are caused by our living environments.
"We cannot address the global crisis of rising chronic diseases and unsustainable health costs without committing to a dramatic transformation in where and how we live," states GWI.
As our behaviour and lifestyle are intrinsically linked to our built environment, wellness lifestyle real estate can provide an important foundation for cultivating a wellness community, says GWI.
Tie concurs. He says the modern living environment has created new health risks:  a sedentary lifestyle, lack of physical activity, poor diet, stress, social isolation and environmental degradation.
"At the same time, our built environment favours driving over biking, sitting over walking, riding in elevators over using the stairs, texting over face-to-face conversations and screen time over outdoor recreation.
"In the non-stop pace of today's digital lives, Malaysians are increasingly exposed to a rising number of chronic illnesses in addition to climate change and the pressures of the modern world," he adds.
Gems Residences is a freehold luxury condominium fashioned as a resort-style development. It will be launched in 4Q2020. The development sits on an idyllic 9.65-acre site that overlooks the first man-made wetland in the country and the largest constructed freshwater wetland in the tropics.
Units in the first phase of the development will range from 1,249 to 1,690 sq ft. and those in the second phase will range  from 969 to 1,076 sq ft.
"The lines between the home, work and leisure are being blurred. Gems ­Residences will integrate homes, working facilities, and ample wellness amenities and programming in response to the rapid rise in remote working, the sharing economy and the travails of isolated living and work-life balance," says Tie.
The project is scheduled to be completed in 2023 and to ensure exclusivity and maintain its resort-style setting, each acre will only have 70 units.
The planned facilities include an Olympic-length 50m lap pool, a Jacuzzi, playhouse, playground, green lawn, yoga area, an observation deck, a wading pool, jogging path, reflexology path, hammock garden, gazebo, barbecue deck, tennis court and herb garden. There will be a clubhouse equipped with a wellness concierge, gym, function hall, dining lounge, mahjong and games corner, reading lounge, an exploratory lab as well as a mini theatre and karaoke area.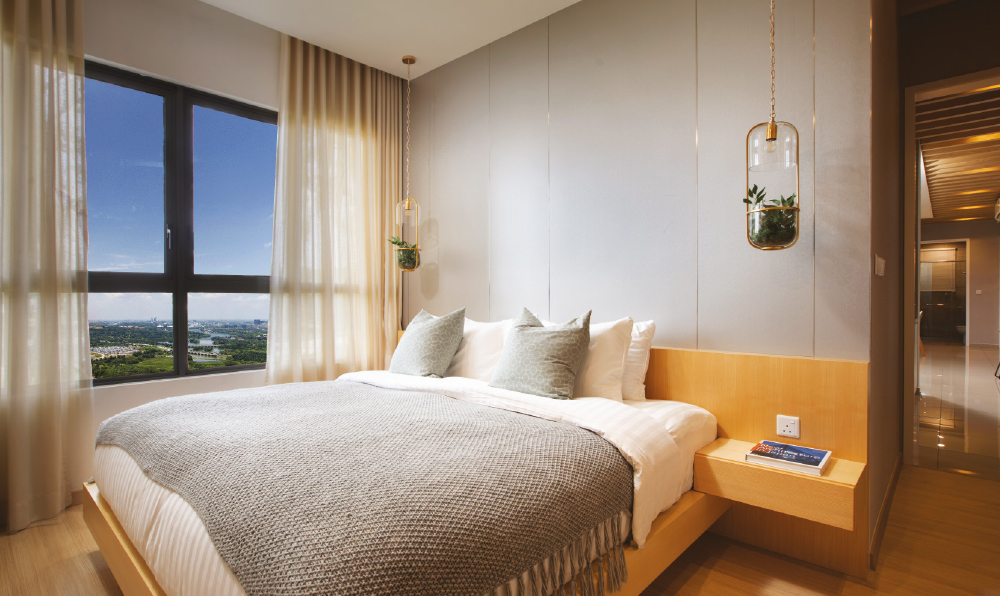 The thing that sets Gems Residences apart, however, is not its facilities but the developer's focus on health and wellness, Tie says. "These homes, with energy-efficient and sustainable construction, are designed for wellness. The residents' overall health and well-being are central to the design."
The development's biophilic design helps  people reconnect with nature. The homes are also built according to universal and inclusive design principles.
These approaches ensure a more holistic design that meets an individual's physical needs and encourages mental well-being, making Gems Residences ideal for all ages.
"It is for people who prioritise their health and share common goals, interests and experiences, actively pursuing wellness across its many dimensions.
"It is suitable for newly-weds, families with young children, families with teenagers, families with older parents, retirees and multigenerational families such as those with children and older parents or couples with older parents," says Tie.
The development's universal design features enables ageing in place, where a resident will be living in the residence of their choice for as long as they are able to, as they age.
In view of this, the development will provide on-demand healthcare service delivered by a team of qualified professionals.
"Assistance is just a call away in any emergency and residents can expect help to arrive at their doorsteps within minutes," Tie says.
A host of conveniences — a nurse/paramedic station, general health advisory, first aid and emergency assistance, care concierge for specific health needs, health screening and medical records maintenance — will be made available to residents.
Wellness programmes focusing on physical, social, mental, emotional and wealth management will also be organised periodically.
Gems Residences is located in a geographic concentration of hospitals, clinics, and health services. There are four malls, two hospitals, a rehabilitation centre, seven international schools, three Chinese-medium primary schools, five tertiary education institutions, four golf courses as well as six luxury hotels within a 15km radius.
With extensive amenities nearby such as medical clusters, hotels, malls and golf courses, residents can be assured of being able to lead an active lifestyle.
"Gems Residences is a combination of hardware and software that enhances the ability of residents to live independently,  building and maintaining good social interactions.
"We are building a wellness community of like-minded people who prioritise their health and have shared goals, interests and experiences. The highly talented design and development team at IOI Properties has put in place smart designs that encourage social encounters, increase community interactions and build trust and civic engagement," says Tie.