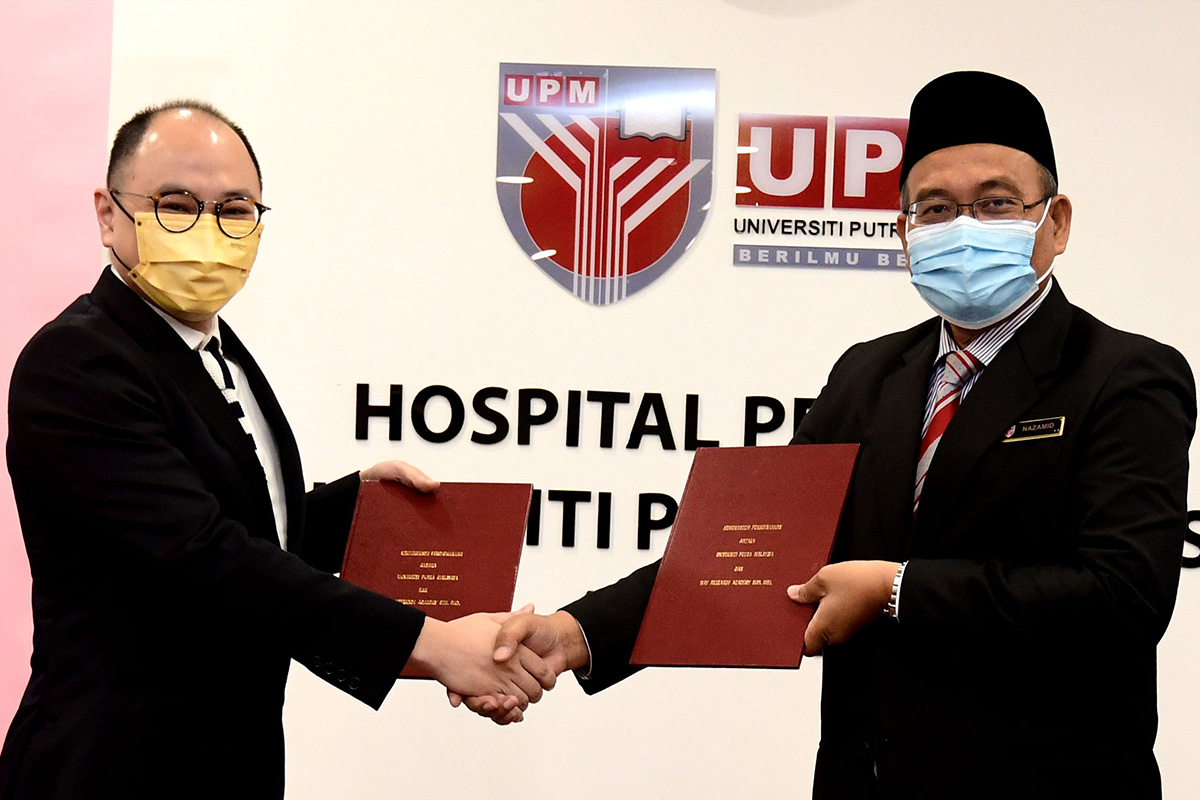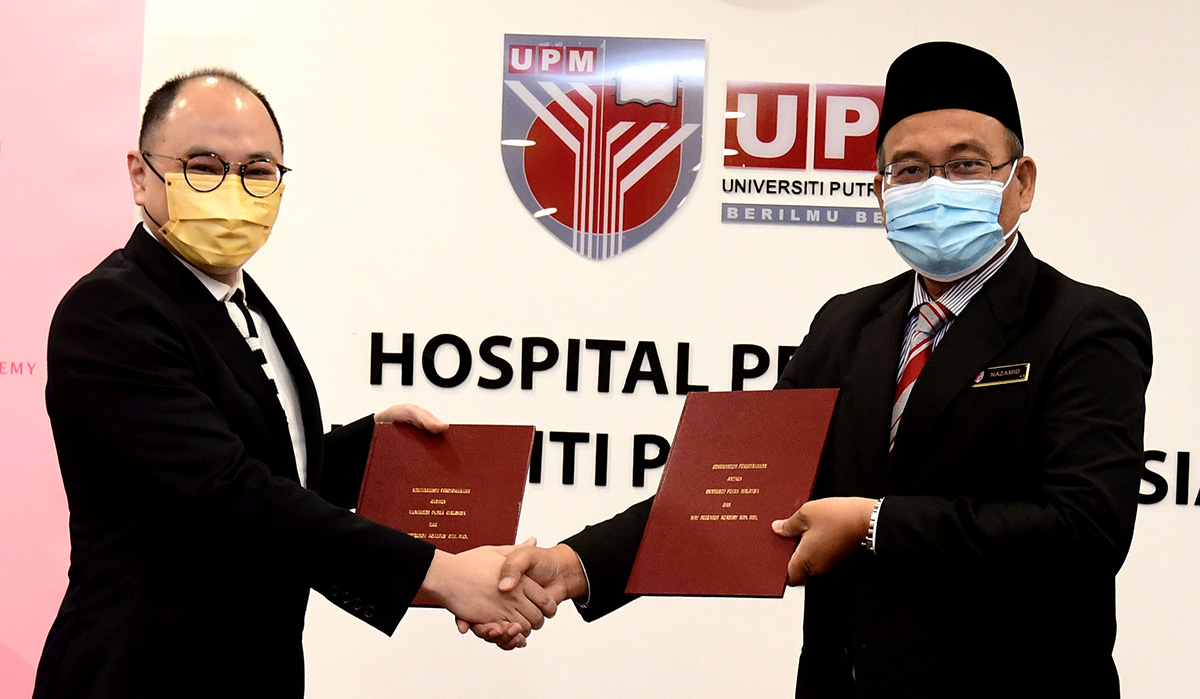 Biotech company Way Research Academy Sdn Bhd and public university Universiti Putra Malaysia (UPM) have inked a memorandum of understanding (MoU) to undertake several projects, including jointly researching on a cure for breast cancer.
During the MoU exchange ceremony held on Wednesday (Aug 3) at Universiti Putra Malaysia Teaching Hospital (HPUPM), UPM Deputy Vice-Chancellor (Research and Innovation) Prof. Dr Nazamid Saari said that the research collaboration is to cover the fields of clinical cell therapy, immunotherapy, and food technology.
He noted that UPM's collaboration with Way Research is in line with HPUPM's ― UPM's medical education hospital ― objective of intensifying and producing high-quality research.
"Among other proposed activities is a collaboration to provide medical services to patients, which will provide mutual benefits to UPM and Way Research, as well as the patients.
"In addition, this MoU also opens up opportunities for collaboration in research and learning to improve the skills and knowledge of students and staff [of UPM], especially in the field of medicine which supports HPUPM's role as a teaching hospital," he added.
In turn, Nazamid noted that the collaboration with Way Research will elevate UPM and enable it to provide the best services to its customers, as well as cooperate and network with external organisations.
Via the MoU, the biotech company and public university have also joined hands to work on Project Raya, which entails research on a cure for breast cancer.
Way Research managing director Dr Cheng Qing Shan explained that Project Raya sets out to conduct further research into the breast cancer cure the company developed, which has been shown to effectively kill cancer cells.
"Project Raya is the research we are doing together with UPM on the cure for breast cancer. It is not a treatment, but a cure. This is done by engineering immune cells found in your body to target and destroy cancer cells, which in this case applies to breast cancer.
"Currently, Project Raya is at the stage where, in the lab, the engineered immune cells have successfully cleared the cancerous cells from the breast. Now, we are moving on to the next stage, which is an animal study," he added.
Beyond Project Raya, Cheng said the company's other projects with UPM include the construction of a good manufacturing practice (GMP) lab and cellular therapy ward to provide a safe and proper environment for patients to do immunotherapy and stem cell therapy.
"Thanks to UPM, these are just teasers of the many incredible projects we are able to explore from here.
"Ultimately, we also hope that exciting projects like these can be the start of a catalyst to attract some of our brilliant minds overseas back home to Malaysia," he added.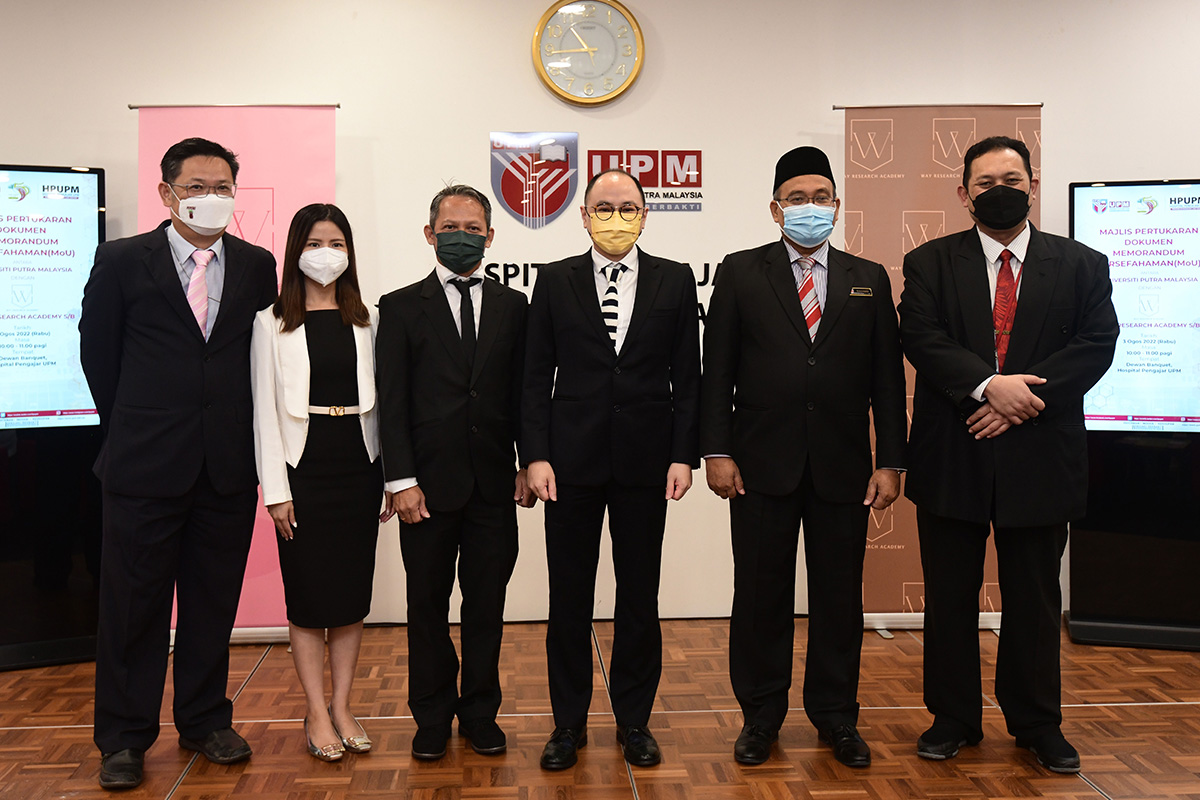 Support the breast cancer cure endeavour
In lieu of corporate funding, Project Raya's continued research on its cure for breast cancer is to be publicly funded.
Thus, Way Research and UPM have enabled members of the public to voluntarily enrol in the project to support their research to further develop their chimeric antigen receptor T-cell (CAR-T) immunotherapy technology, with the goal of making it accessible to all.
"Our team of researchers have been quietly working on this project for years and recently published and made some of our findings in medical journals.
"We have completed our first phase in the lab to prove that the CAR-T immunotherapy we developed effectively attacked and cleared breast cancer cells.
"We are now ready to move towards animal study and after that into human trials. Our aim is to develop this technology and make it available and accessible to all," Way Research said.
At RM1,500, eligible individuals can opt into Project Raya to enjoy benefits of protection against the full cost of future cancer cellular therapy ― cost of CAR-T, immunotherapy or stem cell therapy at RM20,000 ― as well as complimentary blood and body check-ups with cancer marker tests.
Proceeds the project sources from the public will go towards the CAR-T immunotherapy research.
Joining Way Research and UPM on Project Raya are Klinik Central SS15 and MediCap as affiliated partners.
Klinik Central SS15 and MediCap are to also support the funding of the project via the proceeds it garners from sales of their respective medical projects and services.
For more information, members of the public or interested investors may contact Way Research by calling 018-388 6180, or visiting www.wayresearchacademy.com.my or the company's headquarters at No.11, Jalan SS15/8A, 47500 Subang Jaya, Selangor.