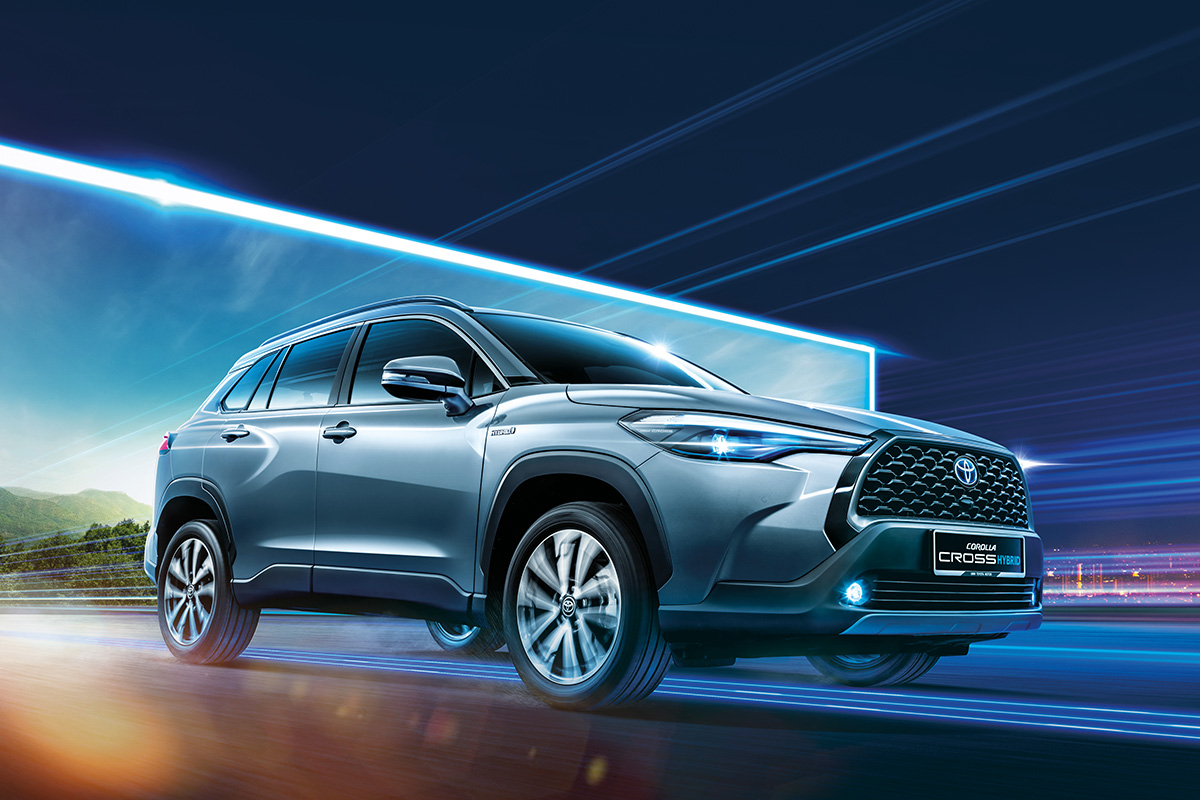 When it comes to pioneering sustainable, efficient mobility, Toyota has always been one step ahead of the game. The Japanese automaker's roadmap towards a more efficient, sustainable, empowered future began in 1997 with the launch of the Toyota Prius. The vehicle set the bar for hybrid technology by offering greater fuel efficiency, using a combination of a petrol-powered combustion engine, complemented by an electric-powered drivetrain.
The Toyota Prius was the first mass-produced hybrid passenger vehicle in the world, and it delivered on its promise of offering better environmental and economic performance for drivers without compromising Toyota's reputable reliability standards. Since then, the Japanese automaker has continuously innovated towards developing a more efficient, sustainable, empowered future for mobility. That journey continues with the recent launch of the Toyota Corolla Cross Hybrid Electric.
Since 2009, UMW Toyota Motor has championed hybrid electric vehicle (HEV) technology in Malaysia with the arrival of the Toyota Prius, Toyota Prius C and Toyota Camry Hybrid. Pushing the boundaries of technology, Toyota has unveiled the Toyota Corolla Cross Hybrid Electric in the local market. It is equipped with the fourth-generation Toyota Hybrid Electric System (HES), which delivers greater fuel efficiency, enhanced battery durability, and greater handling and stability.

The launch of the model coincides with Toyota's global initiative to achieve carbon-neutrality by 2050. Equipped with advanced hybrid electric technology, the Toyota Corolla Cross Hybrid Electric is designed to produce a more economical drive with the benefit of faster acceleration and lower emissions.
The model also marks a new milestone for UMW Toyota Motor, as it is the very first locally assembled HEV under the Toyota New Global Architecture (TNGA) platform. The launch of the vehicle will undoubtedly help pave the way for the energy-efficient vehicle (EEV) manufacturing industry in Malaysia.
A cleaner drive
Sustainable mobility is the way forward for the future, following the global shift towards clean and renewable energy. In addressing severe environmental issues and carbon neutrality, which was a major topic at the 2021 Leaders' Summit on Climate held virtually on April 22 and 23 last year, Toyota has identified the HEV as a reliable step that Malaysians can take today towards a sustainable future.

The HEV is currently the most accessible and realistic choice for Malaysian customers in terms of practicality and infrastructure. The Toyota Corolla Cross Hybrid Electric embodies these principles, serving as a smart, practical and sustainable vehicle for all Malaysians.
Designed as a reliable, future-proof vehicle, the Toyota Corolla Cross 1.8L Hybrid Electric combines a highly efficient petrol engine with two electric motors. The synergy of the two energy sources provides drivers with efficiency, drivability, performance and a long range between refuelling. Owners enjoy not only performance and reliability but also lower fuel costs, making it an enticing environmentally conscious alternative in the current vehicle market.
Improved hybrid performance
Toyota's expertise in developing its HES affords the Toyota Corolla Cross Hybrid Electric improved fuel efficiency with low emissions in acceleration, thanks to its efficient electric motor. The powertrain is able to adapt to automatically adapt to driving conditions with both electric motor and petrol engine working in tandem to deliver the most efficient drive. The system also automatically shuts down the petrol engine during idling, ensuring no wastage of fuel.

To ensure optimal convenience for owners, the Toyota Corolla Cross Hybrid Electric's HEV battery, which powers the electric motor, is automatically recharged through regenerative braking. This eliminates the need for owners to plug the vehicle into a power source to keep the batteries charged.
For optimal peace of mind, the fourth-generation Toyota HES battery has been designed to last throughout the vehicle's lifespan. It has been designed and developed to satisfy five critical parameters for complete peace of mind - safety, long life service, high level of quality, affordable high-quality products and high-level performance.
Assured safety and peace of mind
The Toyota Corolla Cross Hybrid Electric is built on the TNGA platform, which was specially developed by the automaker to offer greater stability and agility, and a higher eye-point for better visibility. The state-of-the-art platform allows more engineering flexibility, with a lower centre of gravity helping improve stability.

A highly rigid body also enhances agility and ride comfort. This, along with a TNGA-engineered chassis and finely tuned chassis, gives the Toyota Corolla Cross Hybrid Electric both dynamic handling and stability, along with excellent ride comfort.
In terms of safety, the structure of the car has also been engineered to withstand impact forces from all sides during an accident, reducing or preventing injuries to the occupants. Like many other Toyota models, the Toyota Corolla Cross Hybrid Electric has achieved a maximum five-star Asean NCAP safety rating.
For added peace of mind, the Toyota Corolla Cross Hybrid Electric is equipped with Toyota Safety Sense (TSS) - a suite of integrated active safety systems to assist the driver, which demonstrates Toyota Synergised Mobility. The TSS consists of a Pre-Collision System (PCS), Lane Departure Alert (LDA) with Steering Assist, Dynamic Radar Cruise Control (DRCC), Lane Tracing Assist (LTA) and Automatic High Beam (AHB).

These core technologies use a radar and camera, complemented by other safety technologies such as a Blind Spot Monitor (BSM) with Rear Cross Traffic Alert (RCTA) and Tyre Pressure Warning System (TPWS). A total of seven SRS (Supplemental Restraint System) airbags also gives drivers and passengers peace of mind while on the road.
The Toyota Corolla Cross Hybrid Electric is also equipped with a Digital Video Recorder (DVR) at the front (optional for the rear). In addition, the vehicle comes with a Vehicle Telematics System (VTS), allowing owners to track the vehicle's position using GSM/GPS signals. In the event that the vehicle is stolen, a 24/7 Command Centre will alert the relevant authorities. All owners enjoy a three-year free subscription of the VTS.
Style and practicality
The Toyota Corolla Cross Hybrid Electric boasts a number of attributes that evoke a sense of luxury. They include an easy-access rear with ample luggage area of 440 litres of space. The vehicle also arrives with sporty and sleek leather seats as well as a driver power seat, rear air vents and a nine-inch touch screen and AACP (Android Auto Apple CarPlay) system.

Colour options for the Toyota Corolla Cross Hybrid Electric include Red Mica Metallic, Platinum White Pearl, Silver Metallic, Celestite Grey Metallic and Nebula Blue Metallic. The model is priced at RM136,550 (without insurance) and comes with a five-year/unlimited mileage factory warranty.
Owners enjoy the eight-year/unlimited mileage warranty covering the hybrid electric battery pack, inverter and Power Management Control Unit. This warranty can also be extended for two years, bringing the warranty duration to 10 years, the first of its kind in the local market. This is further supported by a strong service network of more than 92 outlets that are fully equipped to give customers the best service for their Toyota HEV.
To find out more about the Toyota Corolla Cross Hybrid Electric, visit your nearest authorised Toyota dealer or UMW Toyota Motor showroom, log on to Toyota.com.my or call the Toyota toll-free line (1 800) 8 TOYOTA (869682).