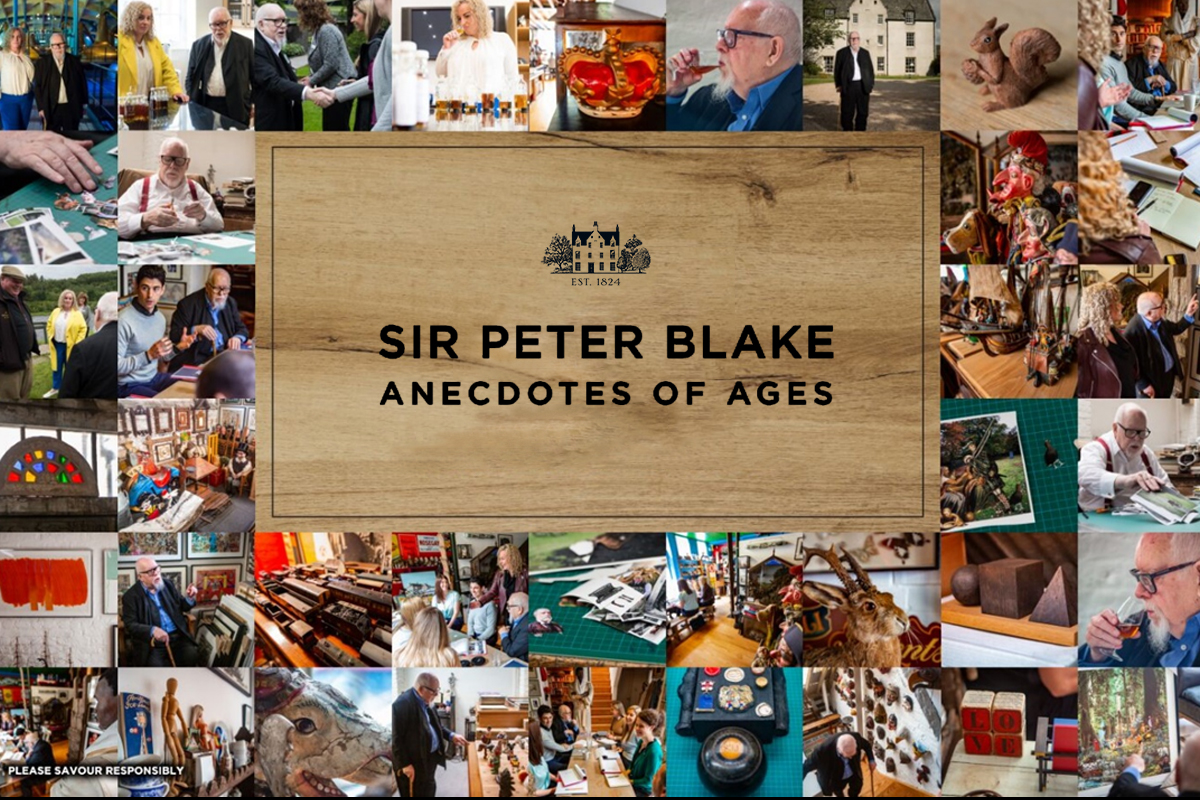 The new limited collection honours the legacy and history of The Macallan Estate and celebrated artist Sir Peter Blake
The worlds of art and Scotch whisky share a lot of common values. Both boast a high-level of artistry and craftsmanship. Just like an artist who brings his creation to life on a canvas, a master blender uses his years of skill and creativity to create unique whisky expressions. Art and Scotch whisky are also seen as objects of luxury, worthy of time and investment due to their appreciative value over time.
Therefore, it is not surprising to see the art and whisky worlds come together in unique collaborations. The latest partnership spearheaded by The Macallan is arguably one of the most notable and beautiful to date.
The Macallan is no stranger to artist collaborations, with numerous creative partnerships over the years. This July, The Macallan will unveil The Anecdotes of Ages Collection, a limited-release whisky and art collection with renowned British pop artist, Sir Peter Blake. This distinctive and highly creative partnership celebrates the legacy and history of the legendary artist and the globally renowned Scotch whisky brand.
Blending Art And Whisky
The collaboration, which is The Macallan's third with the iconic artist, is part of a relationship that has spanned over three decades. The Anecdotes of Ages Collection celebrates The Macallan's rich legacy and Blake's remarkable contribution to the art world.
The artist is renowned for his highly distinctive collages featuring images from popular culture. His diverse style ranges from colourful lettering to likeness drawing. However, he remains best known for his signature crowd work. Over many decades, his unique and timeless style has transcended fashion, music and even art movements. He is perhaps best known for creating the sleeve for The Beatles' Sgt. Pepper's Lonely Hearts Club Band, a pair of album covers for The Who as well as the poster for the Live Aid concert.
Blake's relationship with The Macallan began in 1986. It was born of a mutual respect for craftsmanship as well as a strong desire to deliver truly creative and visionary work. The inaugural collaboration produced a bespoke label for The Macallan 1926, which was inspired by events of that era.
Twenty-six years later, they renewed their creative partnership with a unique, limited-edition art piece in celebration of the artist's 80th birthday and their decades of collaboration. Now with their third collaboration, Blake and The Macallan have pooled together their creative resources for the highly coveted limited-release The Anecdotes of Ages Collection.
Celebration Of Art & Whisky
At the heart of The Anecdotes of Ages Collection are the 13 one-of-a-kind bottles of exceptional 1967 whisky. Each individual bottle boasts its own original piece of art on the label, naturally making it not just a collectable and highly-valued bottle of whisky but a coveted piece of art as well.
On each label, an original Blake collage art details unique stories relating to The Macallan's history, community and the beautiful natural landscape of The Macallan Estate. The classic and colourful labels also reflect the precious spirit housed within each bottle.
The Anecdotes of Ages Collection features a rare expression of peerless single malt Scotch, which has been matured for over 50 years. It was carefully selected to represent the year that Blake's signature collages transcended from art into popular culture.
With notes of oak and fig leading to a burst of hazelnut and strawberry, this is a truly special single malt that finishes with complex flavours of chocolate and lightly spiced peach. In many ways, this expression is itself an exemplary work of art.
Exceptional Value
Each of the 13 original bottles was hand-blown and comes with an oak stopper. The label is signed by Blake himself. Presented in a handcrafted European oak case incorporating thumbnail photography revealing the artist's inspirational journey with The Macallan, the set is accompanied by a leather-bound book showcasing all 13 label artworks and corresponding stories, as well as a certificate of authenticity.
While one of the 13 original bottles will be retained in The Macallan archive, the remaining 12 bottles will be made available to the public. One of the 12 original bottles was also auctioned off at Sotheby's in March to raise funds for the Solomon R Guggenheim Museum's diversity, equity, access, and inclusion initiatives.
However, fret not, limited-edition bottles featuring a duplicate label and the same rare 1967 whisky will be released as The Anecdotes of Ages Collection: Down to Work Limited Edition. Only 322 bottles will be available worldwide from July onwards.
Also available under the collection is the An Estate, A Community and A Distillery, which retails for RM4,126 per bottle.
To find out more about The Macallan Anecdotes of Ages Collection click here, or Follow The Macallan Malaysia on Instagram.
Keen to purchase a coveted piece of art and whisky?
Call +6012-692 2838 or +012-670 7220.
Email [email protected]
Check out The Macallan e-boutique.