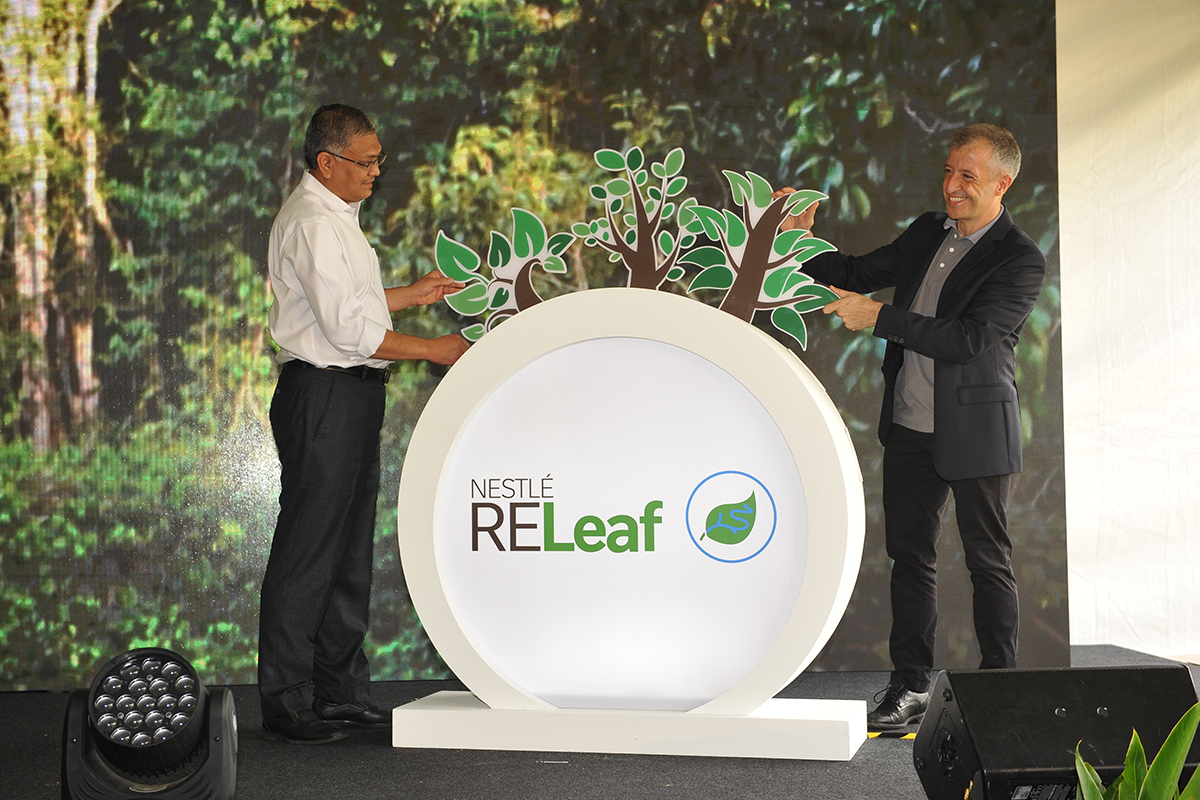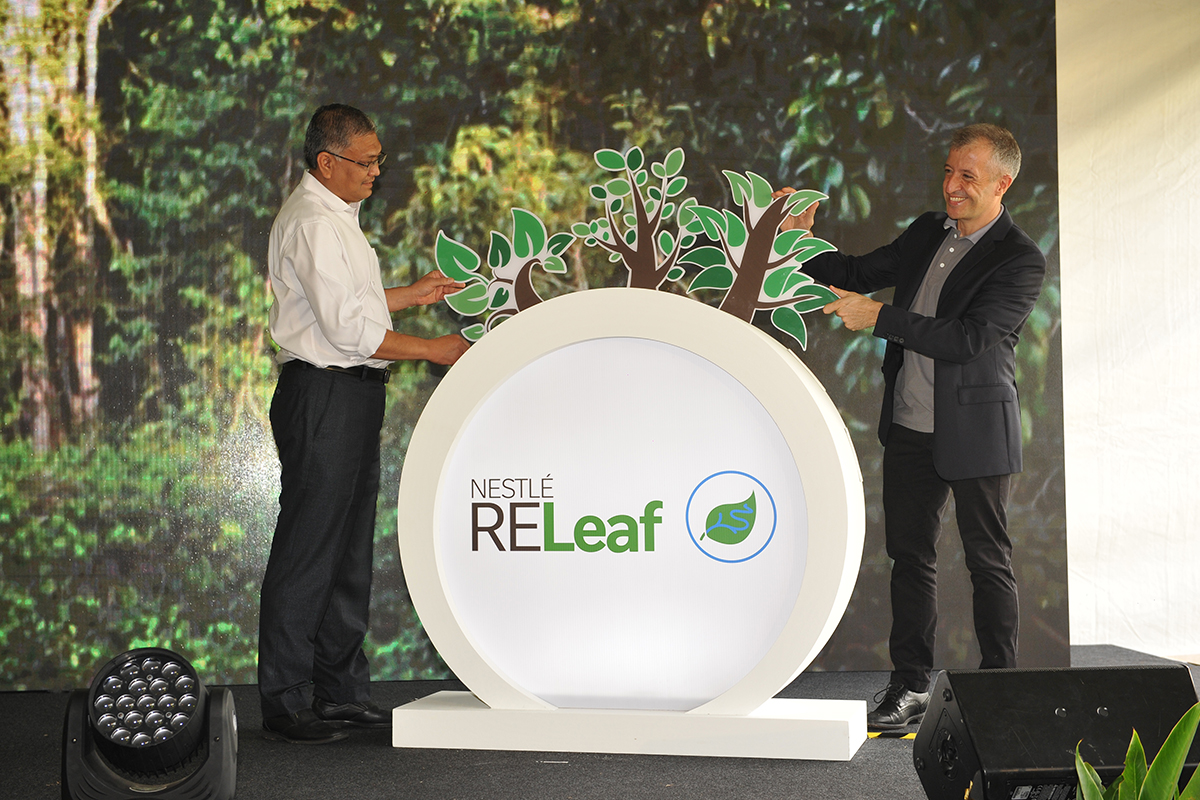 Minister of Energy and Natural Resources Datuk Shamsul Anuar Nasarah (left) and Nestlé Malaysia CEO Juan Aranols launching Project RELeaf
The world's largest food company works hard to take care of the earth and its resources
The numerous challenges facing our world today has companies questioning their business-as-usual model of past decades and rethinking their next steps. Addressing the Covid-19 pandemic, environmental degradation, climate destabilisation and other challenges requires great leadership, sustainable effort and long-term thinking. Ideas on what can be done to generate substantial real results can be found in companies such as Nestlé Malaysia that has been investing in sustainability for years. Over the years, Nestlé Malaysia has earned recognition as a force for good for a sustainable future with its innovative solutions, collaborative efforts and aggressive goals.
"Sustainability isn't an initiative or project in Nestlé. It is the way we do business. Our belief is that a sustainable business will drive long-term growth and this vision is reflected in our global commitments. While the current health pandemic has brought about some fundamental changes that may persist beyond the health crisis, our long-term commitment to sustainability remains unchanged," says Juan Aranols, CEO of Nestlé (Malaysia) Bhd and Region Head of Nestlé Malaysia, Singapore and Brunei.
Nestlé's global commitments are ambitious and audacious goals, as should be expected from market leaders. The world's largest food company aims to eliminate all greenhouses gas emissions by 2050 and make 100% of its packaging recyclable or reusable by 2025. To achieve these goals, Nestlé Malaysia uses multi-pronged long-term strategies, including transforming internal operations and its supply chain as well as collaborating with external parties to maximise its positive impact on society and the environment.
It is time for large corporations to drive initiatives. Whatever that we can do today, WE SHOULD JUST MOVE AHEAD AND DO IT. It's a moral obligation towards our future generations." — Aranols
This year, the company accelerated its many sustainability-oriented initiatives notwithstanding lockdowns imposed to mitigate the spread of the coronavirus. The results are proving successful. For example, Nestlé Malaysia's entire UHT (ultra-high temperature) product range will be packaged with paper straws by the end of this year.
"We are the first large-scale food and beverage company in ASEAN to do so. This is a real breakthrough in our "war on plastic waste" as it eliminates the use of over 200 million plastic straws a year. Furthermore, 90% of our company's packaging materials are already designed for recycling," adds Aranols.
This is indeed significant progress in a bid to prevent Nestlé Malaysia's product packaging from ending up as litter or in landfills. Since this vision also depends on consumers playing their part, the company also introduced new packaging labels that features information on recycling.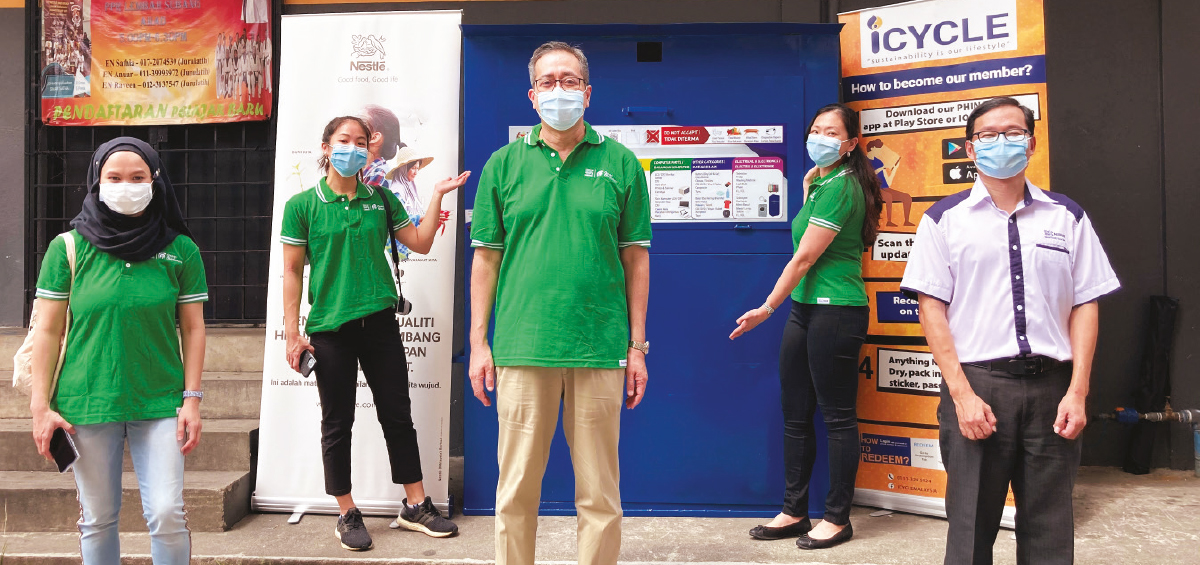 Nestlé Malaysia employees at the soft launch of the recycling project at PPR Lembah Subang 1. The iCycle recycling bin is at the back.
"Our new recycling education on-pack features also help us raise awareness on how to recycle our product packaging. This allows us to reach a much wider audience. Our consumers can easily learn how to correctly separate and manage their Nestlé product packaging for recycling," he adds.
Besides redesigning their products and making their internal operations more environmentally-friendly by cutting down on the use of plastic and reducing the emissions of greenhouse gases, Nestlé Malaysia has also taken the initiative to work with external parties for greater impact. These are collaborations with different stakeholders to reach the wider society and regenerate the environment. 
Projects undertaken this year include working with the Petaling Jaya City Council (MBPJ) and 99 Speedmart, a mini market chain, as well as spearheading the formation of the first Extended Producer Responsibility (EPR) organisation, together with other industry players.
"Challenges facing the world are increasingly complex and multi-faceted. Collective action is needed to make a meaningful impact. We place great emphasis on partnering with like-minded stakeholders such as NGOs, government bodies and other private organisations to make the biggest possible impact and achieve transformational change," explains Aranols.
The collaboration with MBPJ aims to make it easier for communities to recycle. Here, Nestlé Malaysia introduced kerbside recycling programmes in two townships. Nestlé Malaysia also partnered with 
iCycle, a solution provider of waste separation and recycling, to introduce recycling programmes where collection points were established at the PPR (people's housing project) flats for the lower-income communities living there.
Meanwhile, the company's collaboration with 99 Speedmart extends the recycling initiative by Nestlé UHT and Tetra Pak by adding another 400,000 used beverage cartons to the CAREton Project by the end of the year. Aranols notes that this programme has already collected and recycled over 95 million drink packs since 2012, which were used as material to build roofing tiles for low-income housing.
Nestlé Malaysia is also leading reforestation efforts in Malaysia. The success of Project RiLeaf, which started in 2011, planted one million trees across more than 2,700ha of degraded forests in Sabah. Completion of this project led to the inception of Project RELeaf, launched in October. The latter — a collaboration with the Ministry of Energy and Natural Resources, Peninsular Malaysia Forestry Department, Sabah Forestry Department, Malaysian Nature Society, Tropical Rainforest Conservation and the Research Centre, Kinabatangan Orangutan Conservation Project — involves palm growers, local communities and entrepreneurs in community-based seedling production and tree-planting operations. Project RELeaf, which scales up Nestlé Malaysia's efforts to restore riparian and forest ecosystems, aims to plant three million trees over the next three years.
"Shaping a waste-free, sustainable future goes beyond what one company can do on its own but we all must take action. It is time for large corporations to drive initiatives. Whatever that we can do today,  we should just move ahead and do it.  It's a moral obligation towards our future generations. If we start addressing environmental and sustainability challenges, we can make a huge positive impact on the world and society," says Aranols.