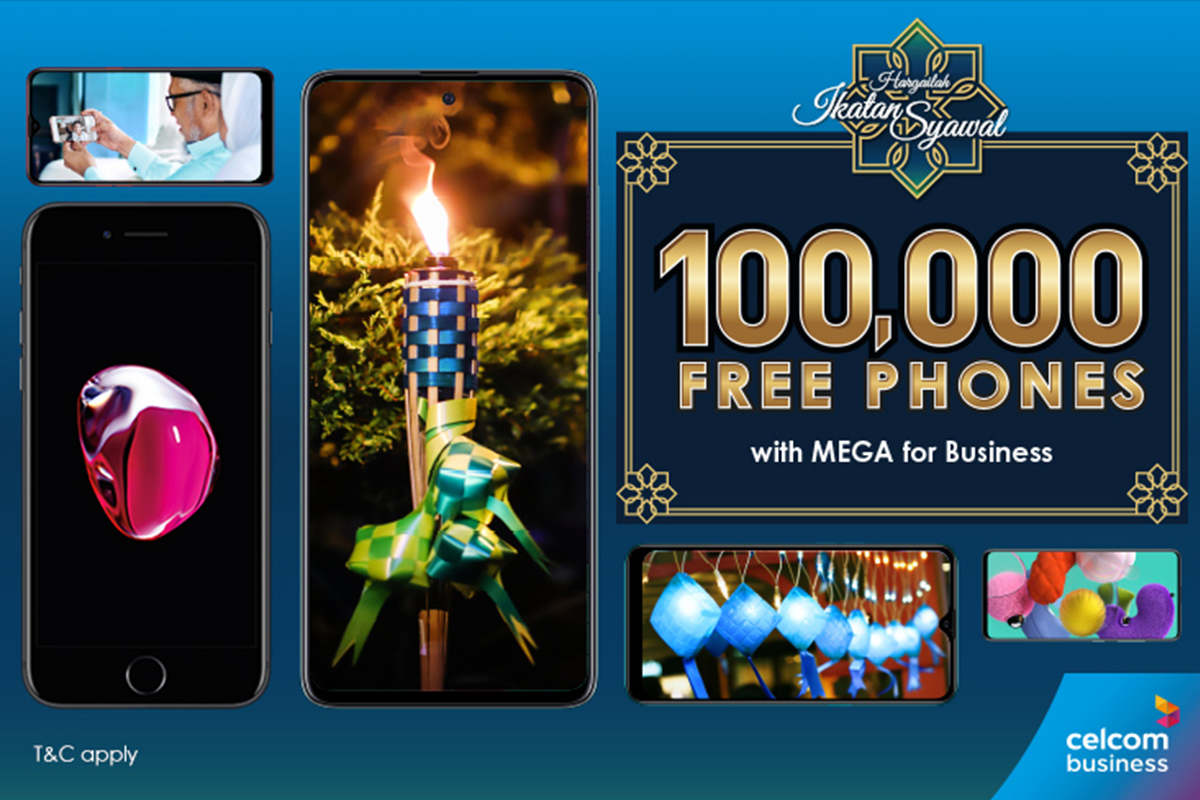 The new norm post COVID-19 has accelerated the pace in which Malaysians embrace and familiarise themselves with digital technology - made easy with smartphones.
While it was previously an option, nowadays using smartphones could be the most effective and intimate way to maintain relationships with friends and family, to work, study, and shop!
Even those providing goods or services are more attached to smartphones than before, as e-commerce becomes the preferable channel for business.
Never before have smartphones become such an essential part of our lives, from children to adults; much like a gateway to the different daily activities.
The problem arises when an individual is not able to tap into the full potential of smartphones.
This happens for two simple reasons - the device being used is lagging, or the service quality of the telco provider is not up to par.
The two factors determine the productivity of a person when performing tasks via smartphones.
For others, cost can be a factor which hinders a user from switching to a different device or a different telco provider.
Celcom Business understands the importance of having quality smartphones and connection, for people to run things effectively from the palm of their hands.
That is why Celcom Business is giving away up to 100,000 free smartphones with its affordable and high-speed internet with MEGA for Business Lightning Plan.
Combine good device and good connection, and you can always go for that group video calls with friends, family, colleague and study classes!
More importantly, never miss a good deal - shopping or selling - due to poor connection or a lagging device.
Choose from 16 smartphone models with MEGA for Business Lightning plan
By subscribing to the MEGA for Business Lightning plan from as low as RM98 a month, users can get a new and latest smartphone.
Choose from 9 reliable smartphone models, including the Huawei nova 7 SE, Samsung Galaxy A51 & A11, Oppo A12 and A92.
Those who subscribe to the package by July 31 also stand a chance to win RM500,000 groceries giveaways!
In total, Celcom is giving away RM500,000 worth of Boost e-wallet credit to 2,600 lucky registrants, including 20 winners for the main prize of RM1,000 Boost credit each month for 12 months.
Users will not have to worry about hitting the data threshold, thanks to the provision of up to 100GB worth of monthly mobile data, with further add-on available on demand.
MEGA for Business Lightning plan also boasts the option for up to 3 supplementary Family Lines, with option for data-sharing between them for as low as RM5.
With this, video calls and video messages are no longer a luxury for Celcom Business users, but a norm. This means zero worry about missing out on the important moments in life.
MEGA for Business Lightning also boasts a unique benefit: a monthly cash-back of up to RM5 into the Boost e-wallet for every unused internet quota of up to 10GB.
The powerful smartphones provided under MEGA for Business Lightning packages have everything needed for those who wish to stay productive amid the new norm - quality smartphone with unlimited calls, and high-speed internet with data sharing to ensure the work goes uninterrupted.
For more information, visit here. Get yours now!
100,000 FREE Phones with Celcom!
| | |
| --- | --- |
|   | Celcom MEGA™ Lightning |
| Best for | Corporate employees |
| Free phone | Yes |
| Phone models | 9 models including: Huawei nova 7 SE, Samsung Galaxy A51 & A11, Oppo A12 and A92 |
| Monthly data | Up to 100GB, add-on available |
| Additional lines | Up to 3 lines |
| Data sharing | Sharing & cashback for excess data |
| Unlimited calls | Yes |
| Unlimited SMS | RM0.20 (SMS to All Network) |