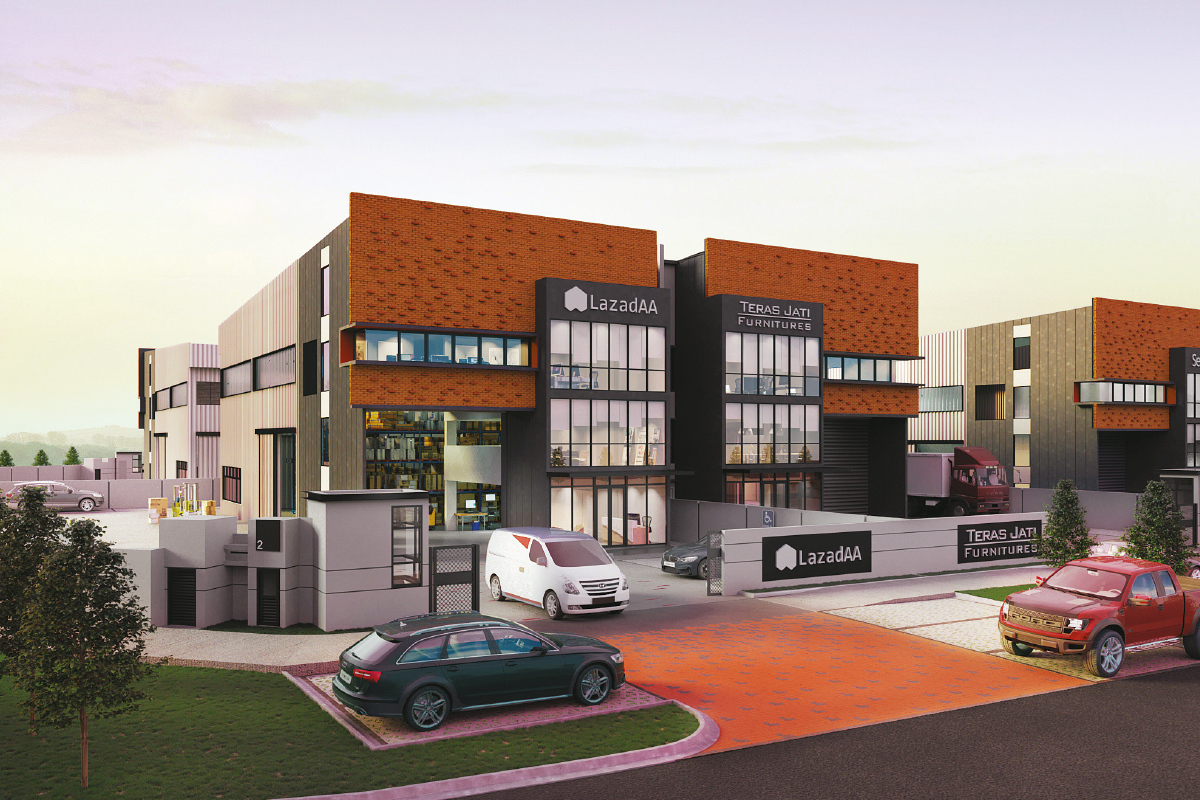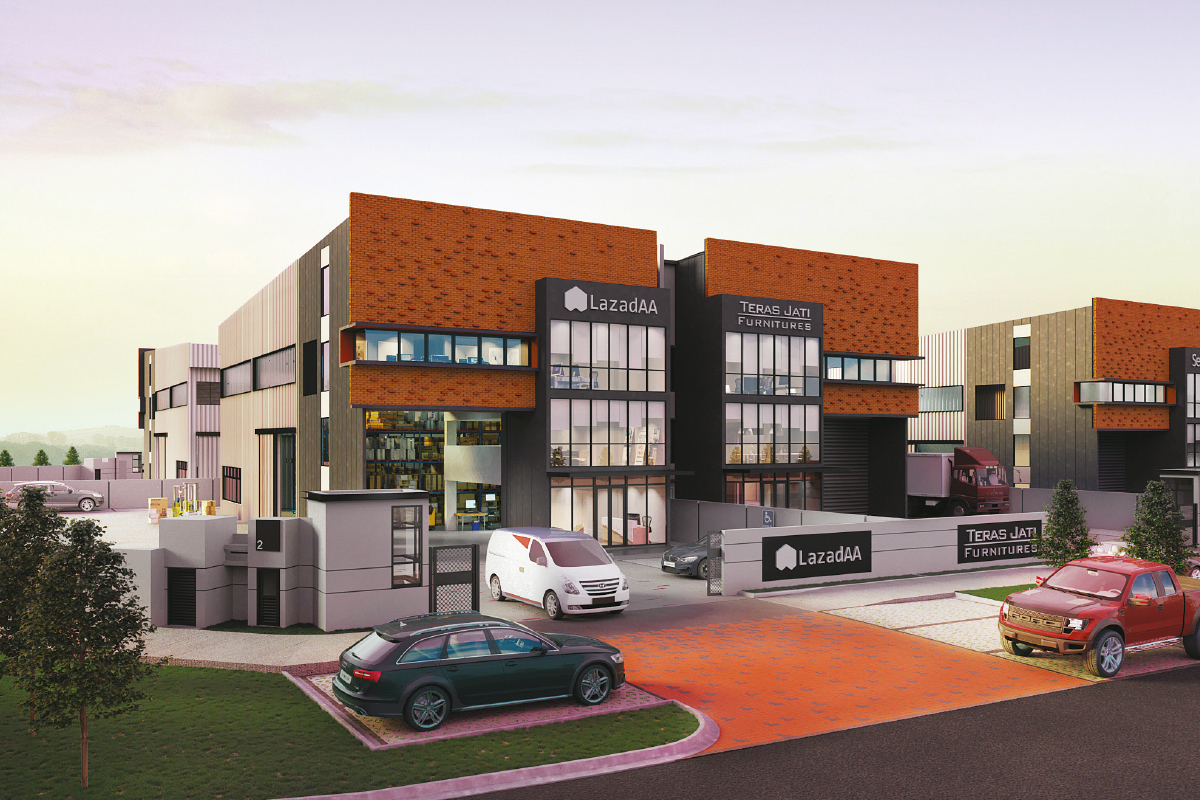 The factories' elegant architectural design offers a modern business image and there will be abundant parking space for employees, as well as for trucks and lorries
Elmina Business Park is designed to develop into a holistic central hub for logistics and production
Many sectors in the property market have been badly hit by the Covid-19 pandemic but one area remains resilient with a bright outlook — the industrial sector. The fundamentals of a good industrial development are location and connectivity and when combined with a positive market forecast it is attractive to potential buyers. Sime Darby Property Berhad's upcoming Elmina Business Park in the City of Elmina is an ideal development due to its central location within the Greater Klang Valley.
The 1,500-acre freehold mixed industrial development is located in the northern gateway of Klang Valley and is accessible via five major highways — the Guthrie Corridor Expressway, Kuala-Lumpur-Kuala Selangor Expressway, North-South Expressway, North Klang Valley Expressway and the upcoming Damansara Shah Alam Elevated Expressway. It is also close to major transport terminals such as Subang Airport, which is 19km away, Port Klang (40km) and Kuala Lumpur International Airport (60km). The Kuala Lumpur city centre is just 32km away.
With its holistic masterplan, Elmina Business Park will offer a complete industrial ecosystem with facilities such as staff residences and a business support centre to facilitate the setting up of businesses and obtaining of approvals. Elmina Business Park will comprise industrial lots, semi-detached and detached factories, built-to-lease options (managed industrial business park) and shop offices. Stage 1, which sits on a 630-acre parcel, will comprise 303 industrial units and 78 commercial units. It has a gross development value of RM1.26 billion.
The industrial lots, ranging from 1 acre to 4 acres, are up for sale and the first phase of the semi-detached factories will be launched in the fourth quarter. The semidee factories will come in two sizes — 70ft x 150ft and 70ft x 160ft, with built-up areas from 6,000 sq ft. Featuring a spacious interior that is suitable for warehousing or production, these factories will also come with a front reception area and a double-volume office space.
The factories' elegant architectural design offers a modern business image and there will be abundant parking space for employees, as well as for trucks and lorries.
The managed industrial park, which will offer custom built-to-lease options, is currently open for enquiries. There will be generous green spaces and recreational amenities such as jogging and cycling tracks, outdoor amphitheatre and futsal courts for employees as well as business owners. Other facilities will include security monitoring within the managed industrial business park as well as a proposed co-working space and day-care centre to support working parents.
A full-fledged industrial park
According to Sime Darby Property group managing director Datuk Azmir Merican, City of Elmina's wellness and liveability concept will be adopted in Elmina Business Park as well. Sime Darby Property is the first developer in the country to incorporate eight elements of wellness - physical, emotional, mental, environmental, community, occupational, family and intellectual - into its masterplan. The developer is targeting small and medium enterprises and multinational corporations from various trades such as F&B, packaging, furniture, printing, e-commerce warehousing and logistics to set up shop in Elmina Business Park
Azmir says Elmina Business Park offers elegantly designed factories and good amenities, which would draw in buyers. "We are also on freehold land with individual titles. This allows flexibility for factory owners to expand or renovate according to their requirements in the future." The wide access roads and two dedicated interchanges will ensure smooth traffic flow to the Guthrie Corridor Expressway for efficient logistics, he adds. According to Azmir, in 2013, 177 acres in Elmina East were quickly snapped up as light industrial land. "However, we didn't have any more land to expand the industrial area within the 5,000-acre City of Elmina masterplan."
Therefore, when the opportunity arose to develop 1,500 acres farther up north, Sime Darby Property decided to create a complementary development that would not cannibalise the City of Elmina but instead boost the Guthrie Corridor area by creating jobs for its growing population. "This time, we wanted to do a full-fledged industrial park with a holistic industrial ecosystem," says Azmir. The land bank's ideal connectivity and location make it perfect to be transformed into a central hub for logistics and production. "We also see an opportunity for industrial properties as new supply is lacking. Many industrial areas on the fringe of the city are ageing and facing congestion issues while industrial land in areas such as Petaling Jaya and Shah Alam are becoming increasingly expensive. 
City of Elmina
The RM27 billion City of Elmina has come a long way since its inception in 2013. With the addition of Elmina Business Park, it now encompasses 6,500 acres of land. More than 1,500 homes have been launched in Elmina East and 80% of them have been completed. In Elmina West, the Elmina Valley precinct is all done: 1,655 homes were launched within three years and are fully taken up. Currently, the developer is actively embarking on the next residential precinct — Elmina Green, where three phases have been launched so far.
Launched in 2017, the Elmina Green One linked homes are fully sold, and Elmina Green Two is a Rumah Selangorku project that is under construction. At the recent launch of Elmina Green Three, all 218 units in Phase 1 were fully taken up, and 65 units from Phase 2 were also booked. "This is testament to the continued demand for properties in the City of Elmina due to its strategic location and market-driven product designs," says Azmir.
The township currently has about 40,000 residents living in more than 10,000 homes. When it is completed, there will be 36,600 residential units and an expected population of 150,000. Amenities near the township include SRK Taman Bukit Subang, which is 1.9km away, HELP International School & University (3.8km), Putra Medical Centre Bukit Rahman Putra (5.1km), Jaya Grocer in Bukit Jelutong (8km), Denai Alam Recreational & Riding Club (3.9km) and Monterez Golf & Country Club (5.7km).
For more information on Elmina Business Park or City of Elmina, please call (03) 7831 2253 or visit www.simedarbyproperty.com