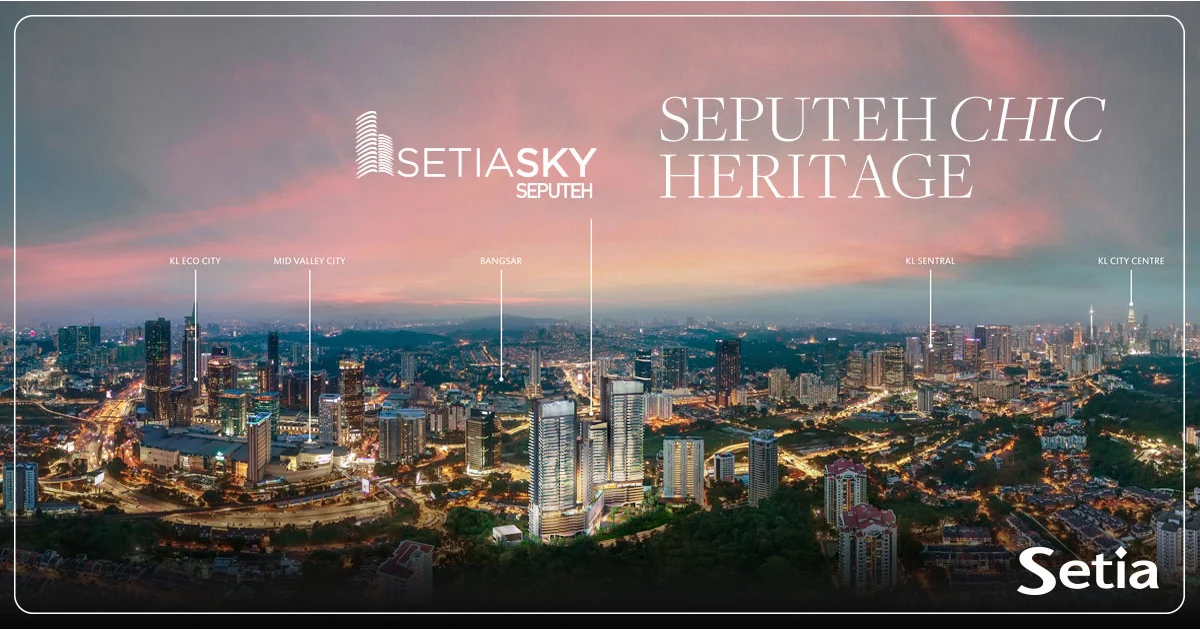 [Sponsored Content]
Nestled in a cosy nook of Kuala Lumpur is one of the city's more mature neighbourhoods: Seputeh. It is known for its quietness and calm, as well as its affluent residents. 
S P Setia Bhd's luxurious offering in the area is Setia Sky Seputeh, an ongoing project that will be completed next year.
Sitting on 4.4 acres, Setia Sky Seputeh, with a gross development value of RM951 million, offers large residential units measuring from 2,300 sq ft in a resort lifestyle setting: with 24/7 security, facilities on two levels and accessibility to malls, restaurants, hospitals, schools and highways linked to KLCC, Petaling Jaya and beyond.
Moreover, owing to its low density — about 60 units per acre, which is half the usual density in other condominiums — Setia Sky Seputeh offers residents plenty of privacy and space.
According to S P Setia senior executive vice president Datuk Koe Peng Kang, "Instead of going for a project with very high density and high psf price but smaller units, which some developers have [done], our market research showed that our potential customers  have enjoyed living in a big house before. And now they want to move into a place where security and amenities are all concentrated in one area."
Bungalows in the sky
Setia Sky Seputeh has two 37-storey towers of 145 units each. Each floor has only four to six units and each unit has its own private lobby. There are three variants: Sky Suites, Sky Bungalows and Sky Mansions. Sky Suites offers three unit types ranging from 2,303 to 2,379 sq ft; Sky Bungalows' unit types range from 2,616 to 2,885 sq ft; and Sky Mansions' unit types are 2,971 to 3,025 sq ft. Each unit comes with three to four parking bays.
"The units are semi-furnished. You only need to bring in your own furniture. All the white goods will be there," says Koe.
Every unit is equipped with a kitchen cabinet in the wet and dry kitchen areas, hob and hood, refrigerator, microwave oven, air-conditioning system, water heater system, video intercom system, and washer and dryer. The units are also broadband-ready, with the infrastructure in place for an easy hook-up to a service provider.
Koe says the generous unit sizes allow for greater flexibility in the use of the space and enable residents to carve out private spaces such as a music room or home office.
The prices of units range from RM2.991 million to RM3.909 million before sales rebates and incentives. Purchasers, whether local or foreign, may avail themselves of a special financial package called Setia 10:90, where they pay a 10% down payment and nothing else until the project is completed.
"This project is not for the rental market. It is for someone who wants to have a retirement home or build a family, who [will be] able to enjoy the space and utilise the facilities and amenities," Koe emphasises.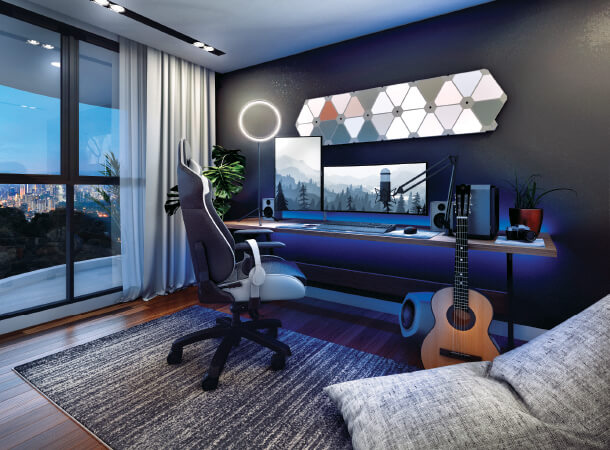 Generous unit sizes allow residents to carve out private spaces such as a music room or home office
"We are moving the resort holiday experience into your home. Our job is to make sure residents recognise how beautiful the place is and to use it. They work so hard to make so much money and all these facilities in Setia Sky Seputeh are to help them de-stress."
Ample facilities for all
There are two facility podiums: the Beach Podium on Level 7; and the Sky Rooftop Podium on Level 36. Koe says the selection of facilities would be very similar to those found in resorts around the world.
The facilities at the Beach Podium include a crescent sand beach pool, cocktail bar, virtual golf area, cabana lounge, Jacuzzi, meditation garden, yoga deck, multipurpose hall and children's activity areas such as a playground with a trampoline.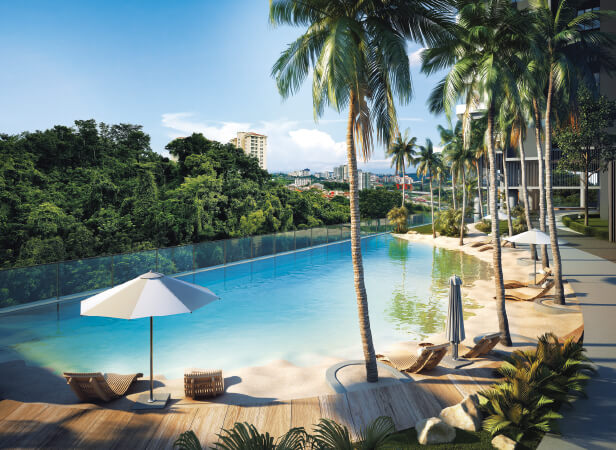 The facilities at the Beach Podium include a crescent sand beach pool and children's activity areas
At the Sky Rooftop Podium, there will be the gym, male and female spa, study room, yoga room, heated aqua gym, gourmet dining facility and lounges.
"We asked ourselves what sort of home we would want to have if we want to retire or we have a very stressful life," Koe explains. "That is what led us to provide a lot of facilities for Setia Sky Seputeh. We designed a lot of spaces for people to feel they are living in a luxurious venue."
He adds that residents of all ages can spend quality time with their families without having to leave the development.
This is where S P Setia's "Live Learn Work Play" development philosophy is most relevant as more people will want to live in self-contained and self-sustained developments that not only have facilities and amenities a stone's throw away but also enable residents to know and trust one another.
To ensure buyers fully enjoy the facilities, S P Setia is offering a maintenance fee subsidy for 15 years. Koe explains that the developer had received many inquiries from interested buyers who were attracted by the wide range of facilities but expressed concern about the possibility of higher maintenance fees. To address this point, it was decided that a special very long-term maintenance fee subsidy would be provided so that buyers could enjoy their new home and all its creature comforts with true peace of mind.
Besides Setia Sky Seputeh's design, its location is also an attractive proposition for a balanced and harmonious lifestyle. The project is a mere five-minute walk via a covered walkway to Mid Valley City, with its numerous shops, restaurants, offices and services. Within a 10km radius, you will find schools, hospitals and medical facilities, golf courses and other malls. Moreover, the area is well connected via the Federal Highway, New Pantai Expressway, KL-Seremban Highway and SPRINT Highway.
"At Setia Sky Seputeh, you are in the heart of the city but not in the direct centre of Kuala Lumpur, where there is heavy traffic. You can have more time to enjoy the facilities in the privacy of a low-density project," Koe concludes.