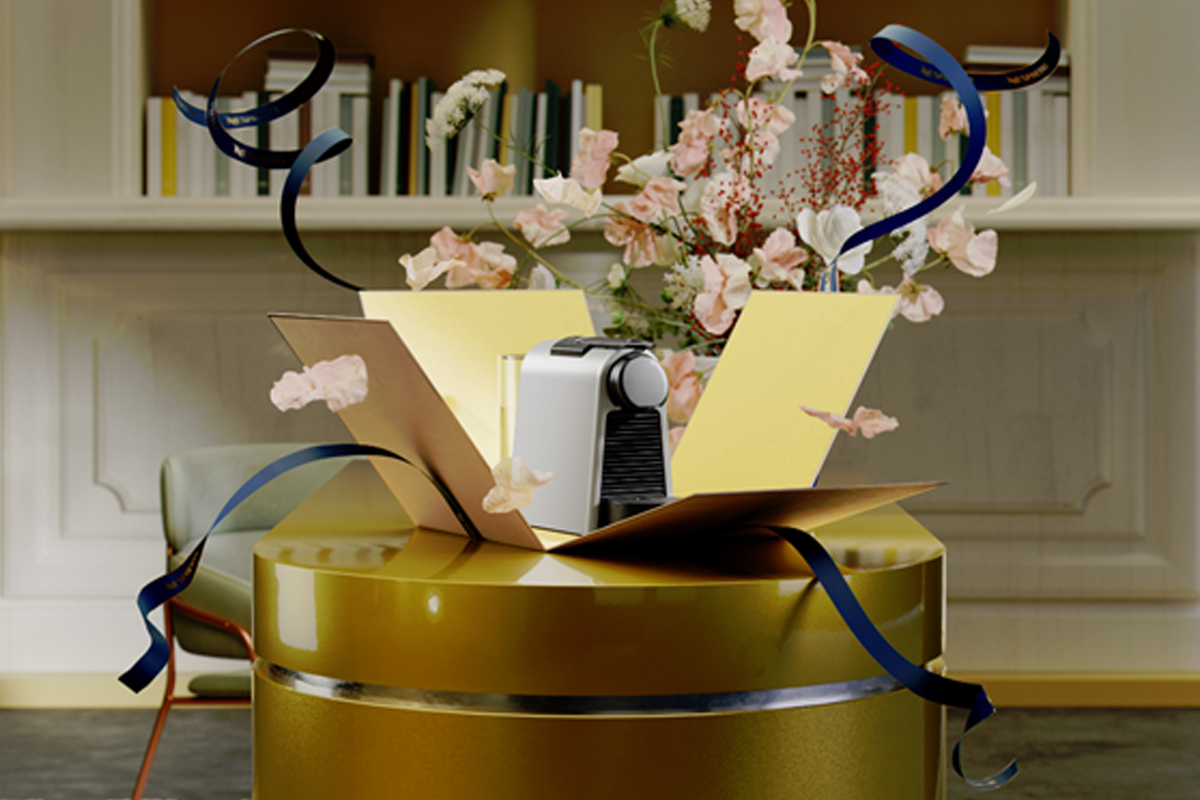 The Nespresso Essenza Mini, the machine to match with the limited edition range
With the gifting season just around the corner, nothing perks up a caffeine lover every morning like a sleek machine that will give them barista-level skills or a beautiful mug to keep their drink warm for just a tad longer. Nespresso's new range of exclusive limited-edition coffee and accessories is sure to please the most discerning coffee-obsessed person in your life.
Bringing true Italian hospitality and its well-known warm traditions into your homes, Nespresso's festive Variations Italia seeks to rekindle those treasured moments spent with your loved ones. Influenced by traditional flavours of Italian sweet treats - including hazelnut cake, amaretti and pecan biscotti - the new collection has three new flavours, which are the Il Caffé, Variations Italia Torta di Nocciole Flavour & Variations Italia Amaretti Flavour to usher in the holiday spirit. 

(from left) - The IL Caffe, Torta Di Nocciole Flavour & The Ameretti Flavour
The Il Caffé transports you to the heart of the classic Italian espresso experience. The Vietnamese and Indonesian washed robustas - tinged with a Colombian Arabica undertone - offers a punchy combination of smooth, velvety taste with a cereal-like aroma. On the other hand, the Torta di Nocciole features flavours of South American Arabica, coating the palate with notes of toasted hazelnut and vanilla. 
For the perfect accompaniment to your festive cakes and tarts, the Amaretti flavour caps your favourite meal with almond and vanilla aromas. Like the traditional Italian biscuit made using ground almonds, egg whites and sugar, the unmistakable bittersweet taste of Amaretti can be found in this concoction that is also layered with South American Arabica's cereal character, lending a zesty, fruity note.
If fresh-brewed coffee energises the inside, Nespresso's cheerful paraphernalia and seasonal offerings lift the holiday mood on the outside. The brand's 2020 Variations Italia Advent Calendar allows fans to enjoy a Nespresso coffee each day from December 1 to 23, and a special gift on the 24th. Warm up with the Nespresso Lume Collection, a refreshing twist on the traditional white porcelain coffee cup set available in two sizes, Cappuccino (180ml) and Grand Lungo (270ml), and also the Lume Capsule Dispenser.
While you treat your loved ones, you should reward yourself as well. From Dec 7 onwards, Nespresso will offer Gift Bundles with exclusive options such as
A limited-edition, laser-engraved Touch Travel Mug +  Festive 10-Sleeve Pack & RM30 club credit, or 
The Nomad Travel Mug + Festive 10-Sleeve Pack & RM30 club credit.
Shopping for your loved ones has never been easier with the Nespresso gift bundles package. For example, purchase the Essenza Mini Matt Black bundle and a Festive 10-Sleeve Pack & RM30 club credit at just RM899.
For more gifting ideas, explore Casa Nespresso to see the full festive range including machines at www.nespresso.com and in Nespresso boutiques from December 1st until January 10th.