Despite the pandemic pushing both customers and retailers to e-commerce platforms in droves, research shows that adoption among small and medium enterprises (SMEs) still lags behind that of larger firms.
"Digital uptake is picking up, but remains low among SMEs, particularly e-commerce participation," states a survey by the Organisation for Economic Co-operation and Development (OECD) published in August. "Most SMEs do not make their transactions through e-commerce, which has been a big hurdle during the periods of confinement."
Several reports point to the lack of market knowledge and access to digital tools as key barriers to e-commerce adoption. Speaking with e-commerce adopters, however, reveals that these challenges are not as insurmountable as they may seem.
Opening up new markets
During the pandemic, 32-year-old Khairul Azmi has helped migrate his family business online to cut down their reliance on exploitative middlemen. Setting up a Shopee online store has helped open up their business to new markets.
"My mother and stepfather in Tok Bali, Kelantan, are farmers. They have no marketing skills. They plant corn and sweet potatoes and rely on middlemen to collect the produce and sell [them]," says Azmi.
He adds that the family had worked with two types of middlemen. The first was large-scale operators who would buy up to 8,000 cobs of corn from the farmers daily at 80 sen per cob. The other middlemen operated on a part-time basis at a smaller scale, purchasing 500 cobs at a higher price of RM1 per cob.
When the pandemic hit, the smaller-scale middlemen were unable to obtain the necessary permits from the Ministry of International Trade and Industry and could no longer operate. Hence, the family had to rely heavily on the larger middlemen for sales. Rubbing salt into the wound, these middlemen pushed down their buying price to 50 sen per cob while still charging end-consumers the same amount.
"So, I decided to help my family by setting up a Shopee store to sell directly to consumers at the retail price of RM1.50 to RM1.60 per corn. All proceeds go to my family," says Azmi, who manages the online store and its marketing from Kuala Lumpur.
He explains that whenever he receives an order, Shopee's merchant platform would automatically generate an airway bill that he would send to his family in Kelantan through WhatsApp. Azmi's parents would then print the airway bill, harvest the produce, pack and deliver the goods to the end-consumer within 24 hours.
It was not difficult to set up an online store, he says. In fact, it only took him a few minutes to do so. His biggest hurdle, however, was that fresh produce tends to sweat and rot if not packed properly.
"Before we started [selling goods online], I got my family to try and deliver some corn from Tok Bali several times — each time with different types of packaging. I also tried purchasing corn from other online sellers as part of my research," Azmi explains.
He wanted to help commercialise the sale of corn from Tok Bali through this online platform. He says that most of the popular corn is currently from Cameron Highlands, but few people know that there are not many corn plantations up there. In fact, most of the corn from Cameron Highlands is purchased from Tok Bali farmers through middlemen and redistributed to those sellers instead.
Fortunately, Azmi's efforts have been greatly rewarded. He had set up the store during the first week of July this year and managed to clear the entire inventory by early September. He and his family sold a total of 6,130 corn in a matter of two months.
"In the beginning, I did not know how to use features such as Shopee advertisements to direct traffic to my store. So, I relied on sharing my story on Facebook groups," says Azmi.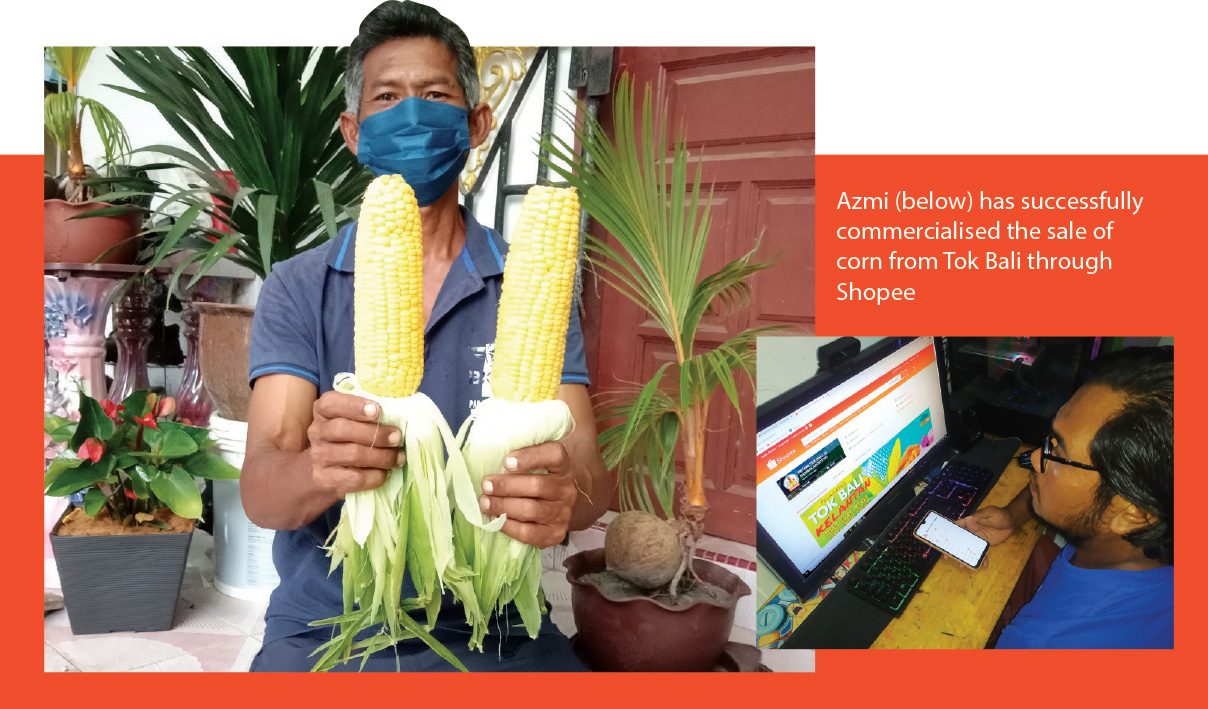 "I joined a few Facebook groups and shared information about how corn travels from the farm to the table and where markups in prices happen, while also sharing the link to my Shopee store. The post went viral in several Facebook groups. I then attended a few Shopee University sessions and learnt how to use features such as advertisements and discount vouchers to attract users on the platform to my store."
Capitalising on seasonal events
Unlike Azmi, 57-year-old Ho Soo Yong had set up his e-commerce store in 2017, years before the pandemic. His store, Hejia, specialises in selling Chinese delicacies.
"The idea of starting an e-commerce business came from my son in 2017. At the time, it was close to the Mid-Autumn Festival and Shanghai mooncakes were very popular in Kluang, Johor. However, they were not as popular in other parts of Malaysia," says Ho.
"So, we wanted to explore new markets instead of competing with other mooncake sellers in Kluang. My son found out that there were not as many people selling mooncakes on Shopee then, so we tried setting up a store and Shanghai mooncakes became our first product."
Today, Ho treats his physical and e-commerce stores as two separate platforms. He sells baked goods such as cakes and bread in pop-up stores in Kluang, while the e-commerce store focuses on seasonal Chinese traditional food products, such as bak kwa, mooncakes and rice dumplings.
Ho explains that setting up the online store was not difficult — a process that only took a few minutes. His son also quit his job to focus on growing the online business. The biggest concern Ho had was that the online business would not take off, as he had invested heavily in photographing the products, graphic design and marketing.
"The most difficult part was probably making the photos look as good as how the products taste. Customers need to look at the visuals and be convinced that the products taste good. Hence, we reached out to professionals to create these visuals," Ho explains.
"Next would be getting customers onto my online store and purchasing the products. I was fortunate that at the time, there were not many stores on Shopee offering mooncakes. Shopee's team was also running Mid-Autumn Festival campaigns and we were invited to participate in its Shocking Sales initiative. We also provided discount vouchers and more, so our products took off and are still doing quite well up to today."
Today, Ho's online store allows him to capitalise on seasonal events, seeing greater sales in the three weeks leading up to festivals such as Chinese New Year. This year, the store managed to garner more than RM70,000 worth of sales in September, with sales spiking by about 300% during the week of the Mid-Autumn Festival. Ho says he only spent about RM5,000 on ads targeting customers actively searching for mooncakes on Shopee.
"I do have a lot of friends reaching out to me saying that they would like to sell online. Shopee has grown, so there is a lot more competition," Ho adds.
"[Sellers need] to be very patient and consistent in attracting people to their stores and obtain good ratings so that other customers would trust them. They need to be patient and do what it takes to provide good customer experiences because you need to do a lot more than just opening a store to maintain it and get good sales."
Supporting businesses large and small
Since its inception in 2015, Shopee has provided millions of Malaysian consumers easy access to great deals and convenient shopping experiences. This has opened up new revenue channels for the business community, particularly for micro, small and medium enterprises (MSMEs).
      To help fuel the explosive growth of e-commerce, Shopee has launched several initiatives to assist sellers in their online journey. According to Zed Li, senior manager of business development at Shopee Malaysia, the support can range from connecting businesses with influencers, to providing free training programmes such as Shopee University for new digital adopters.
      One of the most impactful types of support would be in the form of shopping festivals. Li explains that for decades, consumers have been highly sensitive to mega sales and great deals, many of which are tied to seasonal celebrations such as Chinese New Year, Hari Raya and Christmas.
      Knowing this, Shopee has created double-digit campaigns such as 9.9, 11.11 and 12.12 to give consumers more ways to save all year round, while also cultivating monthly festivals that shoppers can look forward to. Such festivals leverage existing in-app features such as Shopee Prizes, where shoppers can earn Shopee coins and exclusive vouchers by playing in-app games, and Shopee Live, where sellers can interact with customers in real time. This opens up many different ways sellers can interact with consumers.
      "In the three weeks leading up to Sept 9, shoppers across the region spent over 24 million hours watching a series of different livestreams on Shopee Live, including an exclusive interview with Jackie Chan and exciting performances by leading K-pop groups TWICE and Secret Number," Li explains.
      As traffic increases on the platform, it is the sellers that stand to benefit from the buying activities.
      "Recently, we asked some of the sellers on the platform to share their single-day performances on Sept 9 and it is impressive to see the results achieved in one day. Seller Choo Ming Jin, 24, whose store's main products are lighting and accessories, recorded sales of RM155,000 while Chen Ding Xiang, 31, who sells smart home products, raked in RM99,000. These are just a handful of the many success stories of local sellers on Shopee."
      Beyond the double-digit festivals, businesses can also leverage Shopee's various other seller support systems, such as the free shipping and coins cashback programmes. Other initiatives include the Seller Affiliate Programme, Shopee Feed, Shopee Chat and programmes that allow sellers to tap the international market and audiences as well.
For more information,
visit this link below:
https://seller.shopee.com.my/edu/home