Last year, China was the only major country to grow as private companies restarted operations and consumers resumed spending after the lockdown.
China is expected to continue rebounding - with 8+ GDP increase in 2021 compared to 5.5% growth for the world economy1.
China's strong recovery has not gone unnoticed by investors
China's finesse in navigating the pandemic has not gone unnoticed by global investors. Strong investor confidence has, in part, been reflected by a flood of inflows to its domestic onshore stock and bond markets.
Foreign investors pumped in RMB 1.4 trillion (USD 217 billion) in the period from January 2020 to the end of September 2020, up more than 60% compared to the same period in 20192.
"These flows do not just reflect China's economic strength. Investors are also comforted by the progress China has made in opening up its domestic financial markets,'' says Gian Plebani, portfolio manager at UBS Asset Management. He explained that access to mainland stocks and bonds used to be restricted to institutional investors who also had to apply for investment quotas. Repatriating investment gains out of China was also not easy.
However, China has taken various steps to simplify access to its local markets. It opened up its Shanghai stock market to foreign investors with the Shanghai - Hong Kong Stock Connect in 2014. Over the last seven years, China has also eased the doorway to its Shenzhen stock market and local bond markets through similar connect platforms. Along the way, it has addressed some other investors' concerns and simplified many of its investment rules.
"The fact that global index firms now have China A shares and RMB bonds in their indices show how much Chinese financial markets have matured in terms of stability and accessibility," says Gian.
And this is a "two-way, win-win situation" for both China and foreign investors. China benefits from the capital injection that can be used to further prop up growth while those who include China assets can diversify their portfolios further. "Given that foreign money is still a very small fraction of China's vast markets, its equities and bonds are not too correlated with global markets. For global investors, allocating to onshore assets improves diversification in a global portfolio and helps to maximise risk adjusted returns,'' explains Gian.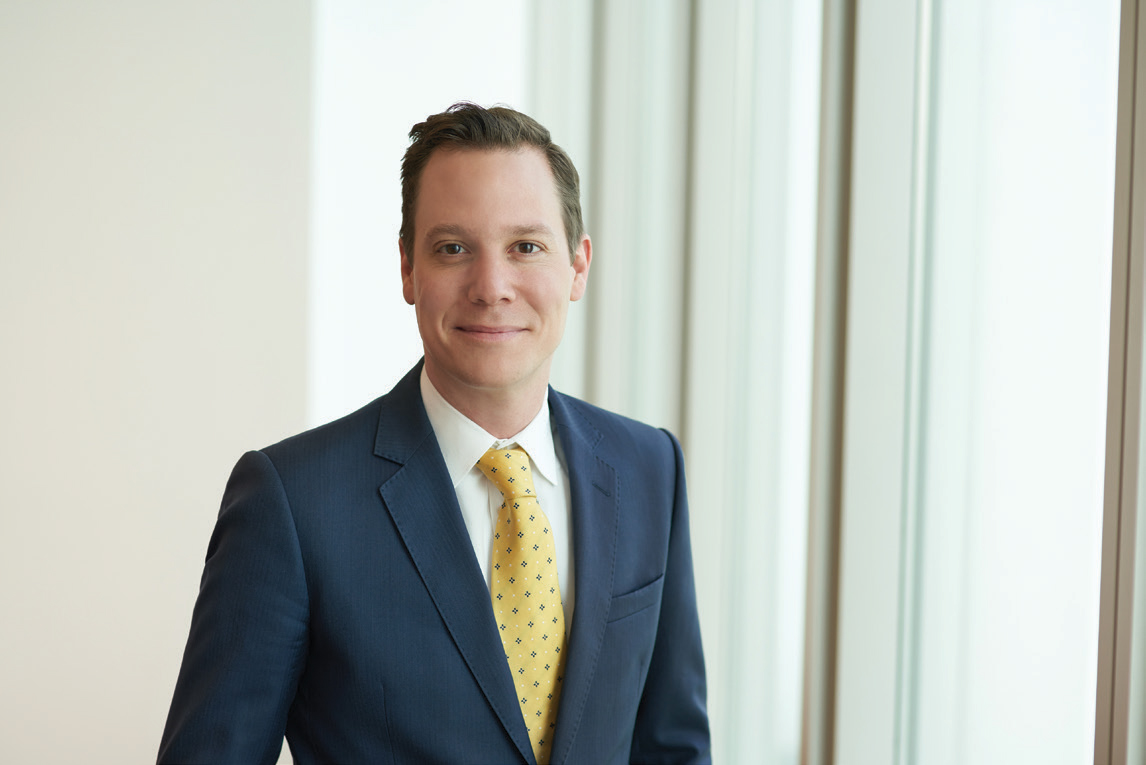 The main kicker here is that not many investors appreciate how under-invested China markets are. The flows have been significant but foreign investors only hold 3% of its stock market and about 2% of its bond markets
3
. And the wall of money into China will continue. -
Gian Plebani, Portfolio Manager, UBS Asset Management
The wall of money into China will continue
He gives two reasons. Firstly, global indices are continuing to include Chinese financial assets in their global indices. As a higher proportion of China assets are mixed in, investors who are benchmarked to the various indices will have to adjust their allocations upwards.
Secondly, there is a mis-match of Chinese assets in global portfolios compared to its contribution to global growth. China accounts for around 18% of global GDP but only has a 5.2% share of the global equities market. The US share of global GDP is 25% and has a heavy 57% representation in global stock markets4. As China's stature on the world stage continues growing, we expect investors will also increase their share of assets to China.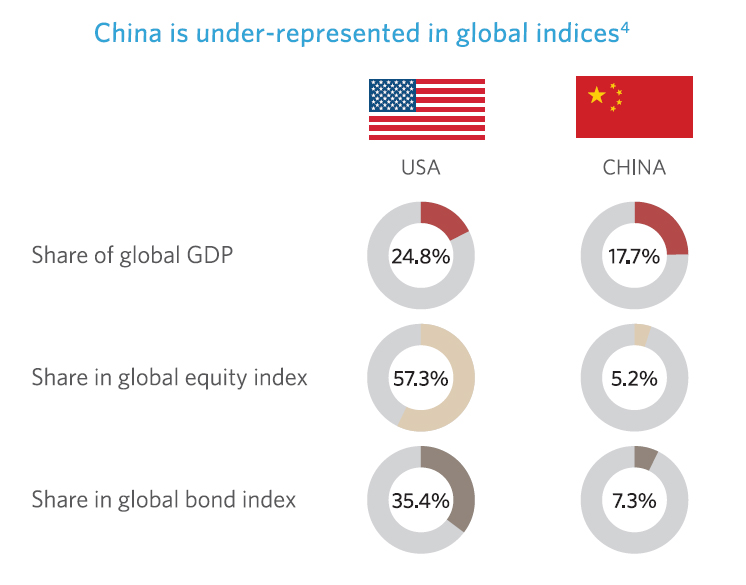 Affin Hwang World Series - China Allocation Opportunity Fund can help investors Gain access to onshore China markets
The Affin Hwang World Series - China Allocation Opportunity Fund ("Fund") is a multi-asset solution that provides easy access to the full spectrum of China assets - equities and bonds, regardless of whether they are mainland or offshore-listed. The Fund is a locally wrapped version of the award-winning UBS (Lux) Key Selection SICAV - China Allocation Opportunity (USD). It won the Platinum award in the Fund Selector Asia Awards in Singapore twice in row - for 2020 and 2021.
Gian who manages the underlying Fund takes a flexible approach in how he puts money to work. "Investment markets are constantly changing and so we cannot be static in how we allocate money. Take 2020 for example.
While we gradually brought down our total allocation to China equities from around March, the proportion of China A shares grew in the portfolio. We saw strong policy support which boosted local investor sentiment and A-share market performance,'' says Gian.
China multi-asset investing may still be a fairly new concept but in time to come could gain popularity. This approach allows investors to participate in China's growth story with less of the ups and downs common to pure equity strategies.
Above all, the severe under-representation in investors' portfolios to a country that will prop up global growth for years to come and contribute up to 30% of the world's fortune in the next decade, may seem foolhardy.
Investors who are keen to learn more about the Affin Hwang World Series - China Allocation Opportunity Fund can contact us at 1800 88 7080 or visit https://affinhwangam.com and invest through any of Affin Hwang AM sales offices.
Investors are advised to read and understand the contents of the Fund's Product Highlights Sheet, Information Memorandum dated 18 January 2019 and its First Supplemental Information Memorandum dated 28 August 2019 before investing.
---
Source: IMF, World Economic Report 2021, Jan 2021.
Source: People's Bank of China via Wind Financial Information, as of 30 Sept 2020.
Source: Nikkei Asia, China1s stock market rally gets extra push from foreign investors, 20 Aug 2020.
Global GDP for 2020 - Source: IMF, World Economic Outlook (Oct 2020), Share of equities based on MSCI ACWI - Source: MSCI, 31 Dec 2020. Share of bonds based on Bloomberg Barclays Global Aggregate Index- Source: Barclays, UBS Asset Management, 31 Dec 2020.
WARNING STATEMENT: A copy of the Information Memorandum ("Info Memo") and Product Highlights Sheet ("PHS") can be obtained at Affin in Hwang Asset Management's sales offices or at www.affinhwangam.com. Investors are advised to read and understand the contents of Affin Hwang World Series - China Allocation Opportunity Fund's (or the "Fund") Info Memo dated 18 January 2019, its First Supplemental Info Memo dated 28 August 2019 and corresponding PHS before investing. There are fees and charges involved when investing in the Fund. Investors are advised to consider and compare the fees and charges as well of the risks carefully before investing. Investors should make their own assessment of the risks involved in investing and should seek professional advice, where necessary. The price of units and distribution payable, if any, may go down as well as up and past performance of the fund should not be taken as indicative of its future performance. The Securities Commission Malaysia has not reviewed this marketing/promotional material and takes no responsibilities for the contents of this marketing/promotional material and expressly disclaims all liability, however arising from this marketing/promotional material.