The global express market has grown rapidly over the years, along with the booming e-commerce worldwide.
In Malaysia, 80% of the population are active internet users. Malaysia's US$4 billion (RM16.6 billion) e-commerce market has been growing stronger each year and is forecast to grow 24% annually.
With the unrelenting Covid-19 pandemic that has hit the world, demand for logistic services has soared even higher as people choose to make online purchases at home, instead of going out to the mall.
Therefore, it is important to have a reliable and trusted courier service provider that can meet the requirements of businesses and purchasers. SF International (Malaysia) is putting itself forth as one such service provider.
Incorporated in August 2011 in Selangor, SF International (Malaysia)  provides international cross border global logistics services.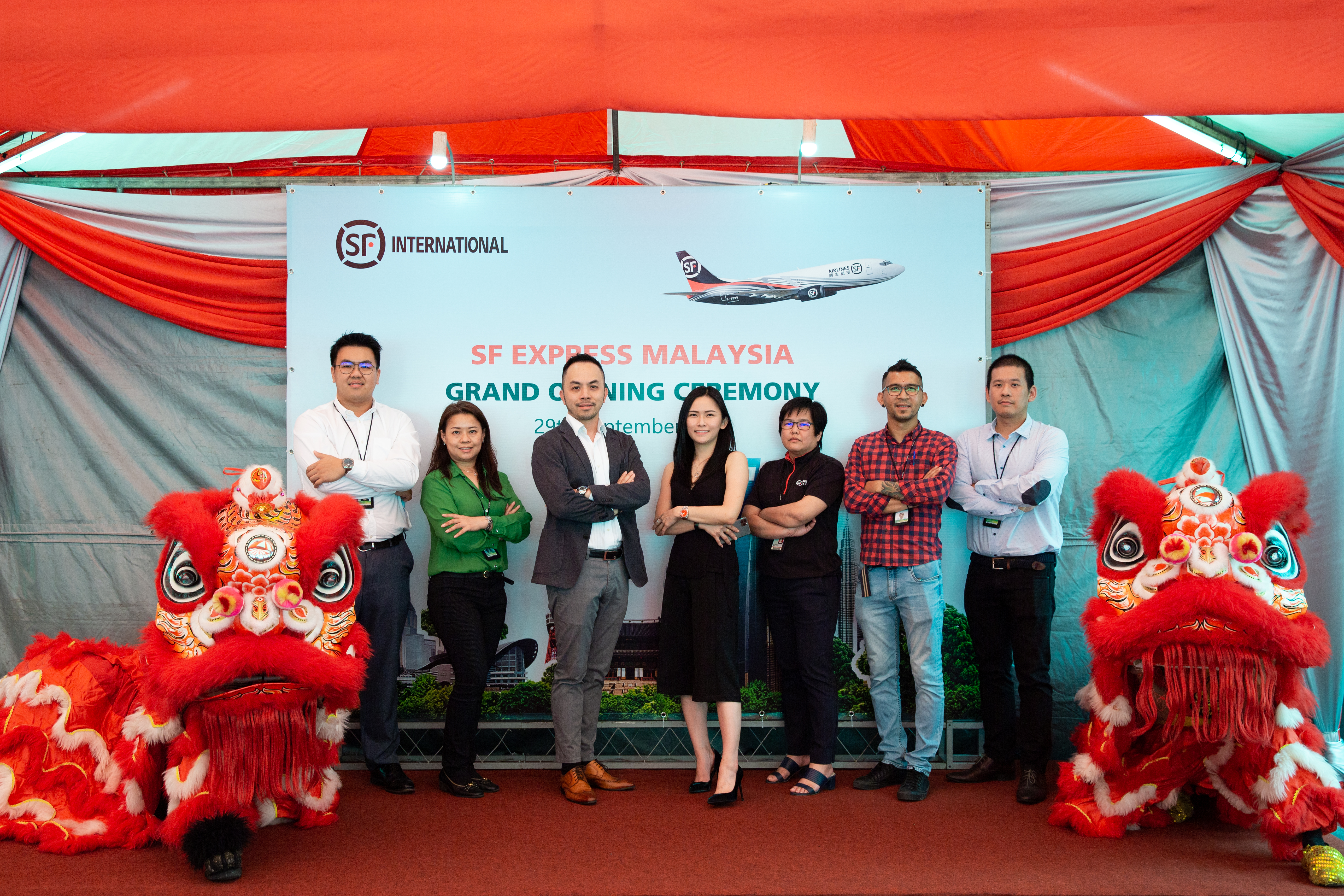 SF International (Malaysia) Executive Management.
They have moved their headquarters into a new facility in Petaling Jaya that is five times larger. This move is in line with the logistics company's plan to diversify into other logistic segments as well as fulfilment services.
Founded in 1993, SF Group is a Chinese multinational express logistics company based in Shenzhen. It is the largest express courier in China.
SF international (Malaysia) is committed to providing convenient and reliable international express services and customized logistics solutions to worldwide manufacturing companies, trade companies, cross-border ecommerce and consumers, including integrated import and export solutions covering market entrance, transportation, customs clearance and dispatch.
"We pride ourselves on being a premium service provider; we do not want to sacrifice our commercial value to gain market share.
"At the end of the day, this is not sustainable for the entire logistics industry," says Jason Kong, country manager of SF International (Malaysia). "We want to differentiate ourselves by meeting market needs through quality of service."
SF Group's vision and clear business objectives have led SF International (Malaysia) to become an exponential growth company that has been achieving double-digit growth.
Delivering relevant quality services
The Covid-19 pandemic has wreaked havoc in the Malaysian economy, but SF International (Malaysia) has gone the extra mile in assisting businesses and consumers.
By deploying its own aircraft, it has delivered essential items that have helped the nation cope with the pandemic.
SF Group has a fleet of 65 Boeing aircraft. Its courier personnel in Malaysia continue to perform daily pickup and deliveries to help ensure its customers' business are still up and running.
There was a surge of demand in the first half of 2020 for the export of safety and pharmaceutical equipment to the Asian region.
While other logistic players are unable to fulfil demand delivery in these challenging times, SF International (Malaysia) has managed to keep its network up and running.
In this pandemic, where everyone is worried about their own job security, SF International (Malaysia) is committed to taking care of its employees' well-being.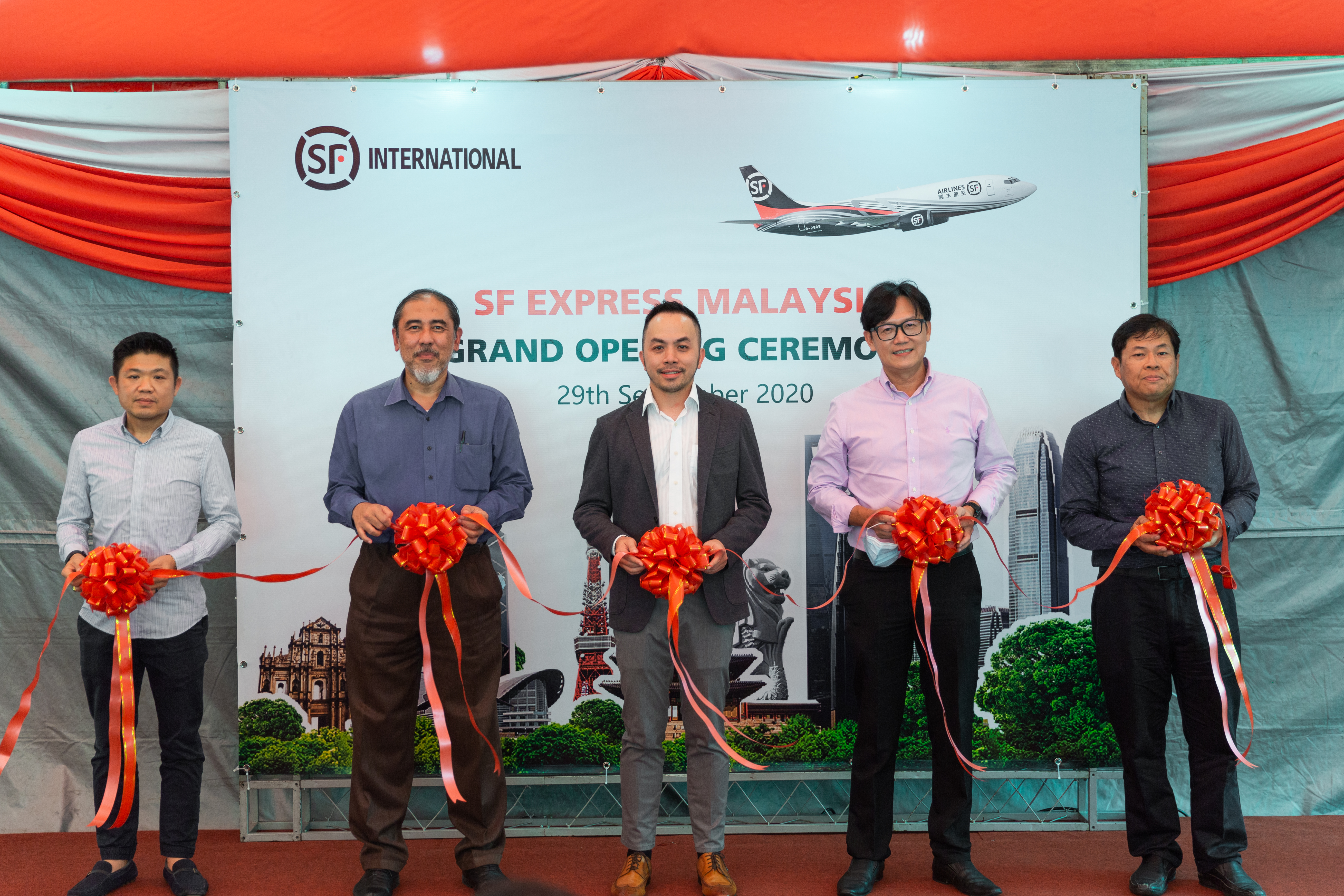 SF International (Malaysia) Grand Opening ribbon cutting ceremony. From the left, Anson, En. Masri Zohaini Bin Idris (MIDA), Jason Kong, Patrick, Vincent.
Management has ensured that there are no layoffs or pay cuts at SF International (Malaysia).
Instead, the management team has decided to give its staff increments in salary as a form of appreciation for risking their lives and steadfastly carrying out their duty during the pandemic.
To achieve faster transit time, route planning efficiency is vital to ensure shipments are delivered within the promised time. One of the factors that influence this efficiency is better road and port infrastructure development.
Every quarter of the year, industry players get together with government regulatory bodies to plan and improve Malaysia's logistics capabilities.
The pandemic has caused a spike in the number of contraband goods smuggled in and out of the country, as well as growing IP infringement issues.
SF International (Malaysia) takes seriously its role as key advisor to educate consumers and businesses on customs procedures to ensure faster custom clearance time and compliance with the custom's regulatory laws of Malaysia and other countries.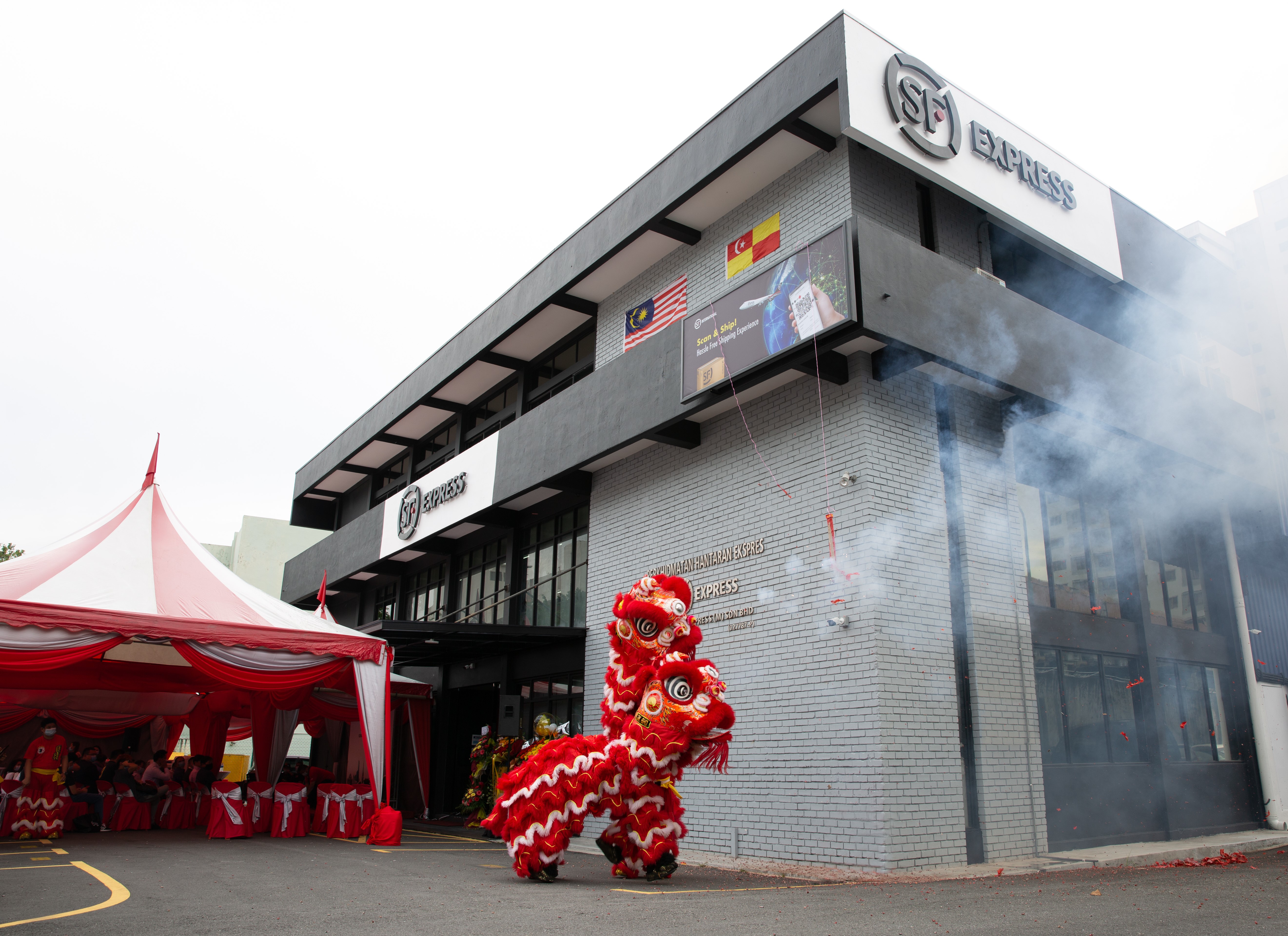 SF International (Malaysia) new office in Seksyen 51a, Petaling Jaya.
In the logistics visibility, there exist an unexplored potential for Malaysian-made products. Kong points out that there is high demand from Asian countries for local products such as textile and apparels, agriculture, health and safety and perishable goods. This supply chain can be further improved by a joint collaboration between logistic players and GLC companies.
SF International (Malaysia) aims to diversify into other logistic services other than express services to become an integrated logistic solution provider in the near future.
Its core values, which revolve around dedication to the success of its customers, openness and mutually beneficial cooperation, will ensure it stays on its path to success.