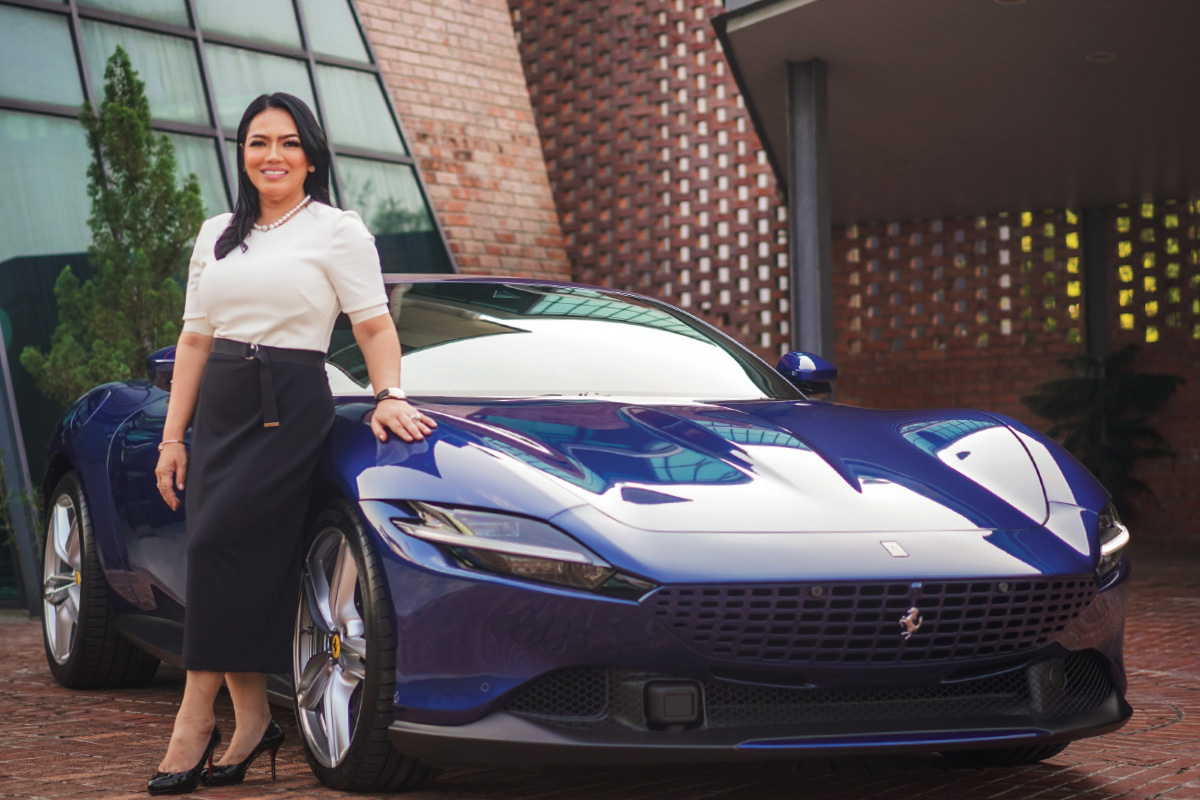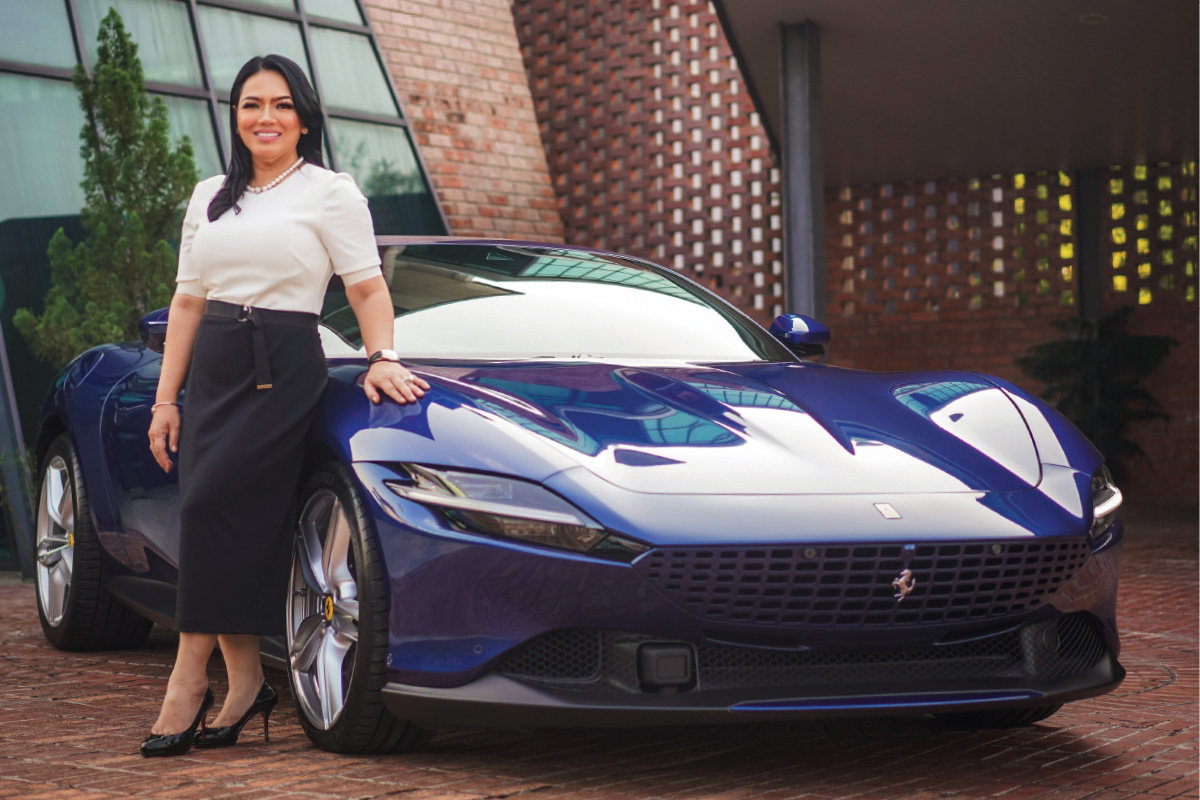 Start your Nuova Dolce Vita journey and be part of an exclusive event to discover the Ferrari Roma. Kindly click here for more information.
Lawyer and business personality Sitinur Mokhtar, chairman of the JNJ Group, takes the all-new Ferrari Roma for a spin while sharing with us some lessons on living your best life
Sleek, sexy and the ultimate status symbol, Ferraris have long been coveted — and with good reason. But beyond the power, performance and pure driving pleasure that an automobile bearing the inimitable prancing horse insignia affords, Enzo Ferrari's eponymous maison has come to stand as a paragon of sheer automotive perfection.
"When you talk about iconic cars, there really is no other name," says Sitinur Mokhtar, chairman of the JNJ Group, in agreement. "There are many names in the motoring industry but Ferrari carries so much weight and brings with it so much presence. Even its name — Ferrari — sounds magical."
Recalling her earliest memory with the marque, her eyes light up. "It was a moment of luxury.  It was 21 years ago in London when I bought my first Ferrari," she says. "There is something about the look of it, which forms a significant part of its appeal. You know, we think we buy cars with our head but we really buy them with our heart. Driving such a beautiful and iconic car was a thrill while the luxury of the experience taught me that it was different from all the other cars I have owned in my life.  I could talk for hours, going through all the moments that define Ferrari for me. It has always been my universally desired dream car, besides being a physical manifestation of the minute I say 'Hey, I've made it,'" she laughs.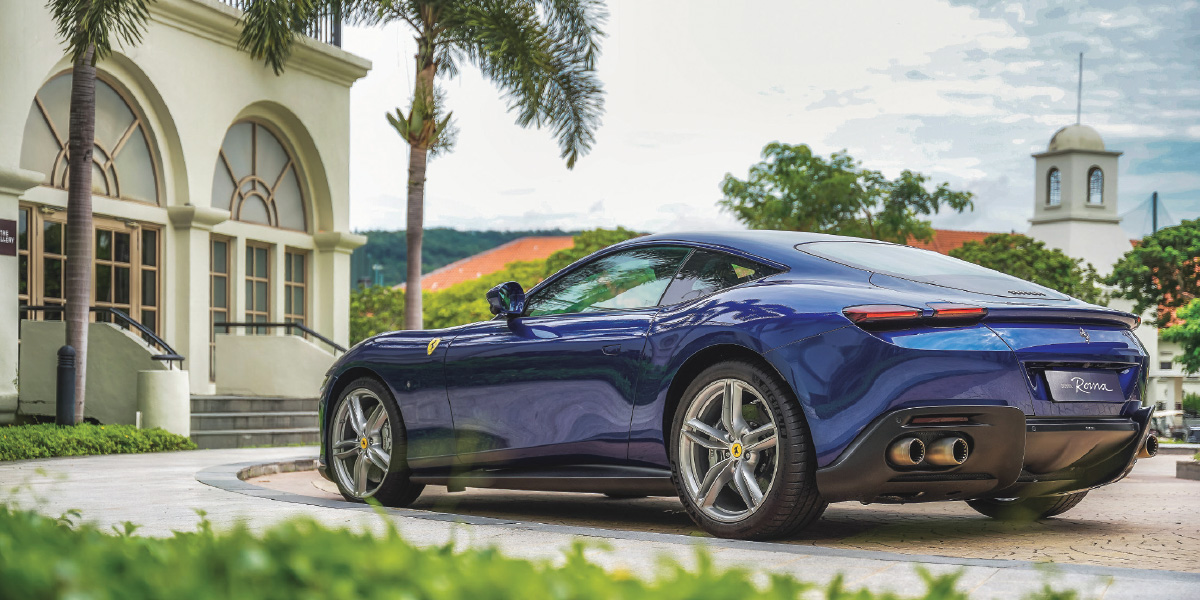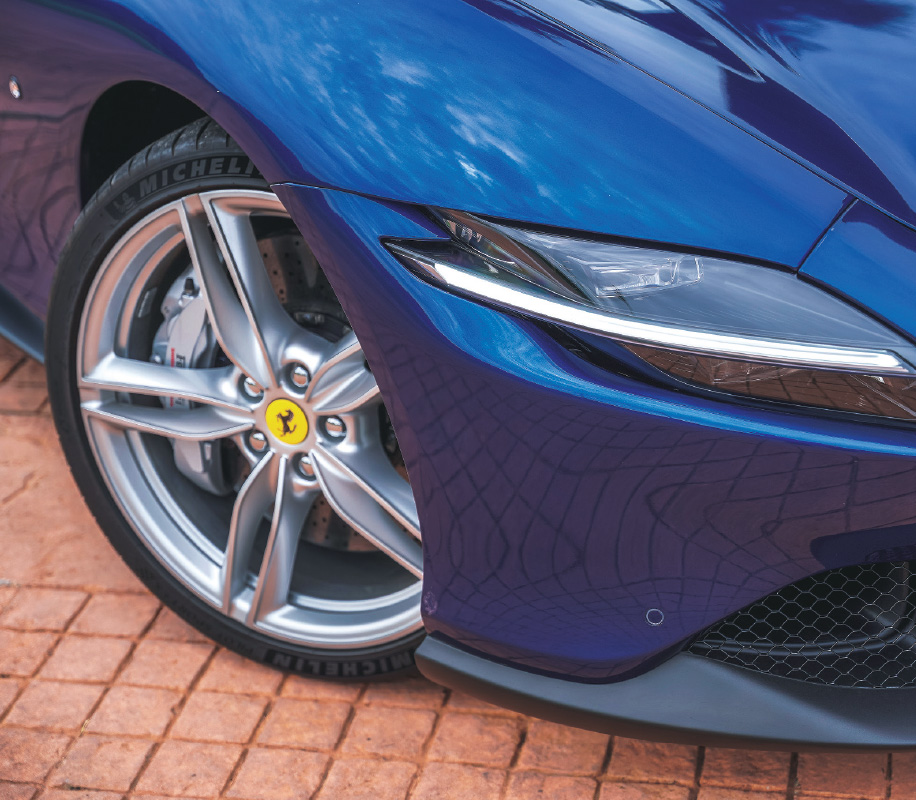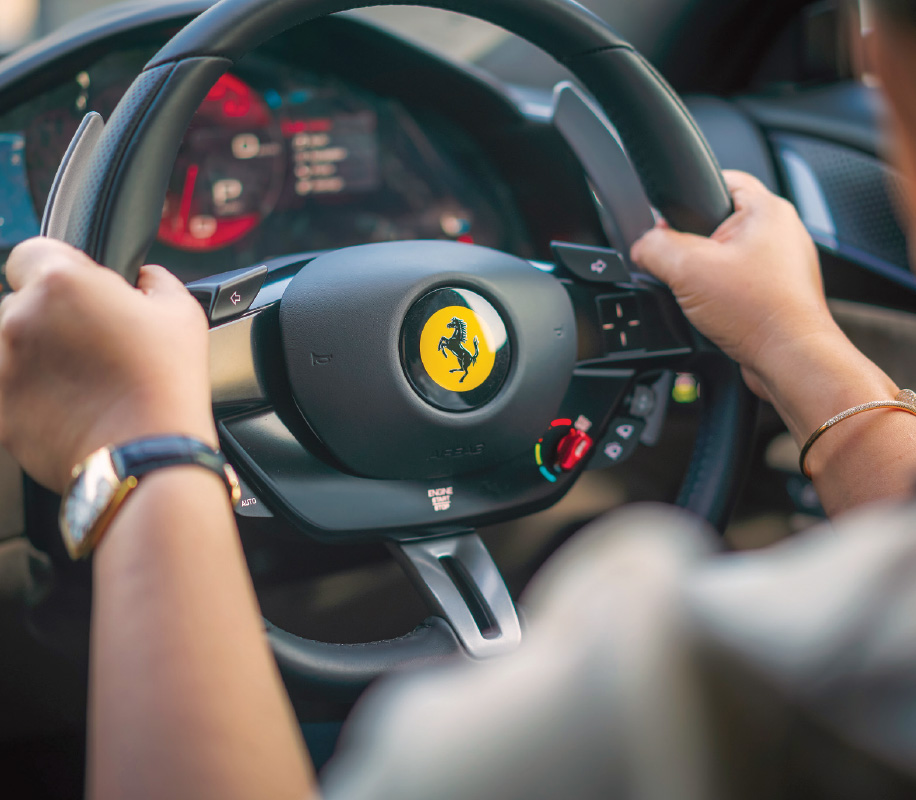 The Ferrari Roma has refined proportions and timeless design, combined with unparalleled performance and handling
The latest model in the Ferrari universe, the Roma - which follows in the footsteps of other destination-christened drives, such as the California, the California T and the Portofino - has clearly won Sitinur's approval already: "It is top of the table not just in style, but also performance. I think this is, by far, the sexiest Ferrari of the past decade."
Sporty and aerodynamic, with certain design cues that bring the SF90 Stradale to mind, the Roma is a twin turbo V8 2+ fastback coupe, with room allocated at the back for two sylph-like passengers. Its physical makeup completely comprises   the latest-generation technology and enthusiasts cannot help but notice the attractively generous modern dash screen, elongated (versus traditionally rounded) tail lights and long, aquiline nose with a decent 345-litres maximum boot capacity. "The Cavallino Rampante will always be a sports car at heart with uncompromised performance, but the Roma offers a very attractive practicality like never before," she enthuses.
Good looks aside, it is roadworthiness, however, that proves the true mettle of a sports car.  The Roma does not disappoint in this aspect, achieving 0-100kph in 3.4 seconds (and 0-200kph in 9.3 seconds).  Those who wish to push it to the limits will see that it can achieve a maximum speed of more than 320kph. "On the move, this is a true Ferrari," affirms Sitinur. "It feels impeccable [on the road]. And it is amazing to see how each of Ferrari's models has transformed over the years. The Roma is really made for today's generation!"
An enthusiastic driver, she smiles at the memory of going on long drives around Langkawi with other Ferraristis. "It is my fondest memory to date and definitely a sight to behold! Can you imagine a fleet of Prancing Horses racing through the small towns and winding roads of the island?" In the spirit of keeping things real, she also good-naturedly shares a less-than-pleasant memory of accidentally hitting the car in front of her while driving down a slope after a night out at the theatre with friends. "My first thought? There goes my sweet ride!"
Driven and ambitious, having achieved great success from a young age with her legal and business career - which spans oil and gas management consultancy, media and property development - Sitinur is adamant that women rise up and take charge of their lives.
"Women, by nature, are a responsible and powerful force. Life, after all, is a manifestation of our actions, thoughts and convictions. You have to figure out how to take care of yourself and not be economically dependent on others," she asserts. "You must want to move, challenge yourself, grow your passion and unleash your inner tiger. In saying so, we must also motivate and strengthen the women in our lives, in our circle, so we can all collectively reach our goals."
Her advice to young women? "Start off by believing in yourself," she says sagely. "You have to believe in yourself first before anyone else will. Starting a company or running a business isn't easy and it is critical you work on something that means a lot to you. Passion drives decision. I had always wanted to be a lawyer since young, as I believe in making a stand.  My advice is: Focus on the areas in which you are able to create value and make your clients happy.
"Don't be afraid of pursuing an unexpected path. When you step into and own your unique gifts, you can put yourself out there with confidence. By living your true, authentic self, you will attract more interest in what you have to offer and you will be setting yourself up for success.  And by empowering others, any woman can attract the best of the best [talent]."
As fast-paced as the cars she favours, Sitinur likes an early start to the day. "I wake up very early and make it a point to follow a regime," she says. Six o'clock in the morning is her preferred call-time, to enjoy the peace and quiet of the house, along with a cup of coffee, as she catches the sunrise. "I sometimes meditate — to reflect and manifest on what I want to achieve throughout the day," she adds. "I step into the office at 9am and its full-on from that moment."
A personalised dashboard helps her monitor her team's project progress and updates and she usually leaves the office by 3pm to continue with outside meetings and appointments.  She is a firm believer in work-life balance, and dinner with close friends is her favourite way to unwind and celebrate small wins. "I don't end the day too late, though … usually 10pm at the latest, as I enjoy my beauty sleep," she chuckles.
"My love affair with fast cars is symbiotic. Yes, it is a status symbol, a symbol of luxury, but true luxury has a character all its own. To me, it is having time to do the things I love. It is also about quality and leaving a lasting impression. True wealth also means good health and a luxurious life sometimes just means being able to do things the way I want and being wherever I want to be when I want to."
Sharing how her personal mantra has always been just to live a happy and healthy life, Sitinur - when not relishing being behind the steering wheel of her prized Ferrari - enjoys the outdoors, particularly diving and golfing."My hobbies and being in nature give me a much-needed break from the stressors of life. But we must also never forget to give back every way we can. Touching the lives of others is another way of reminding me to appreciate all my blessings in life." La dolce vita? Sounds like Sitinur is living it already.
The Ferrari Roma is available from the base price of RM968,000 before duties, customisation options, taxes and insurance
Start your Nuova Dolce Vita journey and be part of an exclusive event to discover the Ferrari Roma. Kindly click here for more information.