Malaysia's leading highway service provider announces plans to elevate the PLUS R&R experience through a series of rejuvenation projects at various locations starting this year.
PLUS Malaysia Bhd (PLUS), the nation's leading expressway company is embarking on a first-of-its-kind, multi-year rejuvenation project to elevate the highway Rest & Service Area (R&R) experience for all travellers in Malaysia. Starting with the Seremban R&R (south-bound), PLUS will rejuvenate at least five other PLUS R&R locations along the North-South Expressway (NSE) over the next few years.
In partnership with Nawawi Tie Leung (NTL), one of the country's leading retail property consultants, PLUS aspires to deliver world-class comfort at its R&Rs by completely reinventing the design with a more comfortable, sustainable and customer-oriented look and feel — with new value-added retail offerings.
PLUS also plans to include more innovative features, such as modern interiors, green technology and more open spaces to inspire a harmonious balance between form and function — making PLUS R&Rs a refreshing oasis for travellers seeking to refresh and re-energise before continuing their journey.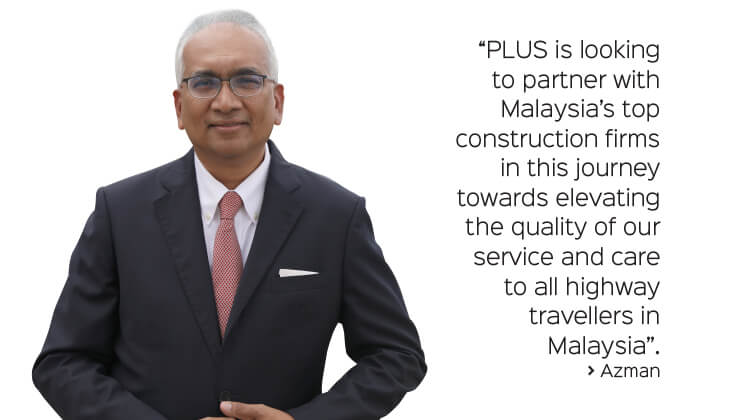 PLUS managing director Datuk Azman Ismail says, "PLUS is excited to embark on this rejuvenation project in line with our mission to always go the extra mile to deliver the best service to our customers and provide the highest level of care at every step of their journey.
"As the needs of Malaysian travellers have significantly evolved, the entire PLUS R&R experience also needs to be elevated to world-class standards with a more modern and contemporary outlook."
NTL, the lead design and retail consultant to the PLUS R&R rejuvenation project for the Seremban R&R, has been instrumental in developing the overall future concept and design of PLUS R&Rs — as the showcase project of an iconic and customer centric-centre for PLUS customers.
Supported by prominent international design consultants Lead 8, the new Seremban R&R will be a modern and iconic design blueprint for future highway R&Rs.
"Our vision for PLUS is to design its R&Rs to be more than just a stop-and-go location, but a destination that delights and excites travellers," says Ungku Suseelawati Ungku Omar, the executive director of NTL.

A welcoming oasis for travellers: An artist's impressions of new contemporary design and architecture of the PLUS Seremban R&R (south-bound)
PLUS chief commercial officer Christine Liew says the management and board of directors of PLUS have created a careful, rigorous process of refining and deliberating choices by appointing a design and retail consultant to customise the new DNA of PLUS R&Rs. "The future design of PLUS R&Rs was also based on extensive customer research and benchmarking analysis against local and international highway rest areas," she says.
The new concept for the PLUS Seremban R&R will build on the value of the local and community food and beverage partners who have served millions of PLUS customers over the years, while incorporating new food trends based on analysis from research and feedback received from customers. It will also feature special retail and F&B offerings from local established brands, dedicated spaces for events and food trucks to satisfy even the most demanding foodies.
Liew says, "We believe the enhancements to PLUS R&Rs will also help our current business partners and their suppliers from surrounding communities to further grow their businesses."