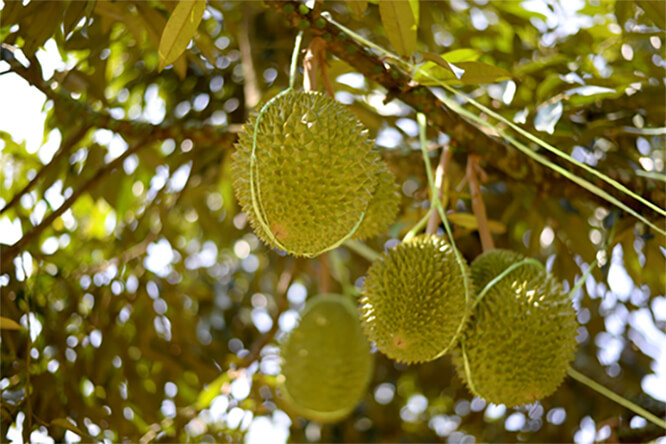 Musang King, the king of durians from Pahang.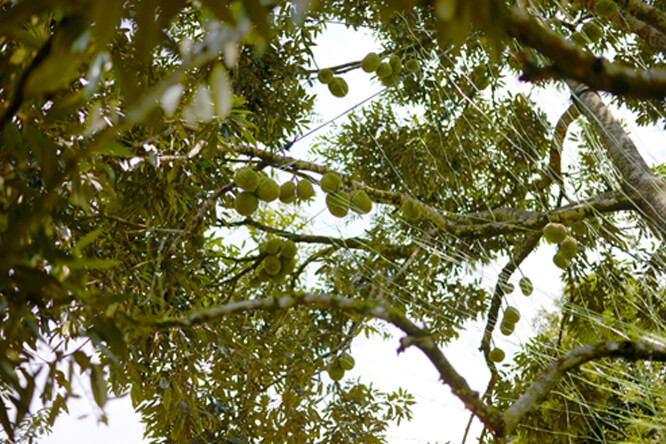 Newleaf's plantation in Pahang.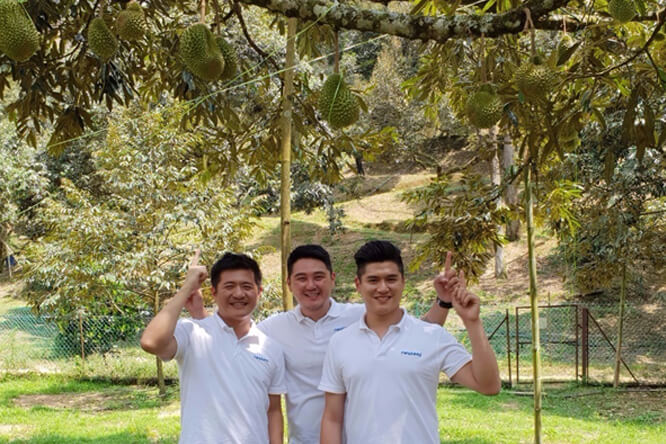 The Newleaf team. (From left) Marking Director Bryant Chia, Managing Director Kenny Wan and Operations Director Kaeden Ho.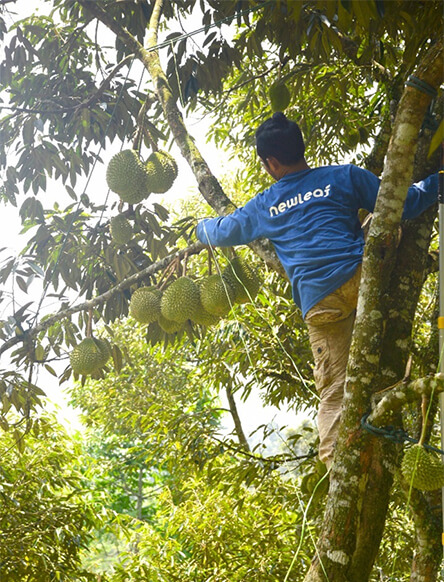 A Newleaf worker securing durians with ropes to prevent ripe fruit from falling, protecting their grade.
Newleaf's share-farming programme lets you own a Musang King tree and share a Musang King farm
Owning a durian tree is probably not at the top of your list, but with the durian craze that is currently sweeping though the world, you might probably want to rethink that.
The King of Fruits' popularity is at an all-time high. Among those who have fallen in love with the King of Fruits' one-of-a-kind taste are high-profile Hollywood A-listers, famous footballers, esteemed master chefs, revered food critics and even world leaders.
But no one is more in love with durians now than China. According to United Nations data, the past decade has seen the value of fresh imported durians in China increase by an average of 26 percent a year, reaching USD 1.1 billion in 2016. Amidst China's growing appetite for durians, the Musang King is especially popular, which caused its value to skyrocket to USD 17 per kilogram at one point. Available only in major cities like Beijing, Shanghai, Shenzhen and Guangzhou, Musang King is not just unique in taste but unique to Malaysia as well - it can only be grown in Malaysia, making it a true Malaysian treasure.
All these facts and figures point to one thing - we are in the midst of a booming durian industry. There's no better time than now to get into the business.
And there's no better way to start than with Newleaf's innovative share-farming programme. Employing highly efficient cultivation techniques and plantation management methods, Newleaf's share-framing programme lets you not only own Musang King trees in a 1,000-acre durian plantation in Pahang, but also enjoy the income made from every harvested durian in the plantation as well.
Newleaf is a new Malaysian agricultural company formed by a group of professionals with extensive experience in agribusiness and plantation management. Every tree is ensured the best care via efficient farming methods, including using a comprehensive irrigation system to make sure all trees are well-watered and securing the durians' grade via a roping system that prevents breakage caused by falling when the fruit are ripe.
Benefits of Newleaf's share-farming programme:
 Own Musang King trees at a low entry cost
 30+30 years' ownership
 Enjoy 70% of total plantation income
 Trees will start bearing fruit in 5 years; estimated 30-50 fruit per season for 6-year-old trees; and estimated 100 fruit per season for 10-year-old trees
 Optional buy-back at the end of 10 years
 Trees become transferable asset after 5 years
 Each tree is assigned a unique QR code for monthly reports and data
 Dead trees will be replanted at no additional cost
Join Newleaf's share-farming programme now and start sharing the earnings of an entire Musang King plantation. The rewards of this opportunity is waiting for you to reap. To discover more about Newleaf and its innovative share-farming programme, kindly email [email protected].