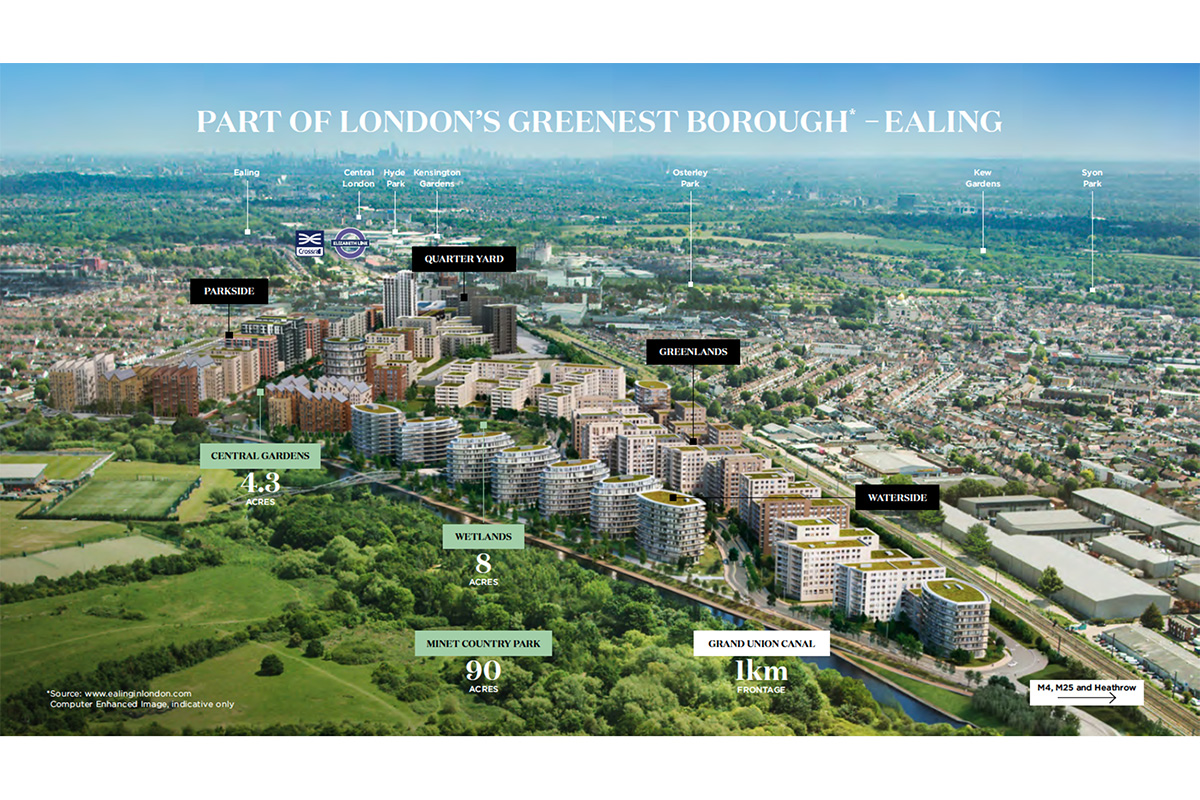 Malaysian investors will soon be able to invest into one of London's most biodiverse developments in the UK. Developed by the Berkeley Group, a respected and familiar developer to the investing public in Malaysia, The Green Quarter represents the transformation of an 88 acres old industrial site in West London into a brand new master-planned community.
Located in the London Borough of Ealing between Southall and Hayes, The Green Quarter benefits from excellent connectivity with the arrival of Crossrail at Southall Station in 2022, which is opposite the development and include a redeveloped station entrance and façade, providing direct services to Heathrow in 8 minutes, Bond Street in 17 minutes and Canary Wharf in just 31 minutes.
Dubbed the Elizabeth Line, the Crossrail project span more than 70 miles from Reading and Heathrow Airport in the west through central London and to Shenfield and Abbey Wood in the east, cutting travelling times significantly. Upon its completion, the Elizabeth Line is set to carry some 200 million passengers per year and increase rail capacity in Central London by 10%. There will have been 10 new stations built at Paddington, Bond Street, Tottenham Court Road, Farringdon, Liverpool Street, Whitechapel, Canary Wharf, Custom House, Woolwich and Abbey Wood, and trains every two and a half minutes at peak times through central London.
Investors and property buyers in London have spent more than a decade patiently waiting for the multi-billion pounds Crossrail project to be completed and finally the end is in sight, and with it comes opportunity. The Green Quarter sitting along the Elizabeth Line is set to directly benefit from this "Crossrail effect" to increase both capital and rental values and at the same time, drive demand.
The Green Quarter comprises 3,750 homes over an estimated 25 years build program. Nearly 50 per cent of the site comprises open green space and close to two-thirds of the homes overlooking water or green areas.  This includes over 13 acres of parkland across two new parks – Central Gardens, part of which will be open in the coming months, and an 8-acre wetlands being delivered in partnership with biodiversity experts London Wildlife Trust. Rental yields on the first phase of homes at The Green Quarter are already up to 4.9%, and this represents a significant chance to buy early and capitalise on the Berkeley regeneration effect.
Berkeley is also creating a series of footbridges to open up the neighbouring 90-acre Minet Country Park, enabling easy access for the whole community, while 1.2km of towpath along the Grand Union Canal has been reinstated to create a more attractive and enjoyable pedestrian and cycle route.
A new town square will welcome people to The Green Quarter and lead directly to a new commercial neighbourhood, which will provide a mix of day-to-day amenities for the whole community to enjoy. As part of the development a brand-new primary school will be built, adding to the area's strong educational facilities, which includes OFSTED Outstanding rated primary and secondary schools. World-renowned universities, including University of West London, Royal Holloway University and Brunel University, are also within close proximity. Eton College is also within easy reach.
Property prices had somewhat stagnated or even dipped due to the Brexit turbulence and the pandemic. Now could be the time for Malaysian investors and buyers to take a closer look into investing in London again as its economy starts to reopen. According to Ms Shelvin Tan, CEO of Red Bean Consultancy, "Large scale regeneration is often a key signpost for future price growth and The Green Quarter is perfect for such transformation. With the "Crossrail effect" and the "Berkeley regeneration effect", Malaysian investors are able to have it all here. It's a uniquely advantageous position and we know that once the Elizabeth Line starts running, there will be an uplift in prices and rental demand. The project is also in the early stages of sales, which means that our investors have more opportunities to maximize their investment gains".
The Kuala Lumpur launch of The Green Quarter will be held on the 30th & 31st October at Four Seasons Hotel Kuala Lumpur (Ballroom 1), Level 6A and is exclusively by appointment only, in line with the Covid 19 SOP. To register for the event and obtain your free copy of UK Property Investor Guide, please contact Ms Shelvin Tan at +6012 285 7618 or email her at [email protected].