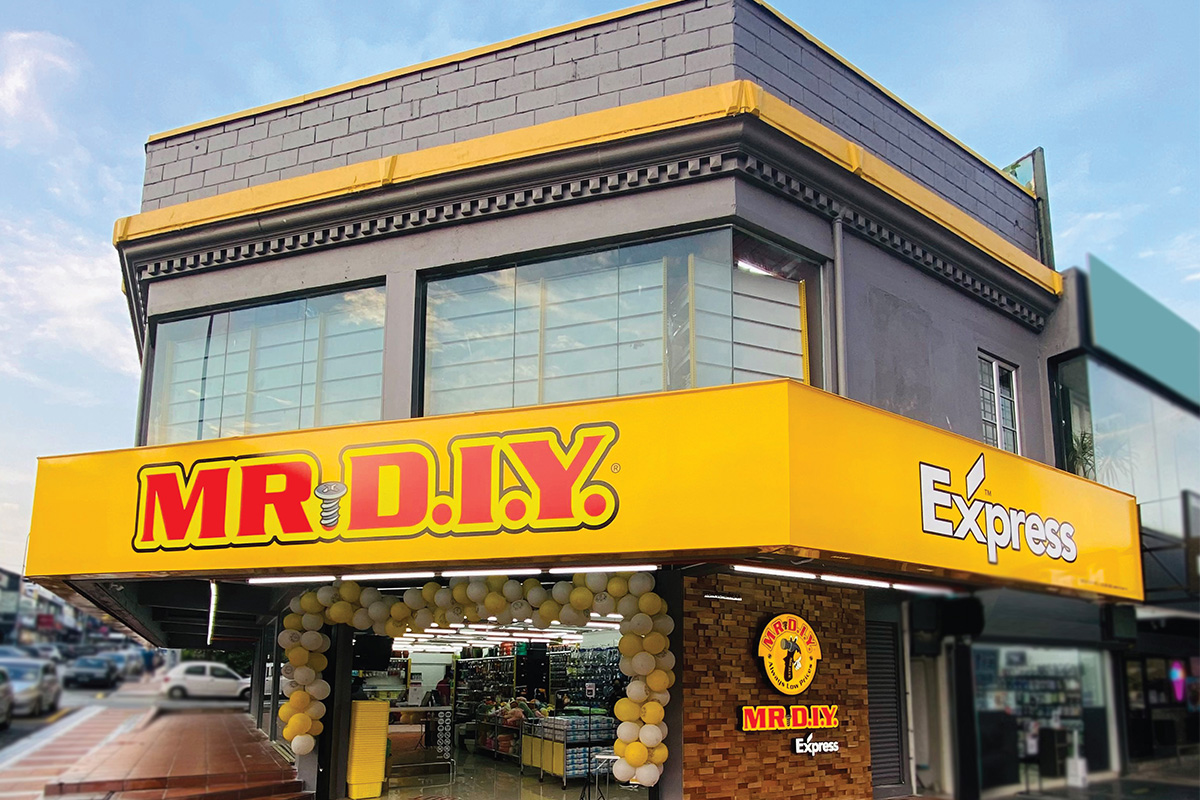 Malaysia's favourite home retailer MR. D.I.Y. Group will become even more accessible to Malaysians this month, when the group opens 35 new stores in seven states across the country.
The new stores will comprise 14 MR. D.I.Y., three MR. D.I.Y. Express, six MR. TOY and 12 MR. DOLLAR stores, bringing the total number of stores to 830.
In announcing the opening of the new stores, MR. D.I.Y. Group (M) Bhd vice-president of marketing Andy Chin said, "MR. D.I.Y. is committed to taking our promise of 'Always Low Prices' at convenient locations to even more Malaysians.
"We realise that buying patterns have changed — consumers are shopping closer to home and looking for stores that can meet their need for a diverse range of products, which is something we do very well with our 830 stores and close to 20,000 product types. These 35 new stores will allow more customers to access us more easily and further drive the growth of our business."
He added that of special interest to those in rural areas would be the opening of three MR. D.I.Y. Express stores. "MR. D.I.Y. Express is our new store format specially designed for high-density locations and rural communities.
"Ranging from 2,000 to 3,000 sq ft, these stores are well stocked with the everyday essentials that local communities need. We use stringent data analytics to identify buying trends in different locations, and then stock the stores accordingly to ensure customers find our modern retail format relevant and useful."
Chin also announced the launch of this year's Grand Opening Event (GOE), which will run on the first two weekends in October at the new stores. This is the fourth time MR. D.I.Y. Group is running the annual campaign.
In conjunction with this year's GOE, the group will be giving away 41,000 free gifts worth more than RM1.2 million to early-bird customers at each new store.
Early-bird customers who spend a minimum of RM40 at MR. D.I.Y. stores or RM30 at MR. DOLLAR and MR. TOY stores will be entitled to free gifts. Eligible customers stand to receive rainbow umbrellas, water bottles, plush toys, Milo 3-in-1 packs, Koko Krunch cereal, Hershey's chocolate drink and many more.
Chin also said customers can be assured of a safe and comfortable shopping experience when visiting its stores, with 99% of its retail staff nationwide fully vaccinated. The group also continues to adhere to the standard operating procedures (SOPs) mandated by the Ministry of Health.
To find out more about the GOE, visit: http://bit.ly/nationwidegoe4mrdiy.
The stores participating in the GOE are as follows:
Batch 1 (1st - 3rd October 2021)





Brand

State

Store

MR. D.I.Y.

Johor

Pusat Perniagaan Kota Emas, Pontian

MR. D.I.Y.

Express

Kelantan

Jalan Pasar Lama, Wakaf Bharu

MR. D.I.Y.

Kelantan

Jalan Telipot, Kota Bahru

MR. D.I.Y.

Melaka

Taman Paya Rumput Utama

MR. D.I.Y.

Melaka

Taman Perindustrian Tanjung Minyak Perdana

MR. D.I.Y.

Melaka

Taman Sungai Baru Ilir Jaya, Masjid Tanah

MR. D.I.Y.

Penang

Taman Oren Hartamas, Kubang Semang

MR. D.I.Y.

Penang

Villa Harmoni, Tasek Gelugor Seberang Prai Utara

MR. D.I.Y.

Selangor

Taman Muara Esbee, Sungai Buloh

MR. D.I.Y.

Selangor

Sunway Pyramid

MR. TOY

Kuala Lumpur

AEON Alpha Angle, Wangsa Maju

MR. TOY

Kuala Lumpur

MyTOWN Shopping Centre

MR. TOY

Penang

Kompleks Bukit Jambul, Bayan Lepas

MR. DOLLAR

Johor

Angsana Johor Bahru Mall, Johor Bahru

MR. DOLLAR

Johor

KIPMall Kota Tinggi, Kota Tinggi

MR. DOLLAR

Penang

Kompleks Bukit Jambul, Bayan Lepas

MR. DOLLAR

Selangor

Dataran C180, Cheras Selatan
Batch 2(8th - 10th October 2021)





Brand

State

Store

MR. D.I.Y.

Express

Johor

Taman Pura Kencana, Batu Pahat

MR. D.I.Y.

KL

Ativo Plaza, Bandar Sri Damansara

MR. D.I.Y.

Express

KL

Jalan Telawi 4, Bangsar

MR. D.I.Y.

Melaka

Taman Satu Krubong

MR. D.I.Y.

Melaka

Pusat Perniagaan Lubok Cina

MR. D.I.Y.

Melaka

Taman Duyong Bestari, Ayer Molek

MR. D.I.Y.

Penang

Pusat Perniagaan Oren, Butterworth

MR. TOY

Johor

AEON Taman Universiti, Skudai

MR. TOY

Penang

All Seasons Place

MR. TOY

Selangor

Central i-City, Shah Alam

MR. DOLLAR

Johor

Kluang Mall, Kluang

MR. DOLLAR

Perak

Terminal Pusat Perdagangan Kampar, Kampar

MR. DOLLAR

KL

MyTOWN Shopping Centre

MR. DOLLAR

Melaka

Bandar Baru Sungai Udang, Melaka

MR. DOLLAR

Penang

Pusat Perniagaan Oren, Butterworth

MR. DOLLAR

Penang

All Seasons Place

MR. DOLLAR

Selangor

Tropicana Gardens Mall, Petaling Jaya

MR. DOLLAR

Selangor

Sunway Pyramid