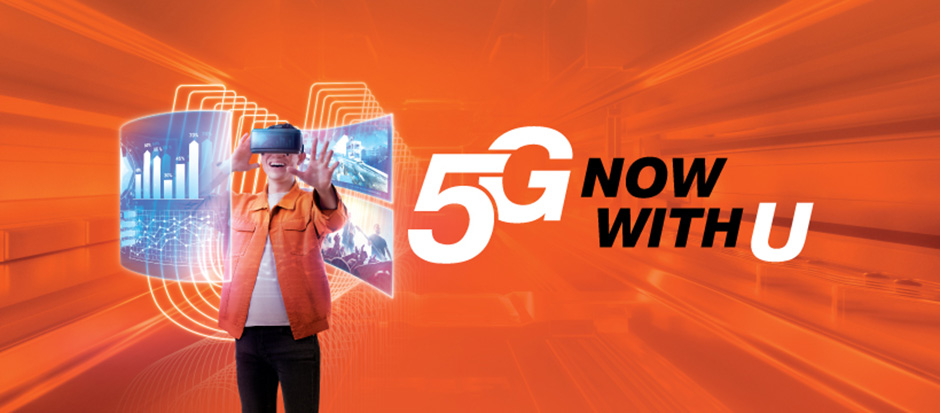 The roll-out of 5G in Malaysia by mobile telecommunications service provider U Mobile Sdn Bhd on Nov 3, 2022 offers faster connectivity speeds, ultra-low latency and greater bandwidth to its customers.
The move is in line with the government's vision of a single wholesale network for 5G deployment. Through a 5G Access Agreement with Digital Nasional Bhd, the telco has linked its 4G network with its partner's 5G network to create a seamless connectivity experience.
U Mobile's subscribers already enjoy its 92.7% long-term evolution population coverage. Now, its customers can leverage its 5G network through the telco's 5G-ready postpaid and prepaid plans at no extra cost.
Your Gateway To 5G
The fifth-generation cellular network offers speeds up to 100 times faster than 4G, which translates into ultra-fast download and upload data speeds. U Mobile's 5G network also delivers up to five times quicker responses, allowing users to send and receive data more efficiently.
Users also benefit from leveraging 1,000 times more connections, with approximately one million connected devices per sq km. 5G is also five times more energy-efficient compared to earlier generation cellular networks, making it more sustainable.
Fast, robust and reliable, 5G will transform industries and improve the user experience. It is set to not only deliver a positive impact to the way we live, work, and play but also elevate businesses and services with enhanced connectivity and efficiency.
Customers with U Mobile's 5G-ready postpaid and prepaid plans and a compatible device can immediately enjoy faster 5G services on Malaysia's best value network.
For as little as RM35 per month, U Mobile Prepaid customers can experience the power of 5G with fast data speeds of 6Mbps. Upon activation, U35 and U40 prepaid customers can enjoy a better 5G experience with free Unlimited 5G Weekends at no extra cost.
The enhanced prepaid plans allow subscribers to enjoy unlimited 4G/5G uncapped high speed data from midnight every Saturday to 11.59 PM every Sunday. Subscribers can enjoy Unlimited 5G Weekends by redeeming it weekly via the MyUMobile App. Both U35 and U40 are the most affordable 5G-ready prepaid plans featuring unlimited data and calls.
5G your way
U Mobile Postpaid customers can enjoy 5G entirely with no 4G/5G data split according to their plans. This experience comes with no extra charge or the need to buy add-ons and is available across U Postpaid 38 and the new U Postpaid 68 and U Postpaid 98 plans as well as U FamilyShare lines.
As long as a customer is using a compatible device and is in a 5G location, they will be able to enjoy U Mobile's 5G network fully, according to their data allocation on their respective plans. Best of all, they will not only get to experience 5G data transfers of up to 1,000GB but also seamlessly transition to 5G without the need to register or purchase any additional plan.
To ensure its customers get the full experience of 5G, the telco also carries a range of the latest 5G devices. Offering unbeatable savings, with 0% instalment on UPayLater, customers can pair their U Postpaid plan with a brand new 5G compatible device of their choosing.
That said, customers who do not have a 5G-compatible smartphone can still enjoy uncapped speeds from postpaid and Speed Booster from prepaid. On top of getting the plans, U Mobile customers also get to enjoy a world of rewards on the MyUMobile app as an added bonus.
Visit U Mobile today to find out more.