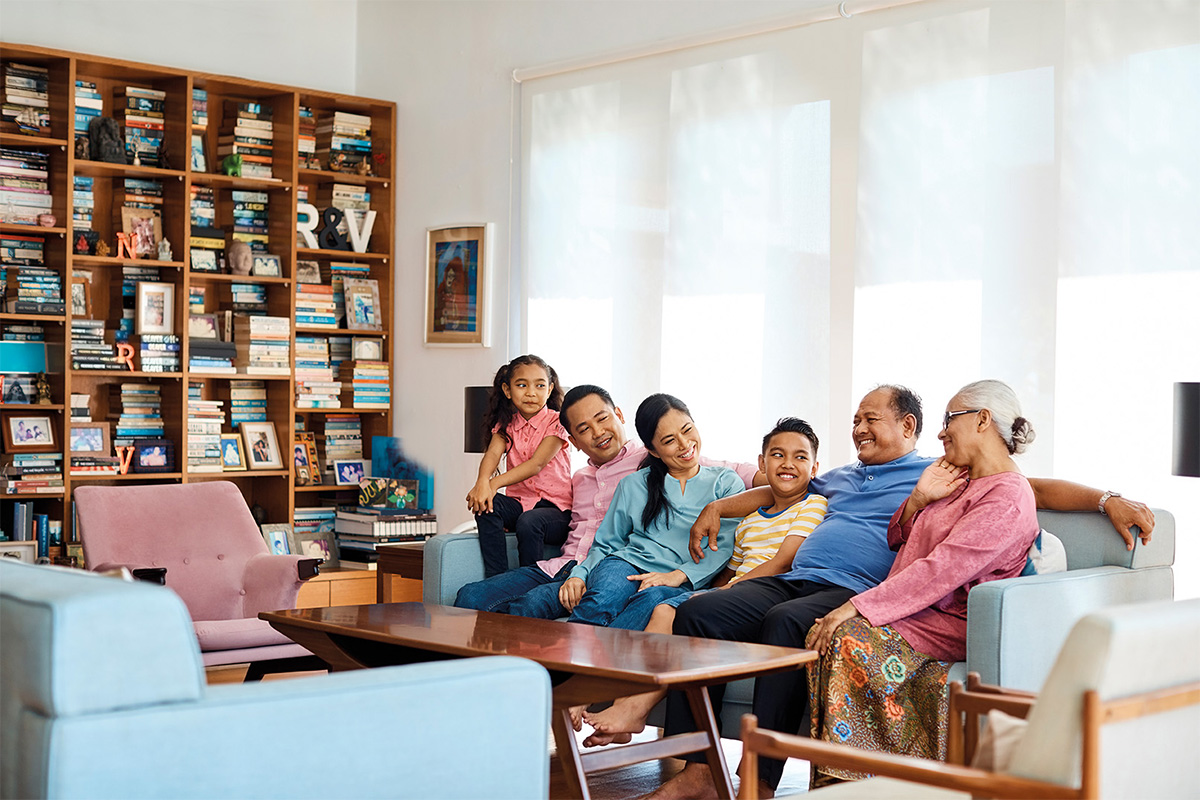 Persistently high inflation continues to grip the global economy.
This is posing significant challenges for consumers, making it more important than ever to ensure your wealth and savings are well protected against inflation. Besides saving, investing can be a way of growing your money and securing your finances well into the future, letting you do the things you enjoy while also taking care of the people you love.
Investing in Islamic financial instruments can help you not only boost your financial resilience but also be a key lever to grow your wealth. Islamic finance itself is about more than just profits – it is equity-based, asset-backed, ethical, sustainable and also focuses on providing finance that is environmentally and socially-responsible. It promotes risk sharing, connects the financial sector with the real economy, and emphasises financial inclusion and social welfare1.
In Malaysia, HSBC Amanah offers a comprehensive range of Islamic financial solutions that cater to the full spectrum of your wealth management needs and at the same time, provide you with protection during turbulent times. Below are some ways that HSBC Amanah's financial offerings can help you to beat inflation while maximising your wealth both today and in the future.
Investing right now
There are many ways you can manage your income and expenses. One such example is the possibility of setting aside 60% of your income for monthly living expenses, 20% could be allocated to your savings and the remaining 20% could be dedicated to other things you want to buy. With regards to savings, there are many options as to how you can diversify funds in order to gain the desired returns at the end of your savings period. Fixed deposit rates in the market are currently increasing in tandem with the rise in the Overnight Policy Rate ("OPR"). This makes fixed deposits a good option to place your savings in the short to medium term.
For your everyday savings and transactional account, holding a multi-currency account would enable you to keep balances in Ringgit as well as foreign currency whenever rates are favourable, convertible at the push of a button, 24/7. The HSBC Amanah Everyday Global Account-i holds 11 currencies in a single account, allowing individual business owners or frequent international travellers to eliminate the fuss of carrying physical cash and have more security by making purchases through the debit card easily and directly from the account in the currency held, with no additional fees. The Saudi Riyal currency which is also one of the currencies available as part of the HSBC Amanah Everyday Global Account-i provides financial assistance to pilgrims travelling for Hajj or Umrah.
The account is not just limited for your everyday use or when you travel. If you're a parent wondering how much a study abroad costs, a student looking to study overseas or you've recently graduated, you can be confident you'll get the international banking support you need with HSBC Amanah. As an example, you'll be able to view all of your HSBC Amanah accounts with one login and send instant transfers between your account and your friends' and family's HSBC accounts. You can open a HSBC Amanah account at home and overseas so you can access money in the account and manage student financing, credit cards and other costs as soon as you arrive. Moreover, by holding a HSBC Amanah Premier account, you can also benefit from preferential rates and worldwide Premier recognition.
Where to put your money in the short to medium term
Putting money in investments doesn't need to be an intimidating task. Even with a minimum amount of RM1,000, you can put your savings in Money Market funds as a short to medium term investment option.
Money Market Funds allow investors to have a high level of liquidity and a regular income stream, whilst maintaining capital preservation. HSBC Amanah has
launched its first Shariah money market solution this year. As part of this offering,at least 90% of the Fund's Net Asset Value (NAV) i.e. the value of a fund's assets minus the value of its liabilities, will be invested in Islamic deposits, Islamic money market instruments, and Sukuks with a maturity of not more than 365 days. Up to 10% of the Fund's NAV will be invested in Sukuks which have a remaining maturity period of more than 365 days but less than 732 days.
HSBC Amanah customers can also invest in a range of shariah-compliant funds available on HSBC EZInvest; the bank's unit trust investment platform on the HSBC mobile app. From as low as RM100, you can start to invest in Shariah-compliant Unit Trust funds anytime, anywhere with ease. Investing is made easier as you can also open a HSBC Amanah Unit Trust Investment Account via online banking in a few steps.
Medium to Long Term investment options
Meanwhile, investors looking at longer term saving prospects and who are seeking capital growth and additional income as well as sustainable investments may also diversify into equities. HSBC Amanah distributes funds that allows consumers to invest in a combination of Shariah-compliant global equities, equity-related securities, Islamic money market instruments, Islamic deposits as well as Islamic Real Estate Investment Trusts. This is one amongst the various Shariah compliant HSBC investment options, available for investors, to meet differentiated investment goals.
The line of funds distributed also consists of a qualified Sustainable and Responsible Investment (SRI) fund. The investments of the Fund will be subject to the Environmental, Social and Governance (ESG) integration methodology, including when considering the selection, retention and realisation of the Fund's investments.
Investors who are looking to meet specific investment needs that cannot be addressed by standard financial instruments can also explore HSBC Amanah's structured investments, as these products are extensively customised to meet the investment risk/return profile, market outlook and investment objectives. These objectives may include capital protection, diversification, enhanced return, regular income, tax/regulation optimisation, and access to non-traditional asset classes. You can choose from various structures with returns dependent upon movements of a predetermined index, equity, FX rates or interbank rate benchmark.
For example, the HSBC Amanah Non-Principal Protected MaxMin Autocallable Structured Product provides better returns while limiting your financial risks with a soft protection feature on your principal investment. It allows you to invest in Malaysian Ringgit and gain direct exposure to foreign markets to grow your wealth, inclusive of Hong Kong and US listed equities. Investors are able to enjoy monthly coupon payouts with potentially higher returns (depending on market performance) for a steady income stream. Although this is a non-principal protected investment, rest assured that your principal investment will be cushioned against potential adverse market conditions with the soft protection feature of a knock-in barrier. Meanwhile, there are also plenty of options for the more risk averse investors to preserve their capital with principal protected structured products. This includes the HSBC Amanah Principal Protected Participation Structured Product, which offers you the opportunity to capitalise on the upside potential of your preferred equity or index to earn an enhanced return.
Balancing taking risks in making investments with using a safety net
With every risk we take, in life, sometimes we need to prepare for the unexpected. It pays to defend yourself and your family with a plan that can provide protection in times of crisis. Signing up for such a plan gives assurance that you and your loved ones will be supported in times of need. HSBC Amanah's exclusive partnership with FWD Takaful focuses on customers' needs for savings and protection.
HSBC Amanah Takaful Future Defender gives you the comfort and confidence to go through life's ups and downs smoothly, knowing your family is well looked after. With Takaful Future Defender, there's also an up to RM2,000 Grief Counselling benefit and up to RM2,000 legal services advice benefit allocated for your next of kin to seek advice with, in the event of the policy holder's death.
HSBC Amanah Takaful Future Wealth is another wealth management solution that offers a flexible five-year savings and protection plan giving you an annual cash payout and minimum maturity benefit to look after you and your family for the next 20 years.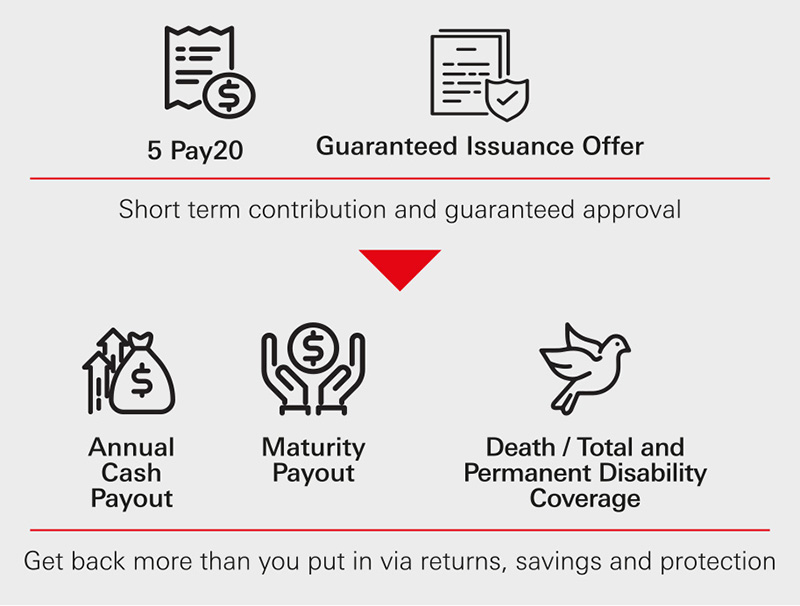 To avail of the benefits of Takaful Future Wealth, you'll only need to make contributions for 5 years before receiving an annual payout of 15-25% of your total annual contribution for the next 15 years. At the end of the 20th year, you're entitled to have at least 70% of your total contributions returned.
Having peace of mind is key, and it is comforting to know that all FWD Takaful plans come with the benefit of conditional Hibah (gift), where you may freely nominate your beneficiaries to receive the sum covered by the takaful. With this plan, you may preserve part of your estate and distribute your wealth to special beneficiaries under your care.
Click HERE to find out more about HSBC Amanah investment products today.