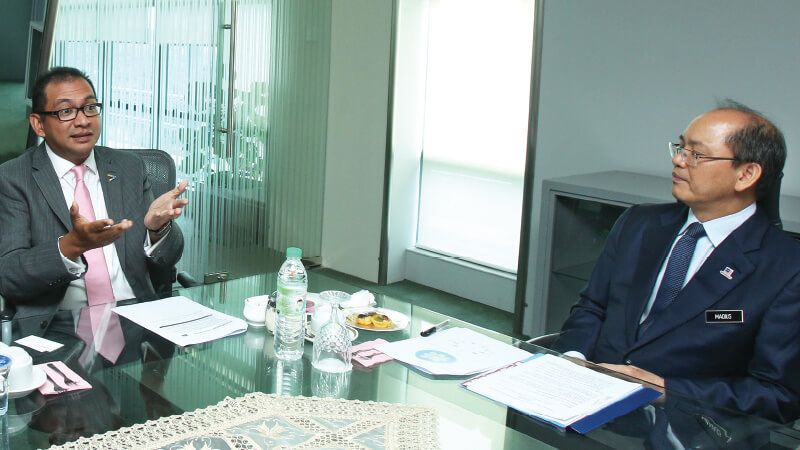 With Madius looking on, Azwan shares that at stake in the Digital Economy, is an estimated US$100 trillion (RM425 trillion) of value worldwide that digitalization could create over the next decade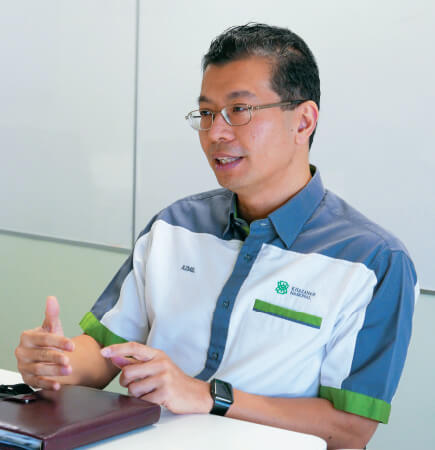 Azmil: Because of the pervasiveness of technology, the game is now global. We have to ask how do we compare against China, Europe and the US.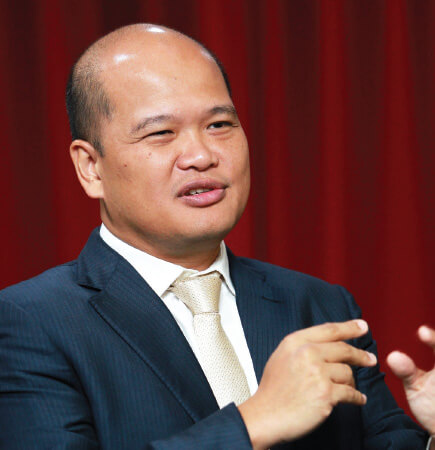 Shahril: I think their (the government's) key role should be to regulate a fair playing field that allows newcomers and existing players to compete
Disruption is a given. What's also given is that the pace of disruption is accelerating. Industries, nations and organisations may have scarce time to adapt, but adapt they must to be relevant and to come out winners in the wave of disruption hitting all and sundry.
With this in mind, one of the first actions taken by Azwan Baharuddin, Accenture's new Country Managing Director, was to pull together Accenture's work with the World Economic Forum (WEF) Digital Transformation of Industries, as well as some of its latest point of views for discussion with some of the leaders of corporate Malaysia and discuss crucial implications for our nation. In tandem with these discussion, Accenture is also conducting a new piece of research that analyses different Malaysian companies against 117 digital metrics to benchmark and identify leading practices.
The following article represents the first of the conversations Azwan has been having with leaders from the Malaysian government, with Khazanah Nasional Bhd and with the Employees Provident Fund. Sharing the government's view points was Datuk Seri Panglima Wilfred Madius Tangau, Minister of Science, Technology & Innovation, while Tengku Dato' Sri Azmil Zahruddin Raja Abdul Aziz, Executive Director, Khazanah shared the sovereign fund's views and with EPF represented by its CEO, Datuk Shahril Ridza Ridzuan.
Azwan: Malaysia is no stranger to global trade with both government and the private sector having a well established trade presence across the world. But the world we know is being transformed by new technologies that are redefining customer expectations and changing the way people live and work. These same technologies are also enabling businesses to meet these new customer expectations.
Digital transformation, as this change is commonly called, has immense potential to change consumer lives, create value for businesses and unlock broader societal benefits. In wanting to present a clearer picture of what value and benefits can be unlocked, the WEF launched the Digital Transformation Initiative, in collaboration with Accenture, to serve as the focal point for new opportunities and themes arising from the latest developments in the digitalization of business and society.
A notable outcome of this work is the development of our distinctive economic framework, which quantifies the impact of digitalization on industry and society. At stake is an estimated US$100 trillion (RM425 trillion) of value worldwide that digitalization could create over the next decade. We feel that the potential for Malaysia to unlock much value through digitalization is unlimited – as long as all stakeholders are aligned towards digital strategies.
So, where do you think Malaysia stands with regards to its readiness for an increasingly digital economy as compared to other countries?
Datuk Seri Panglima Wilfred Madius Tangau, Minister of Science, Technology & Innovation: Rather than comparing with any country, we should look at this from the point of view of governance, mindset and especially talent. If you look at what's happening with Malaysians today, students as young as 10 years old are already heavy smart phone users where in fact they should not be, I think!
But this just shows you how the young have embraced digital.
Regarding legislation, I am talking about policy, framework and strategies. Only by looking at legislation in a holistic manner can we have a real chance of tackling some of the ecosystem challenges we still face.
For example, from the government's point of view, while progress has been made, we are really concerned over the urban rural digital divide. And we know that putting the infrastructure in place is a big challenge but do we keep accepting that reason?
Now looking internally, at the government itself, we are very aware of the importance of digital but are our officers ready in terms of their mindset? At the same time, the government is well aware that we have to prepare the Malaysian talent pool for the 4th Industrial Revolution which means that our educational institutions need to transform and not just from a curriculum aspect but a mindset change as well.
And then, we have jobseekers needing to change their mindset as well. I was at a recent session meeting a few hundred university students from East Malaysia and one of their key expectations is that the government is responsible for them getting jobs. Clearly, we need to work on changing their mindsets, to get them to think about being job creators, as entrepreneurs, rather than job seekers.
I hope you see now why I say that we have to look at the whole ecosystem.
In terms of the private sector, I had a recent dialogue with some multinationals and one of their key issues was that Malaysia's broadband speeds were not good enough and we need to get to world class levels here if we want to attract and retain world class companies to Malaysia.
Tengku Dato' Sri Azmil Zahruddin Raja Abdul Aziz, Executive Director, Khazanah: Because of the pervasiveness of technology, the game is now global. We have to ask how do we compare against China, Europe and the US. The comparison should be global.
You know, when Malaysia started its High Speed Broadband initiative in 2008, we made sure it would eventually cover over 90% of populated areas (and this is to help ensure the digital divide is reduced). Because of that, in terms of infrastructure, we are getting there. But the more important question is, "How much are we utilizing that network to get more competitive?" In that sense, we have a lot more to do, I feel.
And just to share, we did a study some years ago, looking at government linked companies and innovativeness. This was not a digital readiness study. And what we discovered was that there is still quite a gap between our companies and global leaders although individual companies, in certain areas were quite competitive compared to the best in class leaders.
So, how are you trying to move the needle?
Azmil: Well we actually came up with a tool kit to help them improve their innovation levels. Aside from this, with our Khazanah linked companies, we have constant conversations with them where we try to be a 'sensor' for them.
What I mean by this is that, because we have offices in innovation hotspots like Beijing, Mumbai, London and San Francisco where we meet lots of tech companies, this gives us a better feel for what is going on and we feedback this to our companies. Be it via board presentations, to the management teams or in one on one conversations, all designed to help them increase their level of understanding of what is going on.
Datuk Shahril Ridza Ridzuan, chief executive officer, Employees Provident Fund: I agree that you have to look at the picture from a global point of view and not Southeast Asia. But when you ask about our readiness for the increasingly Digital Economy, in our experience transforming our services from physical to digital, we have seen a very high rate of adoption, especially among our younger members.
They are more than happy to have our services delivered to them digitally via our app, portal or even self-service kiosks. But the older generation are not as comfortable using technology and this is evident especially among employers.
As we compel employers to use online channels as they interact with us, and it has been very successful with 99% adoption. However, less than 30% employers have adopted our online payment option. We put this down to a confidence issue with fears over cyber security issues such as phishing, ransomware.
But it is picking up and we have a target of moving online payments to 50% by end 2017. This is a cultural adoption challenge rather than availability of system or network. But clearly the transition to digital delivery of services is very high, driven by lifestyle and consumption trends.
YB Madius, is there a country you are looking at for Malaysia to emulate as we transition to a Digital Economy?
Madius: Well Germany has a solid model with a framework and policies in place. And then in Asia, you look at China and the pace of change is so fast there. China even wants to be a cashless society by 2030, only 13 years away. But in terms of governance you can't compare us as they move a lot quicker and can even do things like block Facebook. But we can't make such drastic moves and nor can we implement policy as quickly as them.
After seeing the results of digital disruption in several industries within Malaysia itself, such as transportation, entertainment and retail, enterprises need to constantly reinvent their offerings to keep up with the rapidly evolving expectations of digital consumers.
What are some of the shifts you see in the way Malaysians interact and consume products and services. How do you think Malaysian organisations should respond?
Madius: The picture here is not that bright. Through a partnership Sirim has with a German company, it has been conducting technology audits for SMEs in order to help them identify gaps and boost productivity. But, from assessing the capabilities of 300 companies, we find that many of our SMEs are still rooted in Manufacturing 2.0. They need to leap forward but when Sirim goes in to try and help them, they become wary of our intentions and worry about their trade secrets. So we are trying to educate them that Industry4.0 is not about who owns the tech so much as it is about their business model adapting. So we have that mindset hurdle among SMEs to try to overcome.
Azmil: There are two parts to this changing consumption picture. First, on a per capita basis, Malaysians are among the highest users of the internet in the world. But what stands out here is that our consumption is heavily skewed towards entertainment especially through Facebook and Instagram and not so much on research based usage. So this is one area we can definitely improve on.
Secondly, from a marketing standpoint, all industries need to master marketing on Social Media as the traditional marketing methods get less effective. But not many companies are good in that and we are probably behind in this area.
One interesting consumer trend we noticed was in retail and in China. We were an investor in the Parkson retail group very early on and saw that their results were being hit, especially in China which was when we noticed Alibaba and saw how companies like them were killing traditional retail.
This is happening across the board, all over the world where retailers are starting to struggle. But zoom back in to Malaysia and in a way, we are lucky because, while it is very hard to predict the future, you just need to look overseas at the impact of digital disruption. It is only a matter of time before that disruption comes here. Yet, it is not clear to me that we are taking advantage of this to study what is happening to similar industries overseas.
Shahril: In terms of consumption trends and how we are responding, we definitely see the influence of Social Media (SM) and peer to peer marketing (P2P). Driving this consumption of SM is the low levels of trust of the media which results in more people believing what they get from SM.
Our response to this is to take the battle to the SM front with our corporate development team spending time on SM to address any issues. We also use external help. The biggest challenge here has been the response time which has had to be reduced to the same day.
Beyond our own experience, we see online shopping in Malaysia following global trends with disruption in both retail and media and I think banking will be affected over time as well.
What are biggest trends in digital for Malaysia and how do you see corporates needing to respond?
Madius: I think they are responding and mainly because everyone is looking to be more productive and digital definitely helps here. Even my ministry is focused on the future. We know we must be driven by technology with a focus on STEM (Science, Technology, Engineering, Math) and talent development. We are looking at how we can help drive the New Economy in Malaysia using innovation, using technology because we feel change from the Digital Economy will happen faster than we think and there will be job losses.
And coming back to a point I made earlier, we are starting by getting internal buy-in first before we push this out externally.
Sharil, do you feel Malaysian companies, its GLCs are moving fast enough to adopt digital?
Shahril: I think Malaysian corporates are a bit slow in understanding the amount of disruption coming their way. Many sectors are protected by licensing and APs (Applied Permits) and we are periphery to the global giants wanting to come in. But, at the same time we are seeing disruption coming in. Ride sharing is the clear example. Once one guy starts, globally the other competitors have to come in. In Malaysia, Grab started in end 2011, then Uber came in or it risked losing a potential key market to a competitor.
I think will see same thing in retail. Now that Alibaba is in via Lazada, Amazon has no choice but to enter the market. Before long you will see a big Amazon presence in SEA otherwise they are effectively surrendering the market to Alibaba. That will disrupt retail. The competition between them will give consumers better deals and accelerate the hollowing out of existing businesses. [Note: The discussion took place before Amazon's entry into Singapore was made public.]
In this vein, I think banking will be an interesting space as well. Once a major player makes a move, other players will be forced to come in. Sure regulation is there but some parts are not regulated. Example being P2P lending, P2P payments, foreign exchange transfers. You can play within the rules and offer better, different services or be more aggressive and stretch the rules a bit. It is just a matter of how soon a global player wants the Malaysian market.
In terms of the role of government, is there any new initiative you are undertaking?
Madius: Well the Digital Free Trade Zones are an example. I think this initiative will catalyse the whole process of change and drive home the realization that digital disruption is happening.
Somehow we have to make it happen. Things are changing so fast that we better be prepared to seize the opportunities rather than be fearful of the threats. Which is why, for us, other than the governance question, talent is a big part of the equation. What happens when job loss due to automation is upon us?
One way of tackling this is to get our universities prepared by getting their curriculum updated for the needs of Industry4.0.
Governments can play a strategic role to increase the country's competitiveness in this era of digital transformation. What do you think is the role of government in enabling digital innovation?
Azmil: Definitely governments have a role to play. Yet we also see them struggling to keep up. But if Malaysia does it right, we can help things along. The idea is to build your disruptive digital companies in Malaysia but for that we need the right attitude, relevant skills sets and world class infrastructure. If we don't get there, our neighbours will. But I believe digital is a great opportunity for Malaysia but we need to do more!
Shahril: I think their key role should be to regulate a fair playing field that allows newcomers and existing players to compete. They should also enforce the rules fairly and remove barriers to adoption. You do not want to create a digital monopoly as consumers suffer then. And I think the example of ride sharing shows that the government is quite supportive of digital players and are not averse to dropping barriers despite the protests of the traditional players.