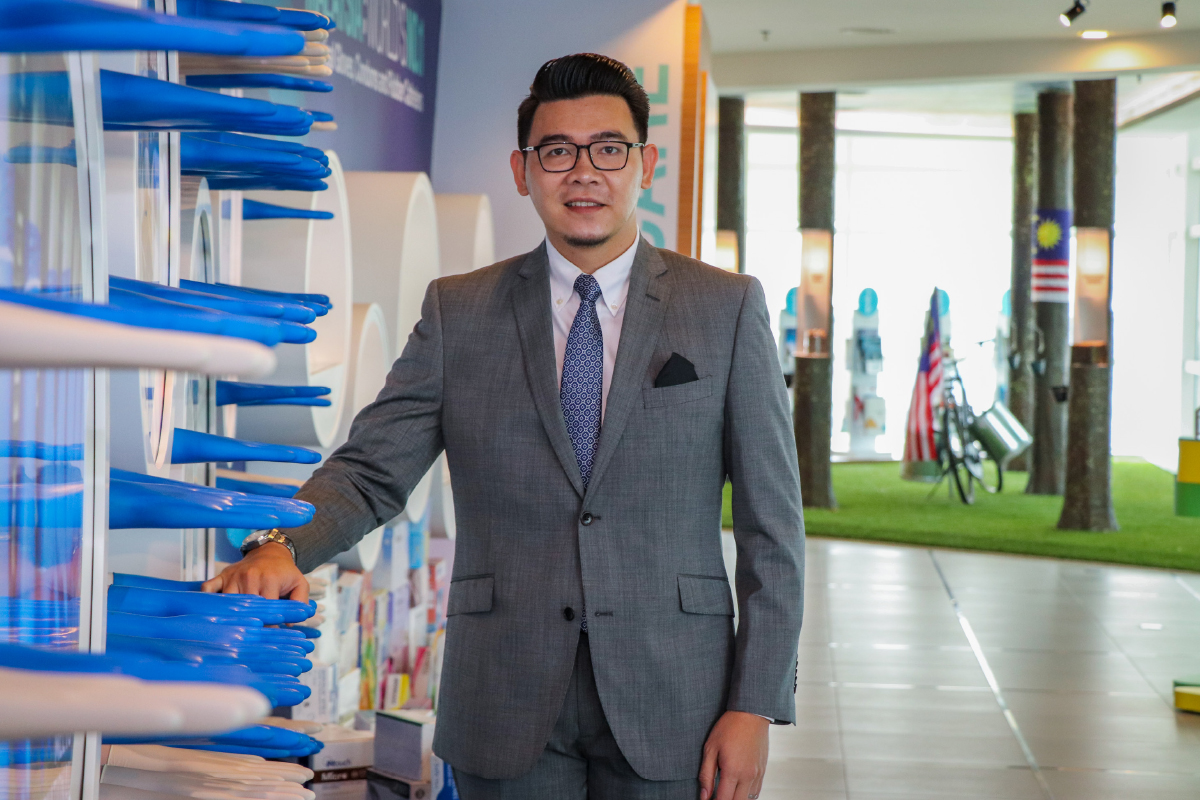 The Malaysian Rubber Council (MRC) is targeting new markets this year, which include Middle East and African countries, to showcase high-quality local rubber products, says CEO Nor Hizwan Ahmad.
He also anticipates the demand for rubber products such as gloves, catheters and others to remain high while demand for other rubber products such as rubber components for the automotive industry, technical applications, consumer products and the emergence of rubberwood for biomass purposes is also expected to increase.
"I would like to see Malaysian rubber exports reaching RM100 billion. As market expansion and exploration is part of MRC's job, we will enhance the efforts to ensure new markets and opportunities are identified and capitalised to achieve this.
"I believe that organising and participating in international promotional events is one of the most efficient ways to promote Malaysian rubber products and raise awareness in the international market about the high quality of our products. Market promotion activities organised by the MRC include international trade fairs, working visits, business matching, international seminars, ministerial missions and conferences," says Hizwan.
Glove exports have grown rapidly over the years, accounting for half of the country's total rubber products, as rubber glove manufacturing is now one of Malaysia's most important industries. Glove manufacturers in the country are well equipped to meet the growing global demand, thanks to robust production capacity, government incentives and other investments.
In 2021, total exports of rubber and rubber products increased 46.3% to RM71 billion, from RM48.53 billion in the previous year.
Hizwan says the MRC has established a regional office in Jeddah in Saudi Arabia to explore rubber potential in the Middle East and North Africa (MENA), as well as its other offices in London, Washington, DC, Shanghai and Beijing. New markets that it is targeting include Turkey, Vietnam, Egypt, Brazil and Pakistan.
"Turkey was affected by an earthquake and there are many large local construction companies. Therefore, we can take this opportunity to promote engineered rubber products (ERP) made in Malaysia, including seismic bearings," he says.
The council will also promote ERP in Egypt, where the number of construction and infrastructure projects is growing. It also plans to encourage Brazil to adopt commercial tyre retreading solutions from Malaysia. In Vietnam, it plans to promote rubber retreading materials and automotive components.
"Pakistan's healthcare market is experiencing positive growth, which gives us the opportunity to further promote our medical rubber products, such as medical gloves and Foley catheters," he says.
The MRC also participated in Expo 2020 Dubai last month, showcasing rubber products from Malaysia to the world in the Malaysian Pavilion. Taking advantage of the tremendous reach of the expo, the MRC launched the Malaysian Rubber Products Virtual Showcase (MaRViS) on Jan 24, an online platform that facilitates business engagements between international buyers and Malaysian rubber product manufacturers.
"The sudden lockdown and invisible threat of Covid-19 have nudged the MRC to rethink the way we do business, especially to accommodate the international market. Travel restrictions have halted international dealings, especially in terms of business engagements. MaRViS is an essential part of doing business for the MRC and its stakeholders. This virtual platform not only saves a lot of cost and effort but can also reach a larger market for rubber products from Malaysia," explains Hizwan.
The council also successfully participated in the four-day Arab Health Exhibition held from Jan 24 to 27 at the Dubai World Trade Centre in the United Arab Emirates. "We participated as an exhibitor with other Malaysian rubber manufacturers. We support this exhibition to promote rubber and rubber products from Malaysia globally, in line with our ongoing campaign 'No One Knows Rubber Like Malaysia Does'," he says.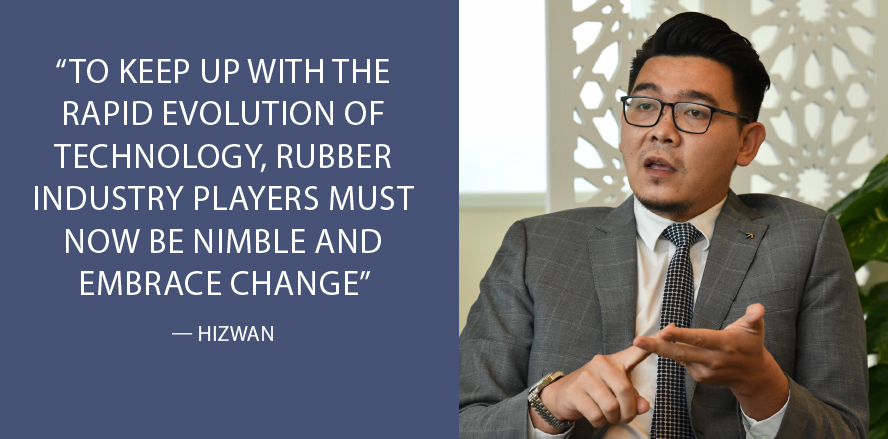 More Malaysians join rubber industry
The labour shortage in the rubber industry is due to a lack of interest among Malaysian workers, as manufacturing is also often stigmatised as 3D — dirty, dangerous and difficult.
"With the Covid-19 outbreak, demand for gloves began to surge in late 2019. Industry players rushed to expand capacity in areas where more (foreign) labour was needed, exacerbating the labour shortage. Movement restrictions and border closures made it difficult to recruit foreign labour," says Hizwan.
In line with the government's policy to create more jobs for Malaysians and reduce dependence on foreign labour, the MRC launched the Hiring Malaysian Workers Fund to increase the employment rate among locals in downstream rubber companies. This is an incentive-based fund that aims to encourage industry players to develop a high-performance culture to promote the country's socio-economic development.
"We ask industry players to hire local workers and also give them funds. Let us say the wage offered is RM1,200, but our local law says the minimum wage is RM1,500. We need to add another RM300. This fund was established in the last two years during the initial phase of the Covid-19 pandemic, and we continue to expand it in collaboration with the Social Security Organisation (SOCSO).
Hizwan also says the lack of direct participation in the international value chain has weakened Malaysia's international competitiveness. "Therefore, we hope to get more young people involved in the rubber sector by continuing to provide scholarships and grants for innovation and technology to attract their attention."
The MRC has established the Industry Linkage Fund (ILF), which was launched in 2017. It provides a platform for the industry to leverage the strengths and expertise of Malaysian public and private universities and local research institutes, to conduct market-driven research that benefits the industry in terms of innovation and research and development.
In addition, the rubber industry must be prepared for automation to better compete in the global market.
"We encourage industry players to jump on the automation bandwagon. The main purpose of that is to increase the export and domestic consumption of rubber products that we make here, as well as other products.
"We are also talking about a circular economy where nothing is wasted. For example, when manufacturers reject gloves, the rejected gloves can be used to make another new product that does not require a new raw material. So, we are improving that now," says Hizwan.
In 2019, the council launched the MRC Fund for Automation and Green Technology (FAGT) to support eligible rubber product manufacturers in Malaysia to implement automation and green technology projects. The fund aims to encourage the rubber products industry to adopt automation and green technology to improve the industry's competitiveness, alleviate labour shortages and achieve sustainability.
"To keep up with the rapid evolution of technology, rubber industry players must now be nimble and embrace change — an ethos that the MRC intends to inculcate. We need to be on the lookout for ideas that add value to the rubber industry and innovate to be a critical industry once again. This is in the national interest because if the rubber industry stays strong, the nation will continue to thrive," he concludes.