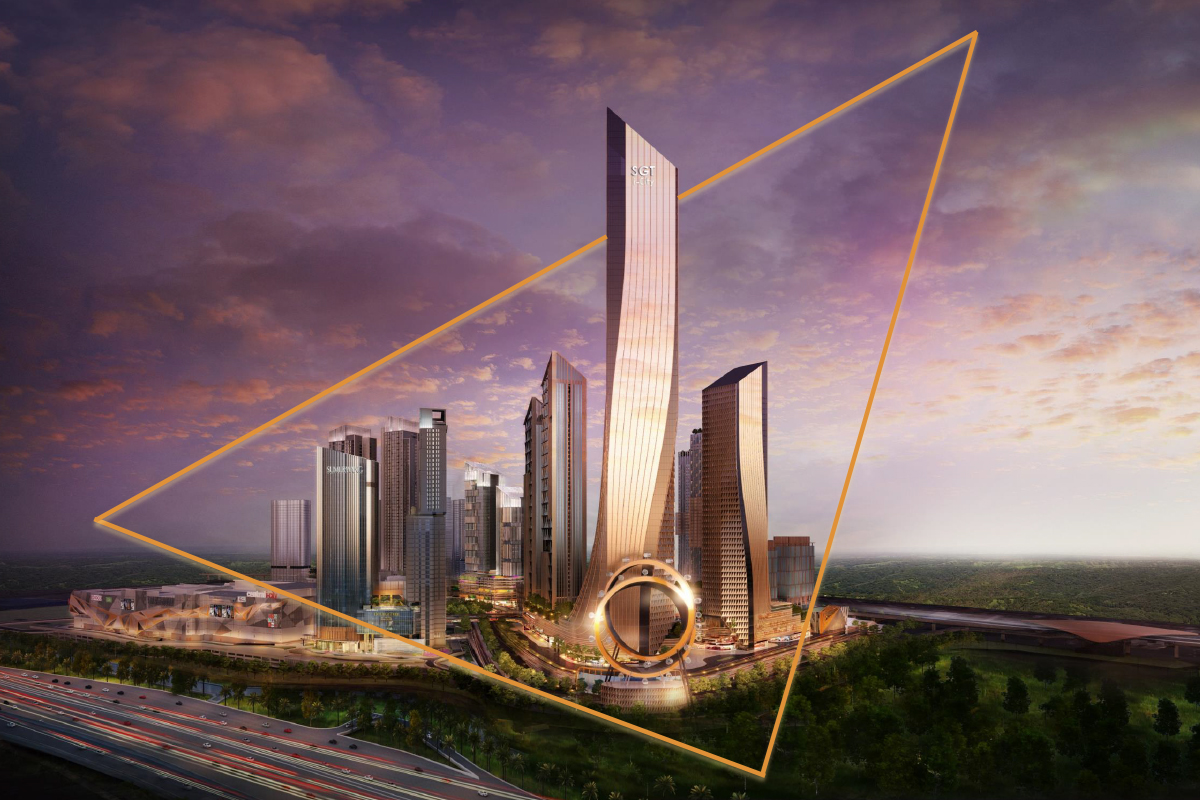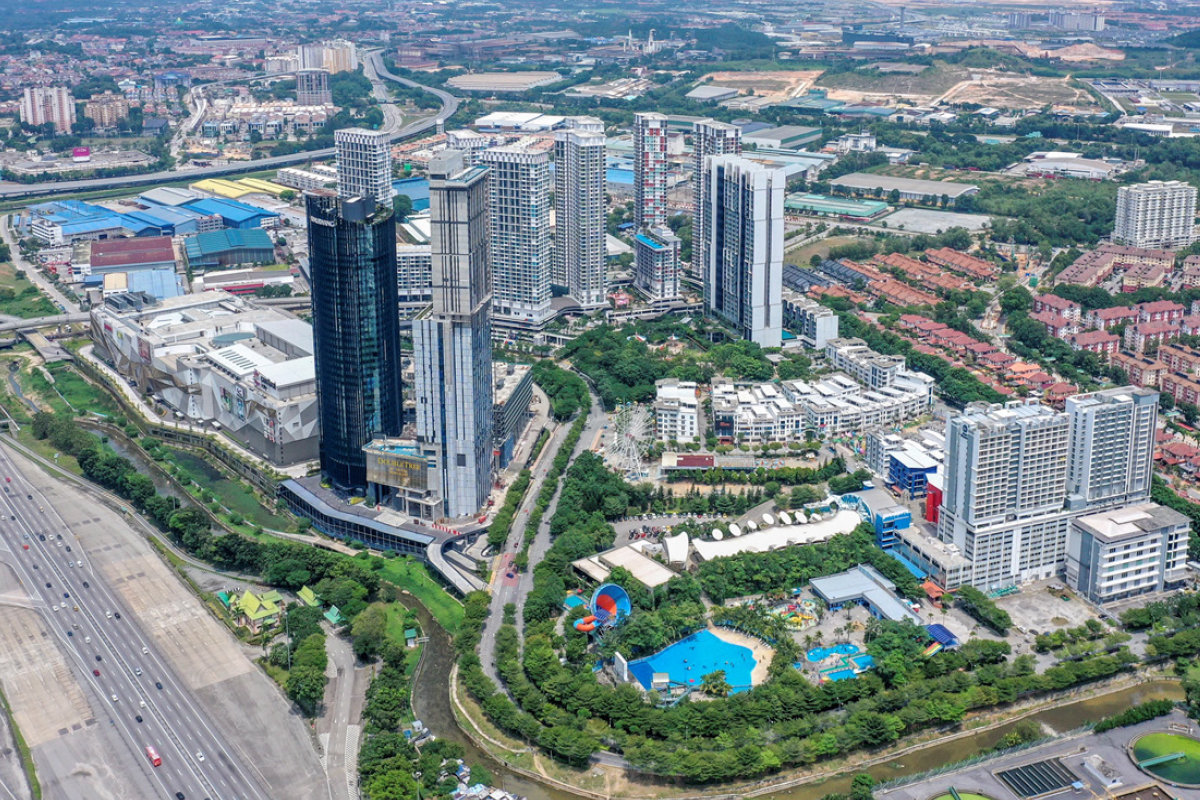 Under the Shah Alam City Council Local Plan Draft 2035's new rezoning plan, i-City SGT will expand from 72 acres to a 1,766-acre economic zone, which will transform the development into a global technological innovation centre for the state of Selangor
At the heart of the Selangor Golden Triangle (SGT), i-City SGT is set to become a hub for technology and commerce in the state.
The term "golden triangle" is often used to describe an area or region that is known for its success, prosperity and influence. These areas are commonly associated with rapid economic development, often times becoming hubs for commerce, business, technology as well as culture.
Prime examples of such Golden Triangles are the cities of London, Tokyo, Jakarta and Kuala Lumpur. Very soon, i-City SGT will join this exclusive club.
The transformation of i-City SGT is in line with the Shah Alam City Council's (MBSA) new rezoning plan (MBSA Local Plan Draft 2035), which sets out the land use and development from 2021 to 2035. Within this time frame, the state capital is to be transformed into a global centre for technology and innovation, similar to Silicon Valley, a region in the South San Francisco Bay Area in the US.
This sentiment was shared by Menteri Besar of Selangor Datuk Seri Amirudin Shari in a recent posting. He acknowledges that i-City SGT will help make Selangor a global technological innovation centre. 
Last year, Amirudin pointed out that the rapid developments in i-City SGT were capable of turning the state capital into a key pillar of the "golden triangle" by offering excellent economic opportunities. This will prove beneficial to Selangor, which is the country's economic powerhouse and most progressive and developed state.
"Selangor contributes almost 25% to the country's gross domestic product," he added. In 2018, the state recorded its highest ever direct investment at RM18.95 billion, largely fuelled by higher foreign direct investment (FDI) and domestic direct investment (DDI). The continued development of i-City SGT will not only widen the state's sphere of influence but also help turn Shah Alam into an attractive destination for both domestic and foreign investors.
The epicentre of Selangor Golden Triangle
In the plan put forward by the Shah Alam City Council, there will be developments and townships surrounding six key projects in Selangor, including i-City SGT, to be developed over 15 years. The i-City SGT project, which has a gross development value (GDV) of RM10 billion, will play a key role in the plan.
i-City SGT will grow extensively from its current footprint of 72 acres into a 1,766-acre economic zone, which will encompass the neighbouring Section 4 and Section 7.
Plans include the designation of a light industrial zone in the western corridor, a commercial zone as well as a technology zone. Two institutes of higher learning — Universiti Teknologi MARA (UiTM) and University of Selangor (Unisel) — will anchor the education zone in the eastern corridor.
Just like Silicon Valley, which is home to the world's biggest tech companies such as Apple, Facebook, Google and Netflix, the surrounding industrial areas will be gazetted for commercial and information and communications technology (ICT)-related developments. Plans include the creation of high-technology, medical, commercial as well as recreational hubs, which will help facilitate the creation of a high-value knowledge workforce.
Invest Selangor Bhd chief executive officer Datuk Hasan Azhari Idris said i-City SGT has introduced a new benchmark for property developments in the state, especially for those focused on tech companies. Invest Selangor was one of the earliest to operate in i-City SGT when it opened its office there 10 years ago. 
Hasan added that with the right elements put in place and with the right infrastructure to support tech companies, the development will be able to attract more players, especially global tech companies to operate there.
"Conceptualised by internationally renowned urban planner Jon A Jerde, i-City SGT was envisioned to be on a par with its counterparts across the world, says Tan Sri Lim Kim Hong, chairman of i-Bhd. "The vision is not just to build a world-class, master-planned transit-oriented development (TOD) of the highest standard, but also to stimulate Selangor's economic growth."
Lim adds that since i-City SGT was conceptualised as a smart city, technology will continue to be a main focus. "As the No 1 technology city, we have incorporated elements of ABC — Artificial intelligence (AI), Big data and Cloud —computing into our developments," he reveals. "For instance, Sumurwang Tower, a Grade-A GBI-rated corporate office, features facial recognition, contactless smart elevators and a paperless working environment."
This well-thought-out infrastructure is intended to nurture and support the digital economy in terms of economic growth. It will also act as an incubator for the talents of tomorrow. Students from UiTM and Unisel in particular will benefit greatly from the infrastructure, which will attract IT companies and firms as well as multinational companies (MNCs) that will provide a pipeline of training and work opportunities and internships.
In essence, i-City SGT will provide a platform and be a gateway to knowledge for students and residents to acquire the digital tools and skills that are necessary to make that vital digital leap. "We expect i-City SGT to be home to about 30,000 residents and 20,000 knowledge-based workers upon its completion," says Lim. "As you can see, the possibilities for connections, commerce and communications are endless."
i-City SGT will act as a catalyst to develop a dynamic economic engine that will stimulate the growth of industries and commerce as well as create employment opportunities.
Built for the future 
i-City SGT fits perfectly as the centrepiece of the Selangor Golden Triangle. It also serves as an ideal platform for the state to realise it's Smart Selangor 2025 initiative and Selangor Structure Plan 2035.
To boost its credentials as a smart city and next-level ICT-based urban development, the Multimedia Super Corridor (MSC)-certified Ultrapolis is currently served by a 400G capable  network connectivity powered by Huawei. It is the first urban development in the country to provide fibre redundancy as a basic infrastructure.
Lim says, "Currently, a certified Tier-3 data centre is operating at i-City SGT at full capacity. Soon, with the deployment of 5G, it will gain a significant edge in rolling out new technologies such as AI and the Internet of Things (IoT), which will transform industries. Adding to that, partnerships with world leaders such as Huawei, HIKVision, SenseTime and others will also help propel i-City SGT further in the new economy."
i-City SGT has also weaved additional smart technologies such as AI, big data, and cloud computing into its infrastructure. To further demonstrate its digital capabilities the development recently introduced its i-City SuperApp mobile community for residents and businesses to leverage off. The new app integrates functions for payments, leasing, job search, events, food delivery, parking, shopping, and other services, which is aimed at offering convenience as well as community smart living.
This forward-thinking approach has clearly reinforced i-City SGT's position at the very heart of the SGT. It also provides  MBSA with an ideal base to build from as it moves forward with its ambition of transforming the area into a modern technological hub.
Connected development 
Adding to the appeal of i-City SGT is its strategic and established location in Shah Alam. The area is extensively connected by a network of highways and roads, linking it to seaports, airports and within a 30-minute drive from Kuala Lumpur City Centre.
In terms of public transport, i-City SGT is connected by the upcoming Light Rail Transit 3 network from Bandar Utama to Klang. As a TOD , the i-City LRT3 station will be connected to buildings in the vicinity via covered walkways. Plans are also underway for tracks for electric buses within the ultrapolis for commuting convenience.
Jones Lang Wootton Malaysia deputy managing director Prem Kumar opines that the SGT which houses the i-City development  is a classic culmination of the progression within Shah Alam, which is elevating itself to the upper echelons of the real estate hierarchy. 
He added that the positive market response to the various development components within i-City SGT is one of the most important indicators of its superior status as an 'intelligent city' that can be paralleled to other world class developments, both within and outside of Malaysia.
The overwhelming success of i-City SGT has not only changed the landscape of Shah Alam but also helped raise its profile as a vibrant and dynamic city. With plans underway to develop the city as a technology hub and economic zone, there will undoubtedly be increased interest in its residential and commercial properties.
According to Datuk Sr. Paul Khong, Managing Director, Savills (Malaysia) Sdn Bhd, "As i-City is listed as one of the six main nuclei of growth lying close to the City Centre (Pusat Bandar) of Shah Alam, it will definitely enjoy spill over benefit given its strategic and centralised location and is now categorised as a Main Town (Bandar Utama) under the Local Plan." 
Citing examples of successful mixed development projects in Klang Valley, which have performed significantly well such as Midvalley/ Gardens Mall, Sunway Pyramid, Pavillion KL and One Utama Mall, Khong believes the mega size(s) of the projects, diversity of development mixes and their location plus accessibility factors have fuelled their respective appeal and capital appreciation. 
"i-City SGT is heading this direction as its intelligent city continues to progress further. Given that it is part of the i-City SGT, there is definitely strong potential for a smart growth story." He adds, "As such, capital values in this vicinity will be further enhanced in the future when this corridor starts to see more new developments and creation of more economy activities in the neighbourhood. 
Khong elaborates that presently, i-City SGT itself has already set a premium benchmark pricing in terms of values for their own projects surrounding the Central i-City Mall.  He stresses though that although the Local Plan may not be able to convert capital values immediately, the i-City SGT address will bring value to this locality when it matures further in the longer term. 
To further realise i-City SGT's position and importance to the Selangor Golden Triangle, there will be significant development taking place making it an international city. 
The developer has also added the i-City SGT Double Eye, which features two cantilevered observation wheels, with the outer wheel interlooping over the inner one. Similar to how the London Eye and Singapore Flyer have become iconic attractions for both cities, the i-City SGT Double Eye will help define the skyline of Shah Alam and help it realise its potential of becoming a world-class tourist destination.
The crown jewel of the development is a 78-storey SGT Tower, which is set to be not only the tallest building in Selangor but also an iconic landmark for the i-City SGT. The tower, which will house global tech giants, will comprise offices and a 5-star hotel, and an i-Cloud-equipped lobby. Supporting all of this is not just the development's high-tech credentials but also its accessible location.
This gradual realisation of the i-City SGT master plan validates its vision of becoming a modern and futuristic city. As the tech-centric development continues to push back the boundaries with its product offerings, it will continue to contribute to the economic development and prosperity of the state capital.
For more info, visit https://www.i-city.my/