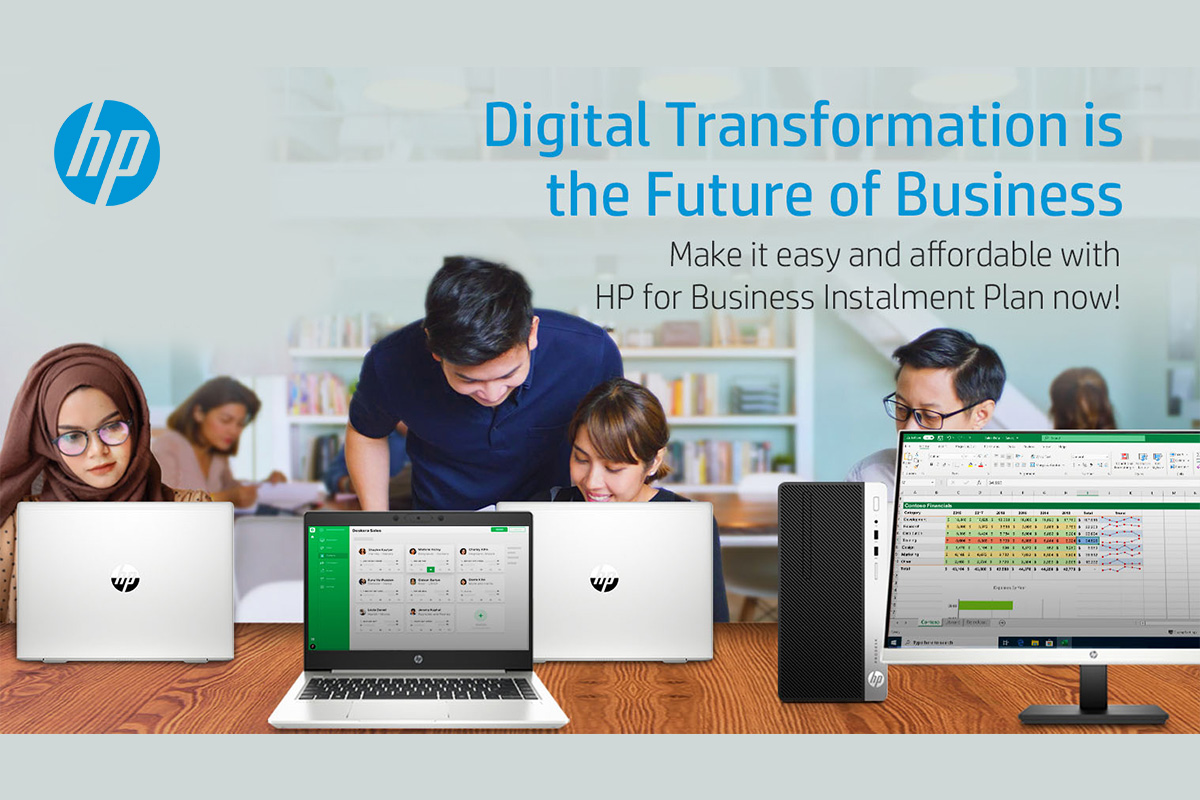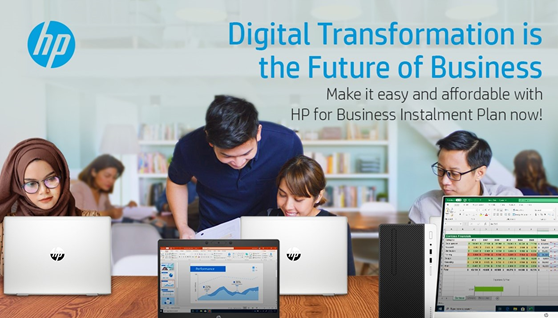 Change is the only constant in business. As entrepreneurs, we must be quick to react and adapt to market demand.
Digitalization is crucial for today's business and recognizing this need, HP Inc Malaysia launches HP for Business Installment Plan paired with a FREE Business Management Cloud Service, aiming to provide SMBs with a financial flexible solution to digitally transform their business.
The solutions offer help to address traditional needs in a more innovative and cost-effective way. For instance, instead of using slow and cumbersome hardware and software, SMEs can utilize this plan to upgrade their fleet of PCs to the latest requirements together with an enterprise resource planning software. 
This is especially relevant during these times in terms of financial flexibility and business growth. For a limited time only, the HP for Business Installment plans start from just RM85.50 over 36 months*. This offer scheme means SMBs can reserve their budget for other expenses to help sustain and grow their business.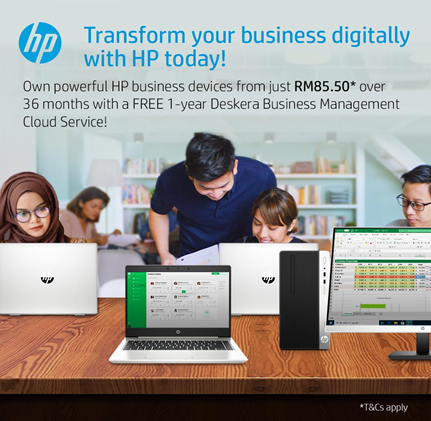 To drive future growth, SMEs need to adopt an innovative mindset and embrace digital transformation to do business differently. Fortunately, enterprise technology solutions which previously catered predominantly to large corporates have now become widely available for SMEs in a cost-effective manner. From accounting software and CRM tools to big data analytics and cybersecurity, SMEs can access technology solutions to increase productivity, manage business costs, scale up operations and explore new revenue opportunities.
HP for Business Installment Plans is powered by HP's range of high-performing business laptops and desktops, the HP ProBook 440 G7, HP ProBook 445R G6 and HP ProDesk 400 G6. The HP ProBook laptops come with hardened security features to ensure that you remain safe from cyber-attacks.

Furthermore, the plan comes bundled with free, 1-year integrated cloud-based software service from Deskera. The Deskera (Essential Plan) subscription for 5 users* (worth RM5,000). HP's range of business-focused innovations includes seamless integration for SMBs to run their business, track their finances, manage their accounts, engage with their customers and employees as well.
Change is essential if enterprises are to be competitive, resilient, flexible and to flourish for the long term. Those who are open to innovation and transformation, raising efficiencies, attracting talent, and strengthening their offerings are the ones most likely to thrive in the digital economy.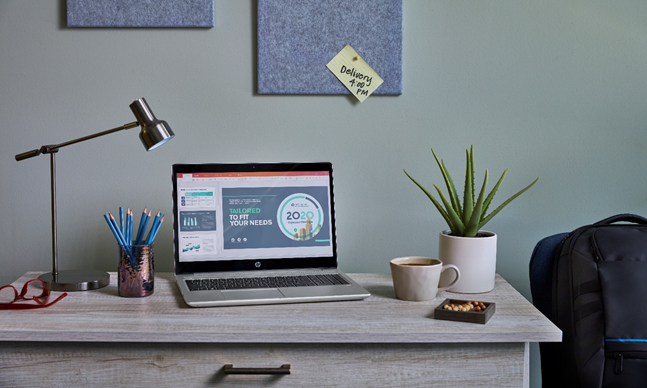 With digitalisation, SMEs can make better use of their customer and user data to improve the customer experience, leading to higher satisfaction and loyalty over the long term. 
Currently, the HP for Business Plan is a limited-time promotion*, which ends 31 October 2020. To enjoy this business plan, it is as simple as purchasing a minimum of RM22,500 worth of any of these HP Business PCs listed above, terms and conditions applied.
For details on HP for Business installment plans- speak to a sales representative at +603 7627 6592, go to here
*Terms and Conditions apply