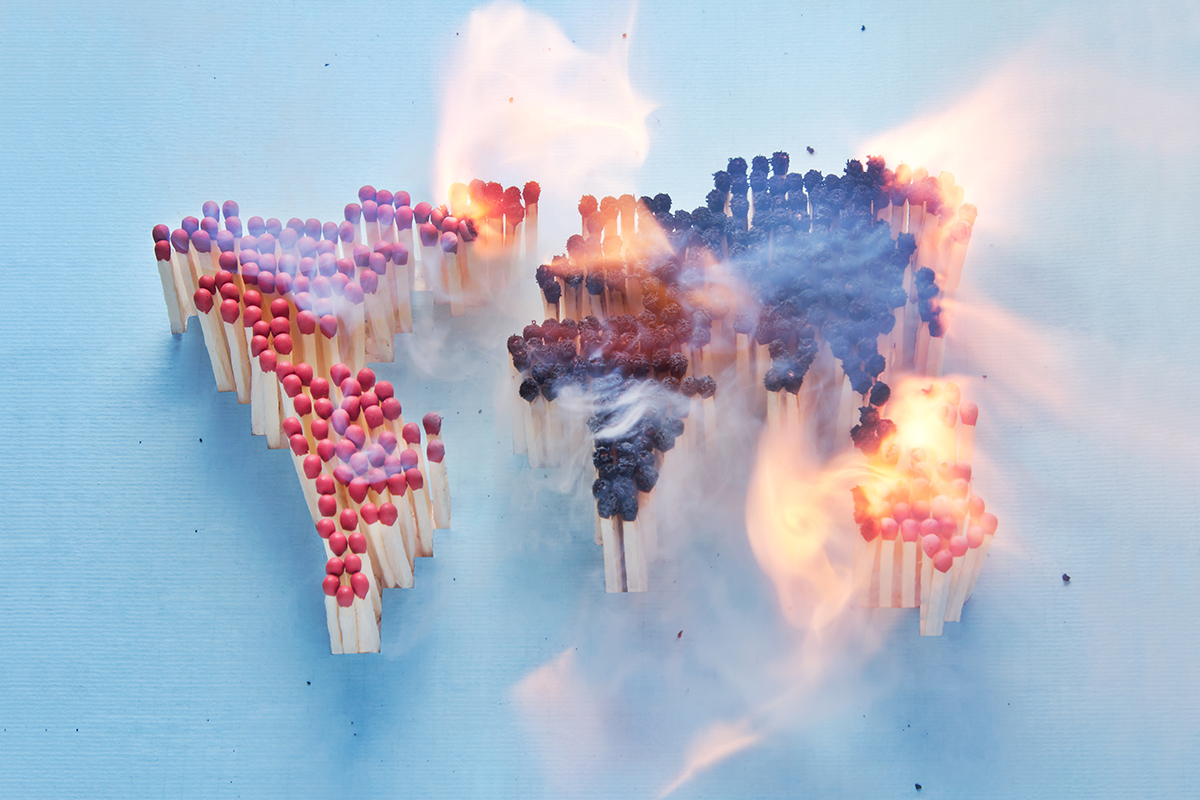 "Covid-19 is awful. Climate change could be worse." - Bill Gates
April 22 marks the 51st anniversary of Earth Day. As the world's largest environmental movement, this day provides an opportunity for us to reflect and demonstrate action to support environmental protection and tackle climate change.
Many significant events have also happened on Earth Day, including the signing of the Paris Agreement, a landmark international accord to limit temperature increases to help stave off natural disasters associated with global warming.
For many years, disruptions caused by unmitigated climate change were not an important consideration for investors. Attitudes are shifting, however, as Covid-19 and the subsequent economic upheaval provided an example of the devastating impact that nature can have on our way of life, and that environmental and social problems are increasingly clear financial risks that investors need to manage properly.
The pandemic has also led people to reconsider their values and what is important to them. Schroders' Global Investor Study 2020, an annual survey of more than 23,000 investors worldwide, revealed that a vast majority of investors (77%) now refuse to compromise on their personal beliefs when investing, despite higher returns on offer.
There has been a corresponding surge in investor demand for funds that consider environmental, social and governance (ESG) factors, with assets jumping 60% to hit a record high of US$1.65 trillion (RM6.79 trillion) as at end-December 2020, according to Morningstar's Global Sustainable Fund Flows report.
'But Earth may not have that long to wait'
In 2020, there was much focus on the "E" in ESG, with climate change surfacing as a big theme, triggered by growing concerns that the effects of Covid-19 would be dwarfed by the consequences of unchecked global warming. In human terms, its impact can be comparable to a permanent Covid-19 crisis. The Lancet, a renowned medical journal, published a study that suggests that the impact of climate change on global food production alone could cause more than 500,000 deaths by 2050.
Covid-19 also holds important lessons for financial markets. There were few economic models that predicted the devastation a pandemic would bring. With climate change, we know a great deal about the devastating impact of inaction and that they can be avoided only by consistently investing to decarbonise the economy. If our pace of decarbonisation remains insufficient, asset prices are likely to move to price in risks of adverse climate events and a premium for climate-change hedges. This will have big implications for financial markets.
Today, governments representing close to two-thirds of global GDP have committed to reaching net zero emissions in the next few decades. On Earth Day, US President Joe Biden will host a Leaders' Climate Summit to galvanise the efforts by major economies to tackle climate change. This is a key milestone on the road to the United Nations' Climate Change Conference in November, where new policies and initiatives to increase the pace of decarbonisation can be expected. More than one-fifth of global, listed companies have also committed to emissions reductions in line with the Paris Agreement.
To meet global climate ambitions, the world's energy system will need to shift away from its reliance on fossil fuels to sustainable energy solutions, such as renewables, over the next 30 years. Achieving this transition will require significant investment. Between now and 2050, an estimated US$120 trillion will need to be invested throughout the entire clean energy value chain, according to the International Renewable Energy Agency (IRENA).
International Energy Agency (IEA) says that, despite massive contraction in economic activity and huge behavioural shifts amid Covid-19, carbon emissions are projected to fall only 8%. There is therefore significant scope for structural changes to avert the damaging impact of climate change and, in turn, tremendous opportunities for investors looking to capitalise on this disruption.
Participate in the great energy transition
Sensing this change in tide, Affin Hwang Asset Management Bhd ("Affin Hwang AM") has partnered with Schroders to launch the Affin Hwang World Series - Global Climate Change Fund ("the Fund"), an equity fund for investors who want to capture potential returns from the transition towards a low-carbon economy. Rather than simply avoiding or divesting from certain industries or companies, the Fund actively seeks out companies that will accelerate the transition or help societies adapt to the disruptions. The Fund feeds into Schroder International Selection Fund Global Climate Change Equity, which has been running successfully since 2007 and is a pioneer in the field.
"We are pleased to introduce this Fund to Malaysian investors, as we believe the opportunities to allocate capital towards the energy transition, and the resilience it provides even in the midst of the pandemic, cannot be underestimated," says Chan Ai Mei, chief marketing and distribution officer at Affin Hwang AM.
"In contrast to previous slowdowns, climate change and energy transition investments have performed strongly so far, and this can largely be attributed to continued improvement in economics across the sustainable energy space. In 2008, wind and solar projects were very expensive compared to conventional coal and gas; thus, renewable projects were often the first to be cut. Today, the reverse is happening.
"Coupled with significant green fiscal stimulus that will provide a further underpinning of capital, we see strong prospects for investments aligned with the energy transition - for instance, we expect the growth outlook for electric vehicles, renewables, hydrogen power and battery storage to be turbocharged."
The Fund typically invests in stocks exposed to five sub-themes: energy efficiency, sustainable transport, clean energy, environmental resources and low carbon leaders.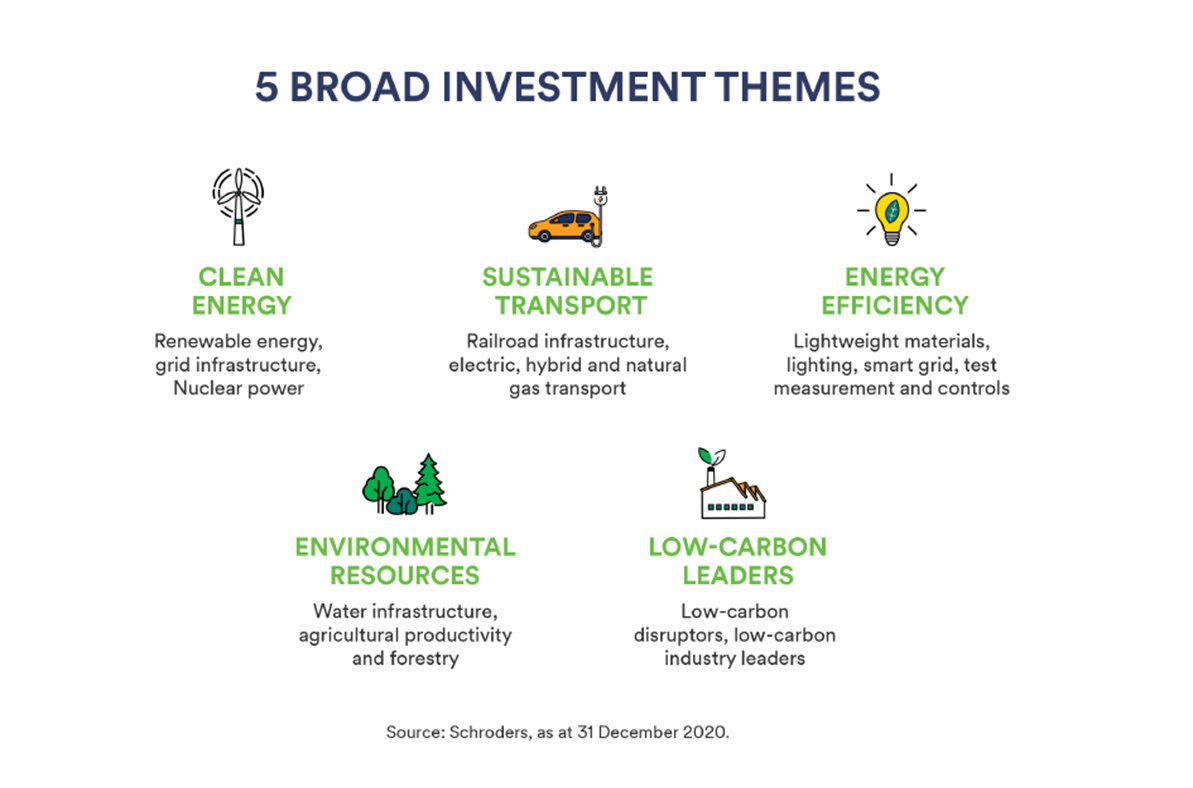 Nevertheless, the Fund appreciates that climate change will be the defining driver of the global economy and financial markets in decades to come. As such, it considers opportunities across a global opportunity set to construct a well-diversified portfolio across a range of sectors, all linked to climate change.
Measuring impact
Chan elaborates on Affin Hwang AM's decision to tap Schroders' expertise to manage the Fund: "As ESG issues reshape the world, it is no longer enough to just talk about impact; we have to measure and quantify impact. What stands out with Schroders is their commitment to making the best possible tools available to its investment teams to do this."
One example is Schroders' proprietary climate progress dashboard, which identifies key areas for change to meet global climate targets. Using dedicated research from Schroders' sustainable investment team, climate-related risks and opportunities can be factored in throughout the investment process to analyse companies and direct engagement. Carbon Value at Risk, another analytical tool, helps investors more accurately measure the threat of carbon pricing to their portfolios by focusing on companies' business models and profit drivers.
This is all part of Schroders' long-standing heritage of climate action and, today, it allows them to allocate capital responsibly to companies, thus encouraging sustainability across a number of industries.
"Understanding a company's social and environmental impact is increasingly vital in delivering long-term returns for clients. We know Schroders has the expertise to do this effectively, and we are excited to help investors participate in the green transition through this Fund," says Chan.
To learn more about the Affin Hwang World Series - Global Climate Change Fund, contact Affin Hwang Asset Management Bhd at (1 800) 88 7080 or visit https://affinhwangam.com. Investors are advised to read and understand the contents of the Fund's Product Highlights Sheet, Information Memorandum dated 25 March 2021 before investing.
Find out how we can do our part and help fight climate change through this interactive Instagram filter, launched with this year's Earth Day theme "Restore Our Earth" in mind:
click or scan: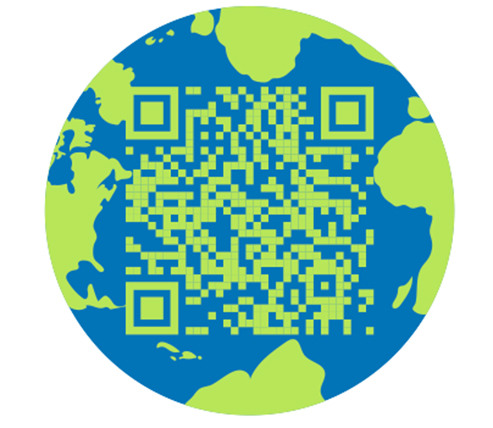 Warning Statement: A copy of the Information Memorandum ("Info Memo") and Product Highlights Sheet ("PHS") can be obtained at Affin Hwang Asset Management's ("Affin Hwang AM") sales offices or at www.affinhwangam.com. Investors are advised to read and understand the contents of Affin Hwang World Series - Global Climate Change Fund (or the "Fund") Info Memo dated 25 March 2021 and corresponding PHS before investing. There are fees and charges involved when investing in the Fund. Investors are advised to consider and compare the fees and charges as well of the risks carefully before investing. Investors should make their own assessment of the risks involved in investing and should seek professional advice, where necessary. The price of units and distribution payable, if any, may go down as well as up and past performance of the fund should not be taken as indicative of its future performance. The Securities Commission Malaysia has not reviewed this marketing/promotional material and takes no responsibilities for the contents of this marketing/promotional material and expressly disclaims all liability, however arising from this marketing/promotional material.