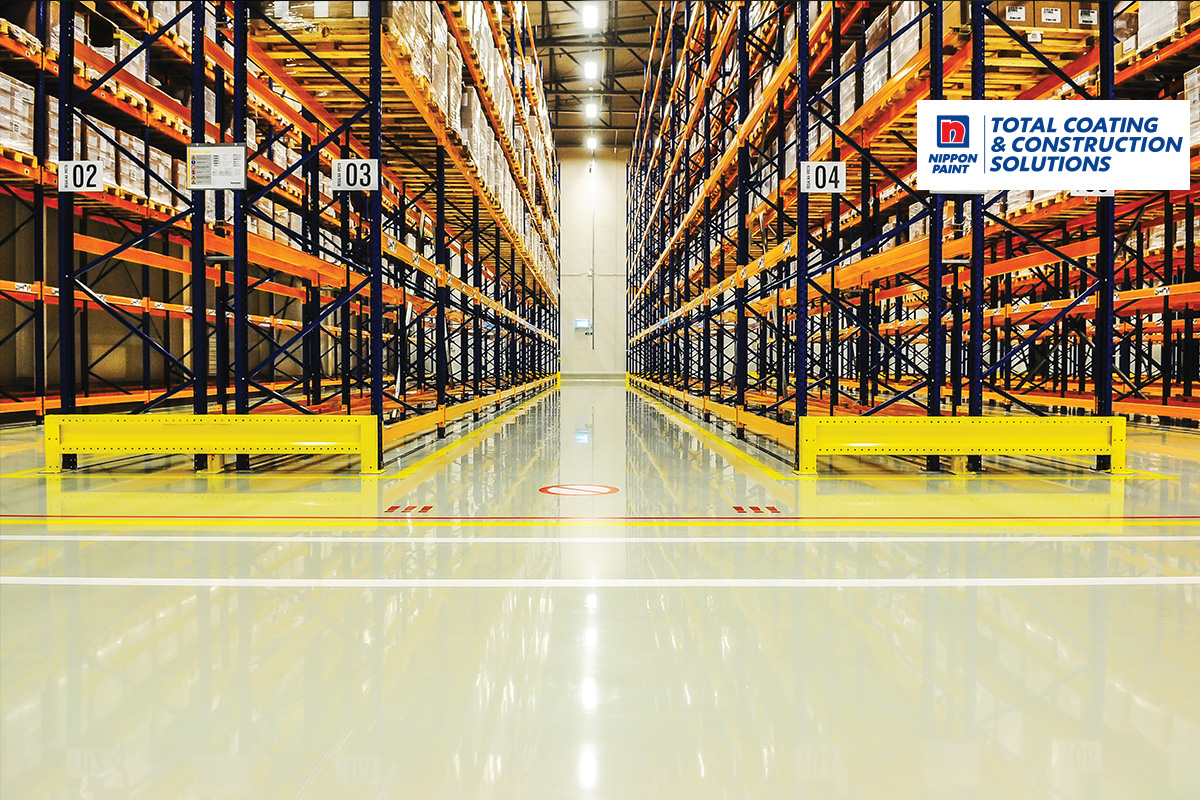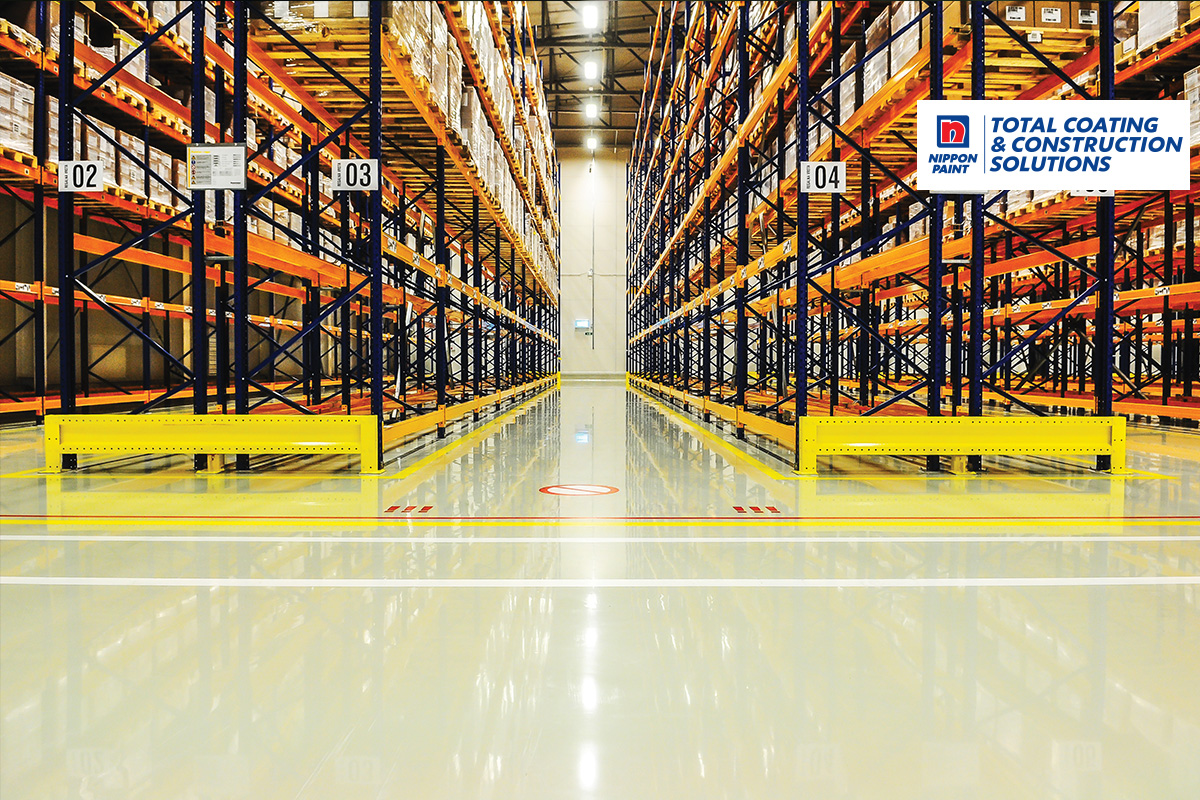 Whether it is for a warehouse or factory floor, Nippon Paint has the right solution for industrial facilities
The flooring of any built environment is one of the most important elements as it plays a big part in how the space is used. For instance, industrial flooring for manufacturing and processing plants, car park flooring for residential and commercial buildings, or sports flooring. Different activities pose a different challenge to the flooring.
As such, the right flooring system should, at the very minimum, be able to protect the concrete base from abrasion and damage. Products for such areas need to be resistant to abrasion and chemicals, adhere to food safety requirements in the food and beverage industry or meet electrostatic requirements in the electronics and semiconductor industries.
For a business, the consequences of having the wrong type of flooring include reduced productivity, accidents and health hazards. All these incidents will have an impact on a company's bottom line. As they say, prevention is better than cure. Conversely, having the right flooring can contribute to operations running more smoothly with minimum downtime and reduced cost when it comes to maintenance.
Besides the functionality of Nippon Paint's industrial flooring, which delivers excellent and durable protection in an industrial environment, it also comes in a variety of colours to demarcate different sections. Its flooring solutions cater for, but are not limited to, manufacturing, automotive, pharmaceutical, aerospace, electronics and food and drink processing facilities.
Some industrial facilities have several sections such as a showroom, workshop, warehouse and parking facilities, or these could be standalone facilities. Each of these sections will see different types of traffic — human and vehicular — and volumes. And the function of those sections will vary, depending on the type of work, vehicle or even machinery used in the space. Nippon Paint has the right floor coating to cater for the different needs and requirements of each area.
For over 50 years, Nippon Paint has been driving innovation in the paint and coatings industry, backed by the latest technologies. Its flooring innovations are widely used at various commercial, residential and industrial properties in Malaysia.
Ensuring the best workmanship in five steps
| | |
| --- | --- |
| Step 1 | Site inspection to identify problematic areas and what is needed in the space to provide a quotation. |
| Step 2 | Recommendation and proposal stage, where Nippon Paint's technical experts prepare their recommendations and a meeting is arranged to explain the process and everything else. |
| Step 3 | Commencement of work |
| Step 4 | Post-flooring assessment to evaluate and ensure everything is up to standard. |
| Step 5 | Handover of the property together with the method statement document to the customer. |
With solutions that cater for every need, the company has Nippon Paint Floorshield, an industrial floor coating made from water-based, solvent free epoxy, solvent-based polyurethane (PU), PU cementitious screed and electrostatic discharge (ESD) that is suited for light to heavy duty performance. With excellent abrasion and chemical resistance, and various special properties, the flooring solution is able to meet the needs of various industries.
Meanwhile, Nippon Paint Deckgard is a specially designed floor coating system for its clients' car park needs. The epoxy build-up system with many different customisations address the special needs of exposed, intermediate and basement car parks.
Nippon Paint Floorsports is the International Tennis Federation-certified floor coating system that is suitable for sport courts and training trails. The 1K Epoxy Hybrid is able to provide abrasion resistance in a wide range of colours. By incorporating a non-skid system, it provides users with anti-slip properties for improved safety.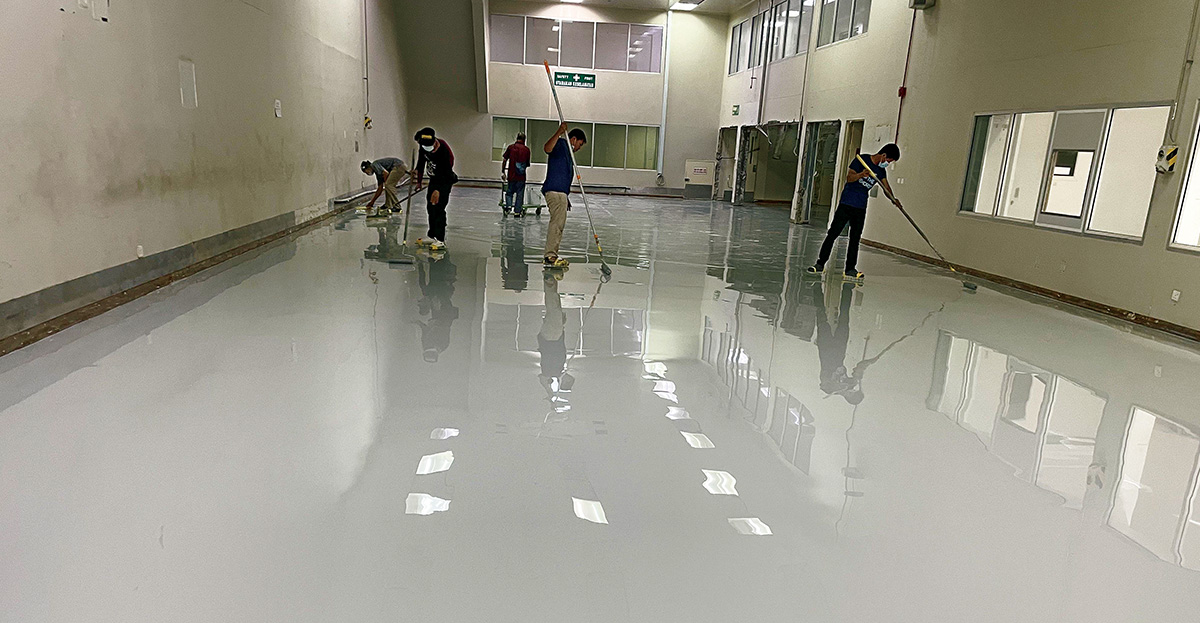 The flooring system application commences after consultation by the technical and consultant team
Nippon Paint Hardtop is the dry shake floor hardener with blends of cement, special hard aggregates, pigments and workability improvers that is applied over freshly placed concrete to create a monolithic floor system, providing a stronger concrete surface.
To ensure the right flooring system is selected, it is necessary for a consult. There are five steps taken by an experienced technical and consultant team to ensure a smooth application and delivery of the finished product (see table).
Nippon Paint's commitment to providing the best quality industrial flooring solutions gives peace of mind to industrial companies, enabling them to have better business operations, a safe environment and enjoy cost-effective maintenance.