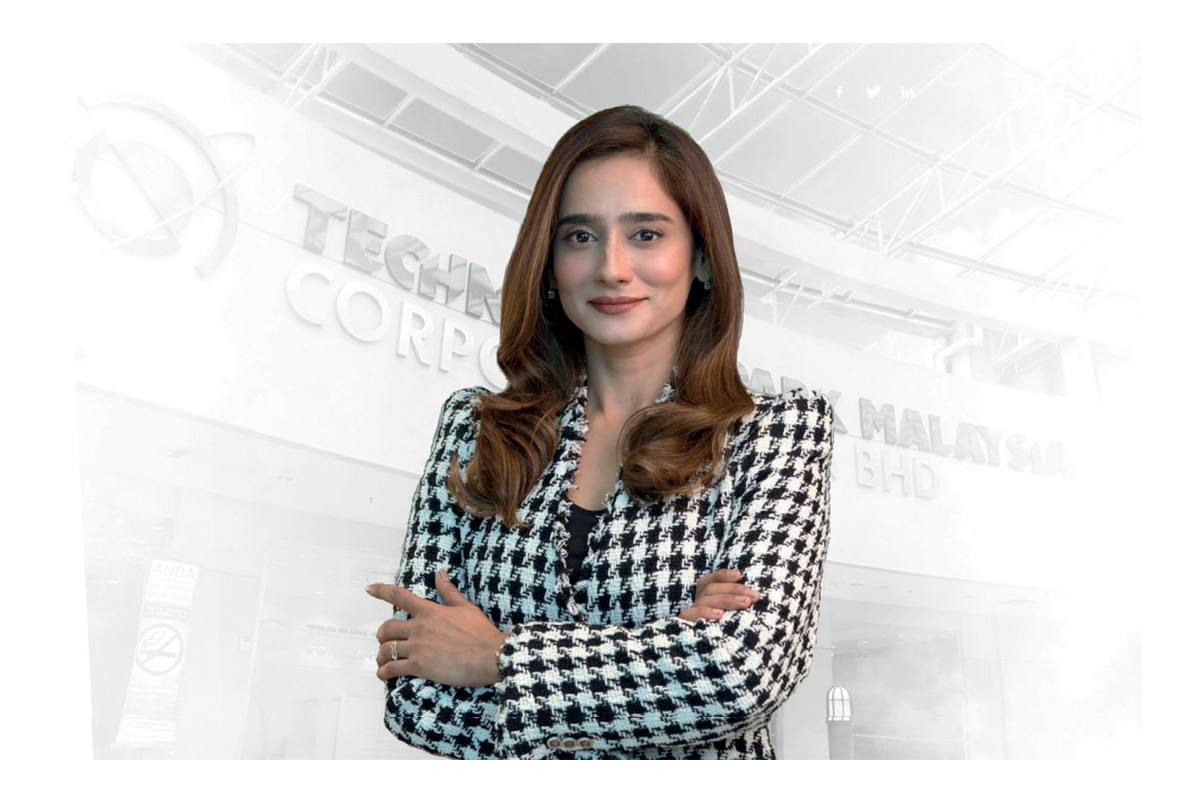 Dzuleira Abu Bakar, CEO, Technology Park Malaysia
Today, the combined market value of the world's 4 most innovative companies - Microsoft, Alphabet, Apple and Amazon - is USD7 trillion huge and 2 times the Gross Domestic Product (GDP) of ASEAN. Over the past 20 to 30 years, the ratio of tangible assets to intangible assets (such as intellectual property rights) - ipped from 83% to 17% to become 16% to 84% respectively for S&P 500 companies.
A 2021 joint study by the EU Intellectual Property Office (EUIPO) and European Patent Office (EPO) continues to show a strong, positive correlation between intellectual property rights (IPRs) and economic performance. It states that "IP-owning firms represent a significantly larger proportion of economic activity and employment across Europe," with IPR intensive industries contributing to 45% of EU GDP (US$7.9 trillion).
The study also shows 39% of employment is directly or indirectly attributed to IPR-intensive industries, which generate higher wages and greater revenue per employee, especially for small-to-medium-sized enterprises. That concordes with the United States, where the Department of Commerce estimates that IPR-intensive industries support at least 45 million jobs and contribute more than US$6 trillion (or 38%) to the GDP.
These examples show how IPR is necessary as a core feed to wealth, with innovation being a highly desirable output from this process.
Which brings me to the Malaysian Research Accelerator for Technology and Innovation or MRANTI, an agency that will be fully operational in 2022, tasked to deliver a Return on Ideas (ROI). MRANTI will help accelerate a secure supply of innovation for Malaysia, towards improving the lives of all Malaysians, and uplifting our future.
Innovation: The Need To Be Intentional
The world's wealthiest countries based on GDP per capita, were mapped using data from the International Monetary Fund. It was found that these countries are also chart toppers on the OECD Better Life Index and the Global Innovation Index.
Switzerland, Denmark, the USA, Netherlands and Sweden, appear under the indicators of wealth, well-being and innovation; while Singapore, Norway, Iceland and Finland also appear under any two of these indicators. This is surely not a coincidence!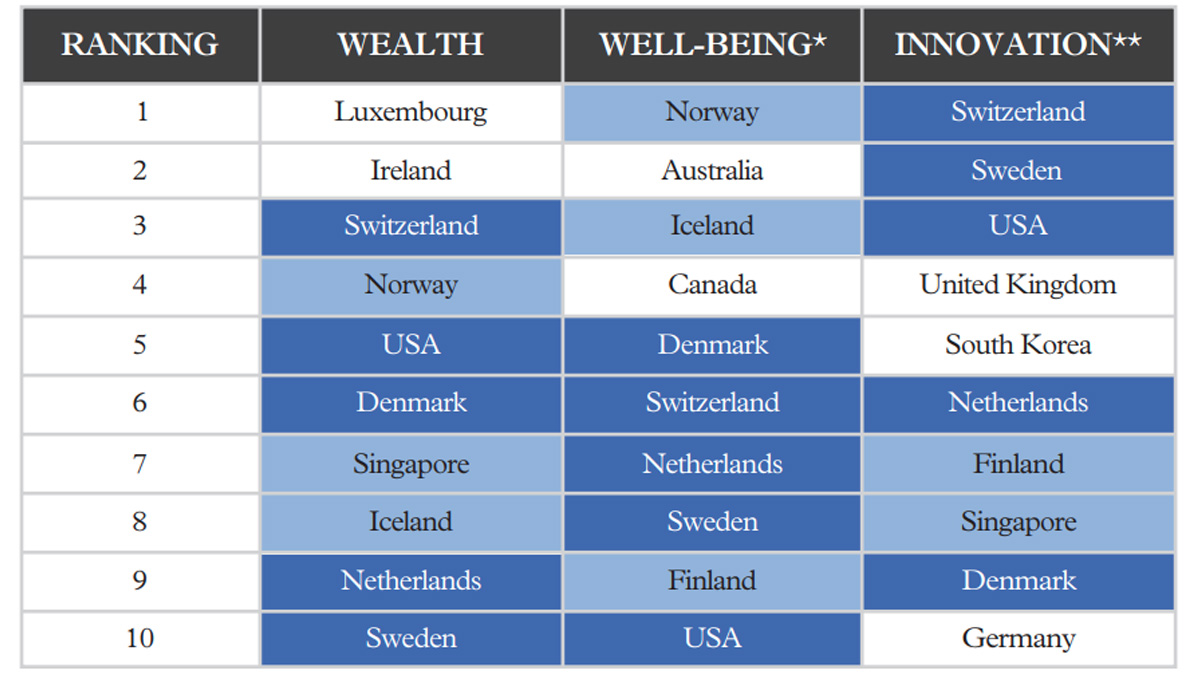 Source: International Monetary Fund - GDP per capita, 2021, OECD Better Life Index 2020, Global Innovation Index 2021
Value of Innovation
The world's most innovative countries have very clear correlations between their drive on innovation and their society's wealth and well-being.
Where is Malaysia in this regard? The recently released Global Innovation Index(GII) 2021 ranks us third after China and Thailand as the most innovative country in the upper middle-income group category. However, our ranking overall
against 132 countries dropped from the previous year. Across these 3 measures, Malaysia
Ranked between 30 and 40 in the GII, for the past 3 years
Ranked between 61 and 70 for on the Wealth Index for GDP per capita
Recorded a marginal improvement in the annual Malaysian Well-Being Index (Malaysia was not included in the OECD survey)
Clearly, the work to seed, harvest and multiply innovation must be intentional if wealth and well-being are what we seek. It is not a hit-miss, nor happenstance. Rather, it is a discipline for continuous improvement.
Einstein, Musk and Gates - and many geniuses of our time, laboured to overcome obstacles in regulation, financing, marketing and technology - to unleash new possibilities for industries like transportation, agriculture, manufacturing, energy, supply chain and logistics.
As entrepreneurs keep pushing for new advances in the face of adversity, the flow of information including sharing of protected know-hows, leads to new innovations and improvements on existing ones.
The Value of IP
In an effort to meet the tremendous challenges brought on by COVID-19 globally, in 2020, global patent filings through the World Intellectual Property Organization's (WIPO) Patent Cooperation Treaty (PCT) system reached a record 275,900 filings, growing 4% from 2019. While several countries saw an increase in patent filings, Saudi Arabia and Malaysia both saw signifi-cant increases in the number of annual applications, with the USA and China filing growths of 73% and 26%, respectively.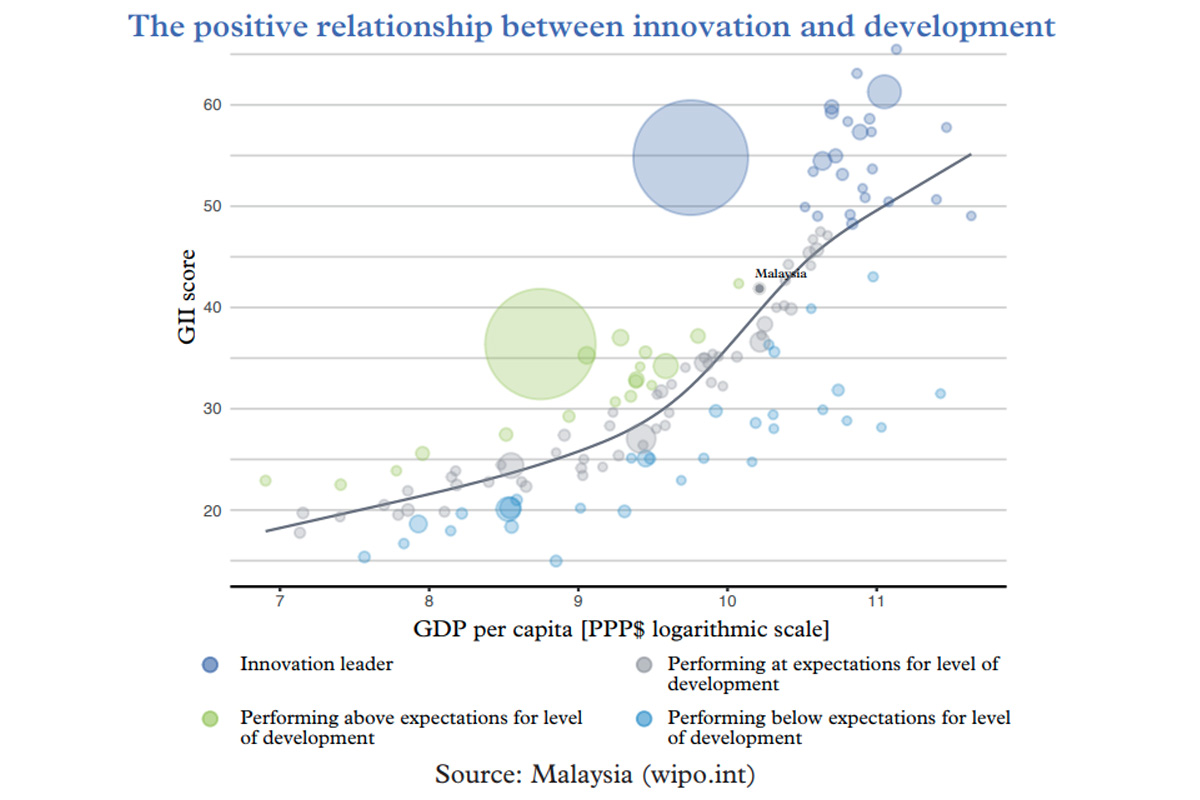 Relative to GDP, Malaysia's Innovation Performance is "at expectation" for its level of development. The bubble chart above shows the relationship between income levels (GDP per capita) and innovation performance (GII score). The trend line gives an indication of the expected innovation performance according to income level. Economies appearing above the trend line are performing better than expected and those below are performing below expectations.
The valuation and therein, protection of IPR, provide the incentives that enable innovators across many industries to undertake the often risky, difficult, expensive, and time-consuming process of creating novel innovations. It generates capital and revenue, enabling governments and companies to invest in researching, developing, manufacturing, and marketing their products.
The biopharmaceutical industry, for example, is characterised by high-risk, time-consuming, and cost intensive processes including basic research, drug discovery, pre-clinical trials, three stages of human clinical trials, regulatory review, and post-approval research and safety monitoring. On average, the drug development process can take between 11 and 15 years and only 0.05% to 0.1% of drugs make it from basic research into clinical trials. Of these, the U.S. Food and Drug Administration (FDA) approves less than 12% for use.
Fortunately, as innovation is commoditised, the economies of scale have allowed the cost of goods and services - for example solar panels, computers, software, photography equipment and others - to become more affordable. At the same time, Artificial Intelligence (AI) innovations have been showing great promise in reducing the very costly problem of waste, for example.
The opportunities are huge, and we must be ready to plug in!
Giving Ideas Roots: More Grit With R&D
With MRANTI, the premise is simple: foster innovation to increase national GDP and foreign investment, while ensuring innovations are more affordable, available and accessible towards improving the quality of life for all Malaysians.
In doing so, MRANTI will aim to turn Malaysian R&D to be more mission focussed - fast-tracking ideas to impact and in doing so, drive greater Return on Ideas (ROI). While the conventional Return on Investment conveys fiscal yields from capital outlays, Return on Ideas broadly refers to the conversion of knowledge to fiscal earnings.
Today, Malaysia's Commercialisation rate is between 5% to 10% (at best reported as 8.3% between 2005-2015 that is, during RMK 9 to RMK 10). This has likely dipped in recent years although no official tracking has been done.
Further, the National Survey of Research and Development (R&D) in Malaysia showed that between 2016 and 2020, more than 386 projects were commercialised, cumulatively valued at just over RM400 million. Compare this with China which aimed to have a commercialisation rate of 34.7% in 2020. Or with Korea, which 10 years ago, already had a commercialisation rate of 39% which was deemed unsatisfactory. In highly developed economies such as Japan and the USA, this is reportedly as high as 60%.
There is high potential for Malaysia's growth. There are also gaps to close, and this is what MRANTI will be tasked to do.