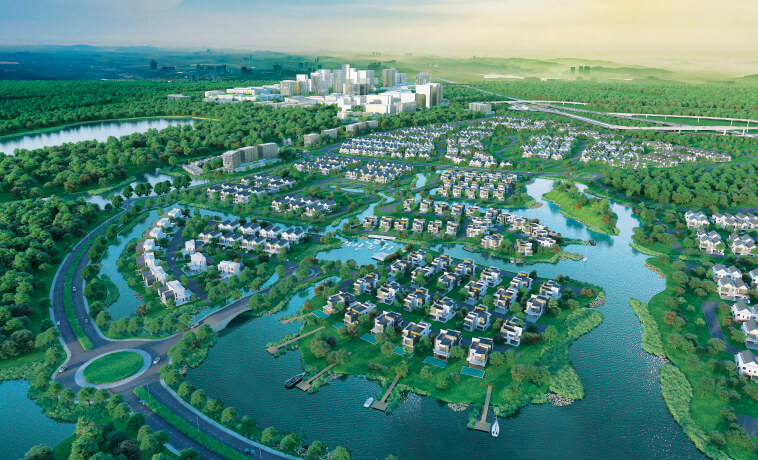 An artist's impression of Gamuda Cove.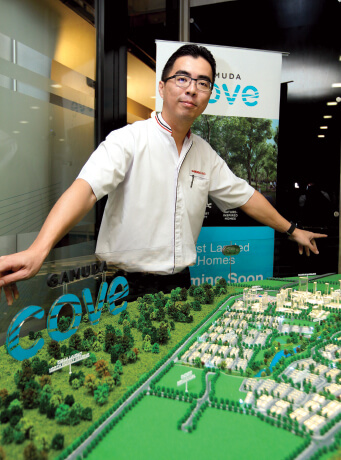 Aw at the media preview of the project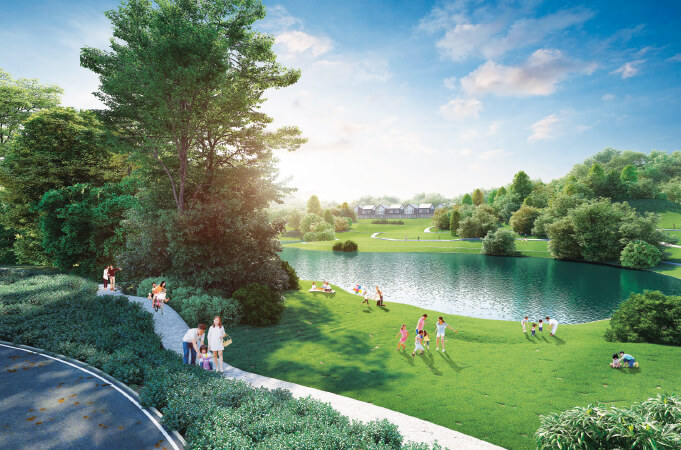 An artist's impression of the 60-acre Central Park
Gamuda Land's upcoming Gamuda Cove in the southern part of the Klang Valley is poised to become a lush, strategic development. The property arm of Gamuda Bhd, known for its pioneering townships such as Kota Kemuning, promises to deliver and maintain its exacting standards at the new township.
The sprawling, 1,500-acre Gamuda Cove is flanked by the lush Kuala Langat Forest Reserve and Paya Indah Wetlands.
"Part of our DNA at Gamuda Land is to cultivate projects that are green and filled with biodiversity while maintaining strong commercial values. With Gamuda Cove, we believe there will be plenty of opportunities," says project director Aw Sei Cheh.
The developer plans to capitalise on the shifting demands in the Klang Valley. "There is demand for properties located in the southern part of the Klang Valley where Gamuda Cove is located. We believe potential buyers and investors are shifting from the saturated northern part to the southern part of Klang Valley," he opines.
Sitting on a 1,500-acre tract, Gamuda Cove has a gross development value of RM20 billion and will be developed over the next 20 years. About 474 acres, or 31% of the land, have been set aside for the residential component, comprising terraced, semi-detached and cluster homes, as well as bungalows, lakeside residences, serviced apartments and affordable homes.
The commercial component and serviced apartments will take up 372 acres, or 25%, of the land. This area will be divided into five districts — central business district (CBD); leisure and entertainment; art, culture and tourism; knowledge and information corridor; and a wellness oasis.
The first residential launch in Gamuda Cove, targeted for November, will be Palma Sands, which will comprise double-storey terraced home and will span 47 acres. Palma Sands, with an estimated GDV of RM455 million, comprises 490 link homes, with built-ups of 1,824 to 2,620 sq ft and offering four layouts. Prices start at RM680,000. "The spaces will be nature-inspired and suitable for multi-generational families," Aw says.
"We are targeting a mix of owner-occupiers and investors for the township, mostly young couples, young families and professionals."
The response has been overwhelming, he says. "So far, we have got over 10,000 people who have registered for this project. "We are confident Gamuda Cove will perform well based on the response and the demand for developments in this location."
The nucleus of southern Klang Valley
Gamuda Cove is among major urban hubs in the southern Klang Valley including Kota Kemuning, Cyberjaya, Dengkil and Banting. "One of Gamuda Cove's unique selling points is its strategic location. We intend to complement the mature, surrouding townships in southern Klang Valley," says Aw.
"Gamuda Cove is located within the vicinity of Klang Valley. Our catchment will be from the surrounding townships, and those who work in the area."
Connectivity is an important aspect, he notes. "There will be a dedicated interchange linking the North-South Expressway Central Link (ELITE) Highway to Gamuda Cove, which is expected to be completed by mid-2019."
Gamuda Cove is accessibile via ELITE Highway, Putrajaya-Cyberjaya Expressway, South Klang Valley Expressway (SKVE), Maju Expressway (MEX), North South Expressway (PLUS), Lebuhraya Shah Alam (KESAS) and the upcoming West Coast Expressway (WCE). Future flyovers or direct linkages from Putrajaya, Cyberjaya and Dengkil will also be constructed to enhance the township's connectivity.
It is near Putrajaya, Cyberjaya, KLIA and klia2, KLIA Aeropolis, Mitsui Outlet Park, Wetlands Park Putrajaya, Sepang F1 International Circuit and IOI City Resort and Mall. Education centres close by include Xiamen University in Sepang, SJK (C) Tun Ong Yoke Lim, Lim Kok Wing University, ECL International School and Multimedia University in Cyberjaya. There will be an education zone within the township as well.
One of the key attractions of Gamuda Cove will be its 60-acre Central Park, which will feature three lakes, a 5km jogging and cycling path, exercise apparatus, children's playground, and a weaver bridge, to name a few.
"When we first acquired this piece of land, we thought of how the master plan could blend in with the existing environment. We went to the ground to understand how the ecosystem works and catalogued the flora and fauna. This is how we decided to create lakes and so on to ensure the liveability and sustainability of Gamuda Cove," says Aw.
Apart from the 60-acre Central Park, there will also be a 50-acre Discovery Park, which will offer unique experiences with three recreational zones — an adventure park, a sports park and a hangout village, Aw reveals.
"Once we start our operations in 2019, we are confident that Gamuda Cove Discovery Park will be a key destination for local and international visitors."
A bright future
Gamuda Land's list of developments include Valencia in Sungai Buloh, Madge Mansions in Kuala Lumpur and Horizon Hill in Johor. Its maiden project, Kota Kemuning, is a showcase of its pioneering efforts in developing green townships. From its lush landscaping and cul-de-sacs to accessible roads, the 1,820-acre Kota Kemuning sets a benchmark for green property developments.
"Gamuda Land is known as a town maker. We think of not just homes, but also a work place, play place, learning place, park place and shopping place. This is how we drive innovation at Gamuda Land. We are positive Gamuda Cove will do well, and will appreciate in value in the long term," says Aw.
Looking ahead, Gamuda Land plans to implement several smart facilities in Gamuda Cove. "We plan to place green transport, such as trams, within the CBD, as well as smart traffic and parking systems, and the latest digital infrastructure such as 5G connection. Apart from that, we will offer shuttle bus services to places such as KLIA, klia2 and Putrajaya Sentral Station," says Aw. "We will also implement industrialised building system (IBS) in constructing Gamuda Cove," he adds.
Gamuda Land launched its first Gamuda Cove Experience Gallery in USJ Taipan, UEP Subang Jaya, on Sept 23. "Currently, we have opened up 150 units of Palma Sands for registration, and all of them are taken up," reveals Aw.
"We plan to unveil more units of the first phase in the next two months. In the meantime, interested buyers are welcome to drop by our gallery and check them out."