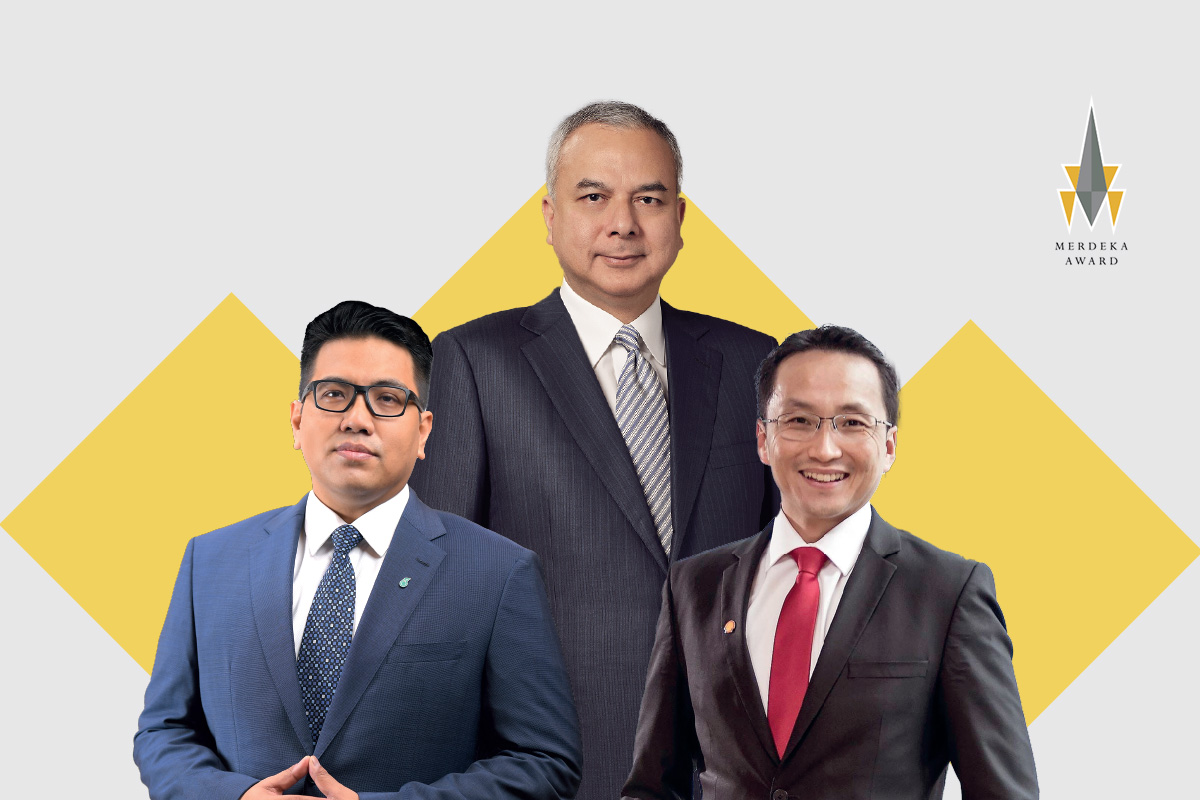 Spurred by mission to 'Foster a Culture of Excellence'
In his Merdeka Speech, Tunku Abdul Rahman, Malaysia's first Prime Minister said, "Independence is indeed milestone, but it is only the threshold to higher endeavour… I call upon you to dedicate yourselves to… work and strive with hand and brain to create a new nation, inspired by the ideals of justice and liberty…".
When the Merdeka Award Trust (MAT) was established by PETRONAS, ExxonMobil and Shell on 27 August 2007 to inspire greatness among Malaysians, it happily also captured the spirit of Tunku's vision.
Designed expressly to foster a culture of excellence among individuals and organisations, the MAT recognises and rewards those whose "hands and brains" have proven exceptional in their endeavours to build community and country through innovation and service.
Royal Patron and Chairman of the MAT, His Royal Highness Sultan Nazrin Muizzuddin Shah Ibni Almarhum Sultan Azlan Muhibbuddin Shah Al-Maghfur-Lah, Sultan of Perak Darul Ridzuan says, "The Award is so named to capture and commemorate the "Spirit of Merdeka", that has long been demonstrated through the works of our forefathers. It reflects the true meaning of independence, the realisation of human potential and the continuous pursuit of excellence."
His Royal Highness Sultan Nazrin further explained: "The Merdeka Award embodies the admirable qualities of leaders to bring about change and make a difference in this world with their work - for the people of Malaysia."
The Trust serves to inspire present and future generations, celebrating the advances that Malaysians have made and the ways in which their endeavours continue to better civil society. It promotes thought leadership and innovation, and has helped to enhance Malaysia's standing as a dynamic, competitive 21st century global player in all key sectors from science and technology to culture and the arts.
In the long term, His Royal Highness Sultan Nazrin hopes the Trust will nurture industry-ready talent, leaders in innovation, international research and development collaborations, and highly flourishing industries, all of which will improve our society.
Datuk Tengku Muhammad Taufik, President and Group CEO of PETRONAS and member of the Merdeka Award Board of Trustees said that the Award at its core recognises the best of Malaysian minds and talents for their efforts to make tangible and positive changes.
He said: "Knowledge as a subject matter or as a font of intelligence can only be meaningful when it makes an impact to society. The Merdeka Award honours these efforts and endeavours in the hope of inspiring people of the good that can be done by each of us towards a brighter and better future."
The Merdeka Award Laureates are known for their enduring community contributions, with the work of some having led to the eradication of diseases and of others to the preservation of the environment. Grantees are given short placements in international institutions as a way of broadening their exposure and ushering in new approaches, as is necessary to tackle issues of concern affecting society and the planet.
In the Trust's 15-year history, 57 Merdeka Awards have been conferred, and 24 grants awarded.
Looking ahead, Datuk Tengku Taufik said the challenges and new norms brought on by COVID-19 should inspire greater pursuits and determination to succeed even in the face of the most daunting challenges and under the most difficult circumstances.
Ivan Tan, Shell Malaysia Country Chairman and Senior Vice President Malaysia Upstream and member of the Merdeka Award Board of Trustees says that the culture of excellence shouldn't just stop with Laureate and Grant recipients but should inspire all Malaysians toward such a mind-set.
Tan said, "The Merdeka Award is a well-conceived and much-needed platform to recognise the achievements of towering Malaysians and inspire other Malaysians to greatness. It celebrates our drive to make a positive change and impact to society. As Founders, it is our way of contributing towards nation building and giving back to our country."
Datuk Tengku Taufik said that the Merdeka Award empowers Malaysians to reach their full potential by thinking differently and building better solutions for the community.
"It is our sincere hope that the spirit of the Merdeka Award continues to raise the bar in inspiring greater heights of excellence," he said.
The Merdeka Award Trust offers two signature programmes, namely the Merdeka Award and the Merdeka Award Grant for International Attachment.
The Merdeka Award is considered to be one of Malaysia's most prestigious awards, and honours outstanding work and achievements in the areas of Education and Community; Environment; Health, Science and Technology; Outstanding Scholastic Achievement; and Outstanding Contribution to the People of Malaysia. Past recipients of the Award include Majlis Kanser Nasional (MAKNA), which has been providing financial, emotional and social support to nearly 60,000 cancer patients for over 26 years; Royal Professor Ungku Abdul Aziz Bin Ungku Abdul Hamid (Allahyarham) - for his major contributions in the fields of Education and Community; Professor Dr. Ng Kwan Hoong for his work on breast cancer imaging which contributed significantly to the early detection and management of the disease globally; eminent historian, the late Professor Emeritus Tan Sri Datuk Dr Khoo Kay Kim; Tan Sri Dr Jemilah Mahmood - who established humanitarian organisation MERCY Malaysia; and Suzanne Mooney - founder of The Lost Food Project, Malaysia's first sustainable food bank.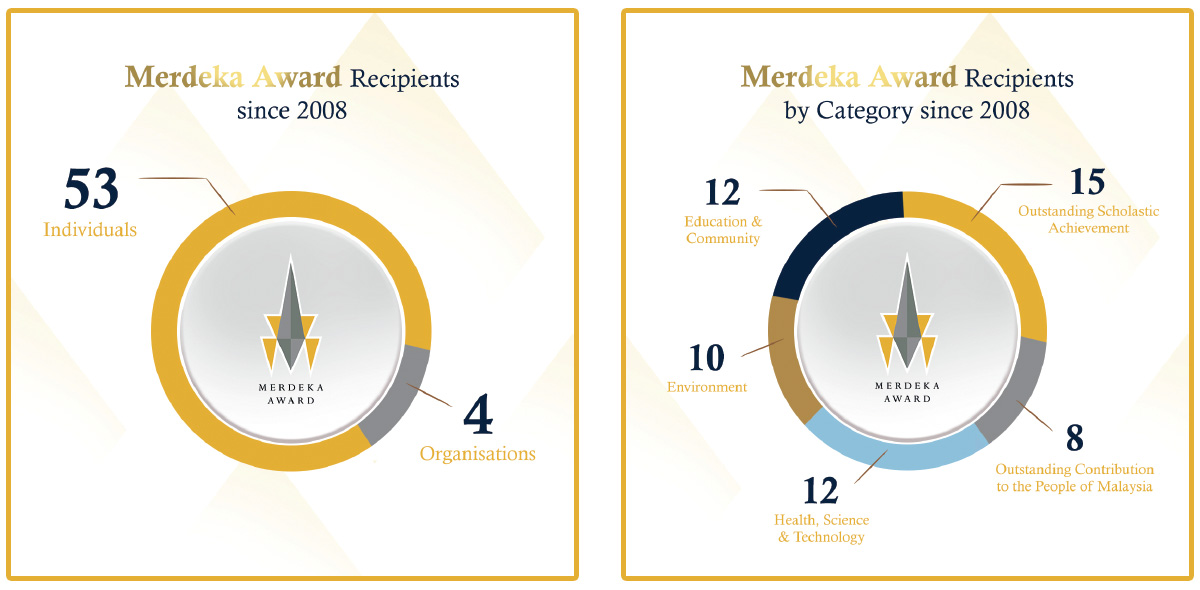 The Merdeka Award Grant for International Attachment nurtures promising young Malaysians in their journey of excellence by placing grant recipients in reputable institutions of international standing to equip them with the skills necessary to improve their body of work and achievements.