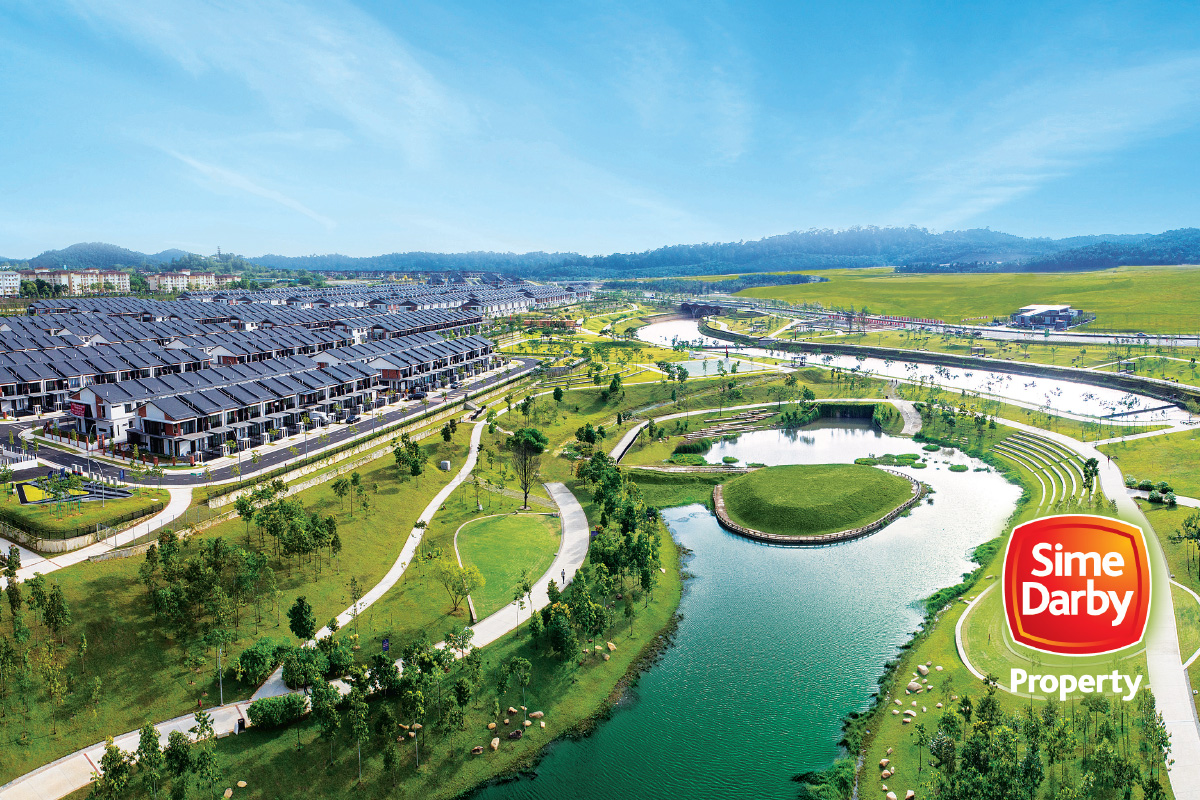 Sime Darby Property is a master and lifestyle developer with over four decades of experience in developing sustainable communities, and a wide reach that encompasses assets and operations not just in Malaysia, but across the globe. Developer of 24 active townships, the Group has a massive sandbox to study and develop the best practices in relation to sustainable development and is continuously improving its methods and operations in the field.
The Group understands the positive impact of sustainable development, since Sime Darby Property itself is a product of sustainable efforts. The Group's history dates to almost 200 years ago, through Guthrie Group Ltd - first British trading company in Southeast Asia - with a solid background in multiple industries including tea, rubber and oil palm plantations, timber and more. It was the forward-thinking ways of the founders who acknowledged the importance of creating a sustainable organisation that eventually led to the formation of Sime Darby Property Berhad, a multi-award winning listed property developer in Malaysia.
SEALS OF DISTINCTION ACCREDITING OUR SUSTAINABILITY
Sime Darby Property Berhad continues to achieve sustainability recognition from the international ESG investment community. For the second year in a row (2018-2019), the Group was included as a constituent within the Dow Jones Sustainability index, an Environmental, Social and Governance index that only includes the top 10% best listed sustainability performers globally.
The Group has also been included as a constituent for a third consecutive year (2018-2020) in the FTSE4Good BURSA, FTSE4Good ASEAN 5 and FTSE4Good Emerging sustainability indexes administered by FTSE Russell; and in the MSCI Small Cap Index. Additionally, in 2019, the Group became the only local property developer rated by the Carbon Disclosure Project (CDP), an international carbon and environmental performance rating non-government organisation. 
These recognitions have spurred the Group further in its sustainability journey, to set new benchmarks with notable sustainable initiatives in its townships, and to be recognised as a beacon for the property development industry.
FROM AN IDEAL TO DELIVERING REAL IMPACT
Sime Darby Property's ultimate objective is to create sustainable communities and to generate value for its multiple stakeholders. All its efforts are channelled towards creating positive impact across its three sustainability spheres that are holistically focused on People, Planet and Prosperity.
The Group's approach to sustainability is steered by its Corporate Sustainability Model which motivates its actions towards contributing to a better society, optimising environmental performance and delivering sustainable development.
Aligning the Sime Darby Property 2030 Sustainability Goals with the United Nation's Sustainable Development Goals 2030, the Group is committed to producing sustainable developments through key initiatives that include the SDG3 Good Health and Well-being – 68km of 190km of cycling and jogging circuits competed in a mix of townships including City of Elmina, Bandar Bukit Raja and Serenia City in Selangor; SDG15 Life on Land – more than 98,000 trees planted within its townships since September 2011 including 20,166 International Union for Conservation of Nature (IUCN) red listed trees; and more.
"Sustainability is not just about our growth but more importantly the well-being of our people, communities and the planet. It is also about the economic, environmental and social impacts of our business and operations. We are also aware of how we deploy natural and social capital to achieve prosperity in a responsible manner," says Dato' Azmir Merican, Sime Darby Property Group Managing Director.
Azmir iterates that the Group remains cognisant of the bigger role it plays in raising awareness and building resilient and prosperous communities in all its townships.
Guided by its vision to be a Leader in Building Sustainable Communities, creating townships that inspire, connects and last for generations to come, Sime Darby Property is committed to enhancing the lives of its communities through sustainable developments while positively impacting the environment.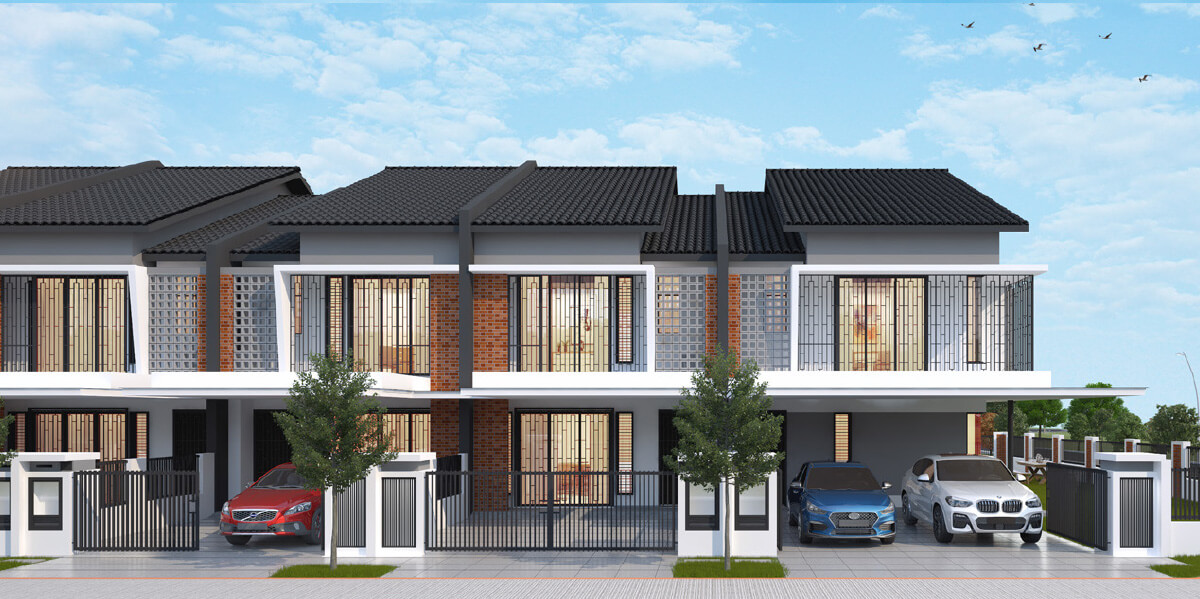 Elmina Green Three, a multi-generational home
"We are maturing in our sustainability approach. As we grow and broaden our views to a more holistic approach to sustainability, we can focus our efforts on areas that matter most to our stakeholders.
"We take pride in knowing that our investments in sustainability will continue to enhance the quality of life for our communities not just today but also well into the future," adds Azmir.
THE GREEN DREAM LIVES ON IN THE CITY OF ELMINA
A pride and joy of Sime Darby Property is the City of Elmina, a 6,500-acre freehold master-planned township which comprises Denai Alam, Bukit Subang, Elmina East, Elmina West and Elmina Business Park. It has 1,118 acres of parkland, complemented by the sprawling Subang Forest Reserve nearby.
The award-winning township is a highly sought-after address within the Greater Klang Valley and is part of the new growth area along the Guthrie Corridor Expressway, easily accessible via an extensive network of expressways.
It is home to a 300-acre Central Park and wellness community complex, 90km cycling and jogging track as well as a commercial hub at Elmina East and West, creating a self-sustaining city with excellent
investment growth potential. Significantly, the City of Elmina is a place where people and nature can thrive in harmony for generations to come.
Taking cue from its plantation roots where close-knit communities lived symbiotically with nature, the township is designed according to the internationally recognised Mercer's Quality of Living Survey that measures liveability.
"We view life differently at the City of Elmina. While planning and developing the township, we shifted our focus from the traditional brick and mortar houses and looked at the idea of a home from a different perspective,"says Azmir.
The City of Elmina embraces the existing forest and waterways as well as places great emphasis on conserving native flora and fauna. To protect nature's gifts to the township, Sime Darby Property has teamed up with various non-governmental organisations with expertise on a number of sustainability initiatives.
SPEARHEADING ONE OF ITS KIND PROJECTS TO DRIVE PRESERVATION, INCLUSION & PRODUCT INNOVATION
One such project is the Elmina Rainforest Knowledge Centre (ERKC) and Endangered, Rare and Threatened (ERT) Native Tree Nursery in collaboration with Tropical Rainforest Conservation and Research Centre (TRCRC). The ERKC which is connected to the 2,700-acre Subang Forest Reserve will be a centre of environmental education and conservation, research and development, promotion of eco-tourism and other green activities. The ERT Nursery will concentrate on nurturing up to 100,000 threatened species under the International Union for Conservation of Nature (IUCN) Red List. This initiative is also in support of the SDG17 Partnership for the Goals.
Supporting the SDG10 Reducing Inequalities, Sime Darby Property has collaborated with UNICEF Malaysia to set up the country's first Inclusive Playground at the township's Central Park. This innovative playground promotes equal play for all children and creates opportunities for inter-generational interaction within families. A Best Practices Circular and Guidance Toolkit will be produced to encourage other property developers and corporations to emulate sustainable development practices.
Sime Darby Property also engaged Shah Alam City Council (MBSA) and communities in Elmina and Bukit Subang to set up edible community gardens for residents to plant and grow their own produce. This has enabled communities not just to forge strong bonds with one another but also to generate income from selling their own produce. In 2019, the Bukit Subang B40 Melati Community Chilli Farm produced threetonnes of chilli, generating an RM20,000 income in just three months.
In the designing and development of homes, the City of Elmina is synonymous with multi-generational residences that cater to all types of families with various needs – from the young couples to a growing and multi-generational family. Sime Darby Property has collaborated with TNBX Sdn Bhd, a subsidiary of Tenaga Nasional Berhad, to install PhotoVoltaic (PV) solar panels to Ilham Residence homes, where residents will be able to sell excess energy to TNB under the Net Energy Metering (NEM) scheme and manage energy smarter through smart meter and home energy management systems.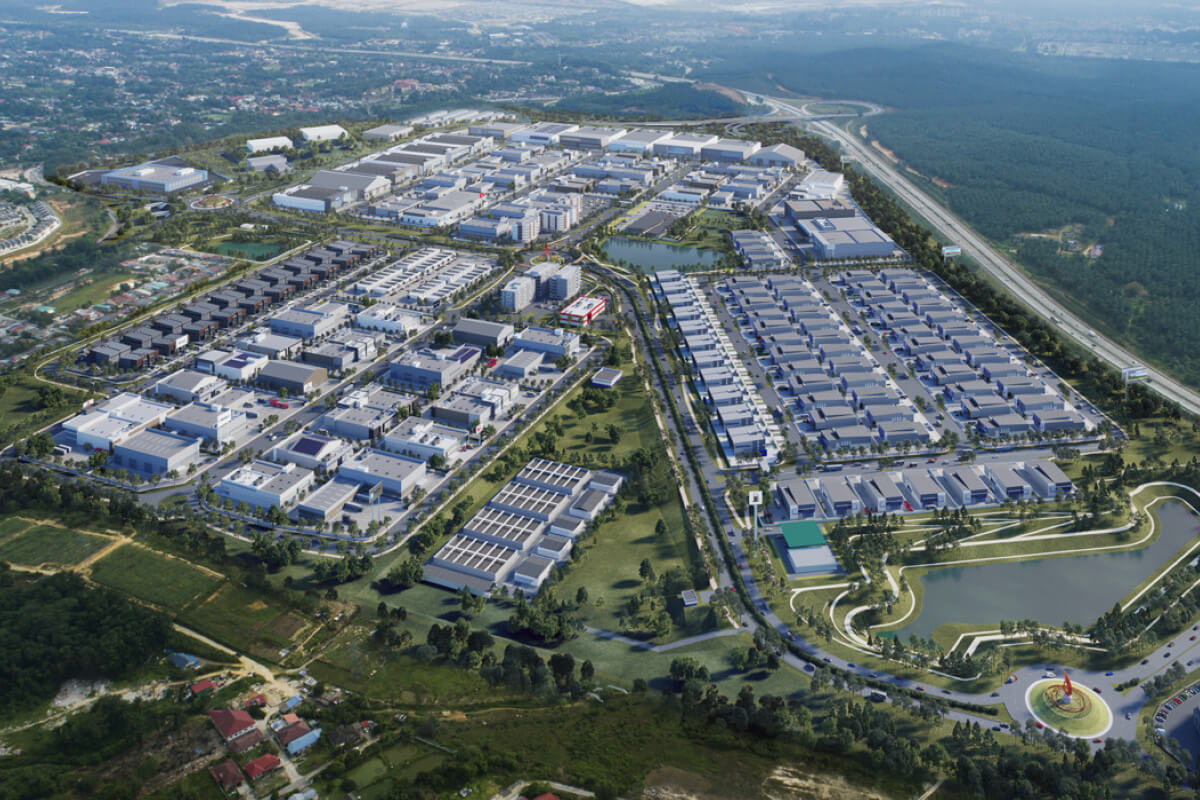 Elmina Business Park is a 1,500-acre freehold master-planned industrial estate that is both business-centric and people-oriented
This is the first collaboration of its kind in the country. It is estimated that a total of 1MW of green energy will be generated based on the solar panels to be installed on all 513 upcoming Ilham Residence units, saving homeowners approximately up to 50% for electricity bills above RM200.
UNIQUELY BUSINESS-CENTRIC AND PEOPLE-ORIENTED
Following a similar approach is the Elmina Business Park which was also designed with wellness in mind. What sets this state-oftheart business park apart from its competitors is not just its young and vibrant surroundings but the unique factor that it is both business-centric and people-oriented.
At Elmina Business Park, the well-being of people takes centre stage. The industrial estate's master plan which includes rich greenery, lakes, recreational and renewable energy facilities make for a balanced eco-friendly environment that allows business owners and employees to recharge with nature, and in turn enhance business efficiency and boost productivity.
Azmir believes that Elmina Business Park is the epitome of Sime Darby Property's vision of a full fledged industrial park with a comprehensive industrial system.
"With the business park within the township, we are able to create a symbiotic relationship between residential and industrial precincts, offering a place to live for those working here and creating job opportunities for the growing population in and around our township."
"Sime Darby Property is focused on developing townships with rich eco-systems that enable its industrial location to be introduced as part of a community integrated development to support the needs of industrial sectors," Azmir shares.
He adds that a business presence in the City of Elmina will allow business owners to reach the vast talent pool and thriving ecosystem in Selangor, the country's most industrialised and developed state with educated and highly skilled population.
Elmina Business Park is a 1,500-acre freehold master-planned industrial estate. It is a game changing business hub with essential tools for businesses such as high-speed internet broadband and 24-hour security monitoring within the managed industrial park. It also has administrative and staff facilities such as a Business Support Centre, spacious co-working spaces, with a proposed 88-acre linear park. Recreational amenities such as a futsal centre, jogging and cycling tracks and an outdoor amphitheatre have also been proposed.
The industrial estate is designed to accommodate various businesses from Multi-National Corporations (MNC) to Small and Medium Enterprises (SME). Business owners can choose from industrial land to ready-built factories and custom built-tolease options.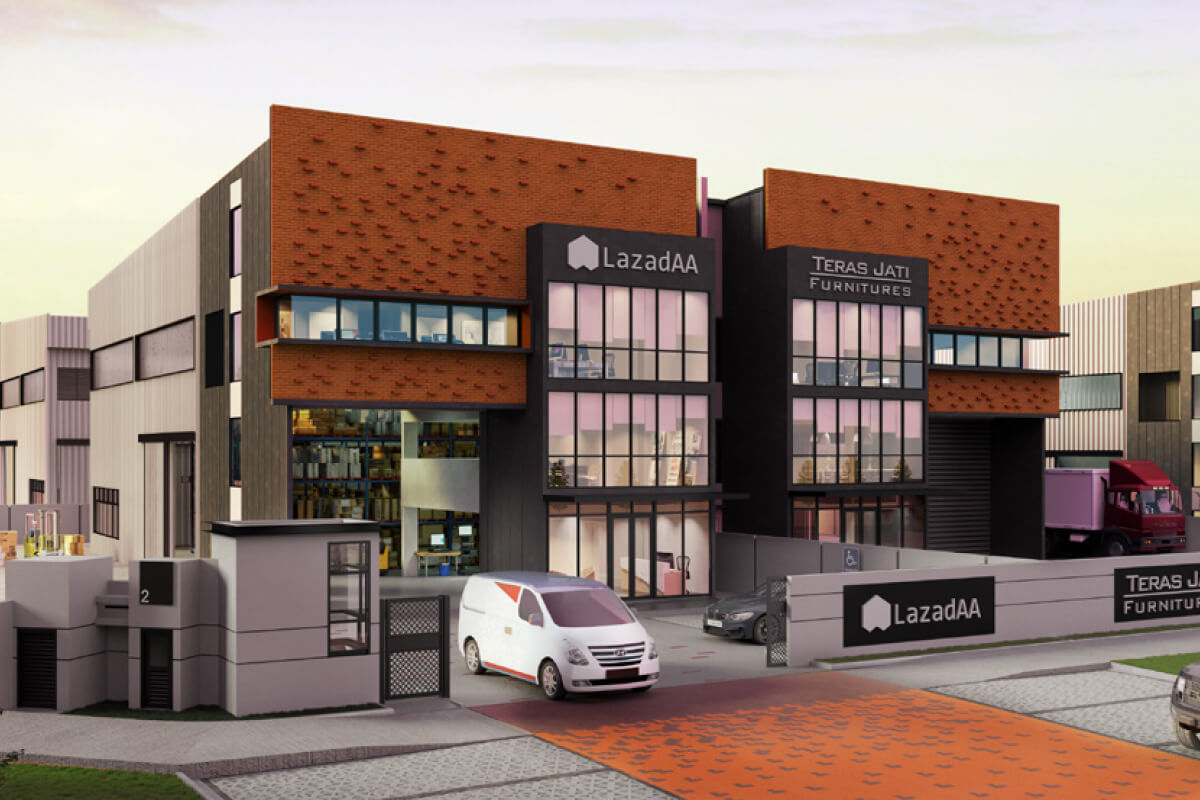 Twin Factories, the first phase of ready-built factories in Elmina Business Park
Earlier in September, Elmina Business Park's first phase of ready-built factories, Twin Factories, received an impressive 70% take-up rate during its weekend launch, where 28 out of 40 units, with a total Gross Development Value (GDV) of RM90.15 million, were booked.
The Elmina Business Park, strategically located in the golden state of Malaysia, is connected to major land, sea and air routes.
PUTTING WELLNESS AT THE HEART OF THE TOWNSHIP
City of Elmina is a township that fully embodies Sime Darby Property's sustainability goals and is a benchmark for many of the Group's current and future endeavours.
Fun and exciting things are always happening at the City of Elmina. Last year, it played host to the Guthrie Corridor Expressway Duathlon which attracted cycling enthusiasts from all over the country, utilised its vast Central Park to organise concerts for communities living within and around the township, and drew a lot of excitement with the fun and quirky 'Around the World in Elmina' event.
It is no surprise why homebuyers are excited to gain ownership of the freehold properties within the township. The recent launch of Elmina Green Three created a buzz when it garnered over 85% take-up rate within just 15 minutes while the first strata development, Ilham Residence drew an impressive 75% take-up upon its launch.
City of Elmina is setting a new standard in Malaysia as the largest township dedicated to wellness and liveability, offering the community an idyllic environment where they can live a well-balanced lifestyle while being close to nature and flourishing symbiotically together. This is what sustainable development is all about, and one that Sime Darby Property is proud to call its own.