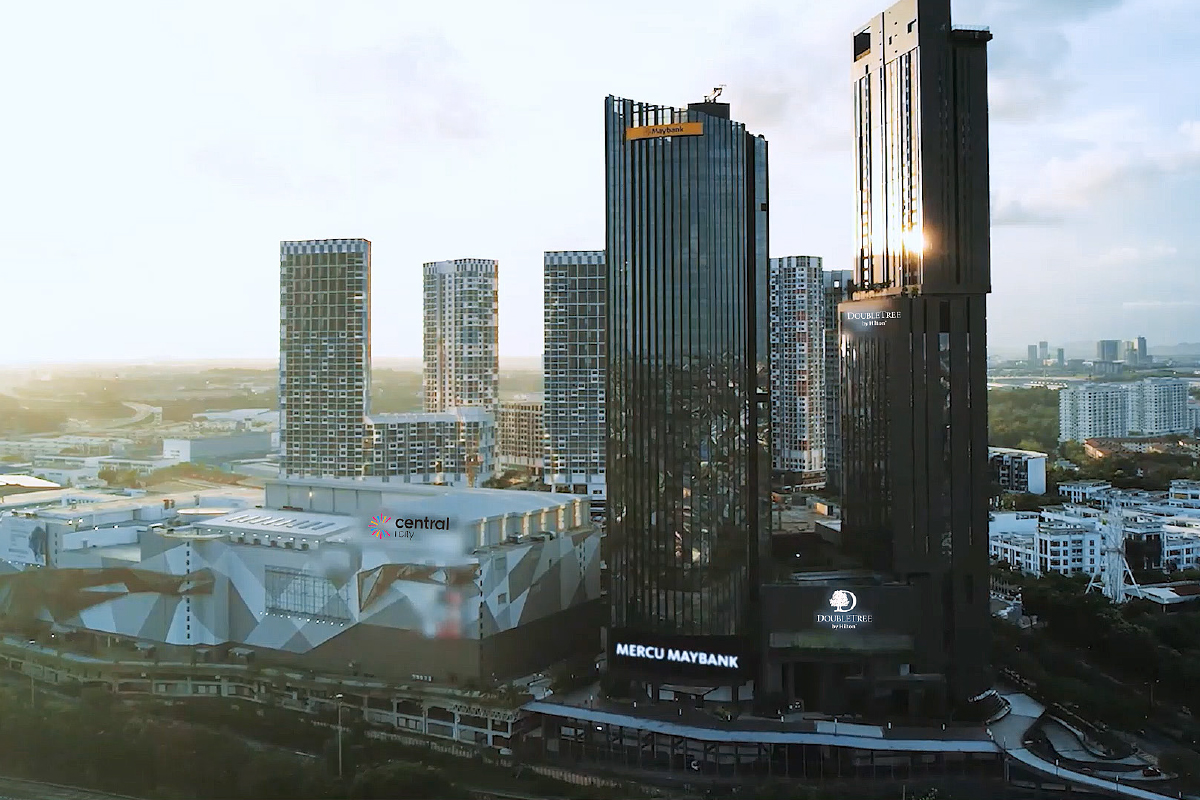 Finance Avenue in i-City is the address for Mercu Maybank, DoubleTree by Hilton hotel, BeCentral Residences, an international convention centre, premium offices and retail suites
Located in the heart of the Selangor Golden Triangle in Shah Alam, i-City is Malaysia's No 1 technology city and a next-generation artificial intelligence (AI) smart city. The integrated ultrapolis developed by I-Berhad boasts lifestyle components such as a 1.5 million sq ft Central i-City shopping mall, a leisure theme park, serviced residences and international hotels, as well as smart corporate towers, cyber office suites, convention centres, data centres and a financial hub.
I-Berhad has partnered with Huawei Enterprise Malaysia to boost its credentials as a smart city and a next-level information and communications technology-based urban development. The process involves AI enhancements that bring together smart home, smart city and property technologies to create better value and smart community conveniences for people who visit, as well as live and work in i-City.
With the partnership focusing on the use of innovative technology infrastructure, it highlights that the bandwidth for employees and customers operating digitally should be expanded. The pace of digital transformation needs to be accelerated to accommodate the increasing use of data and analytics, digital twins, direct digital engagement, machine learning and robotic automation.
Huawei managing director David Li notes that the digital transformation of a business has become a necessity, especially with the adoption of 5G technology. In fact, creating a technology infrastructure that supports a company's business strategy, innovation, scalability and digital capabilities would require millions of ringgit. This is where capital expenditure will be used for communication networks, data centres, data security and end-user technology services.
"Business leaders are walking a tightrope between managing costs and investing in the future. Budgets have been re-evaluated and re-prioritised, and given that most operations can be conducted online with digital transformation, business leaders will be required to move funds that were initially budgeted for prime city centre commercial real estate locations to digital transformation," says Li.
He adds that the need for AI infrastructure and cloud computing is growing and will continue to do so. Thus, property developers should consider providing virtual storage for this growing space in the cloud when building commercial real estate. This is where developments such as i-City come in.
Elevating Shah Alam
According to Henry Butcher Malaysia Sdn Bhd chief operating officer Tang Chee Meng, i-City was planned right from the start as a technology-centric and IT-driven development.
Officially recognised as a Multimedia Super Corridor (MSC) Cybercentre, i-City is served by a 400G-capable network connectivity, dual source power supply, Tier-3 data centre, AI facial recognition capability and a SuperApp mobile community, among others.
Savills Malaysia Sdn Bhd managing director Datuk Paul Khong says the 72-acre i-City is one of six key areas positioned as catalysts for development and economic growth, based on the Shah Alam City Council's (MBSA) Draft Local Plan 2035.
Khong believes that i-City will get the government's full suport for it to become a global innovation centre or Silicon Valley and the key success factors would likely be public-private partnerships and capital investments from global tech firms. "If this transformation materialises, the capital investment inflow such as financial, entrepreneurial, talent and expertise and technological know-how will elevate Shah Alam's status to an internationally recognised global tech and financial hub," he says.
i-City will continue to draw the crowds, including new residents, owner-occupiers and office workers, when all these are completed, says Khong. "The mega project is anticipated to create positive economic multipliers and spillovers due to the sizeable integrated freehold development that has an estimated gross development value (GDV) of RM10 billion."
Considering that i-City has launched its residential developments at benchmark prices that are higher than those in the surrounding areas, Tang reckons that this will have a positive impact on the prices of the residential projects in the vicinity. "The development will change the landscape and image of Shah Alam because the concept and development components of i-City breaks away from the traditional staid image of Shah Alam as the capital city and administrative centre of Selangor."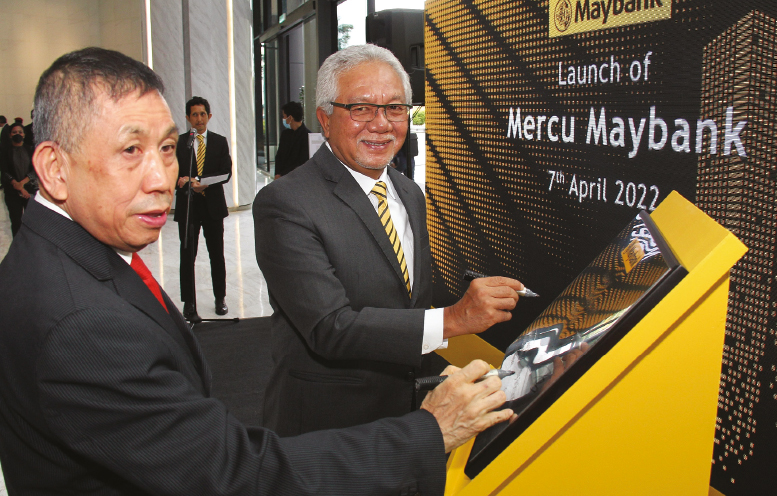 I-Berhad chairman Tan Sri Lim Kim Hong (left) and Maybank chairman Tan Sri Zamzamzairani Mohd Isa at the official launch of Mercu Maybank
New opportunities for business growth
Malayan Banking Bhd (Maybank) is relocating a part of its operations from its headquarters in Kuala Lumpur to the 33-storey Mercu Maybank at Finance Avenue in i-City. Mercu Maybank is i-City's first Grade A, Green Building Index-rated (GBI) smart corporate tower, which will be home to Fortune 500 companies, financial institutions, multinational corporations and international logistics players.
Maybank's presence at Finance Avenue in i-City will act as a catalyst for fintech firms and Chinese enterprises to set up shop there, according to Bank of China (Malaysia) CEO Zhang Min, who is also president of the China Enterprises Chamber of Commerce in Malaysia (CECCM). "I believe Maybank's relocation of a component of its operation to Finance Avenue in i-City will attract Chinese enterprises," he says.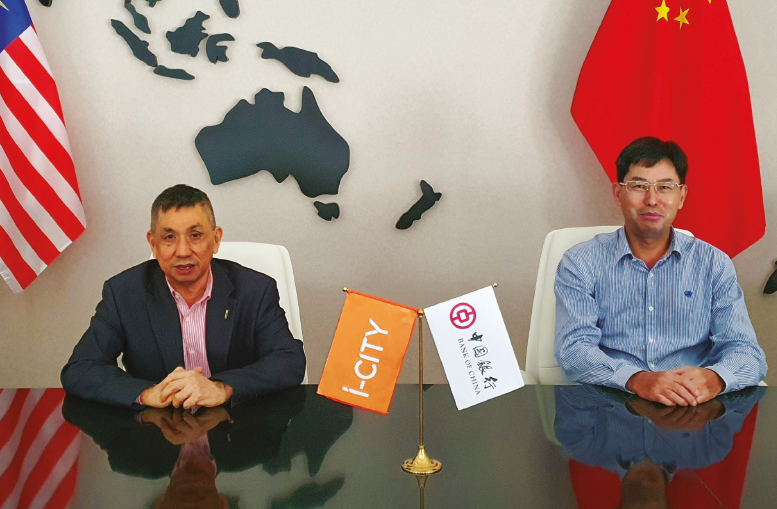 Maybank's presence at Finance Avenue in i-City will attract Chinese enterprises, according to Bank of China (Malaysia) Bhd CEO Zhang Min (right)
This is expected to increase footfall at the adjacent Central i-City, especially during lunchtime and after office hours, thus increasing the mall's vibrancy. There have been enquiries from support and supplementary services such as healthcare providers, fitness centres and spas looking to occupy the commercial hubs that are connected to the shopping mall via a link bridge. i-City has seen a significant surge in rental enquiries for commercial and residential space.
Mercu Maybank is equipped with modern technology and infrastructure that have added a new dimension to i-City. "The influx of 1,500 workers will likely lead to an increase in demand for housing in i-City and the surrounding areas, as some of these workers may find it more convenient to relocate closer to their working place," says Tang.
With the banking group taking up about 160,000 sq ft of space, it is a strong vote of confidence in i-City's favour and will certainly bring in the crowd. Khong notes that the obvious spillover effects from Mercu Maybank will be a higher demand for support and synergy from the existing small offices/home offices (SoHos) and residences that are located near the development.
Prudential is one of the tenants that is making Mercu Maybank a base for more than 1,000 employees from the Klang Valley. ThinkHub, a co-working space in the office tower, is also fully tenanted by multinational e-commerce companies.
Moving out of the city centre
According to Tang, the relocation of companies to outside the city centre is a natural phenomenon that is happening around the world. As cities expand and land in the city centre becomes scarce and costly, office rents and operating costs rise, forcing companies to rethink and rationalise their operations.
Traffic congestion in the city centre, as well as the expensive and limited parking space, poses problems to companies. "Some companies will adopt a hub-and-spoke model/approach where, for some reason or another, the head office needs to be located in the city centre, will downsize and move departments that are not required in the city centre. This means its back office, telemarketing operations, and filing and storage facilities can be relocated to cheaper premises outside the city centre," says Tang.
Khong says occupational costs and connectivity are the main factors for such relocation exercises. Rents are relatively lower in decentralised locations and many tenants are comfortable with the new areas, especially those with a good transport network and are considered smart cities.
"From the perspective of urban economics and urban resource planning, the process of decentralisation coincides with the maturing of satellite cities that were once established to support the growing population from the central business district. This is where the satellite cities are now fast evolving into emerging cities and suburban nodes characterised by regional retail malls and high-grade office towers," he says.
i-City is connected by a network of highways such as the New Klang Valley Expressway, West Coast Expressway and Federal Highway, linking it to seaports, airports and the
Kuala Lumpur city centre, which is a 30-minute drive away. It is also near the upcoming i-City LRT3 station, which will be connected to the buildings in i-City via covered walkways provided by I-Berhad, thus improving walkability in the city. Mobility in the city will be further enhanced with the autonomous bus shuttles that will be launched when the LRT station opens in 2024.
Launched in 2004, i-City currently consists of 4,000 units of residential properties and 670,000 sq ft of commercial areas, which are 85% and 70% occupied respectively. Central i-City mall — the opening of which was officiated by the Sultan of Selangor, Sultan Sharafuddin Idris Shah — was 85% occupied in the first year of operation. The i-City theme park, which attracts an average crowd of 90,000 per week, has been recognised by CNN Travel as the 21st brightest and most colourful place in the world. Upon completion, i-City is anticipated to have 25,000 residents and 30,000 knowledge-based workers.
Find out more : https://www.i-city.my/#golden-triangle