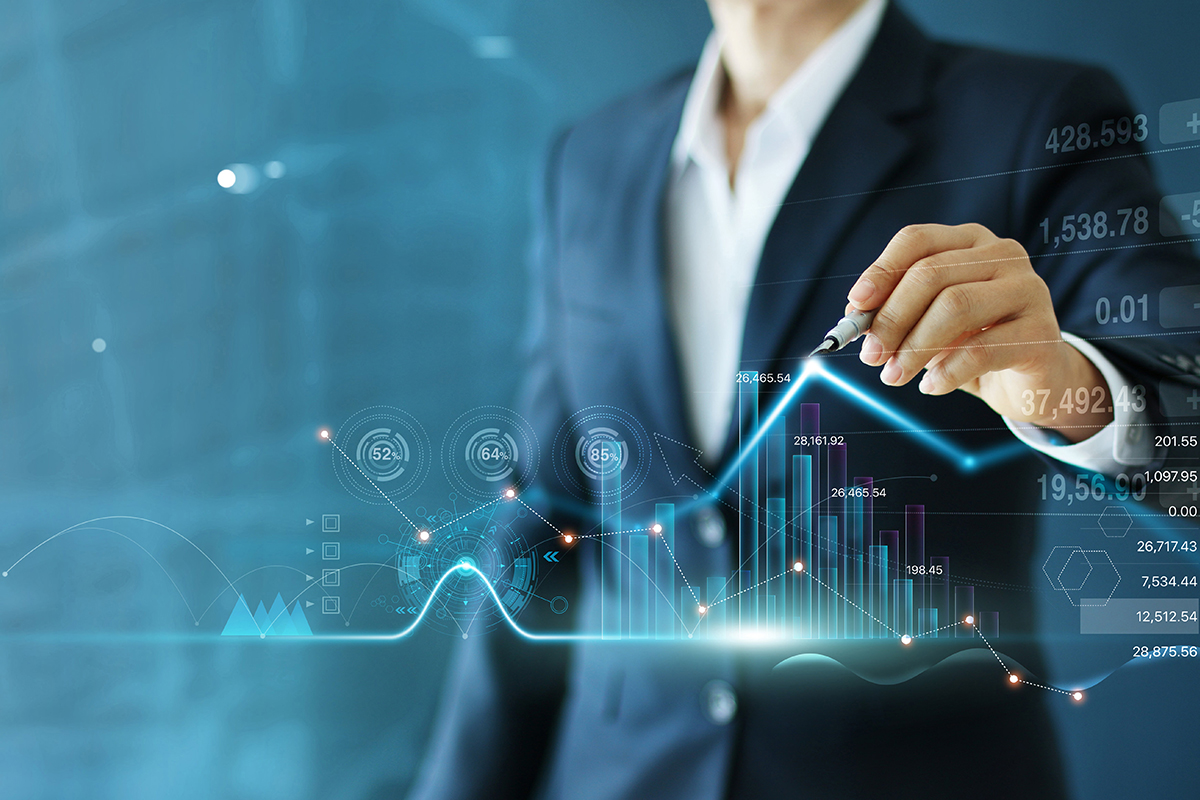 Twenty-twenty was an unprecedented year. The Covid-19 pandemic, a black swan event that surprised many, sent shock waves through financial markets globally. Investors had suffered heavy losses and were fearful of a repeat of a major economic crisis that occurred more than a decade ago.
However, 2021 is starting to look hopeful as we head towards a global economic recovery. Investment sentiment has been improving each day on the back of the rollout of vaccination programmes and accommodative monetary policies implemented by central banks.
Against this backdrop, Principal Asset Management Berhad (Principal) believes investors should seize the opportunity to start bargain hunting in the markets for potentially higher long-term returns. Asian equities are a bright spot that investors can explore.
Why Asian equities? 
There are three key reasons Asian equities are attractive compared with those in other regions: 
 Asian economies are expected to enjoy higher growth moving forward; 
 A higher economic growth and more robust corporate earnings would attract foreign inflows; and  
 Valuations of Asian equities are lower and more reasonable than in other parts of the world.
Principal is convinced that investing in Asian equities is a good play, especially in China and the North Asian equity markets. The firm's portfolios are positioned to benefit from the region's cyclical economic recovery and its long-term structural growth drivers. Sectors that the firm likes include e-commerce, the Internet of Things, cloud computing and electric vehicles. 
On the local front, Principal believes that Malaysia's economic recovery and growth hinges on our fight against the pandemic. If the vaccination programme is successfully rolled out, the economy will normalise, and corporate earnings will occur.
Principal remains constructive on the Malaysian market and is looking ahead towards its economic recovery. The firm focuses on the recovery play and favours sectors such as consumer and retail, technology, commodity and telecommunications.
Let's not forget that investing is not without risks. While the increase in bond yields implies that the world is looking towards economic recovery and higher growth, it has caused several bouts of volatility in the markets. Principal believes volatility will continue in both the equity and fixed income space, but it should be short lived.Rising bond yields, after all, mean markets are pricing in a better economic recovery. Companies are expected to enjoy strong earnings against such a backdrop. And investors should stay invested in the markets instead of shying away.
Recommended funds 
Investors who have a higher risk tolerance and are looking to ride the Asian and local market recovery can explore various funds under the Principal brand name. 
The Principal Greater China Equity Fund is a good vehicle for investors to tap into the enormous growth of the China, Hong Kong and Taiwan economies.
As at February, the fund had generated a cumulative return of 232.95% since its inception in June 2007. Its top three holdings are Taiwan Semiconductor Manufacturing Co Ltd (TSMC), Alibaba Group Holding Ltd and Tencent Holdings Ltd.
There is also the Principal Asia Pacific Dynamic Income Fund, which invests in Asia-Pacific ex-Japan equities. The fund aims to provide investors with a regular income while achieving capital appreciation over the medium to long term.
As at March, the fund had generated a cumulative return of 80.86% since its inception in September 2015. Its top three holdings are TSMC, Samsung Electronics Co Ltd and Tencent.  
Meanwhile, investors with a moderate risk profile and who want to invest according to Islamic principles can have a look at the Principal Islamic Asia Pacific Dynamic Equity Fund and Principal DALI Equity Growth Fund.
As at March, the Principal Islamic Asia Pacific Dynamic Equity Fund had generated a cumulative return of 167.65% since its inception in June 2006. Its top three holdings are Alibaba, TSMC and Samsung Electronics.
Investors with a more conservative risk profile can look at the Principal Islamic Lifetime Sukuk Fund. It aims to generate higher-than-average income over the medium to long term by investing in a diversified portfolio consisting of sukuk and other permissible investments under the shariah principle.
As at March, the fund had generated a return of 92.24% since its inception in October 2004. Its top three holdings are DRB-Hicom Bhd, Edra Energy Sdn Bhd and Quantum Solar Park.
Investors who want to ride the recovery in Asian markets can invest in the above funds by cash. They can also invest in them through EPF i-Invest or the Private Retirement Scheme (PRS).
However, it is important for investors to note that the past performance of each fund does not reflect its future performance.
Finally, investors can participate in the Jom Dapat Lebih Kaw campaign organised by Principal for extra benefits. Participants can earn double rewards by investing with Principal through EPF i-Invest, an online portal that allows people to invest their savings in their preferred funds under the PRS.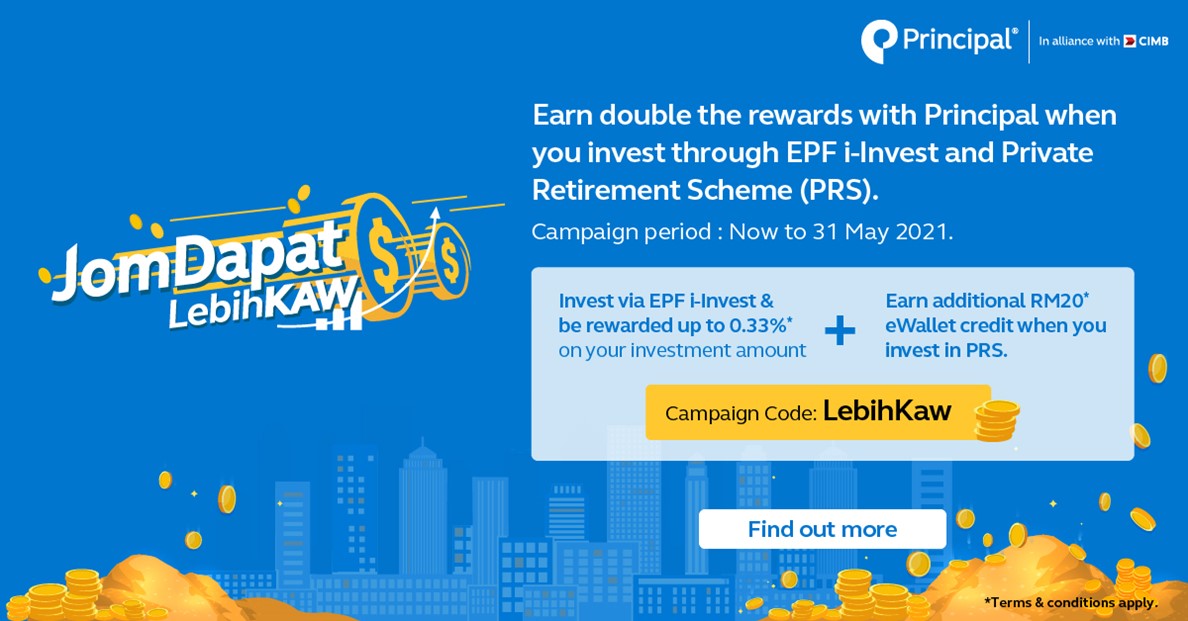 Those who join this campaign can earn up to 0.33% of e-wallet reload PINs when they invest a minimum of RM1,000 in Principal's more than 30 EPF-approved funds via i-Invest. They will also enjoy a RM20 e-wallet credit after depositing at least RM2,000 with Principal through PRS funds online for further portfolio diversification and potentially higher returns over the long run.
For more details, please visit here
(You are advised to read and understand the Prospectus, Information Memorandum and/or Disclosure Document, including any supplemental thereof and the Product Highlight Sheet (if any) before investment. A copy of the said documents has been registered with the Securities Commission Malaysia (SC) and may be obtained at our offices, distributors or our website at here.
The registration of these documents does not amount to nor indicate that the SC has recommended or endorsed this product or service. The issuance of any units to which the said documents relate will only be made on receipt of an application referred to in and accompanying a copy of the relevant Prospectus, Information Memorandum and/or Disclosure Document.
Investing involves risk and cost. You should understand the risks involved, compare and consider the fees, charges and costs involved, make your own risk assessment and seek professional advice, where necessary.)