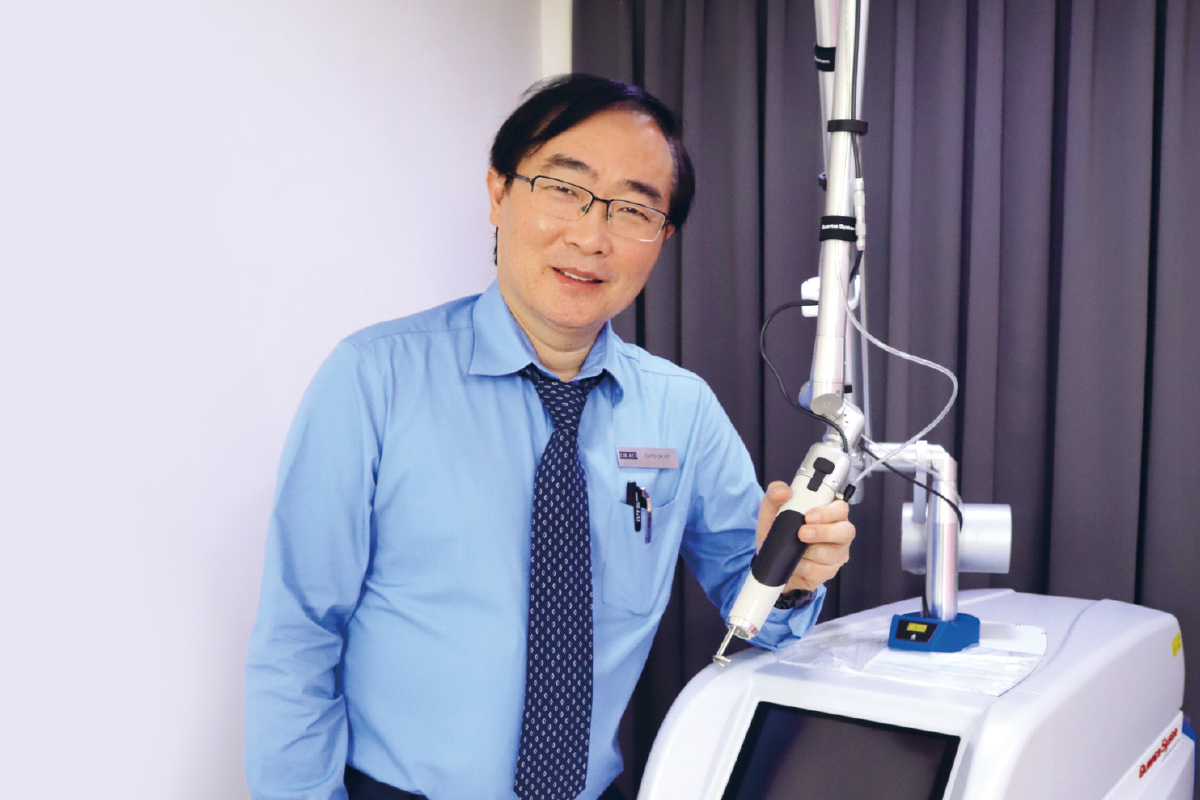 Most people associate ageing with wrinkles and saggy skin, but one of the more common skin conditions is skin pigmentation. This phenomenon is common in people of all skin types, colours and ethnicities. Although most skin pigmentations are harmless, facial skin pigmentation may affect one's emotional and psychological well-being.
A person's skin changes based on environmental factors, genetic make-up and nutrition, among other factors, but the most significant single factor is sun exposure. One can quickly identify the effect of sunlight on the skin by comparing areas of the body that get regular sunlight with generally protected areas. While sunscreen may give some protection, in the long run, pigmentation can still occur.
The common types of facial pigmentation in the elderly are melasma, Hori's nevus and solar lentigines, more commonly known as sunspots. Among them, melasma is the most common. It usually appears as darkened patches that gradually worsen — typically forming over the cheeks, nose and forehead — and come in various shapes and sizes.
This condition typically affects middle-aged women. Factors contributing to the development of melasma include excessive sun exposure, the ageing process and hormonal changes caused by pregnancy, oral contraceptive pills, hormone replacement therapy and menopause. Genetic predisposition can also accelerate the formation of melasma in certain individuals.
Skin pigments (melanin) can accumulate either in the outer skin layer (epidermal melasma), inner layer (dermal melasma) or in both layers simultaneously (mixed melasma). The location of these pigments would directly influence the efficacy of treatments chosen. Naturally, the deeper the melanin, the harder it is to treat. Relapse of melasma after successful treatment is also common, hence, long-term care is vital in treating melasma.
Next is Hori's nevus, a pigmentation disorder that affects mainly Asian women in their 30s to 50s. This type of pigmentation starts as discrete brown or greyish spots on the upper cheeks. More often than not, genetic and hormonal factors are likely to play a role in its formation.
This pigmentation is relatively deep within the skin, therefore treatment with creams alone is usually ineffective. Hori's nevus can be effectively lightened with laser treatment, although multiple treatment sessions are often required.
The third-most-common type of pigmentation is solar lentigines, which present as flat, roundish brown spots, typically uniform in colour with well-defined borders. Both men and women experience this problem and it can occur in both fair- and darker-skinned individuals.
As its name suggests, solar lentigo develops owing to excessive sun exposure. However, this benign skin condition has a similar-looking but more sinister twin — skin cancer. It is imperative to distinguish a benign solar lentigo lesion from melanoma in-situ, a type of malignant skin cancer. Treatment options vary greatly, depending on the type of individual pigments.
What are the options to treat facial pigmentation disorders?
Laser treatments
Lately, the use of laser to treat pigmentation problems has surged in popularity owing to the many success stories. Laser treatment employs using laser light energy to shatter melanin pigments built up within the skin. In 2017, Dr Ko Skin Specialist was the first to bring picosecond laser technology to Malaysia to treat skin pigmentation disorders. As the technology matures, the founder of Dr Ko Skin Specialist, Dato' Dr Ko Chung Beng, continues to be the industry's flag bearer. In 2019 and 2020, the centre introduced the Discovery Pico and Fotona-PQX Pico Laser respectively — two of the most technologically advanced picosecond laser systems — into the market.
Manufactured by Quanta System, a reputable Italian laser manufacturer, the Discovery Pico uses advanced laser technology to treat skin pigmentation problems. The Discovery Pico laser produces a pure photoacoustic effect to shatter melanin pigments, leaving the surrounding tissues unharmed.
Its ultra-short pulse durations and high peak power enables the Discovery Pico to effectively pulverise even the deepest skin pigments. This means it is more effective than any other picosecond laser for medical applications.
The other system, the Fotona-PQX, is the latest and most technologically advanced picosecond pigment laser system in the market. Fotona is a European laser manufacturer with more than 50 years of experience in making top-quality laser devices. The Fotona-PQX has also been recognised as one of the top three pico laser systems in Malaysia.
The Fotona-PQX pico laser treatment is renowned for consistent and reliable results. The PQX has the highest picosecond laser energy output compared with other pico laser devices in the market. Dr Ko Skin Specialist is proud to be the first to bring this technology to Southeast Asia.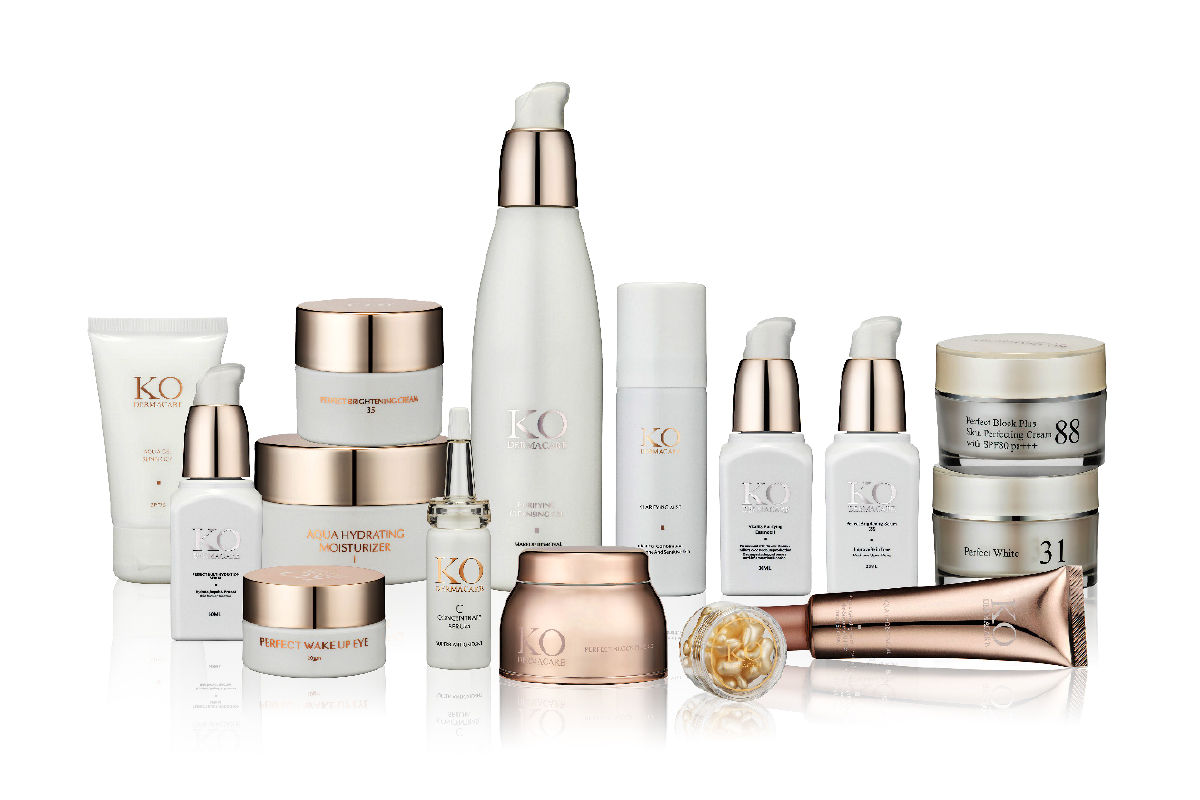 KSS has a complete range of skincare products that complement their pigmentation treatment.
Topical creams and cosmeceuticals
Topical creams and pigmentation skincare products are the most commonly used treatment modalities for facial skin pigmentation. The most crucial skincare product for people with hyperpigmentation problems is sunscreen. Diligent use of skincare products and sunscreen helps reduce skin hyperpigmentation problems and lessens other signs of sun damage such as wrinkles and sagging skin.
Applying a broad-spectrum sunscreen that contains at least SPF 30 will help protect from UVB rays, which cause sunburns, and UVA rays, which penetrate more deeply into the skin and play a more significant role in premature skin ageing. Dr Ko Skin Specialist has come up with four types of sunscreens: the Aqua Gel Sunscreen (SPF 55), Bio Défense Sunscreen 6M/6 (SPF 60), Perfect Block 80 Plus and Perfect Block 88 Plus.
With 22 years of experience in making skincare products for Malaysian, the centre focuses on delivering the best products to suit our local weather and skin condition. There are four ranges of skincare products: the Dermax Clinicare, Ko Dermacare, Three Series and Ko Perfect series. Coupled with professional skincare consultation, these products are time-tested to deliver visible results.
Oral supplements and medications
Oral supplements and medications may be needed for patients with extensive skin pigmentation. A doctor's examination and consultation are crucial before starting any form of medication or supplements for skin pigmentation problems.
Although we may not be able to stop pigmentation build-up, hyperpigmentation among the elderly can be controlled with consistent treatments, which typically provide satisfactory results.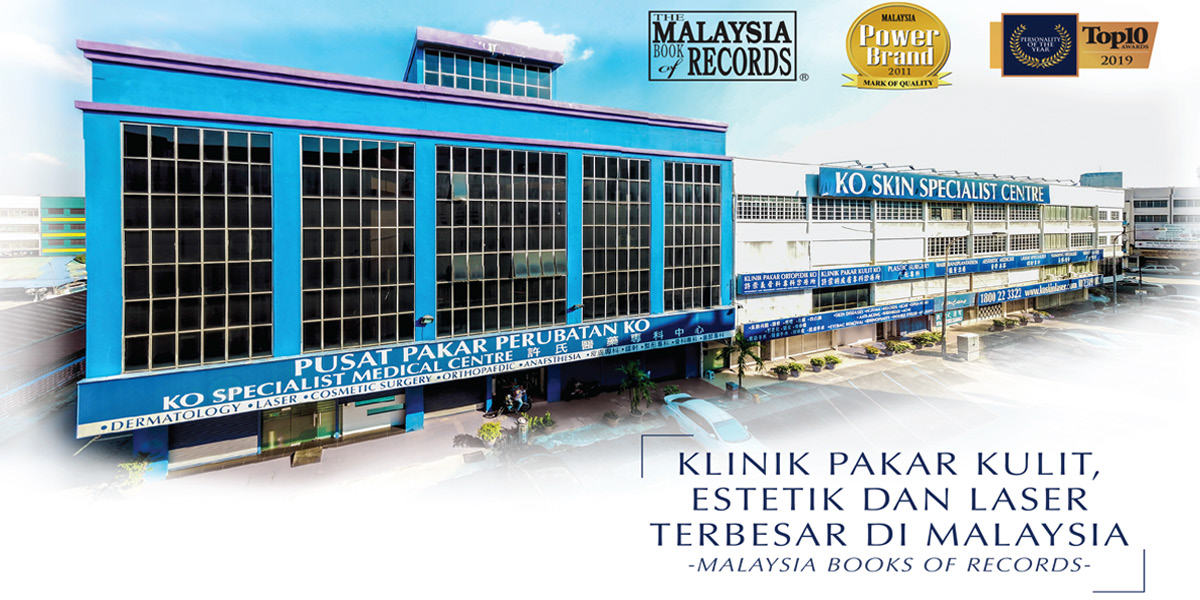 Providing professional services along with 60 fully-trained medical specialists, doctors, and staffs.
Dr Ko Skin Specialist (KSS) is Malaysia's largest dermatology, laser and aesthetic centre — as recognised by the Malaysia Book of Records. A pioneer and industry leader in skin problems, ageing and pigmentation, the centre has 23 years' experience in treating and managing pigmentation skin problems in the country.
Its founder, Dato' Dr Ko Chung Beng, spent 17 years in the UK, where he obtained his specialist qualification, before returning to Malaysia in 1994 to head the Dermatology Department in Seremban Hospital. In 1997, he started KSS as a small private skin clinic in Klang. The clinic grew by word of mouth and has since expanded to become the country's largest home-grown skin and aesthetic centre. Currently, there are 35 branches across Malaysia as well as Indonesia.
Some of its milestones are:
1999: Brought in the first laser machine, the Nd: YAG Laser
2007: Expanded its plastic surgery wing to provide full-range cosmetic plastic surgery services
2011: Awarded "Best Brand Awards" by Malaysia Power Brand
2015: Expanded operations into Indonesia
2016: Awarded "Biggest Skin, Aesthetic and Laser Centre in Malaysia" by the Malaysia Book of Records
2017: Introduced the first pico laser treatment for skin pigmentation in Malaysia
2019: Top 10 Personality Of The Year Award (Dermatologist)
For more information, visit www.koskinspecialist.com.