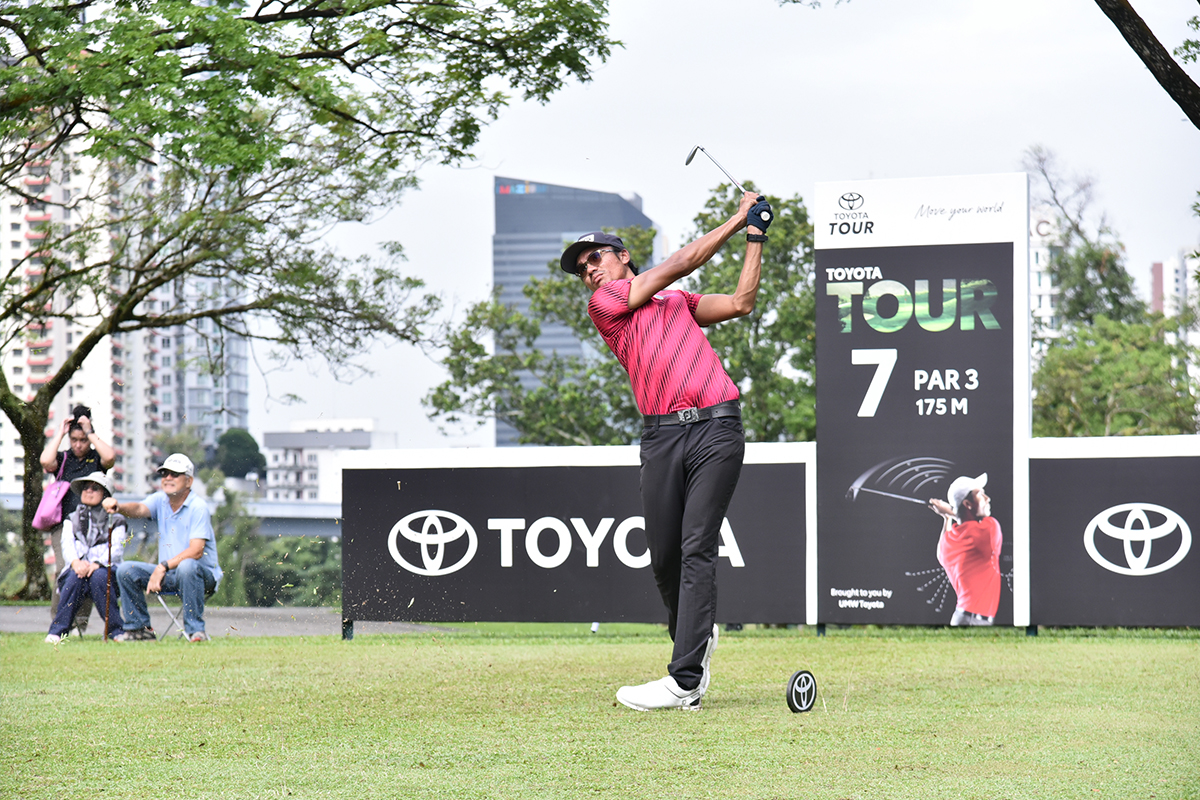 Toyota's relentless drive for perfection is reflected in the game of golf and is one of the main reasons behind the carmaker's partnership with Professional Golf of Malaysia (PGM) to create the Toyota Tour.
The Toyota Tour came about through a tri-party agreement between PGM, which has owned and run the local professional circuit since 2011, and UMW Toyota Motor as Naming Partner and MST Golf as Delivery Agency.
"As a mobility company we support initiatives that encourage us to push our limits. The Toyota Tour is a welcome addition as we see a lot of synergy between golf and Toyota," said UMW Toyota Motor President Datuk Ravindran K.
"At Toyota, we are driven by passion and continuous improvement, for instance fine-tuning small details to get the best performance. This drive for perfection is also present in golf and is something we want to support," he added.
The 2023 Toyota Tour will boast total prize money of more than RM2.2 million over 10 main events staged at some of the country's top golf courses. The season started with the Tun Ahmad Sarji Trophy at Saujana Golf & Country Club on March 8-11, following which there will be a break for the holy month of Ramadan.
The tour will resume in May with two stops in East Malaysia, the Mirai Cup at Sarawak Golf Club in Kuching and the Hilux Cup at Sabah Golf & Country Club in Kota Kinabalu. This will be followed by six more closed tournaments in Peninsula Malaysia, each named after a Toyota vehicle model.
The circuit will culminate with the RM350,000 Toyota Championship at Kuala Lumpur Golf & Country Club (KLGCC) on November 14-17, which will be a co-sanctioned event with the Asian Development Tour (ADT).
The field for each closed tournament will consist of PGM Tour card holders, along with dedicated slots for the country's leading amateurs as well as sponsor's invitations. Except for the season-ender, each tournament will see ladies' championships staged concurrently with the men's events.
Among the players to look out for are 2022 PGM Tour Order of Merit winner Shahriffuddin Ariffin, who finished an impressive fourth on the 2022 ADT Order of Merit. The 23-year-old from Melaka has won five times on the PGM Tour and claimed his second ADT title at the Selangor Masters last October. While Shahriffuddin will be spending much of his time on the Asian Tour, fans can expect to see him in action on the Toyota Tour when his schedule permits.
Heading the 24 qualifiers from the recent Toyota Tour Qualifying School Leg 1 is Universiti Utara Malaysia student Umar Khushairi. Also just 23 years old, the rising amateur topped the qualifying event with an impressive eight-under-par total and will be keen to do well as he makes the transition to professional golf this year.
Another young talent expected to make waves in 2023 is Ervin Chang, who won two gold medals at the 2022 SEA Games in Vietnam before joining the professional ranks. Chang, 24, has enjoyed a superb start to his pro career with a string of impressive performances, earning him the Asian Tour's inaugural Kyi Hla Han Future Champions Award for 2022.
Among the ladies, Aretha Pan was the best performer on the 2022 PGM Tour and will be looking to extend her recent fine form which saw her win twice last year. The 29-year-old Sabahan will face strong challenges from fellow experienced professionals such as Dianne Luke, Ainil Bakar and Michelle Koh, as well as newcomer Jocelyn Chee who was the best lady finisher in the Qualifying School Leg 1.
2023 Toyota Tour Schedule
February 21-23: Qualifying School Leg 1, Kelab Golf Perkhidmatan Awam, Kuala Lumpur
Total Prize Money: RM15,000
March 8-11: Tun Ahmad Sarji Trophy, Saujana Golf & Country Club, Selangor
Total Prize Money: RM230,000 (Men - RM200,000 / Ladies - RM30,000)
May 2-4: Mirai Cup, Sarawak Golf Club
Total Prize Money: RM210,000 (Men - RM180,000 / Ladies - RM30,000)
May 16-18: Hilux Cup, Sabah Golf & Country Club
Total Prize Money: RM210,000 (Men - RM180,000 / Ladies - RM30,000)
June 20-22: Vios Cup, Templer Park Country Club, Selangor
Total Prize Money: RM210,000 (Men - RM180,000 / Ladies - RM30,000)
July 11-13: Corolla Cup, Royal Perak Golf Club
Total Prize Money: RM210,000 (Men - RM180,000 / Ladies - RM30,000)
July 25-27: Supra Cup, The Mines Resort & Golf Club, Selangor
Total Prize Money: RM210,000 (Men - RM180,000 / Ladies - RM30,000)
August 8-10: Alphard Cup, Palm Garden Golf Club, Putrajaya
Total Prize Money: RM210,000 (Men - RM180,000 / Ladies - RM30,000)
September 12-14: Qualifying School Leg 2, Palm Resort Golf & Country Club, Johor
Total Prize Money: RM15,000
October 3-5: Camry Cup, Forest City Golf Resort, Johor
Total Prize Money: RM210,000 (Men - RM180,000 / Ladies - RM30,000)
October 17-19: Corolla Cross Cup, Kota Seriemas Golf & Country Club, Negeri Sembilan
Total Prize Money: RM210,000 (Men - RM180,000 / Ladies - RM30,000)
November 14-17: Toyota Championship, Kuala Lumpur Golf & Country Club*
Total Prize Money: RM350,000
*Joint-sanctioned with Asian Development Tour
Note: Calendar events and dates subject to change