This article first appeared in City & Country, The Edge Malaysia Weekly, on July 29, 2019 - August 04, 2019.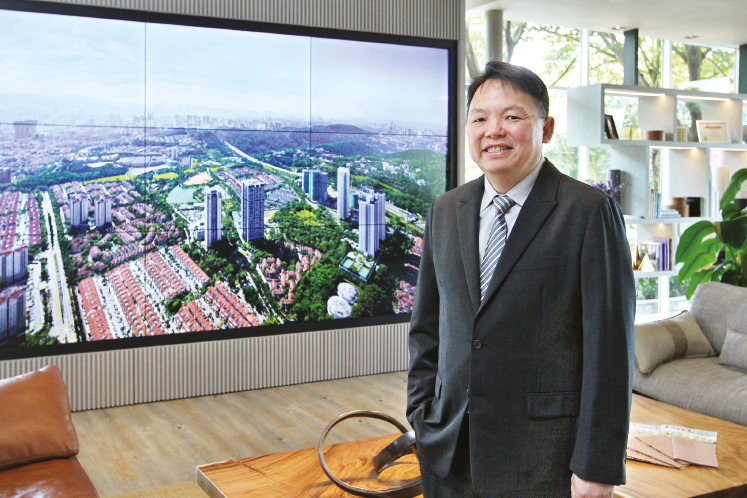 We have two things going for us — a self-sustainable, strongly integrated development that continues to meet the evolving needs of our residents and a significant number of independent offerings that attract a constant flow of regulars and visitors." — Lau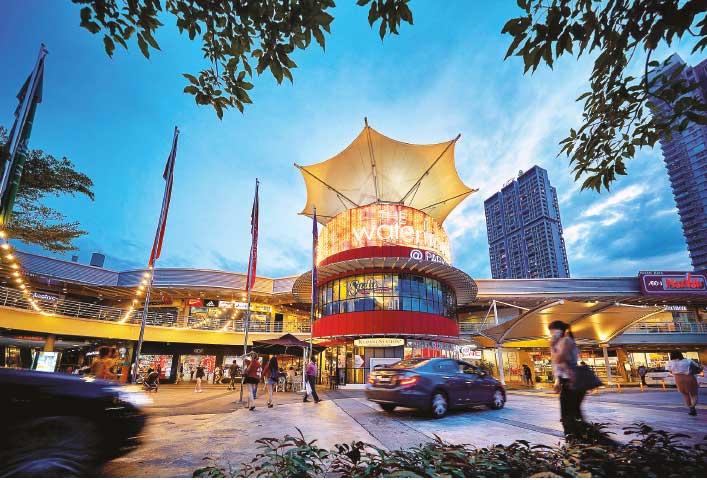 The Waterfront is undergoing refurbishment and upgrading works, which will be completed by the end of this year. It will have more F&B outlets and a Max Value Prime grocery store.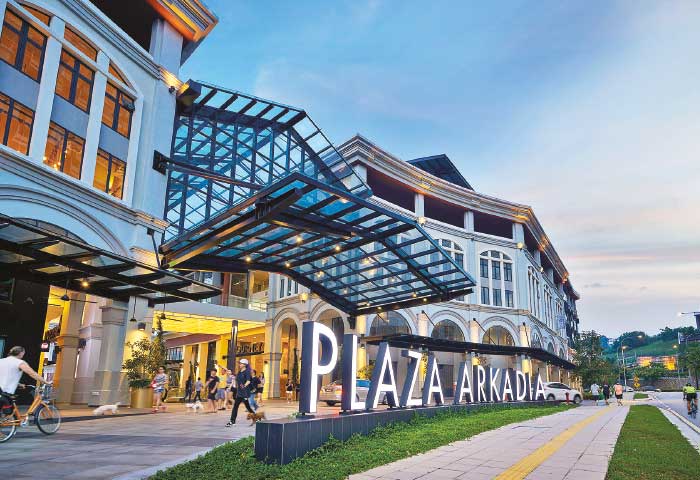 Plaza Arkadia, launched in 2013, is 100% sold and has become a vibrant hot spot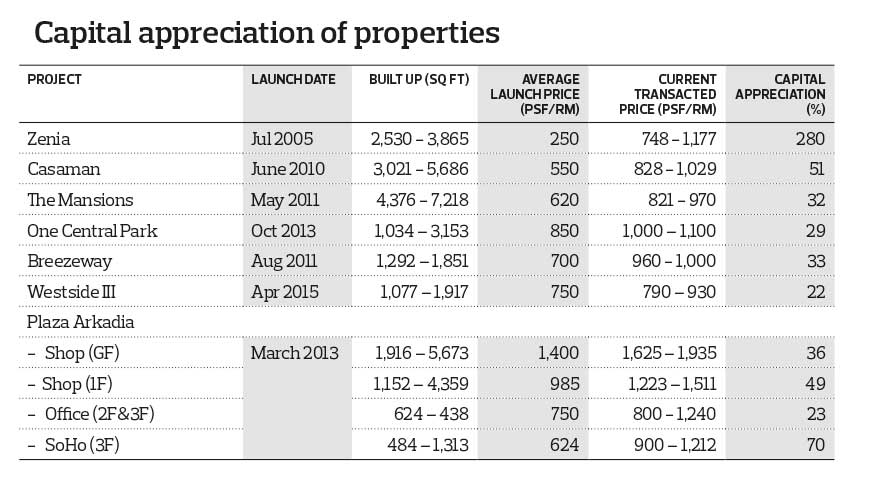 Kuala Lumpur's Desa ParkCity sits on a granite base, which is why there is no basement parking. But that has not stopped the 473-acre township by Perdana ParkCity Sdn Bhd from thriving.
According to ParkCity Group CEO Datuk Joseph Lau, Desa ParkCity, which is about 70% developed, has come a long way. "When we acquired the land in 1999, it was an active quarry," he says. "It was a very inhospitable site. It was a challenging site. We had to remove the rocks and so forth. But we were lucky because the Damansara-Puchong Expressway (LDP) was being constructed and the whole highway actually used the aggregates from this quarry."
As an ode to the area's history,
Desa ParkCity features some of those rocks in the façade at its entrance.
Lau says the master plan was created to cater for the needs of middle-class and affluent residents. Once completed, the township will have 7,000 residential units and 3.7 million sq m of commercial space.
"Upon completion, the estimated gross development value of the project will be in the region of RM7.5 billion," says Lau, adding that it will take another 10 years for the township to be fully developed.
Constantly evolving
The first homes built at Desa ParkCity were one of the first landed strata properties in the country.
"We were one of the very first who did landed strata-titled products," Lau says. "At that time, there was no such thing as landed strata title laws in the country. So, we sort of helped to set the pace, asking, 'What should landed strata-titled property be?'"
Today, the township consists of landed products and condominiums. The commercial sections, such as The Waterfront and Plaza Arkadia, are doing well. There is also a private hospital (ParkCity Medical Centre) and an international school (International School @ ParkCity). There is also a clubhouse for residents to carry out community activities and The Central Park, a large open space with a lake in the centre of the township, is popular with residents and locals alike. They come to socialise and walk their pets.
According to Lau, the opening of The Central Park, clubhouse and The Waterfront helped push the township into a different level. It also helped that the design of the common areas were thought through to provide connectivity, security and a sense of community.
"If you look at the walkways, they are wider. And the precincts are gated and guarded and there are no open drains," he points out. "These are purposely done to make the township community friendly and accessible for everyone."
The design and concept of the township has gone down well with both homeowners and investors. Long-time resident Shanker Subbramaniam recalls the time before the lake, clubhouse or restaurants had been built.
"My dad bought the house in Southlake for me in 2004, when it was launched," says the 49-year-old. "I moved in in September 2006 and I have watched this township grow over the years. When we had the opportunity, my family invested in other properties in Desa ParkCity. I love living here. In a nutshell, it's home."
He adds that his parents and brother's family also reside in the township and they enjoy the amenities and relationships developed over the years.
Investors are also reaping financial benefits, thanks to the properties' capital appreciation (see table).
One such investor is Robyn Teo, who is in her mid-40s. She purchased three properties — two houses and a commercial lot — at prices ranging from RM1.2 million to RM4.3 million. If the opportunity arises, she hopes to invest in a condo for her ageing parents.
The main reasons for her purchase are the security and ease of movement within the township. "My son is now in Year 6 in the International School @ ParkCity. I wanted him to expand his comfort zone beyond his room and home. For a kid that age, security is a primary concern as well.
"Where we used to live, his daily routine revolved around activities confined to our availability in ferrying him from one place to another. Here in Desa ParkCity, the security of our home goes beyond our dwelling. The parks, shops and gardens are accessible to him on his own. And we are assured of the safety due to the township's manageable size," Teo says.
It is not only landed properties that are doing well. The high-rise projects have also flourished.
One Central Park, which was launched in October 2013 and handed over in December 2016, is fully sold and has an occupancy rate of 70%. The 469-unit Westside III, which was handed over in December last year, has achieved 99% sales, with only four units remaining unsold. South Brooks condo, which was launched in July 2017, has achieved a take-up rate of 95%. Targeted at first-time homebuyers and those in the younger demographic, it is slated to be completed in August 2021.
Mitigating challenges
Although the project is a success, it is not without its challenges. One that is constantly being reviewed is security. Lau explains that the township has its own auxiliary police who are trained and the developer works closely with the local police. So far their efforts have paid off.
Another challenge is maintenance. A team of more than 100 people handle the landscaping, Lau says. For the time being, the developer maintains its own public assets, including roads, instead of handing them over to the authorities. It even helps out the resident associations and management corporations when necessary.
Of all the challenges that the township is facing, there is one that is probably good to have. "We don't have enough units to sell," Lau says with a laugh.
He adds that because Perdana ParkCity is not a listed company, it is able to better manage the schedule of launches.
Will the headwinds in the property market dampen Desa ParkCity's forward momentum? Lau does not think so. "We have two things going for us — a self-sustainable, strongly integrated development that continues to meet the evolving needs of our residents and a significant number of independent offerings that attract a constant flow of regulars and visitors like The Central Park, The Waterfront and Plaza Arkadia."
Property experts cite several factors for Desa ParkCity's popularity among buyers and investors.
"Desa ParkCity has set a new benchmark [in the industry] and is one of the most admired addresses in Kuala Lumpur and Petaling Jaya today," says Landserve Sdn Bhd managing director Chen King Hoaw. "It is doing well because of its location, being just north of KL and PJ, and is within an affluent neighbourhood. It is well connected by roads and highways, has good product designs and amenities within a well-managed community, and is freehold."
CCO & Associates (KL) Sdn Bhd director Chan Wai Seen says. "Desa ParkCity is one of the few well-planned townships in KL and could be the only township that boast attractive landscapes in KL. It has also established itself as a popular residential address supported by excellent amenities and accessibility. [In a soft market] the negative impact is reduced partly due to controlled supply — new supply is basically controlled by the developer."
Previndran Singhe, CEO and managing director of Zerin Properties, concurs. "With regards to prices holding steady, I think it is good that they (Perdana ParkCity) are in control of the supply for the whole area. They control the supply, unlike, let's say, in KLCC, where anyone can launch a luxury condo, even today. So I think that could be another reason why prices have held steady at Desa ParkCity.
"I think Desa ParkCity is designed to be very livable; the developer has designed a product that's aspirational for people to live in. And the product is managed very well," he adds.
More townships
In the third quarter of this year, the developer will launch Park Regent condominium, a joint venture between ParkCity Group and CapitaLand Singapore. The condo, which has an estimated gross development value of more than RM1 billion, will sit on 5.6 acres and offer 505 units in two towers. Built-ups range from 872 to 4,887 sq ft and the average indicative price is RM1,100 psf.
Lau reveals that the company is in the midst of planning the township's ParkCity TownCenter, where only two components have been locked down.
"We haven't decided on all the components yet but we are looking to expand the international school. Next, we are looking at more homes for seniors such as independent living units because it's near to the hospital. These two components have been firmed up," says Lau.
He also shares that the group is looking to develop another township project in the Klang Valley but declines to give details as negotiations are underway.
ParkCity Group is also busy with two other master-planned projects — the 77ha (190.3-acre) ParkCity Hanoi in Vietnam and the 223ha (551-acre) Marina ParkCity in Miri, Sarawak. According to Lau, these two projects will keep the developer busy for the next 10 to 15 years.
Lau says the company is looking for opportunities in Ho Chi Minh City, Vietnam, and Bangkok, Thailand. Also on its radar is Melbourne, but nothing has been confirmed as yet.
From local developments to international projects, ParkCity Group continues to establish itself as a township developer that pushes the boundaries. Its success at Desa ParkCity has certainly paved the way for it to do more in meeting the demand for quality homes.