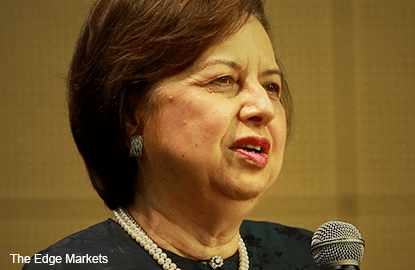 KUALA LUMPUR (March 23): The central bank is now in the process of pursuing appropriate administrative enforcement actions against controversial state-owned strategic investment fund 1Malaysia Development Bhd (1MDB) for failing to substantiate the reasons it gave as to why it could not repatriate the US$1.83 billion (RM7.3 billion at current exchange rate) money.
Bank Negara Malaysia governor Tan Sri Dr Zeti Akhtar Aziz said this today after revealing that the central bank had requested for the fund to submit documentation evidence in October last year to substantiate the fund's claim that the remainder of the sum not spent by the fund had been earmarked for a debt asset swap arrangement.
"However, they have not responded to us so far ... we have given a stipulated time frame for that. The deadline has already lapsed," she told reporters but did not say when the deadline was.
Zeti, who still has 38 days remaining in her position before her retirement in April, also promised to resolve this issue with 1MDB before she hands over the reins to her successor.
"I want to put a closure to (the) 1MDB issue, so that the next person would not need to deal with the matter. I want to hand over a clean slate," she added.
However, the proposed administrative enforcement actions, which the central bank will submit to the Attorney-General's Chambers (AGC) before Zeti's tenure ended, will be subject to endorsement by the AGC, said Zeti.
"But this is what we will put forward and this is different from criminal action. It will not result in a court action, it is for breaches under the rules and regulations under the bank's purview," she said, referring to the bank's earlier recommendation to the AGC to initiate criminal prosecution against 1MDB, which was turned down by the AGC despite the bank's appeal for a review.
The bank's move could possibly result in either a penalty or compound on 1MDB, she added.
Asked if the issue over 1MDB would be one of her regrets during her tenure if it was not resolved, she said: "I would like to have a high degree of confidence that the matter would be resolved."
To recap, AGC had, in September last year, cleared 1MDB officials of any wrongdoing with regard to the investigation carried out by Bank Negara, and directed that no further action should be taken. BNM had recommended to the Attorney-General (AG) a month earlier to initiate criminal prosecution against 1MDB for breaches under the Exchange Control Act 1953 (ECA).
Following this, Bank Negara had requested the AGC to review its decision but the AG maintained its decision on grounds that there was no new evidence.
Subsequently, the central bank revoked three permissions granted to 1MDB under the ECA for investments abroad totalling US$1.83 billion. It also issued a directive under the Financial Services Act 2013 to 1MDB to repatriate the sum to Malaysia and to submit a plan for this purpose.
The decision was taken after the central bank concluded that permissions required under the ECA for 1MDB's investments abroad were obtained based on inaccurate or without complete disclosure of material information relevant to the bank's assessment of 1MDB's applications.
In response, 1MDB said the sum had been spent or ear-marked for debt settlement arrangements. The money was originally for equity and loan investments in a joint venture with oil company PetroSaudi between 2009 and 2011.
The central bank was previously part of a joint special task force headed by former attorney-general Tan Sri Abdul Gani Patail, which was probing allegations made by the Wall Street Journal that funds from 1MDB amounting to RM2.6 billion had made their way into Prime Minister Datuk Seri Najib Razak's personal accounts.