This article first appeared in The Edge Malaysia Weekly, on October 1, 2018 - October 07, 2018.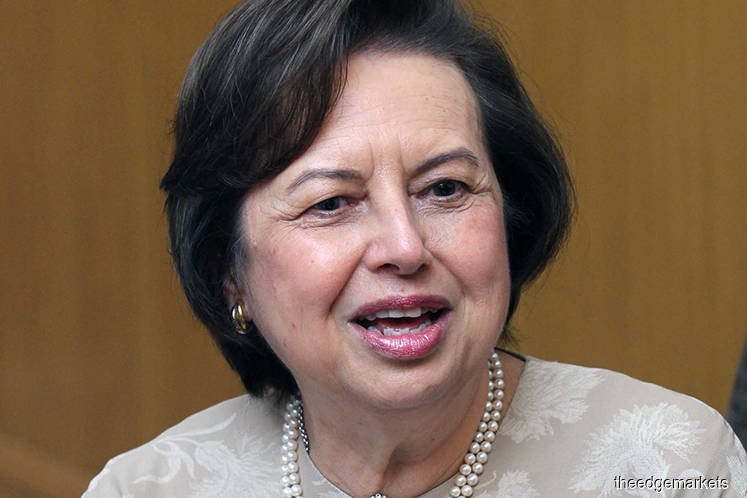 AT her first press conference as chairperson of Permodalan Nasional Bhd (PNB) last Thursday, Tan Sri Dr Zeti Akhtar Aziz was clearly mindful of the watching market.
She did not rock the boat with surprise pronouncements and sent a prevailing message that PNB remains on a steady course per its five-year plan up to 2022.
There were a few key takeaways. One was Zeti's affirmation of an ongoing reduction in PNB's cash holdings by investing in instruments with higher yields.
As at Sept 30, 16.5% of PNB's RM288.1 billion of assets under management (AUM) comprised cash holdings, down from 20% about two years ago.
A second takeaway was that PNB will take a more considered approach to enhancing the value of its domestic investments.
Zeti said PNB will not precipitate mergers and acquisitions but will instead let such activity be "driven by the market".
That said, there may also not be much room for quick-win restructuring as the past year saw several of PNB's major strategic companies — in which it had majority shareholding — undergo corporate exercises.
A third key takeaway was that Zeti will focus on addressing the longstanding issue of PNB's size compared with the Malaysian market, in which 97.4% of its AUM is currently invested.
"We have grown and we have become very significant within our own financial system and economy and therefore we need to diversify," she acknowledged.
It is worth noting that as at Sept 30, only 2.6% or RM7.5 billion of PNB's AUM was outside Malaysia. Of the RM7.5 billion, 56% was in equities, 32% in property and the remaining 12% in cash.
It is this lack of diversification — far lower than that of other Malaysian institutional funds — that has added to criticism that government-linked investment companies are crowding out private investment  locally with their outsized financial muscle.
By comparison, as at June 30, 26.5% of the Employees Provident Fund's (EPF) RM813.18 billion of AUM was exposed to international markets while for Kumpulan Wang Persaraan (Diperbadankan), it was about 12% of its RM125 billion fund as at end-2016.
To be fair, PNB has accelerated its push abroad in the last couple of years. Two years ago, its international exposure was about 1.9%.
When asked what sort of pace could be expected going forward, PNB group CEO Datuk Abdul Rahman Ahmad cautioned against setting targets in stone, given the constantly moving variables like currency exchange rates.
He stressed that the timing of investments was a key factor for PNB as adverse exchange rates would cancel out investment returns gained.
"We have to be very careful about setting targets. I don't think the EPF got to its level in a very short period but over a considerably long period. That is probably the strategy we will take," Abdul Rahman told The Edge on the sidelines of the press conference last Thursday.
For PNB, this would mean juggling opposing pressures. While it cannot move too fast, it cannot afford to stand still either.
In the third quarter ended Sept 30, PNB's fund size grew 7.3% year on year, which means it has to keep pushing abroad just to maintain its current 2.6% international exposure.
On the one hand, PNB's continuously growing size means it will be increasingly difficult to find fresh investments at home that could offer good returns. Already, its domestic equity investments account for about 10% of Bursa Malaysia's market capitalisation.
On the other hand, PNB clearly needs time to develop in-house know-how to avoid getting burnt.
It is worth noting that in its 40 years of existence, PNB has not had organisational experience in undertaking a major pivot towards international exposure.
That seems to be the reason for Zeti's emphasis on developing PNB's risk management capabilities. The clear signal then is that PNB will work on the factors within its control while it continues to wait for the right opportunities.
"We need to increase our capability in risk management so that when we look into investments that we want to enter, we go in with our eyes open," Zeti said.
During the press conference, she also drew on her experience in helming Bank Negara Malaysia between 2000 and 2016 to paint a picture of what PNB's gradual push overseas might look like.
She reminisced that for Bank Negara's international reserves, the central bank first focused on developed financial markets. However, as she believed there were "great opportunities" in the emerging markets, Bank Negara moved into their financial world in 2003.
"Gradualism is one of the approaches that will be taken because we have to build our internal expertise," she said. "We are not going to rush into it but build our capabilities and then venture forward."
Save by subscribing to us for your print and/or digital copy.
P/S: The Edge is also available on Apple's AppStore and Androids' Google Play.