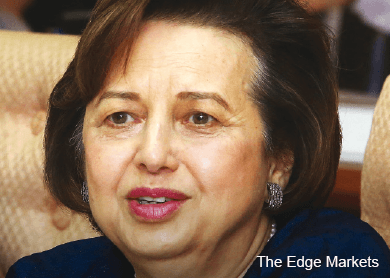 KUALA LUMPUR: Bank Negara Malaysia (BNM) governor Tan Sri Dr Zeti Akhtar Aziz denied yesterday that the central bank had issued a circular to foreign exchange (forex) dealers of both local and foreign institutions to stem the ringgit's depreciation.
Zeti said BNM had merely "reinforced" existing regulations and informed dealers to adhere to those policies, but did not elaborate.
"There is no circular that has been issued. We just reinforced all the rules that we have put in place, and that is what we have informed all those in the foreign exchange markets," she said after the launch of the World Bank Global Findex Database 2014 yesterday.
She was asked to clarify claims in news reports that BNM issued the circular to forex dealers to disallow onshore banks from taking onshore fixing orders from offshore banks.
A spokesman for BNM further explained that there was no such circular, and that it had always been a requirement that all forex transactions be backed by underlying transactions.
"Banks are reminded that they can decline orders which do not meet this requirement," the spokesman added, noting that banks can freely conduct forex transactions throughout the day with onshore banks.
Yesterday, a news report, quoting sources, claimed BNM had issued the circular, following the ringgit's depreciation past the 4.1 level against the US dollar.
At 5pm yesterday, the ringgit was quoted at 4.1350 against the greenback from 4.1040 on Wednesday.
Besides Malaysia's political uncertainties, the ringgit's weakness came amid lower crude oil prices, China's currency devaluation and the prospect of a US interest rate hike.
Meanwhile, Zeti reiterated that BNM had no plans to peg the ringgit against the US dollar, which had been strengthening in anticipation of a rise in US interest rates this year.
She said the ringgit was not the only currency which had weakened against the US dollar, as other currencies had also depreciated against the greenback.
"There is no intention of moving to a less flexible regime — [a] pegged exchange rate regime. The fact that we can adjust allows for the rest of the economy to be stable.
"If you can't adjust the currency, demand will adjust and prices will adjust," she said.
This article first appeared in digitaledge Daily, on August 21, 2015.