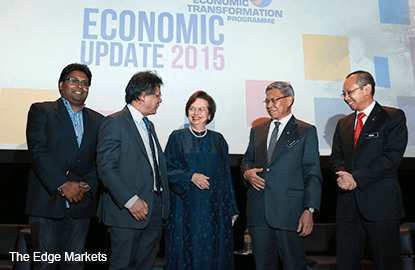 KUALA LUMPUR: Bank Negara Malaysia (BNM) governor Tan Sri Dr Zeti Akhtar Aziz said the public, which has many questions about the issues surrounding controversial 1Malaysia Development Bhd (1MDB), deserves to get their questions answered.
Speaking at The State of the Malaysian Economy and Investment at Malaysia's Economic Update 2015, Zeti commented that while the public is aware of the ongoing investigations into 1MDB, they also need to know who are doing what investigations.
"There are three agencies involved, comprising the police which deal with cheating, criminal breach of trust and so on; the MACC (Malaysian Anti-Corruption Commission) which deals with corruption; and the central bank, BNM, that deals with aspects relating to our financial system and what contravention there has been of our rules [and] regulations, and our laws.
"All these investigations are ongoing and they're going to yield an outcome," she assured the audience at the forum yesterday.
"On BNM's part, we've looked at the contraventions of the approvals that we gave specifically to 1MDB. These investigations are now completed and we've handed it over to the Attorney-General's Chambers. We are in discussions with them. That is all I can say for the time being," she added.
Commenting on the weakening ringgit, Zeti, who plans to step down in April next year, said that the local currency would recover once the issues relating to 1MDB are resolved.
She acknowledged that besides global external headwinds, the ringgit had also been affected by domestic issues, such as 1MDB.
"When we look at what are the factors that [are] affecting the ringgit, firstly, it is the global developments. You can see already that everyone is looking at the US Federal Reserve.
"They have had zero-bound interest rates for seven years now and everyone's looking for the timing of an exit, and this contributes to the strength of the US dollar," the governor explained.
Zeti also pointed out the spillover effects of the slowdown in China, Malaysia's biggest trading partner, but opined that the initiatives by the Chinese government will be beneficial in the long term as the country achieves more sustainable growth.
"On the very domestic issues that we talk about, we don't need any more scandals. We don't need political uncertainty. When they resolve all the issues relating to 1MDB, then we will see a recovery in our local currency," said Zeti.
This article first appeared in The Edge Financial Daily, on September 22, 2015.