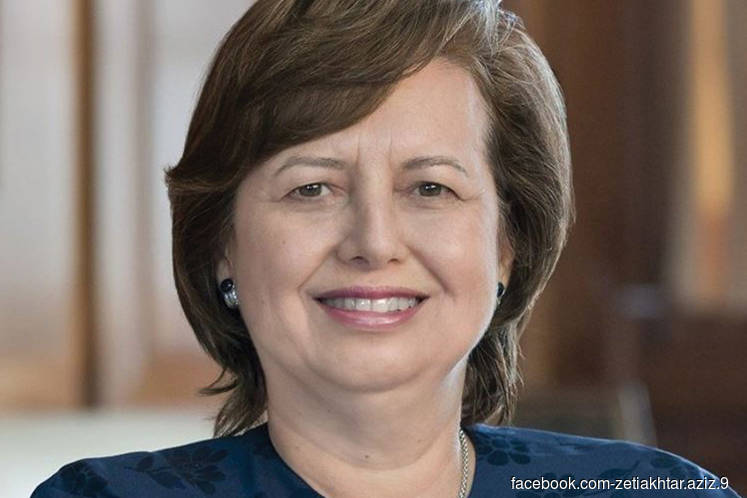 KUALA LUMPUR (July 3): Former Bank Negara Malaysia governor Tan Sri Zeti Akhtar Aziz has refuted former prime minister Datuk Seri Najib Razak's claim that she knew of the RM2.6 billion that was remitted into his personal bank account in 2013.
Slamming Najib's claim — which was made in a recent interview — as false, she went on to reveal that Najib had instead requested that she issue a statement in 2015 to say he had done nothing wrong in his account.
Zeti said she denied his request as she had no knowledge of the transactions that took place in his account. Similarly, she rejected the same request from another cabinet minister.
Below is her statement in full:
I refer to the former Prime Minister's recent interview with MalaysiaKini (dated 2 July 2018) when reference was made on the claim that I had knowledge of the inflow of RM2.6 billion into the personal bank account of the former Prime Minister in 2013. I wish to categorically state that this claim is false. I had no knowledge of this RM2.6 billion remitted into his account.
In fact, on 3 July 2015, I was called to the Prime Minister's office. He made a request for me to issue a statement that he had done nothing wrong in his account. I informed him that I cannot issue such a statement because I did not have knowledge of transactions that had occurred in his account. I later received a call from another Cabinet Minister who made the same request for me to issue such a statement. I gave him the same answer that I cannot issue any such statement because I did not have knowledge of what had transpired in his account.
On the matter relating to transactions by account holders in the banking system, Bank Negara Malaysia (BNM) relies on information provided by the reporting financial institutions. The banking community is fully aware of the regulations and guidelines governing the reporting of any suspicious transactions and for the necessary due diligence on the operations of any such accounts. Unless the relevant banking institution reports to BNM of irregularities in an account or if BNM received a tip off that gives a reason to believe that an offence has occurred, the Central Bank is not able to initiate investigation into the account.
Tan Sri Zeti Akhtar Aziz
3 July 2018